The craze of fitness bands is continuously growing in India. We can consider the modern and advanced technology implementation by different fitness bands companies as the main reason behind the popularity of the fitness bands, especially in India. Most of the time, Indian youngsters prefer to buy fitness activity trackers to track and get statistics about their routine activities. Some other people buy it as a stylish band that looks great when it goes on the wrist, for whatever reason you decided to buy an activity tracker device, you should always look for the best one under your budget. But when it comes to buying the best fitness band under 1000 rupees, things start getting a bit tricky for an average person.
But you don't need to worry about it, because here we are going to compile a comprehensive list of fitness bands under 1000. Do you know what the best thing about this compilation is? We are going to add all the best fitness bands option under 1000 rupees that anyone can buy from the Indian market or any online shopping store.
Best Selling Fitness Band Below 1000 Rs.
We have decided this because we know how hard it is for an average user to choose the right type of fitness bands under 1000 rs. However, it is also true that you won't be going to get too many options in this kind of low budget, but this post will help you to choose the best one. It's because this post is all about the ten best fitness bands below 1000 rupees in India.
Here is the comprehensive list of best fitness bands in India under 1000 rupees:
1. 10.or Crafted for Amazon Move Fitness Band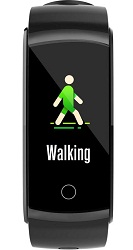 The 10.or Crafted fitness band is on the very first spot of this list because it has everything that you can expect from an activity tracker device under this type of low budget. First of all, let's talk about the display of this fitness band, so here you are getting a 0.96 inch of the bright and colorful display. In our opinion, a fitness activity tracker device should have a bright and colorful display because it helps a lot to monitor your activities in harsh sunlight as well. You can easily connect this fitness band with your smartphone to getting your relevant notifications and other alerts directly on your fitness band.
There are some other small, but very useful features also present that you can use with this tracker device. Like it comes with remote shutter control, playing music, stopwatch, and GPS tracking to find your phone. The best part that we liked the most about this budget segment of the fitness band is that it has some of the popular and useful sports modes that you can set accordingly. Basically, the 10.or manufacturers have offered sports modes such as running, walking, swimming, cycling, and hiking.
Pros:
The overall construction of this device is very sturdy but lightweight, and it is dust and waterproof device as well.
It is offering the sleep monitoring feature as well, which is awesome because not many companies provide this feature.
Cons:
2. SHOPTOSHOP Smart Band Fitness Tracker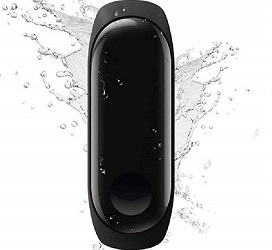 The SHOPTOSHOP Smart Band is an excellent option for a person who has a very strict budget, but they want to buy a band where they don't need to make too many compromises. In this case, you should try this smart fitness band with amazing features to compete with popular brands. First of all, it is a unicolor fitness band, which means you will get this device in the black color variant only. Talking about some of the fantastic features of this fitness band, so firstly, we want to let you know about the sensors that it has. It comes with some beneficial sensors like heartbeat monitoring sensor, motion-detecting sensor, pressure detecting sensor, etc.
We want to give the full star rating to this SHOPTOSHOP smart band because of the fantastic connectivity that it comes with. You can easily connect it with your smartphone without facing any technical difficulties. However, after connecting it with your smartphone, you can easily unlock or be able to use many features such as getting notification, alerts, remotely click pictures with smartphones, etc.
Pros:
The display is colorful, which allows you to see all the information from the screen of this fitness band.
It comes with the detachable strap option, that allows you to charge the central unit without having any issue easily.
Cons:
Many users complained about the low brightness of the TFT display that manufacturers have provided with this fitness band.
3. Adeeing Bluetooth Smart Fitness Tracker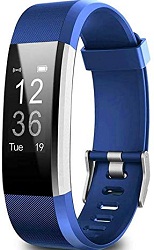 Going down to number three, we have the Adeeing Bluetooth Smart Fitness Tracker on this list. If you are looking for a very stylish and elegant looking smart band, you should try this one. First of all, the thing that making very attractive this fitness tracker is the color combination that we have here. So, here we have the blue color variant that seriously looks great. Going forward to some of the special features of this fitness tracker so firstly, we want to share with you these sensors that it comes with. This sensor can monitor heartbeats, sleep, steps you walked, because of the various sensors it has.
Because of the excellent connectivity with the smartphones, you can use it as a secondary screen to check your essential notifications, SMS, and other alerts directly via this smart band. The battery life of this fitness band is also very impressive because it can easily last longer than you think. However, when it needed charging, then you can just detach the central fitness tracker from the straps to charge it.
Pros:
The built-in motion sensor can measure blood pressure for almost accurate readings.
The overall build quality is pretty sturdy and waterproof as well, so you won't going to get the issues about its durability.
Cons:
The display of this fitness band is not that bright; this is the only down point that we noticed.
4. Sketchfab Smart Band Fitness Tracker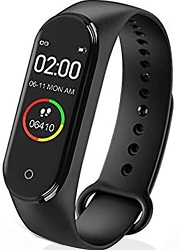 If you are looking for a decent fitness tracker instead of a premium segment of bands, there are many options present for you in the 1000 rupees budget. But we recommend you to go with this particular options instead of any other. On the fourth spot of this list, we have the Sketchfab Smart Band Fitness Tracker. The specialty of this smart band is that it comes with almost all the necessary features that you can expect at this particular price.
Now, let's take a look at the sensor section of this tracker that it comes with, so it has the motion detection, heartbeat monitoring, sleep monitoring, and calorie count monitoring sensors in-built. We are damn sure that no other brands are providing this type of functionality at this price point, not at all. It will be a surprise for you that this smart fitness band comes with the GPS phone tracking feature as well. It will help you to find your smartphone if you mistakenly lost it.
Pros:
70 mAh of the decent capacity of the battery can easily provide you a good battery backup.
It shows the excellent connectivity with both smartphone operating system android and iOS.
Cons:
The build quality of this fitness band is not that great.
5. SBA M4-SB021 Smart Fitness Band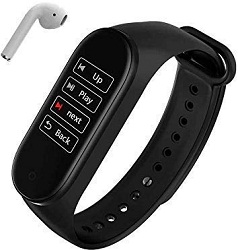 Now let's talk about the most underrated smart fitness band that usually many people ignore while choosing the best one under 1000 rupees of budget. Currently, the price of this smart band is very low, so it seems an excellent opportunity for you to buy great functionality and feature-rich fitness bands at a comparatively lower price. The LCD touch screen color display allows you to use this fitness band easily. And because of the higher contrast of the display, the overall experience with it becomes more impressive.
According to the SBA manufacturers, you can also use it for social sharing and social media platforms such as Facebook, Twitter, WeChat, etc. Another feature that most of the people want in their desired fitness band is the ability to resist water. In short, it should be a waterproof fitness band that you can wear on your wrist while swimming.
Pros:
The overall built quality seems pretty decent according to the price point, and it is durable enough to last longer.
The majority of features such as different sensors and connectivity options are also available, which makes it value for money type of fitness band.
Cons:
How To Choose The Best Fitness Band in India
Fitness bands are a gift to the modern man to monitor his health and well being. It is a need of the hour to know if we are moving on the right track of healthy living. There are fitness bands that can tell you if you are sleeping well. Also, it shall give information about the calories burned while you walk or workout. An incredible device is available in various market models, and selecting the right one can sometimes become tricky. This article shall give you that assistance you may require to choose the right fitness band from various available options.
Size of the Fitness Band
It is the first aspect you must check while buying the fitness band. As such, you will be wearing it on your wrist. That means to say, and you will not select the one that is too big. Some models shall be worn, and it shall stay discreet. If you are looking for a dual-purpose band, then there must be a screen. The screen shall take up a fair amount of space too. At the same time, fitness bands are available in the market that can be worn 24/7 also.
Design
It is a style factor. As we know, most of the fitness bands are worn in the wrist. Some models can be slipped into your pockets too. You can also wear it as a pendant like a piece of jewelry. If you do not want your fitness band to look like a tracker, then go for a hybrid version that shall connect with your smartphone for data.
Sweat and Water Resistance
It is an essential factor too. As there are many instances that you may perspire or even water may splash on your fitness band. It is ideal for picking up the fitness band that is suitable for your work out patterns. There are a few fitness bands that shall come with 50 meters of water resistance. You can also use such bands in the swimming pools. Also, the sweat resistance factor is most sought after as the probability of your sweating is more when compared to the water contact.
Additional Features
What are you looking for in a fitness band? Usually, a fitness band shall track the actions done and calories burned. But many features shall head up to a lot of monitoring systems. You can follow the heartbeat and also see you are well being. There are sleep monitors too. Sharing data online shall also be one of the features if expert coaches you.
Battery life
It is one of the factors that you must always look for. There are two sides to this. One is the running time, and the other is the charging time. You literally do not want to lose the charge in a few hours. It must stand at least 10 to 14 days while you put that for the charge for a night. Check for the same and purchase the right product.
Fitness Band Frequently Asked Questions
Are fitness bands harmful to health? Do they have any side effects?
As far as we know, using a fitness band does not possess any threat to the user's health. However, in the future, more deep studies might find out something. But, as of now, most of the experts think that there are no side effects or issues that could come from a fitness band. Even though the fitness band emits radiation, it is comparatively very less when compared to cell phones.
Is it possible to use a fitness band without a smartphone? Could it work independently?
Most people have the wrong assumption that a fitness band cannot be used without a smartphone. It is not true, it is smartwatches that require smartphones to function efficiently, when it comes to fitness bands, as long as they could display the stats properly, there is no need for a smartphone.
Are all fitness band waterproof and precise?
No, all fitness bands are not waterproof and not all of them are precise. In fact, it is still not proven that even the premium fitness bands are precise at what they do. There is so far no standard for them to compare. If you want a waterproof fitness band, then you need to consider purchasing a waterproof fitness band.
Is it safe to wear a fitness band while sleeping?
Yes, it is safe to wear a fitness band while sleeping as most of them come with a sleep tracker. However, some of the studies have indicated that the fitness band should be kept away from the head, which means, you should not rest your head on the hand wearing a fitness band. Even if the fitness band emits very low radiation, constant exposure to this radiation over time could have side effects.
Could I expect a fitness band of the price below INR 1000 to be precise and durable?
Yes, of course, the precision of almost all fitness bad would be the same, but, the battery capacity, comfort, features, display, extra features, etc. might not be as good as premium fitness bands. If you are planning to purchase a fitness band at a budget price, fitness bands under INR 1000 are good. For beginners, they are the best option.
A fitness band is better than a smartwatch?
Yes and no, a fitness band is best for keeping track of health conditions. But, does not offer any features a smartwatch offers. On the other hand, a smartwatch comes with most of the options a fitness band offers and also extra features. But, smartwatches are expensive and large.
Conclusion
Are you feeling exhausted after scuffing your finger on your smartphone's screen to get some valuable results about the best fitness band under 1000 rupees? If yes, then this whole in-detailed post was all about you.
We are very confident here because we have added a compilation of ten best fitness bands under 1000 rupees in India.
Ridhima Sharma is a Senior Pharmacist at Kukreja Hospital, New Delhi. Ridhima completed her Diploma in Pharmacy (D. Pharm) from UP University. She regularly writes article on health information, fitness and beauty related products at IndiasStuffs.com