Do you like clicking pictures? The latest technology and smartphones have made it easier for people to click pictures or record videos. You will be able to capture your sweet memories and cherish them forever. You don't have to carry an extra handy cam to click photos because the cameras of the smartphones are better and more advanced than the cameras you use. Many people do for the best smartphones with the best camera quality. But sometimes you will not be able to see the picture clearly, and that is not due to the quality of the camera. It is due to a slight handshake when you were clicking the pictures. If you want a picture with brilliant picture quality, then you will need a tripod. When you are unable to hold the camera at the right angle or when the picture is shaking, this tripod will be handy.
A tripod is a stand with three legs and that will act as a support for capturing steady pictures. You will be able to maintain the stability of your camera or the smartphone. If you love photography as a hobby, then you will need a tripod for some best pictures. Do you want to buy one? Are you not sure which is the best tripod for mobile? Then do not worry at all. We have a solution for it. We have come up with a list of the best nine tripods in the Indian market and for those who are buying for the first time, we have made a list of products below Rs 500 in India. So, just go through the products and pick the one that suits your requirements.
Best Mobile Tripod Below 500 Rs.
Out of the thousands of options available in the market, we have made a list of nine best products. So, let us get started.
1. Everycom Mini Tripod with Mount Compatible with All Mobile Phones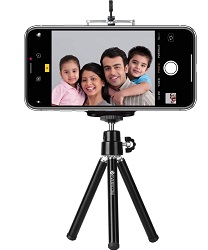 Let us start the list with a mini tripod, Everycom Mini Tripod with Mount Compatible with All Mobile Phones. It is one of the bestselling products in the Indian market. It is a very lightweight design, and that makes it easy for you to carry it anywhere along with you. You will be able to capture your memories from anywhere without any worries. It comes with extendable legs, which means you can extend it from 14 cms to 20 cms. The feet of the legs have a rubber grip so that the tripod does not slip off and damage your phone or camera. It is compatible with almost all kinds of phones and cameras. It is available in two different colors – Black and Silver. It comes with a ball head and you can tilt it up to 90 degrees.
Pros
It is a mini tripod for a perfect picture.
It is a lightweight tripod, which makes it easy for you to carry it along with you.
The legs are height extendable.
Its ball head can be tilted up to 90 degrees.
Cons
2. AmazonBasics Lightweight Mini Tripod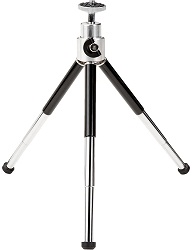 Here is another good option, AmazonBasics Lightweight Mini Tripod. It is for those who are unable to click some best pictures even when they have the best camera or smartphone. It comes in stainless steel and black color combination. The legs of the tripod are adjustable. It has stainless steel legs with rubber feet. The rubber feet will make sure that the tripod is steady and does not move. You will be able to click pictures of the best quality when the stand is steady. You can use it to place a webcam on your desk. The lightweight makes it ideal for traveling as well. You will be able to extend the height from 4.76 inches to 7.5 inches.
Pros
It is suitable for all kinds of cameras.
It is available in black and stainless steel color.
The legs are adjustable and made of steel.
It comes with rubber feet for better stability.
It is light in weight and perfect for traveling.
You can extend height from 4.76 to 7.5 inches.
Cons
There is no smartphone holding mount.
3. Smiledrive 103 cm Portable Mobile Tripod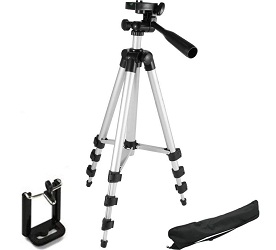 If you are looking for a tripod that can be used with multiple devices, then Smiledrive 103 cm Portable Mobile Tripod is the best choice. You can call this tripod as a universal tripod as it is suitable for almost all kinds of devices. You will be able to click pictures and videos without any shaking or disturbance. The tripod is made using aluminum alloy, and that makes it a lightweight product. It is just 400 grams and hence it can be carried even by yourself anywhere. The height of the tripod can be extended from 35 cms to 103 cms. The three legs of the tripod come with locks and that allows you to set a height of your choice. You can mobile mounting attachment so that it can be used for both cameras and mobile phones. It comes with a small carry bag.
Pros
It is a universal tripod suitable for all kinds of phones.
It is ultra-lightweight as it is made using Aluminum alloy.
It is just 400 grams in weight.
You can extend the height from 35 cm to 103 cm.
It comes with a carry bag.
Cons
The material used in its making is very delicate.
4. CEUTA® Gorilla Tripod For Camera and Smartphones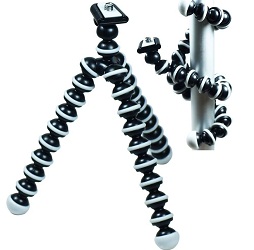 If you are looking for a tripod that can be used every day and still tolerate the daily wear and tear, you need to look at CEUTA® Gorilla Tripod For Camera and Smartphones. It is made using premium quality ABS plastic and also stainless steel. You can take it along with you when you are on an adventure trip. It can be used with a camera or smartphone of any type. The legs of the tripod can be adjusted. If you need this tripod for everyday use, then this is a perfect choice. Just place it in your bag, and you are all set for today's adventure. It is compact in size and easy to carry as well. You can click some of the best pictures of your life with the help of this tripod.
Pros
It is a universal tripod suitable for all types of smartphones.
It is made using stainless steel and high-quality ABS plastic material.
It comes in a compact size and can be carried along with you.
It is a perfect choice for everyday use.
Cons
It looks like a cheap quality product.
5. Marklif Flexible Gorillapod Tripod with 360° Rotating Ball Head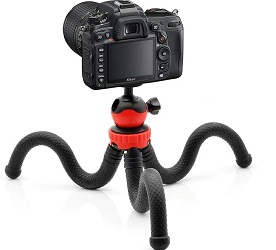 Made of the best and high-quality material like ABS, this Marklif Flexible Gorillapod Tripod is a great choice. The life of this tripod is high as it is made using durable material. It comes with a ball head, which can rotate in 360 degrees and that makes it one of the best tripods for clicking some of the best videos of your life. It can be used with any kind of device, even if it very heavy. This tripod will be able to hold the camera in the exact position with moving at all. It also comes with a mobile mounting device, and hence you can use it your smartphones, without having to purchase one extra. It is very light in weight and so portable. You can take it along with you anywhere.
Pros
It is made using ABS quality material.
It comes with a ball head that can be rotated in 360 degrees,
You can click both videos and pictures with them.
It can hold even a heavy camera for a long time.
Cons
How to Choose Best Tripod For Mobile
Tripods are of excellent support in terms of self photography. Be it a long shot or the landscape cover; a comfortable tripod must suit your requirement. On the other hand, selecting the one that matches your requirement needs a lot of comparisons. Also, there are many tripods available and choosing one from them is also a tricky task. We are here to address this issue. We hereby furnish the information and factors that you need to check while buying a tripod.
Height of the Tripod
It is one of the factors that need sincere contemplation. The optimal height of the tripod shall help you take good shots. It cannot be too tall and too short as well. On the other hand, if the tripod can be extended up to 50 inches, it is a good distance to take a shot of yours. Moreover, this length can cover a lot of people in the frame. Ensure that the height of the tripod need not be taller than your shoulder. Though it is adjustable, you may have to watch out for this factor while buying a suitable tripod.
Weight of the Tripod
Of course, you would not need a heavy tripod that needs you to work out to build muscles. Check for the ideal weight that can help you take comfortable selfies. Also, it must not be too light as well. It may trip the camera from the stand. Or it may also break. The weight and height must always be on the optimal side to have a comfortable experience.
The height and the weight must be on the right balance so that it allows you to carry with ease too.
Durability
A most important aspect while buying the tripod. As such, the height and weight must be optimal. That means to say; the tripod must be durable too. You do not want your tripod to break after a few clicks. Identify the tripod that is made of sturdy material. Ideally, go for an aluminum tripod. It can withstand the weight and stand steady for a long time. It may make the tripod's weight go on the higher side, but certainly not so heavy that you cannot lift at all.
Ease of Use
The use friendly tripods are the ones that are most sought after. It is a no brainer. You do not want to take an hour to set up the tripod to take one photograph right. Get the one that has easy access to the adjustable knobs so that you can set up the tripod in a snap. Also, check for the ease with which you can pack the tripod too. If you are into a photography spree, you do not have to get into trouble with packing and unpacking with difficulty. Purchase the tripods that have twist lock legs, Ball heads, and plates that can be released quickly.
Aligning Capacity
It is on the photography front. As such, you can set the tripod in such a way that it aligns with your photographic view. The tripod must also have easy lever access so that you can align your camera to the right angle that you wanted. Also, the quick release levers shall help you align in multiple angles at a fast pace. While doing so, the stability of the tripod must be at its best. More importantly, it must not shake. This feature is widely looked at by professional photographers.
Balance
It is the last factor you will look for while purchasing a tripod. The stand that holds the camera must be steady enough and must not topple. The overall balance of the tripod shall give maximum support to take delectable photographs.
Mobile Tripod Frequently Asked Questions
Are Affordable Mobile Tripod Great for making video blogs?
Yes, using a mini affordable tripod can easily get rid of shaking or blurring effects, which you mind find while recording the video hand-held. Using a slightly heavy tripod will help to keep your hands stable and there will be a less shaking effect. You can shoot a perfect video and most probably, you can Vlog without any major issue. The only problem is, there are a limited number of tripods available which offer the functionality to hold the tripod with closed legs.
Are cheap mobile tripods reliable?
Most probably you won't be having any issue while using the mobile tripod on the steady mode, where you are keeping the tripod in one place and shooting. In case, you are willing to carry the tripod with your smartphone on it, the cheap tripod might be a risky option. The grip on the cheap tripods is good for steady mode. So, if you are willing to carry the tripod while shooting a video, you should take precautions and don't move the tripod too much.
Do mobile tripods come with mobile holder clips?
Most manufacturers offer mobile holder clips that help you install the smartphone perfectly in possible. However, if you are willing to buy a mobile tripod in the affordable price category, you should stay a little careful and check the description properly. Many manufacturers don't include any mobile holder clips and you have to buy them separately, which can indirectly increase the cost of buying the tripod.
Are Plastic made mobile tripods durable?
Things made of PVC or hard plastic offers great durability. You can find many mobile tripods made of sturdy plastic material and they can offer you excellent use in most cases. In terms of durability, you better never step on it by mistake. The plastic material breaks into pieces with a heavy weight. If you go for proper maintenance and use the tripod with some care, you can have better durability up to 5 years.
What to consider during the purchase of a mobile tripod?
While looking for a mobile tripod in the market, you should check the build quality, the material, mount type, mobile holder clip and the overall weight factor. It would be better to finalize a budget and then, shortlist the best option in the given price range.
Bottom Line
Like you all know, there are several different options available in the Indian market today. But not all of them are safe. You need to make a choice very carefully because choosing a bad product can be a waste of money. There are several factors to consider: the height, weight, material used in its making, load capacity, and a few other things that help you make the right choice. Just go through the review of all the nine products and then compare them.
By the end of this article, you will be able to take home the best tripod for capturing the best moments of your life with your loved one.
Santosh Kumar, He is a SEO + Blogger have 12 years of experience in writing tutorial, informative and product reviews topics.