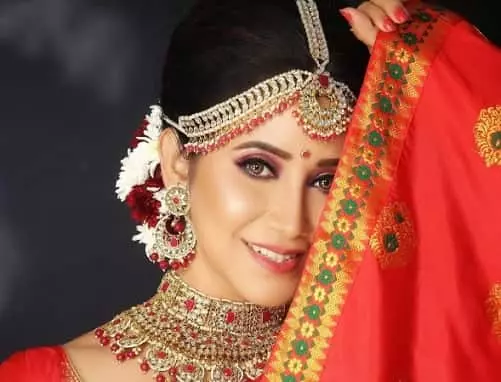 The Assamese film industry, popularly known as Jollywood, has become the major province's entertainment industry. Over the years, this industry has developed the fastest film industry after Bollywood and Tollywood. This industry first came into existence in 1935. The Assamese industry has indeed managed to make its mark at the National Awards over the years, despite its film industry being on a national scale.
Many young and beautiful Assamese actresses get the opportunity to work in Tollywood and Bollywood industries. Apart from gaining fame from the audience, these actresses have also earned popularity through social media platforms with huge fan followings. So, if you also want to know about those beautiful Assamese actresses currently leading the industry, you have come to the right page. We have compiled a list of the top 10 beautiful and hot Assamese actresses.
List of Most Beautiful Assamese Actress
1. Sunita Kaushik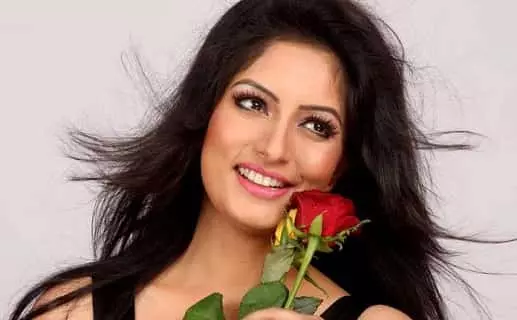 Sunita Kaushik is a popular Assamese Film Industry face, appearing in numerous mega serials in Assamese. She played various roles in leading mega serials, such as Anuradha, Ki Naam Di Matim, etc. This young girl was born on 10 June 1988 and made her acting debut in a Ghazal with singer Shaan called Issi Ko Pyar Kehte Hain. The Guwahati-based actress made her acting career at Ban Theater, Tezpur. She also had appeared in a Doordarshan telecasted serial, Pratipod. Sunita's most famous TV shows are Anuradha, Ki Naam Di Matim, Anuradha, etc.
2. Annanyya Kashyap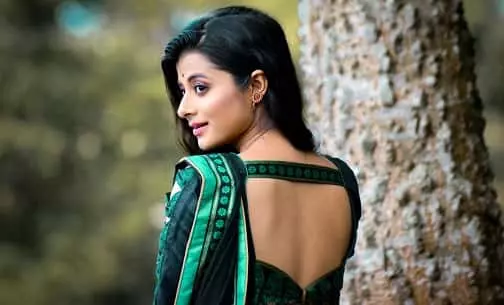 Annanyya Kashyap is an Indian model and film actress who usually appears in Assamese movies. Apart from being talented, she is said to be the most beautiful actress in the Jollywood industry. Born on 2nd March, she made her acting debut in 2013 by working in the Assamese film Val Pabo Najanilu. In addition, she also appeared in multiple music video projects, which makes her one of the finest actresses. For her work and acting skills, she won the viewer's hearts. Mur Seng Mur Bakhor, Masoloi Goisilung, Morilong Morilong Lagi Jai, Gogoi Dair Putek, and more are some of the popular projects where Kashyap acted.
3. Aimee Baruah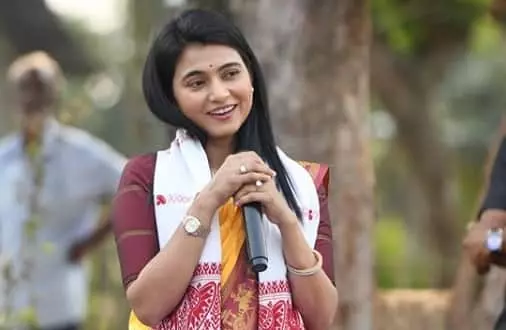 Another beautiful actress from Nagaon Assam, Aimee was married to a Minister of Assam in 2011. Aimee began her acting career in 2001 with the movie Prem Aru prem, in class 9th. She has seen numerous music video albums and famous movies, such as Bakor Putek, Nijanor Gaan, Jetuka Pator Dore, Moina O, Torali, Dorika, Hula Bhai Mula, etc.
4. Amrita Gogoi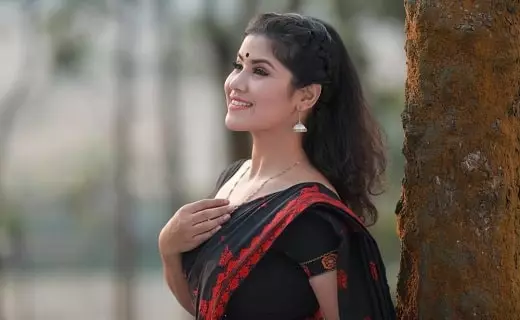 Amrita Gogoi is one of the Assamese film industry's foremost faces, having a beautiful face and good acting skills. She was born in Sivasagar, Assam, India, on 22 December 1991. Gogoi worked in countless Assamese TV shows, Films, and even Music videos as a talented and beautiful actress. Some of the successful projects completed by Amrita are Pedal Mari Mari, Ragini, Ahetuk, etc.
5. Priyam Pallabee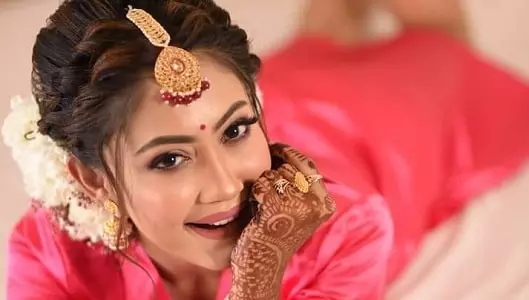 Priyam Pallabee is one of those Assamese actresses gifted with a beautiful face and charming personality. She works prominently in the Assamese Film industry. Born on 5 January in Goalpara, Pallabee is now Priyam Pallabee Kashyap after she tied a knot with Bhrigu Kashyap. In 2016, she began her career with a video album song Tomar Mitha Mitha. In 2019, she appeared in a Mega TV serial named Niyara Fool, broadcasted on Rengoni TV.
6. Richa Bharadwaj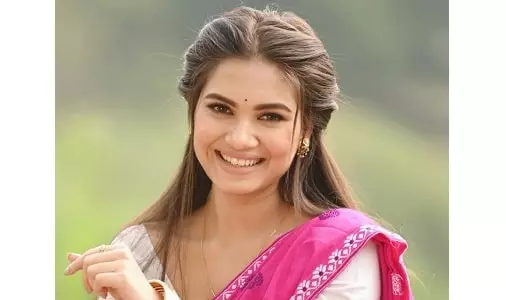 Richa Bharadwaj is a young, talented, beautiful face of the Assamese Film Industry. She got fame after appearing in the song Barite Marim Paak. Morigaon, Assam-based Richa was born on 8th July. Her first song was Maram Priya. Apart from being an Assamese Actress, she is an Assamese singer too. To start his career as an actor, he did the first TV serial, Zopuonar Deuka, which aired on Rang channel. Besides films and music albums, she appeared in the web series Mrityunjay.
7. Tehshin Akhtar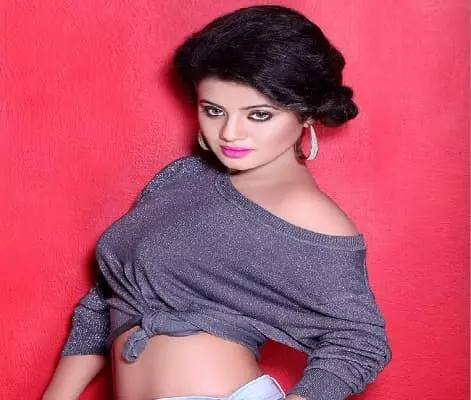 Tehshin Akhtar, as its name itself, is an Assamese Muslim actress who primarily appears in the Assamese movie Industry. She belongs to Morigaon, Assam, but was born in Shillong. In 2018, she started her career by joining Assamese theatre. Akhtar has earned a reputation after appearing in the TV serial Bharagarh. In addition, she also appears in several Assamese music album videos. Furthermore, this beautiful actress has worked in various TV serials, like FIR, Tumar Babe, Moi Zubeen Garg Hobo Bisaru, and many others.
8. Preety Kongana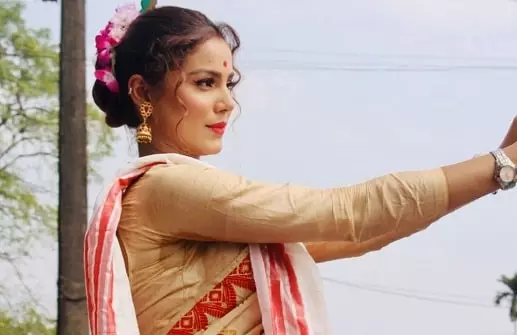 Preety Kongana Barman was born on 12 December 1991 in Kahilipara, Guwahati. Besides acting, she is also a dancer and a model. Kongana began her acting career as a Model through Tilottama, a beauty constant organized in Kolkata. She is famous for her lead role in the Assamese TV show, Ardhangini. Also, she played a lead role in the controversial TV show Begum Jaan. She made her debut with Nila Khamor Sithi, an Assamese movie.
9. Himakshi Kalita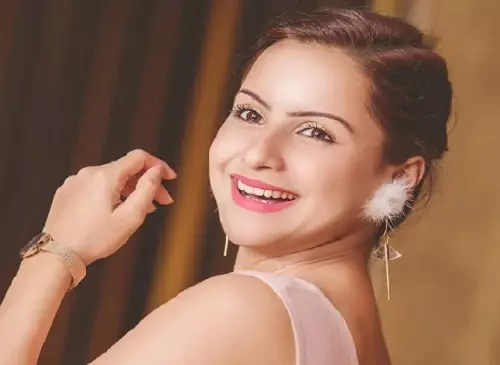 Yet another popular face of the Assamese industry, Himakshi, is famous for her personality and bold looks. She was born on 31st August in Assam. Kalita won viewers' hearts by playing a role in Assamese Mega TV Serial, Jonaki Kareng, Boidehi, and more. The first movie in which Kalita acted in a lead role was Kun. For her acting skills, she got multiple awards and other awards like Miss Telegraph Assam, Miss Nikon DY365, etc. In addition, she also appears in various music albums like Keteki 2019, Morom Barhe, Pronoy, Prothom, etc.
10. Barasha Rani Bishaya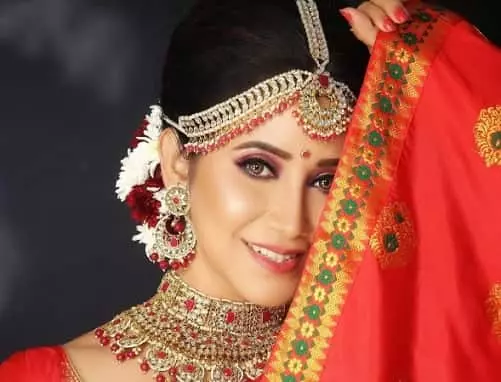 Barahsa Rani Bishaya is a young Indian actress who has been appearing since the 90's time in Assamese Movie Industry. With her good looks and acting skills, she has secured a special place in the Assamese Film Industry and in Assam's numerous mobile theatre groups. Besides acting, she possesses dancing skills, especially Bihu dancer. Bishaya was born on 20 September 1983. In 2013, she was awarded the Prag Cine Awards for the movie Me and My Sister. Also, she has marked an excellent alteration in the Assamese Film industry through the Assamese film Joubone Aammoni Kore.
Conclusion
The above-listed Assamese actresses are not young and beautiful but also win viewers' hearts through their acting skills and talent.
Santosh Kumar, He is a SEO + Blogger have 12 years of experience in writing tutorial, informative and product reviews topics.