Football is a popular sport in India. You will notice kids and adults playing football not only in schools but in clubs and parks at the local level. Many plays match at the state level as well. If you have just started playing football or if you already play football then there is one more thing that you would need apart from football. Yes, we are talking about football studs. These can enhance your performance by multiple folds. The studs are readily available in India, and they are even cheaper than sports shoes.
The studs have a pattern at the bottom, and this pattern creates a lot of traction on the field. It also saves you from slipping by offering that sort of traction. Moreover, why to spoil your expensive Nike sport shoes by using them for the purpose that they are not made for? We are sure that you agree with most of the things that we have shared with you until now. So, what are you waiting for? Go and buy a nice pair of football studs for you.
Before buying the football studs, you must go ahead and check out this list that we have compiled for you. In the list, we have listed some of the best football studs available in the Indian market. Do not worry because we have ensured that we only share the studs that are reasonably priced. You will be able to buy all these products in less than Rs 1000. So, move on to the next section and check out the details now.
Best Selling Football Studs in India
In this section, we have shared the list of the top 10 best football studs shoes in India. We have also shared a review for these studs so you can ensure that you are buying what is right for you. If you are in a hurry and if you want to order your football studs immediately, then check out the pros and cons and order the studs by going through the minimal details.
Here is the list…
1. Sisdeal Messi Blue Football Studs Shoes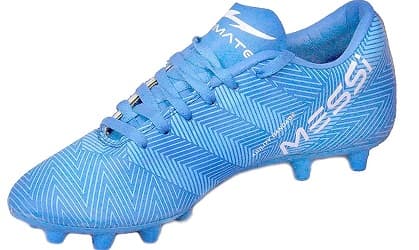 The first football studs that we are going to talk about is from Sisdeal. These are an affordable pair of shoes that you can buy. A lot of different sizes are available so you can buy them for your kids or even adults. The three colour options available from this brand also help you in making a style statement. The material used in these shoes is synthetic, so they are going to survive high moisture conditions. The studs would not spoil even when you play in the rain.
The shoes also have a flexible grip in the toe area so that you can take penalty shoots with maximum power. You can play on a firm surface, dry surface or even natural grass using these studs. You will notice the enhanced comfort and performance as soon as you start using these studs. The balance and stability are not going to be an issue either. The cushioning in the shoes ensure that you get the right amount of comfort.
Pros
These studs are made of synthetic material, and they are very durable.
The size available in these studs is between 1Uk and 10UK.
There are three colour options available: Blue, Green & Red.
Cons
Nothing that we could notice.
2. GBG Men's Messi Synthetic Leather Football Studs Shoes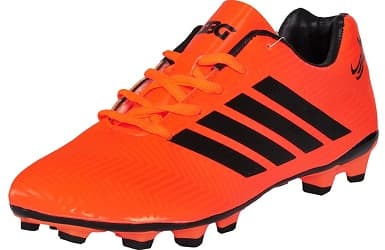 The next offering on our list is from GBG. These shoes use TPU outsole. This outsole helps you in playing on the natural ground. It also helps you in enhancing your performance on the hard field or the synthetic turf. The upper part of these shoes is made with the synthetic leather that not only looks amazing, but it also adds durability to the shoes. This material is also lightweight, so it will not cause any fatigue for you.
These studs are well balanced, and the flexible ground outsole on these shoes enables you to accelerate quickly. The insole has enough cushioning to protect your feet and offer comfort to you. The mesh design on the upper side helps you in controlling the ball when you are dribbling it. Size options available in these shoes are from 5 UK to 11 UK, and the colour options available are Black, Orange and Green.
Pros
The upper part of the shoes is made of synthetic leather.
The front side has a mesh design that helps in controlling the ball.
These shoes are available at an affordable price.
Cons
3. Feroc Men's Sniper Football Studs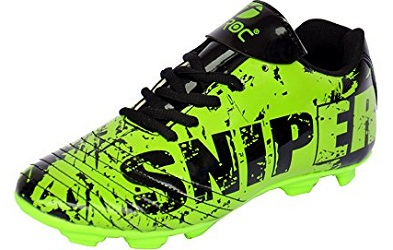 Some of us always look for the studs that have a cool design. If you are looking for a similar product, then you might want to check out this offering from Feroc. These studs are very graphical, and they feature a neon green & black design on them. You will fall in love with these shoes at first sight. These shoes have a lace-up closure system which helps you in getting the right fit. The shoes also have a medium width so that it will be compatible with the people with broad feet.
The brand uses polyurethane for manufacturing the shoes. The advantage of this material is that it is very durable, and it doesn't fade away. The size options available in these shoes are between 3 UK to 10 UK. These shoes are very affordable, and they also come with a 30 day return & exchange policy.
Pros
These shoes are the best looking football studs available in the market.
The material used here is polyurethane, and it is very durable.
The stud is well-balanced, and it helps your performance.
Cons
Only Black & Green colour is available in these shoes.
4. TRADY Ultimate CR7 Juventus Ronaldo Studs
At number 4, we have a pair of football studs from Trady. These shoes are available in dual-tone combos. The first options available are Black & Blue, Black & Red and Black & Green. All of them look amazing. The material used is TPU leather which is highly resistant to moisture. This material is also suitable for hard as well as soft grounds. With such features, it is advisable to buy these football studs from Trady.
These studs also have a snug fit, and that is the reason why it will offer more confidence to you. The closure system holds the shoes very tightly from the ankles, and it prevents ankle twists which can cause muscle injury. The brand uses high quality Eva insole, which is known to offer comfort and cushion to the athletes. The moulded design provides a comfortable fit, and it secures your heel at once place. Overall, the shoes are comfortable, and they are very durable.
Pros
These studs have an excellent grip, and it prevents any kind of ankle injury.
The shoes are perfect for playing on a hard and soft surface.
The cushioning in these studs is excellent, and they provide maximum comfort to you while playing.
Cons
The size options available are only between 5 UK and 9 UK.
5. Trade Ultimate Messi Men's Studs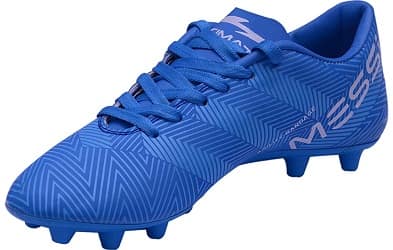 Moving on to the next product on the list, we have an option available from Trade. These are Messi design football studs that use good quality material. The size options available in these shoes is between 1 UK to 10 UK. In addition to this, these shoes are available in Red and Blue Colour. You can buy the colour that you like. Apart from this, the shoes have a TPU outsole so that you can play on synthetic turf or the hard ground. The shoes are lightweight, and the synthetic leather on the top adds a lot of durability to the shoes.
The brand uses an Eva insole in these studs which helps you in ensuring a better performance with the right amount of cushioning. The stud is flexible, and they are also lightweight. This lightweight design ensures that your feet stay comfortable and stable.
Pros
The shoes have a soft and flexible insole that enhances the comfort for the player.
The balance of these studs is excellent, and it reduces the chance of falling.
The shoes use good quality synthetic leather that is resistant to weather conditions.
Cons
Some users found the material stiff.
6. B-TUF ZOOMER Football Shoes/Boots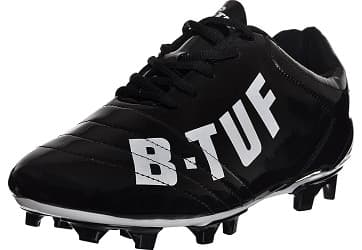 If you are looking for a pair of black football studs that can be worn by boys and girls, then you must have a look at this offering from B-TUF. These studs are also made of synthetic material, and they are available in Black & White colour. The size options that you can get here are 5 UK to 10 UK. Apart from this, the bottom part of the shoes is made of highly durable material. It doesn't break, or it doesn't cause any stability issues.
The shoes are unisex, and hence you can buy it without worrying about gender. Overall, the shoes look great, and they can help you a lot during the field. They will provide you with the required agility without any compromise on the comfort. Go ahead and check out more information about these studs now.
Pros
These studs are very durable, and stability is also not an issue.
The lace-up closure system ensures that these football studs secure your feet properly.
These shoes are unisex, and the size available is between 5 UK and 10 UK
Cons
Some users didn't like the quality of these studs.
7. GOWIN by Triumph ACE Football Shoes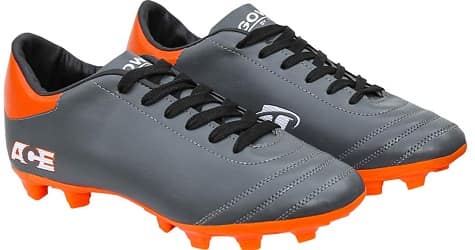 At number 7, we have a pair of studs available from Gowin. They look a lot more premium than other options available in the list. Apart from this, the colour options available in these studs are Grey – Orange & Black – White. Gowin uses PVC in the outer area to improve the durability of the shoes. In the sole, the brand uses TPU for added comfort and durability. For cushioning, the manufacturer has used the right amount of padding.
The counters have been especially bolded to offer the correct combination of shape and strength to the player. The shoes look fantastic, and there is no such issue that you encounter while playing football after wearing these studs. You will easily find your size in this option as the brand manufactures studs between sizes of 2 UK to 10 UK.
Pros
These studs are available in two colours, and the size options available are between 2 UK to 10 UK.
The cushioning used in these shoes is adequate, and you feel comfortable while playing football.
The TPU sole offers a good grip on any type of ground.
Cons
8. Vector X Men's Fizer Indoor Football Shoes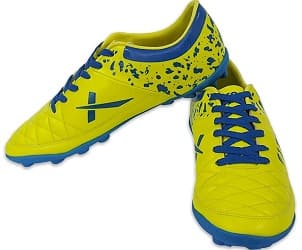 Today, indoor football has gained a lot of popularity. Indoor football not only addresses space constraints, but it also addresses the issues related to weather. The indoor football can be entertaining, but you can't use your regular studs indoor. For such indoor games, we have unique football studs that can help you in winning the game. These football studs are made of TPU sole, and they have rubber studs. In addition to this, the studs are water resistant.
The upper material is made of synthetic leather. This material is easy to clean, as well. The footbed of these shoes is padded for comfort. It cushions your feet when you are running fast. The rubber studs give you a grip when you are running on the slippery surface. The size options available here are between 2 and 10.
Pros
These shoes are specifically designed for indoor football, and the bottom part is made of rubber.
The upper part of the shoes is made of very durable synthetic leather.
The shoes can be used for playing football, basketball, volleyball, tennis, cricket, squash and even badminton.
Cons
Nothing that we could notice.
9. SEGA Star Impact Unisex Red and White Football Stud Shoes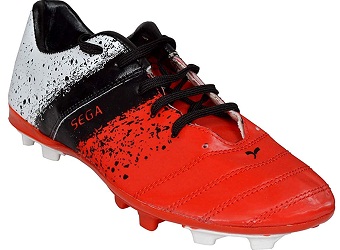 At number 9, we have a pair of football studs from Sega. This brand has an excellent reputation among players, and these studs are very lightweight. They would not slow you down, but they would help you in enhancing your acceleration. The laced closure system works well in securing your feet. If you are tired of changing your studs after every few months, then these are the shoes that will offer you a much better quality.
To take proper care of these studs, ensure that you use a soft brush or a clean cloth to clean these studs after every game. Apart from that, there is nothing that you need to be worried about. The shoes are very resistant to moisture, so any water on the field would not damage your studs. There is only one colour option available, and it is a combination of red, black and white. The shoe surely looks cool on the field.
Pros
These football studs are very durable, and they are also lightweight.
The studs are made of durable material, and they are easy to clean.
The colour combination looks fantastic.
Cons
Nothing that we could notice.
10. Vicky Transform i-Star Football Shoes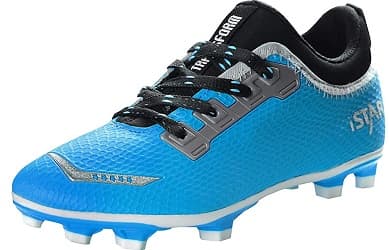 We have reached the end of the list, and this particular product is for the people who are looking for something premium. These football studs are available in blue colour, and the shoes have forward arrow-shaped studs at the bottom. This design element enhances the performance by multiple folds. It offers higher traction even on the soft field. You can use these studs on synthetic turf or hard field.
The upper material of the shoes is designed with PU Leather Composite, and the sole is designed with TPU. All the studs are configured individually to enhance performance and stability. The conical design of the studs helps you when you are taking turns at high speed. These blades also help you in sprinting and stopping suddenly. Overall, they are the best football studs that you can buy.
Pros
These football studs have a unique conical shaped stud that improves the traction by multiple folds.
The studs are made of good quality material.
The texture on the toe helps you in controlling the ball in a better way,
Cons
These studs are slightly expensive than other options on the list.
How to Choose Best Football Studs Shoes in India
Football studs are the necessary sports gear, unlike other instruments. It helps in enhancing your sports performance and confidence. However, picking the right football stud could be quite challenging. The availability of such wide variation in these studs in the market makes it challenging. Let us look at some important points to notice before buying a football stud:
Brands:
You will find various brand options in football studs. If you are happy with your previous purpose or have trust in any particular brand, you can go for that one. Make sure to compare the features and price difference in two brands. However, here are some of the amazing brands that manufacture premium quality football studs:
Nivia

Optimus

Spartan

A.K

RXN

Trady

VectorX

Sega

Asics
These are some of the affordable football studs under 1000. If you wish to increase your budget, you can also consider Nike, Puma, Adidas, and New balance studs.
Price:
It is necessary to set a budget before you think of buying football studs. The brands listed above have a variety of collections. Even though you are searching studs less than 1000, you can still set a budget for easier selection. Either you want to look for football studs below 500 or above 500.
How do you play?
Your playing style and most importantly where do you play determines the basis of selection. If you play on a boggy muddy pitch, it is better to choose SG or soft ground boots. However, if you play on a thick hard surface, FG or firm ground shoes. Other categories of shoes are AG or Artificial Grass kind of studs.
Versatility:
Picking a football stud that is exceptional in every purpose is the best idea. Look for perfect comfort, design, color, stretch, and material. If any of the football stud satisfies whatever bar you set, go for that one.
Fabric & material:
Material is the single most factor that influences your comfort level and hence the gameplay. Usually, a football stud comes in three common materials involving leather, synthetic, and rubber. Leather is considered to be the most premium material. However, you can also go for synthetic and rubber ones in low tier categories. Also, make sure to look for breathable material. It will offer you more reliable comfort while playing.
Color and design:
Football studs come in different color options. Blue, yellow, red, orange, neon, and black are the topmost preferred colors. Identify the color that makes you look unique on the ground without any hindrance in your gameplay. The design should also be comprehensive for better performance.
Size:
Be careful while selecting the football stud sizes. Improper fitting can make you highly uncomfortable while playing. Make sure to try on the shoes and try walking on them for a while. If it makes you feel comfortable, you can go for it. If you suspect any discomfort, tell the shopkeeper to show you more varieties.
Types:
Mixed studs: It is a combination of bladed and conical studs.

Molded studs are of various shapes ranging from conical, arrow, and hexagonal.

Bladed studs offer a higher grip and traction.
Final Verdict
These football studs listed above are highly reliable. They are made of good quality material, and they are also easy to maintain. Take some general precautions like clean them properly after the use. Do not walk on the road or hard surface with these studs. Also, you may want to buy a pair of shin guards along with these studs. They will save you from any potential injury while you are playing football.
The shin guards are also available for a very reasonable price. So, why compromise on your safety? Order your studs and a pair of shin guards to enjoy the game at high intensity.
Santosh Kumar, He is a SEO + Blogger have 12 years of experience in writing tutorial, informative and product reviews topics.