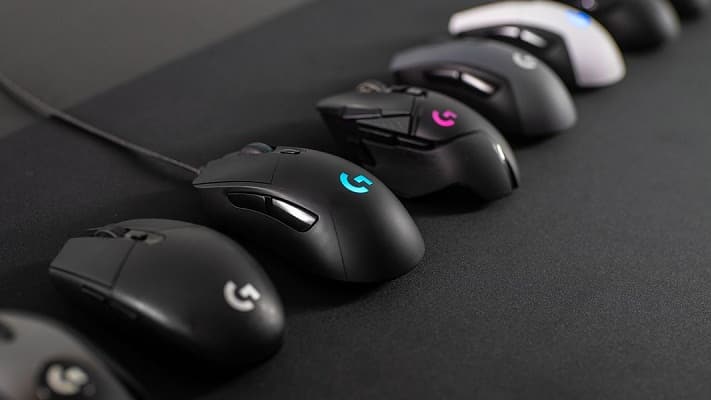 No pro gamer will neglect a gaming mouse, almost every game today requires a mouse to play. Over the past few years, the demand for gaming mouse has increased, and at the same time, the number of gamers has also increased. While gaming mouse is basically a mouse, a gaming mouse is different from an ordinary mouse.
A gaming mouse is designed in such a way that it comes with a comparatively high DPI rate, backlit, and also various programmable buttons.Apart from these features, a gaming mouse will have an ergonomic shape and size. Unlikean ordinary mouse, a gaming mouse is durable and can withstand high stress for a long time. As you know, a gaming environment is different from normal circumstances and it requires specially designed mice, especially the buttons on it. Based on experts opinion, the buttons on a gaming mouse should have buttons that could withstand at least 2 to 3 million clicks.Now, all these features combined together make a gaming mouse.
Best Selling Gaming Mouse Below 1000 Rs.
If you are looking for a gaming mouse, then we have reviewed more than two dozen different gaming mouse and shortlisted 10 best gaming mouse that has a price less than INR 1000, you may also try our some other articles which are related to mouse within same budget.
1. Redragon Phaser M609, Wired Gaming Mouse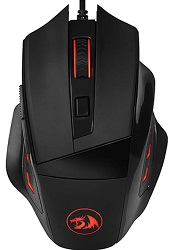 If you are a gamer and a highly talented one, you would be familiar with almost every brand that deals with gaming accessories like keyboard, joysticks, wheels, mouse, etc. Then it would be a waste of time to introduce the brand Redragon, the Phaser M609 gaming mouse comes from this brand, and it has almost all the premium features. Here is why you should consider purchasing this gaming mouse in India.
While most of the gaming mouse out there comes with an expensive price tag, this product comes at a reasonable price. The device comes with a state-of-art LED-backlit that illuminates the mouse to offer maximum visibility when dark. The device comes with a maximum 3200 DPI and the device comes with an option to switch the DPI between 3200/2400/1600/1000. One of the best features incorporated into this gaming mouse is the 6 programmable buttons, which include two thumb buttons. Another important thing about this device is that it has a high-quality and precise optical sensor and a textured surface for maximum grip even when sweating. The base of the mouse comes coated with a Teflon formula that enables easy sliding, and the scroll wheels incorporated into this device is extra wide for enhanced control.
Pros
LED-backlit feature
User-adjustable DPI
6 programmable buttons
2 different customizable thumb buttons
High quality and precision optical sensors
High grip and Teflon formula for better sliding
Wider scroll wheel
Balanced body and ergonomic shape
Cons
2. Xmate Zorro 3200DPI, Wired Gaming Mouse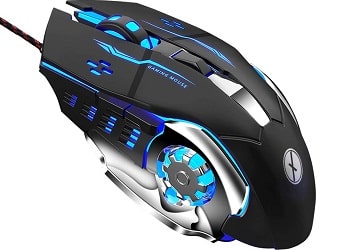 Most gamers assume that a gaming mouse under INR 1000 is worthless and cannot match the premium products. However, this is not always true, consider purchasing the Xmate Zorro and use it and your assumption might change. While the brand is not well-known in India, this gaming mousehavegained a good reputation over the past few years. Here are some of the main reasons.
This gaming mouse is available in two different variants, Zorro and Zorro Pro, while the price of the Pro variant is higher than this model, almost all the features remain the same. But, we recommend that you consider the Zorro variant. This device comes with a maximum of 3200 DPI, which could be adjusted between 3200/1600/1200/800. Unlike other gaming mice, the LED backlight colour varies based on the DPI. One of the best things about this gaming mouse is that the entire housing of the mouse is made of ABS plastic and it comes with a leather collar for grip and absorbing the sweat. The manufacturer has also incorporated 6 different programmable buttons and all the buttons are plate-mounted for durability. The overall shape and design of the mouse are ergonomic, therefore, comfy to use. The scroll wheels incorporated into these gaming mouse are rubber coated for enhanced grip and control.
Pros
Adjustable DPI and maximum DPI 3200
Variable LED-backlit based on the DPI
Made of ABS plastic
Leather collar for style and grip
6 different programmable buttons
Rubber coated scroll wheel
Ergonomic design
Plate-mounted mechanical keys
Cons
Few of the customers reviewed the product to come without a user's guide.
3. Offbeat RIPJAW, Wired Gaming Mouse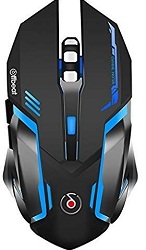 If you have already checked the above-listed gaming mice, you would have noticed that both of them offer only a maximum DPI of 3200, but, the Offbeat RIPJAW gaming mouse has a 6200 maximum DPI and it comes at a very reasonable price. If you are on a budget and if you wanta budget mouse with premium features in India, then this mouse is the best option for you.
As mentioned above, these gaming mice have a maximum of 6200 DPI and the device has the feature to switch between 4 different DPI, which include 6200, 3200, 2400, and 1200. This gaming mouse has a 500 Hz polling rate and it allows the mouse to move comparatively faster than other devices.The connection wires of these gaming mice are braided for durability and the device comes with 7D buttons for better control. The overall design of this gaming mouse is ergonomic, lightweight, and easy to handle.
Pros
Has a maximum DPI of 6200
4 adjustable DPI option
500 Hz polling rate
Braided cable for maximum durability
7D buttons for enhanced control
Lightweight design
Ergonomic body
Pre-programmed buttons
1-year warranty on the product
4 different LED backlight colour
Cons
This mouse is not designed for hard-core gamers, the product delivers the features and quality for the price you pay.
4. HP M220, Wired Gaming Mouse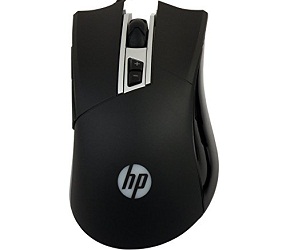 If you are looking for a gaming mouse in India that comes from a reputed and renowned brand, then this gaming mouse from HP is the best option for you today. This gaming mouse is not like other mouse on this list, even though, it is an HP product, it comes at a price less than INR 1000.
This HP M220 Gaming mouse comes designed to offer a maximum of 4000 DPI and the manufacturer has incorporated button to facilitate adjusting the DPI. As you know, one of the best things about HP mice is that they come with state-of-art quality and precision, the HP M220 is no different, this device has a highly precise optical sensor. The entire product is made of high-quality material that could withstand harsh gaming conditions. The scroll wheel incorporated is designed for maximum control and the device is programmed for plug and play. The manufacturer offers a 1-year warranty on this product. This gaming mouse could be connected to USB and it is USB 3.0 and 2.0 compatible.
Pros
Highly precise optical sensor
Maximum DPI 4000
Easy to use the scroll wheel
Plug and play design
USB port connection
USB 3.0 compatible
1-year warranty on the product
Reputed brand
Cons
Does not have any programmable buttons
5. MFTEK Tag 3, Wired Gaming Mouse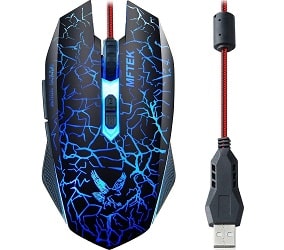 MFTEK is one of the top-rated gaming mouse brands on the Indian market today. If you are a person looking for the cheapest gaming mouse, then this mice is the best option for you as it comes with good features. Here are some of the best features.
The tag 3 model gaming mice come designed in such a way that it comes with a maximum of 2000 DPI and the mousehas options to allow the user to switch between the DPI, which include 2000, 1600, 1200, and 800. One of the best things about thismouse is that it would change the LED-backlit colour based on the DPI level. The surface of the gaming mouse is coated with anti-sweat and anti-grip texture that offers maximum grip for enhanced control. The overall design of the mice is ergonomic, making it easy to handle and less hectic to use.
Pros
Has a maximum DPI of 2000
Comes with 6 different programmable buttons
Option to adjust the DPI between 1200/1600/800
Ergonomic design
Anti-slip and anti-sweat design
Reasonable price
Cons
Few of the customers have reviewed the product to lack durability.
How To Choose The Best Gamine Mouse In India

A gaming mouse is one of the most important parts of gaming computers and most pro gamers would not prefer engaging in a game without one. While purchasing a standard gaming mouse is an easy task, purchasing a gaming mouse is a comparatively difficult task. A standard mouse has limited features when compared to a gaming mouse. The number of buttons alone is comparatively higher than the standard mouse. Are you looking for a gaming mouse that could make your gaming experience smooth and engaging? Then here are the factors that you need to consider while purchasing a gaming house.
Laser or optical sensor?
There could be a laser or optical sensor that could be incorporated into a gaming mouse. Most commonly, all the gamers use an optical mouse as it offers a lag-free gaming experience. However, laser gaming mice lack such a benefit. But there are brands that claim that their flagship laser gaming mouse overcomes such issues. But, as far as we know, we recommend considering optical mouse only, as they are more efficient.
Dots Per Inch – DPI
Each mouse on the market today will have a specific DPI rating, some of them might have variable DPI within a specific rage. Most beginners neglect this factor; DPI is simply the factor that decides how much the cursor on your screen moves when you move the mouse physically. A larger DPI means, less distance you move the mouse, and your cursor will move larger distances. In other words, if the DPI of your mouse is high, then your mouse will be very sensitive.
If you are a person who plays more than one game, the DPI you need could vary, for such cases, there are mice that have the feature that will allow the user to switch to different DPI levels.
Wired or wireless –
Unless you are a person who loves wireless devices, do not go for wireless gaming mice. The majority of the wireless that comes under the price of INR 1000 does not have any decent quality or features. It is best recommended that you go for a wired gaming mouse as they are more efficient and fast. If you want an efficient and fast wireless gaming mouse, then consider only premium products.
Left or right-hand gaming mouse –
Gaming mouse, today, comes designed for left or right-hand. If you are a left-hand gamer, then you could get a gaming mouse designed for left-hand use.
Number of buttons –
While a standard gaming mouse comes with a limited number of buttons, a gaming mouse could come with a different number of buttons based on the model. Some of the models come with more than 20 buttons. However, a gaming mouse should be selected based on the number of buttons that you need for your game. Typically, a gaming mouse under the price of INR 1000 would have 6 to 7 programmable buttons. They would also have DPI level control buttons too.
Palm or claw grip –
Gamers tend to spend a lot of time using gaming devices, this demands a better grip on the devices. When it comes to gaming mice, it could be a palm grip or claw grip mouse. Both these types are different, a claw grip mouse comes designed in such a way that the user has to hold the mouse in a claw position, this type of mice is best for gamers who love precise and quick movement. On the other hand, palm grip mice come designed like a standard mouse with buttons placed around the mouse. While the paw grip mouse offers an unnatural feeling to the user, a palm grip mouse offers a smooth and pleasant feel.
Gaming Mouse Frequently Asked Questions
Gaming mouse under the price of INR 1000 is any good?
Yes, the majority of the gaming mouse that comes from good brands are considered to be good. However, do not expect them to offer the premium experience of the features. While both are gaming mice, gaming mouse under INR 1000, the features, and efficiency might not be very good.
Is it okay to use a gaming mouse for normal use?
Yes, while a standard mouse cannot be used for gaming purposes, a gaming mouse could be used for normal use. However, we will not recommend using a gaming use for a normal purpose as a gaming mouse is not designed for standard use.
Are gaming mouse with low DPI and very high DPI good?
There are gaming mice available with different features, one of the common feature is variable DPI, most gaming mice come with a feature that would allow the user to switch the DPI according to his/her gaming requirement. However, the DPI requirement could vary based on the game, MMO and RPG games require high DPI and FPS and other shooter games require low DPI. Therefore, based on your gaming requirement, a gaming mouse DPI could be good or bad.
Are wireless gaming mice available below INR 1000?
No, wireless gaming mice are expensive and might not be available under INR 1000. However, even if you manage to find one at this price range, the connectivity, the features, and the efficiency might not be any good. Therefore, do not consider them unless you are ready to invest a good amount.
Are wired gaming mice better than wireless gaming mice?
Yes, a wired gaming mouse is better than a wireless gaming mouse in terms of efficiency. However, there are some experts and gamers who claim that today, there are some wireless gaming mice that offer the same efficiency as wired gaming mice. But, such wireless gaming mice are very expensive and on the top row.
Do premium gaming mouse brands market gaming mice at a price less than INR 1000?
Yes, a few premium brands have their gaming mice at this price range. But, they are not as good as their premium successors. If you are a professional gamer who already has experience using premium gaming mice, then, you will not be satisfied with the basic models.
Bottom line
If you are a gamer then you would know the importance of a gaming mouse, if you are looking for a gaming mouse, then you will not regret purchasing any one of the mice listed above.
Santosh Kumar, He is a SEO + Blogger have 12 years of experience in writing tutorial, informative and product reviews topics.