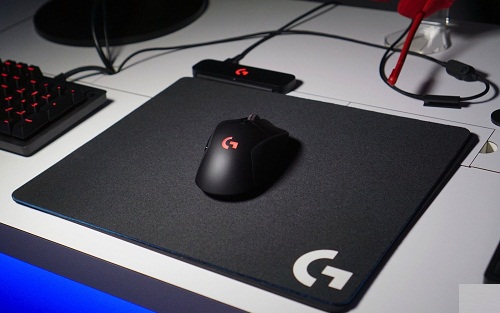 With most of the people working from home, a nice official setup at home has become a necessity. One of the crucial parts of this setup is a wireless mouse. This pointing device is of great help even when you are using a laptop. It allows you a higher degree of agility. When compared with the wired mouse, the wireless models are easy to carry and easy to use. Today, you can connect the wireless mouse to Mac, Windows, Linux, and even iPads. Linking the mouse to the iPad makes it easy to work for the people who often use an iPad for their official use. Apart from this, a mouse can even help a gamer as it can be connected to the PlayStation.
You will find a lot of options available in the wireless mouse models. There is a simple three-button mouse, and then there are models with multiple buttons and dip adjustment settings. You need to choose how many and what kind of features do you want in your mouse. You can check if the wireless mouse can be connected to the Bluetooth on your computer or if it needs to be connected with the help of the input dongle.
Best Selling Wireless Mouse Below 1000 INR
Our aim here is to provide you with a list of reliable mouse that you can purchase in less than Rs 1000. We did the homework for you, and we came up with the list of the best wireless mouse that is available below this price point. All of the products have been tested for reliability. You can pick any of the products from the list, depending on the features. So, move on and check out this list of best budget wireless mouse that is available in less than Rs 1000. In-case if you want to buy best mouse under the same budget with wired and gaming mouse then you may try following articles else move to list of best wireless mouse:
1. Logitech M235 Wireless Mouse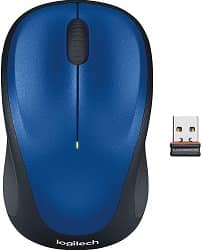 One of the most reputed brands for computer peripherals is Logitech, and the first mouse on our list is from Logitech. It comes with a Nano receiver that can be connected to the USB of your laptop. Once you connect it, the receiver will be able to connect to up to 6 mouse and keyboards. The sides are designed with rubber, and they are smooth. It also has a scrolling dial on the top. You just need 1 AA battery to power the mouse, and it will last for 12 months.
The optical sensor in the mouse is very accurate, and it supports high resolution, which in turn gives you the precision that you need. The mouse also has a switch to turn the mouse off, and it is a great help in conserving the battery. The ergonomic design makes it comfortable for you to use the mouse for long hours.It is the best mouse that you can buy.
Pros
Logitech offers a three-year warranty on this wireless mouse.
The mouse supports a resolution of 1000 dpi, and it uses wireless technology to connect.
It is available in 2 colours, and you can even buy a mouse + keyboard combo.
Cons
Nothing that we could notice.
2. HP Z3700 Wireless Mouse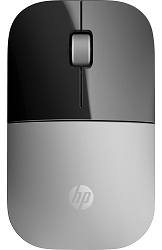 If you are looking for a mouse that looks amazing on your desk, then check out this model from HP. It looks great, and it is very slim. The mouse is not just good looking, but it is easy to carry in the laptop bag or the iPad sleeve. The optical sensor in this mouse has a resolution of 1200 dpi, which is undoubtedly very high. Just like all other mouse, this product also uses a single AA battery. It can last 16 months easily without needing a battery replacement.
This mouse also has a receiver that works on 2.4 GHz wireless signals.It comes from a reliable brand, and HP also offers a warranty policy on the brand. You can go ahead and buy this mouse if you are looking for something sleek. You can certainly make a statement with the design of the mouse.
Pros
The mouse is very sleek, and it is very pleasing to the eyes.
It supports a high-resolution dpi of 1200,and it has long battery life.
The mouse comes with a one year warranty from HP.
Cons
This product is slightly expensive when compared to other options available in the list.
3. Portronics POR-015 Toad 11 Wireless Mouse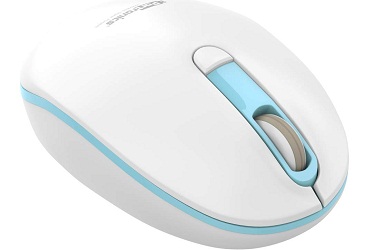 Portronics is a brand that is known for offering affordable and reliable products. This mouse also has an ergonomic design, and it reduces the fatigue by multiple folds. It uses a technology that you can rely on. The mouse comes with a wireless dongle that uses 2.4 GHz technology to connect. The battery life is long, and the range of the mouse is about 10 meters.
You can also select a colour. The two colour options available are blue & Grey. Another pack contains a mouse pad as well. The compatibility will not be an issue with the mouse as it can connect to windows, Mac and Linux as well. It can even work with Android TV, and the mouse offers you with the required flexibility to you. It is one of the most affordable options available in the market, so do not give it a miss.
Pros
Portronics offer a six month warranty on this wireless mouse.
The DPI can be adjusted easily, and it supports a DPI between 800 and 1600.
The mouse has been tested for 3 million keys, and users never complained about the quality of the mouse.
Cons
You might need to use a mouse pad as this has a slippery base.
4. HP X3500 Wireless Mouse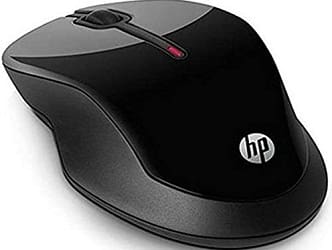 Here is a second option available from HP. There is no doubt about the fact that HP offers a high quality product. This option is slightly bulkier than the last HP mouse that we talked about, but it is manageable. This mouse also has a plug and play functionality, and the optical sensor supports a resolution of 1600 dpi. A single AA battery powers this mouse for 12 months without any issues. The adjustable dpi helps you in adjusting the speed and the precision of the mouse as well.
Apart from the details mentioned above, you will be glad to know that this mouse has a space to store the received under the cover. It reduces the risk of losing the receiver. Overall, the mouse is stylish, and it has an attractive design. You are going to love the enhanced specs which are backed by the quality of HP. It should be noted that you will only be able to use this mouse with the Windows system.
Pros
HP offers a two year warranty on this mouse.
It has a three-button design, which includes a scroll wheel as well.
The optical sensor can be adjusted to 1000 dpi, 1200 dpi and 1600 dpi.
Cons
This mouse is not compatible with Mac.
5. Dell WM126 Wireless Optical Mouse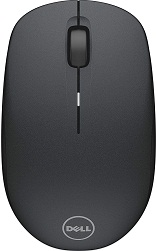 Some of the users like to buy peripherals that promise them the best quality. Dell is one such reliable brand that not only promises a good quality, but it also promises a proactive customer service. You can buy a wireless mouse from Dell, and you are going to like the quality of the mouse. It is available in three colours which includes red, blue and red. The mouse uses a wireless receiver to connect, and it needs an AA battery as a power source.
A single battery can last for 12 months, and that helps you in getting rid of frequent battery replacements. In terms of compatibility, the mouse can function with the systems running on Windows, Android, Linux and Chrome. With a resolution of 1000 dpi, it offers the correct amount of precision to every type of users. If you want a sturdy mouse, then this can be an ideal product for your purchase.
Pros
It is available in three attractive colours.
Dell is known for the quality of the products and fantastic customer services.
Dell offers a 1 year warranty on this product.
Cons
This mouse is slightly bulky and heavy.
How to Choose The Right Wireless Mouse in India
Whether you consider buying a wireless mouse for portability, ease of use, or to get rid of the wire, selecting the right one for your use is necessary. The following are some essential factors that you can look for while buying a wireless mouse.
Wireless mouse comes in several designs to meet the needs of different people. They usually have different structures, and that defines how it feels to your hand while using. Also, it affects your hand movement and efficiency. Therefore, you need to check the design of the mouse and choose the one that suits your needs.
Consider Your Application:
Another important aspect to consider while choosing a mouse is that the application for what application you need it. For example, a browsing mouse won't provide the same performance if you use it for gaming. Because the design, structure, and functions of browsing mouse and gaming mouse are different, you need to select a wireless mouse that fits your application.
The weight of the mouse affects your hand movement and defines how fast you can do your work. Usually, a gaming mouse is heavier than a regular mouse and offers high strength and durability. So if you are looking for a wireless mouse for some casual works, then you can go with a regular mouse. Otherwise, you can choose a gaming mouse for your gaming needs.
Laser Or Optical Operation:
These two are the most common types of wireless mouse available in the market. Generally, a laser wireless mouse uses a laser light that tracks the cursor movement and lets you do your work efficiently. This type of mouse is highly sensitive and works on all types of surfaces.
But an optical mouse uses an LED light to provide effective movement to perform your work. This mouse is ideal for shallow or opaque surfaces. Therefore, you can consider these points and select the right type of mouse for your operation.
This feature allows you to define how many times the mouse records its position in a second. So if the polling rate of the mouse is high, then it will offer higher accuracy. Usually, the polling rate of a mouse is measured in Hz. If you are looking for a gaming mouse, then you must consider the polling rate of the mouse before buying it. But regular users can neglect this feature. A polling rate of a minimum 500Hz is ideal for gamers.
Wireless media is important to consider ensuring better performance. In general, you will have two options, namely RF and Bluetooth, while choosing a wireless mouse for your use. RF mouse is usually more responsive than Bluetooth options and easy to set up. They come with a dongle that needs to be plugged into a USB port for operation. Also, if you lose the dongle, then you can't find the perfect match for it.
The Bluetooth wireless mouse doesn't use a USB port and can be connected to your system with ease. It can also last up to one or two years easily.
Final Verdict
We hope you can find a wireless mouse from the list that will help you improve your efficiency. We have covered all the good brands in our directory that include Logitech, Mi, HP, Zebronics, and other popular brands. Go through the review, list features, and the advantages of understanding which product will be suitable for you. The last choice is on you, so buy the best ones from the whole list of wireless mouse available in the market.
In case you want more information about any of the wireless mouse in the list, simply click on the link associated with that particular listing. It will redirect you to the Amazon page of the wireless mouse, where you can check the price and purchase your favourite wireless mouse. Thank You.
Santosh Kumar, He is a SEO + Blogger have 12 years of experience in writing tutorial, informative and product reviews topics.