One of the worst types of public waste is plastic water bottles. If you indulge with reusable water bottles, it will help you in many sectors, such as preserving the environment, saving you money, and the bottle being easy to clean. With the introduction of different glasses, such as borosilicate glass and silicone sleeves, glass bottles have become quite popular. Many people are not alright with using stainless steel or plastic water bottles as frequently they would feel a weird taste in the water, which usually takes place due to the residual taste of the bottle.
Such water bottles contain harmful chemicals which can travel inside you with the water. But in the case of glass water bottles, they do not possess any weird smell, taste, or chemicals, and you can rest peacefully knowing that you won't be consuming any harmful chemicals when drinking water. Below are some of India's best glass water bottles for you to look out for.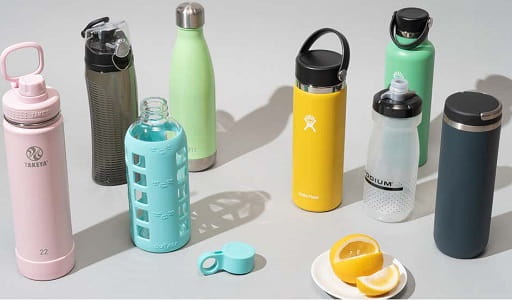 List of the best Glass Water Bottle in India
How To Choose the Best Glass Water Bottle?
A nice water bottle is one of the most important tools for staying hydrated, and purchasing a lovely water bottle could motivate you to drink lots of water, which would benefit your health in many ways. In addition to relieving your thirst and keeping you hydrated, research suggests that drinking enough water will enhance your complexion, digestion, and energy levels. Glass water bottles earn extra points because they're better for the environment and you.
Even though borosilicate glass is used in all glass water bottles, there are differences in their size, designs, lids, cleaning procedures, and other features.
Here are a few elements that may affect your decision as you look for the ideal glass water bottle that suits your requirements:
Size
A glass water bottle's size affects how convenient it is to carry and also how frequently you need to refill it. Once you're traveling or otherwise away from a fountain, sink, or some other water source, a bigger bottle comes in handy. In contrast, smaller bottles fit more conveniently in confined areas like cup holders and backpacks.
Durability
Compared to metal and plastic water bottles, glass bottles are far more brittle. Seeking a bottle with a shielded sleeve made of silicone or another cushioned material is one technique to stop your bottle from breaking if it drops.
Lid
Whenever you need water, you twist the cover of most water bottles by turning it on a thread. Whenever the portion of the lid concealing the drinking spout is flipped, the drinking spout is visible. Alternatively, you could choose a flip-top or tumbler cover if you want fast access to your water. You can reach the water with one hand using one of these alternatives. Straws that fit via tumbler lids are included with the lids.
Cleaning
Some glass water bottles could be cleaned on the top shelf of your dishwasher; however, make sure to read the product details. The cap occasionally has to be hand-washed in a kitchen sink.
Design
Several glass bottles come with a shielding sleeve in various colors, allowing for further customization. Others have unusual sleeve or body shapes.
Conclusion
One of the simplest methods to save money and decrease trash is to purchase reusable water bottles, which are much simpler to clean than you might imagine. Glass has risen to prominence as one of the most widely used materials for water bottles because of modern, robust borosilicate glass plus silicone sleeves. A glass water bottle is a terrific substitute that seems a little more opulent if you don't like the flavor of stainless steel or the feeling of plastic water bottles.
Santosh Kumar, He is a SEO + Blogger have 12 years of experience in writing tutorial, informative and product reviews topics.