Humans have always been finding ways for making any piece of work easier, if it can be done with less effort then why choose the other way? And when it comes to staying fit and healthy, working out daily is not something everyone can pull off. That's when we need something herbal and possibly the safest option for shredding our body weight. Green Coffee is one of the best options when asked amongst the fitness community, it is just like regular coffee that hasn't been roasted which makes it completely raw. The amount of caffeine level is therefore low in green coffee as compared to regular coffee, hence it will not cause many side effects relating to caffeine. Since Indians are becoming more techno-savvy, the reduced amount of activity has lead to many health problems.
The chlorogenic acids present in the coffee helps in reducing diabetes and provides aid to heart-related issues. However it does not taste like the regular coffee we consume, it is more likely to taste like green tea or a herbal tea.It is suggested to take your green coffee first thing in the morning if you expect better results in your weight loss process.
We Indians while choosing a product, the first thing which pops up in our head is 'value for money'. Keeping the budget in mind we have shortlisted the best options for you to select the affordable yet top quality product. Here are 10 best green coffee we have enlisted under 500rs in India, let us go through each of them and choose the one which suits all your criteria and will become your partner in the weight loss journey-
1. Sinew Nutrition Green Coffee Beans Powder
The product which made it to the top of our list is this amazing one from Sinew Nutrition. This brand is well known in the market of fitness and supplements. The Sinew Nutrition Green Coffee Beans Powder is a 100% organic products that come with the most affordable price. This coffee powder is made from Arabica beans which is known as one of the superior quality. It is 100% vegan, made of pure and safe organic beans fortified with antioxidant GCA which is a natural appetite suppressant. This helps in suppressing food craving and will control your appetite.
Pros
It is an amazing antioxidant that provides a positive effect on health, leaving no side effects.
Easy to make, takes hardly 10 to 15 minutes.
Sinew Nutrition happens to be a well-known brand, which makes the product trustworthy than others.
Cons
It tastes a bit bitter when consumed neat, you can add honey to it for better taste.
2. Neuherbs Green Coffee Beans Powder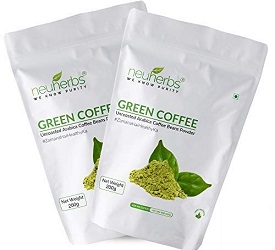 Neuherbs brand is famous for providing the purest form of all the products to their costumers. They create the finest range of supplements consisting of nutritional and weight management value. Crafted with consultation of the experts, they work in a way that naturally fit in our lifestyle. Neuherbs green coffee helps in managing blood sugar levels. It can be consumed by any age group and it won't cause any harm. It will benefit your heart making it healthy like never before. Coffee is loaded with antioxidants helps in managing weight which comes under the goal of a healthy life also includes healthy eating and physical activity. This maintains a balance between intake and energy consumption leads to fulfill healthy body goals. Neuherbs also provides with the free diet consultation, so that you can plan your intake according to your need and body type. You can drink your green coffee pre or post-meal.
Pros :
Neuherbs make sure there are no additives mixed in the coffee, which most of the products in the market do.
It also does not support any flavoring agents, keeping it bare and simple.
Cons :
It should be kept out of reach from kids.
It is also suggested to avoid consuming during pregnancy.
3. Ariginallo Green Coffee Beans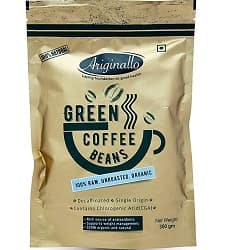 Ariginallo was established in the past few years and has become a leading supplier of premium green coffee beans and apple cider vinegar. Bringing directly from the cultivated farms and providing it to the end-users all across India has been the only motto. These coffee beans provide a rich source of antioxidant(CGA), it is a natural diet suppressor. Since the demand for green coffee is low as compared to black coffee, that leaves us with the less number of manufacturers. So choosing amongst the few, we often go for the reputed and most trusted ones. Ariginallo has become one of the top trusted brands in our country within 2-3 years. The kind of quality it provides with such a great deal of price makes it amongst most likable product from our list. The Ariginallo coffee contains chlorogenic acid, a potent antioxidant, happen to provide with the all type of nutritional values. The beans of Ariginallo green coffee are naturally cultivated in a special way so that its vital ingredients can be preserved.
Pros:
Maybe slow in giving effective results but will work on enhancing your metabolism.
No artificial flavoring and chemicals involved in making.
The product claims to give 100% pure extracts of green coffee.
Cons:
Till now no such cons have been fond of this green coffee.
4. Health First 100% Pure Green Coffee Beans Powder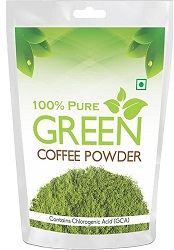 Health First products manufacturing takes place only at government inspected GMP(Good Manufacturing Practices) facilities. The brand uses only the premium ingredients in the making of their products with a great zeal. This supplement brand is an exclusive brand of Health First Network that provides you with almost all kinds of supplements. It is stated to have a world-class quality on the inside and designed with a distinctive look on the outside.
It is made from arabica beans which is the most well-known species of coffee. It has no additives thus making the product 100% natural and organic. These beans block the absorption of fat so this way our body has to forcefully utilize what is already stored for energy. It has the tendency to suppress a person's natural appetite and also regulates food cravings by minimizing it. For best results, it is suggested to take a hot cup of Health First green coffee drink before each meal.
Pros:
Contains 3 times more antioxidants.
Is equally effective for men and women, just have it 30mins prior to your meals.
There is so much ease in preparing this drink.
Cons:
Don't forget to consult your medical practitioner before you start taking this drink, if your body is anyway allergic to caffeine.
5. Sinew Nutrition Green Coffee Beans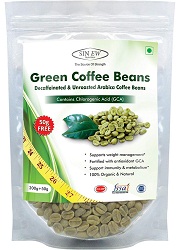 Sinew Nutrition provides you with a wide range of supplements like protein, mass gainers, weight loss, and other vital supplements. They also provide with the choice of flavors according to costumers demand. Sinew is an exclusive bran launched by Healthgenie which is India's top-notch brand. Its stores are rapidly increasing to every corner of the country as it provides a variety of supplements and healthcare products.
Sinew provides with the trusted and premium quality of the green coffee. Being 100% pure and organic, the product value for money increases as it comes at very affordable pricing. The taste may be the second choice as you are choosing the option in which you don't have to go on a hard diet, taste is something which can be sacrificed. The reason the green coffee is less preferable in India is its bad taste, as we Indians have taste buds which id hard to satisfy.
Pros:
No additives and sweetening chemicals added which makes it 100% herbal.
It is available in small units so that we can try the products and find out if it turns to be effective.
Cons:
People who have caffeine-related issue must ensure their safety before using the product by their medical practitioner, other than that there is no such negative reviews from the daily users.
6. Greenbrrew Instant Green Coffee Premix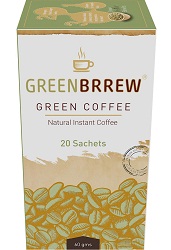 Greenbrrew is a well-known coffee brand in India. It loudly claims that without changing much of your lifestyle, you can bring a considerable amount of difference in your body by just a daily intake of their coffee. It is made of 100 percent unroasted Arabica beans which provides an aid in quicker weight loss. It helps to improvise many aspects of your health be it metabolism, reducing weight, or boosting up your energy. However heavy trainers mainly use it to increase their energy level before their workout sessions. Greenbrrew is the only brand which ships their product nationwide and also to some neighboring countries.
Greenbrrew coffee comes in this amazing packaging, makes it look attractive and worth the price. It provides the customer with a variety of flavors making it easy for the ones who can't stand the bitter taste of coffee. It comes with the tagline 'low in tannin's and high in taste', providing 3 exotic flavors – Natural Green Coffee, Lemon Green Coffee, and Strong Green Coffee. Here the Natural one contains no added flavors and is completely natural. The product helps in regulating the blood pressure and sugar levels of a person.
Pros:
Better for the ones who want flavors in their weight loss journey.
Provides with the free diet consultation from an expert dietitian to their customers.
It comes in small sachets increasing its mobility, so even if you are out at the office or any other place you can have your cup of green tea.
Cons:
Due to the presence of additives, the effectiveness might reduce which will make the process of weight loss slow.
7. Adorreal 100% Arabica Green Coffee Bean Powder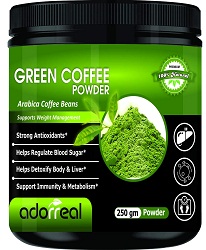 The specialty of Adorreal brand is it prepared by purely traditional methods so that it does not lose its strong value in the process. Thus the result of this process provides the high quality of freshness and goodness to their consumers. The powder also consists of a large amount of kelp. It is a type of seaweed which consists of essential minerals and vitamins. One cup of Adorreal coffee will energize you for the whole day. It enhances metabolism and helps in reducing cellulite which gives beneficial weight management. An increase in Basal Metabolic Rate(BMR) of our body takes place to a greater extent. The richness in antioxidants keeps your body in balance which is claimed to be delivered by the premium quality of this Adorreal Green coffee. These coffee beans are loaded with a high content of phytoactive like chlorogenic acid. This chlorogenic acid works in weight loss and the burning of extra fat from the body. Kelp which is a type of seaweed also increases the fat burning capabilities and eventually shed off excess weight from our body.
Pros:
Premium A++ grade Unroasted Green Coffee Beans Powder.
Consumption one cup of Adorreal Arabica Green Coffee drink helps in energizing you for the whole day.
It uses a traditional way for its preparation, which makes it one of a kind and free of additives and chemicals.
Cons:
We do not find any such bad response or criticism regarding this product.
8. Neuherbs Green Coffee Beans – Natural Immunity Booster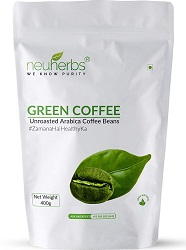 Neuherbs brand creates the finest range of supplements consisting of nutritional and weight management value. It ensures to deliver the products with the finest quality and keeping it as natural as possible. Crafted with consultation of the experts, they work in a way which you don't have to make any certain adjustment in your lifestyle. Neuherbs green coffee also helps in managing blood sugar levels. It contains a remarkable constituent of chlorogenic acid, which is an important part of weight loss in our body. It has a reduced amount of caffeine as it unroasted.
Pros:
It is easily available and is very aromatic when freshly brewed.
It is not just a cup of green coffee, it is a health booster with antioxidant care.
The brand runs on the principle of Purity and Safety which makes it more trustworthy.
Cons:
The package comes in a larger quantity and no such trial packets are available. So there is no such idea of try and test for the product.
9. FARGANIC 100% Certified Organic Arabica Green Coffee Beans Powder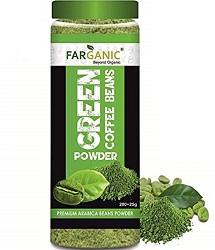 FARGANIC is a 100% certified pure organic coffee, aims to provide its customers with the best quality product. It also provides its customers with all the vital details of their products. They ensure no lack of quality and dedication for the sake of the company's sake and honesty. It is certified and packed according to the standards of NPOP and USDANOP. It is also well certified from Vedic Organic Certified Agency NPOP.
Pros
All its products are certified not leaving us with any kind of doubt regarding it.
No added preservatives in the products.
Cons
Since it is verified from Vedic Organic Certified Agency it gives us purest forms of coffee which means the taste will be of raw coffee i.e. bitter, many of us find it hard to do injustice to our taste buds.
10. Nature's Essence by KBX Organic Arabica Green Coffee Beans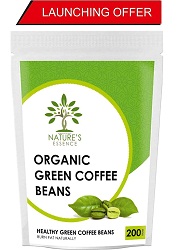 This brand is one of the first established ones, which provides us with a wide variety of the body and health care products. Although it is a leading brand in providing beauty products it also provides an affordable and effective organic green coffee. The coffee beans are Arabica organic beans as well as are ethically sourced. It has been helping weight management for the last many decades hence it is trusted by large masses.
Pros
Some of us have this mindset of trusting the brands who have been in the long run, the older the better so it's a go-to product for them.
It gives good results making it more of a value for money product.
Cons
Not as much herbal so it might contain additives.
Some customers reviewed it as not that fruitful as it is claimed.
How to Buy Best Green Coffee for Weight Loss in India under 500 Rs.
Green coffee is a perfect choice to fulfill your weight loss dreams. But choosing a good quality green coffee is essential. In the beginning, it may be an overwhelming task for you, but when you know the important points to look for, you can get the quality product for you.
The environmental conditions where coffee is grown will have an impact on the quality of the coffee. So, by understanding different reasons, you can select the right coffee for you.
In Asia, India and Indonesia are the two main reasons where green coffee is grown. The green coffee grown in these regions is processed uniquely and has a creamy flavor.
The major areas in the Americas where green coffee is grown are Costa, Colombia, Brazil, Hawaii, Mexico, and Rica. The green coffee in this region usually has a citrus, lightly floral, and chocolate flavor.
East Africa and the Middle East:
The green coffee of this region has many flavors and is popular for its sweetness. The major areas for growing green coffee are Kenya, Tanzania, Rwanda, and Ethiopia.
After deciding the region, the next thing is to check the processing of the coffee to ensure quality. Usually, the processing of coffee is specific to a specific region or farm. Some common processing types of coffee are natural processing, wet processing, honey processing, wet-hulled, monsooned, etc.
Therefore, choose a processing method that enhances the sweetness and flavor of the coffee for a better experience.
Green coffee is usually available in many types, such as Gesha, Bourbon, Arabica, Robusta, etc. Different types of coffee have different tastes and flavors. So, make sure to choose the right coffee for you to have a unique experience. Also, while choosing the type of coffee, you need to check the price and pick the one that fits your budget.
Characteristics of coffee:
The next thing to look for while buying coffee is the characteristics. The first thing in the characteristic to check is the acidity level of the coffee. This characteristic defines the taste of the coffee. Usually, different types of coffee have different acidity levels to affect the taste of it.
Another important thing to look for is the smell of the coffee. Most people love to smell the coffee before drinking it. So, check different types of green coffee and purchase the right type that has the important characteristics you need.
Because coffee is an agricultural product, you need to check its availability before finalizing a specific type of coffee to buy. Usually, coffee also has a harvesting season in which you can find a certain type of coffee you need. The harvesting season is different in different countries. So, it can be difficult to find some types of green coffee in some particular seasons. Also, during some seasons, the coffee can be expensive than the usual price due to limited supply. So, make sure to check all these points before investing in a certain type of green coffee.
Conclusion
I hope this post helped you in figuring out the best green coffee as per your requirement. Remember not to go by taste but by brand quality and its value for money. The taste of raw, unprocessed, and decaffeinated is not going to be good but it gives enticing aroma when freshly brewed. Make sure choosing the right quality coffee will help to boost the speed of you getting impressive results. Our focus through this post was to layout a genuine list of options which ensures good quality product as well as ease of availability.
You can easily find these products at affordable rates and can be entrusted without a doubt.
Santosh Kumar, He is a SEO + Blogger have 12 years of experience in writing tutorial, informative and product reviews topics.