Best Hair Straightener Under 1000 Rs – If you want to straighten your hair, then there are mainly two ways, first is that you can go to a salon and pay a higher amount of money for it. And in case if you don't have enough budget to spend like this, then the hair straightener option is only for you. In India, you will find almost all types of hairs, such as thick, thin, curly, heavy volume, etc. So, if you are an Indian resident and want to buy a hair straightener according to your hair type, it sometimes becomes a bit challenging.
Mostly when you only have a budget of 1000 rupees to buy a suitable type of hair straightener. Yeah, we know that things start getting a bit tricky when it comes to buying the right kind of hair straightener only under one thousand rupees of budget. Therefore, we have decided to do something special for you, and here we are going to compile a comprehensive list of best hair straightener in India under 1000 rupees. We will pick the best out of the best option based on various factors, such as hair type, central plate type, width, temperature settings, easy to use or not, etc.
Best Buy Hair Straightener Below 1000 INR

If you are struggling to pick the right type of hair straightener because you don't know about them, keep reading it till the end. Here we are going to cover every single below listed straightener option in-detail.
so let's dive and find out which one is a perfect fit as per your needs.
1. Havells HS4101 Fast Hair Straightener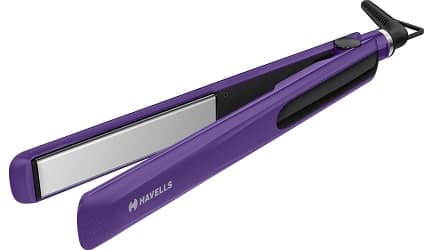 The Havells HS4101 Fast Hair Straightener is a good option for those who especially want to buy it from reliable brands or manufacturers. Havells manufacturers are popular in India because of their electronic items and their safety features, but they are doing amazingly well in the field of hair straighteners. This one is a ceramic plated type of hair straightener, so if your hairs are thin and low volume, then it can be an excellent choice for you. If you want to buy a straightener that does not damage your hair, this one can serve you pretty well. It's because the ceramic coated plates move very smoothly on to the hairs, that's why there is no chance that you get hair breakage issues.
But keep in mind that the ceramic coated plates are not that wide; instead, these plates are longer than average. However, this particular straightener's heat up time is just around 45 seconds, and then you can simply use it. This straightener's temperature range is also impressive because the higher possible temperature limit of this product is around 210 degrees celsius. Therefore, you can use this straightener for almost all hair types, no matter if your hairs are thick, thin, curly, high volume, or anything else.
Pros
Quick heat up.
Great Build quality.
Ceramic coated plates.
Two years warranty.
Cons
The primary plates are not that wider; that's why it takes longer to straighten all your hairs.
Read This Also: The Best Hair Dryers In india
2. SYSKA HS6810 Hair Straightener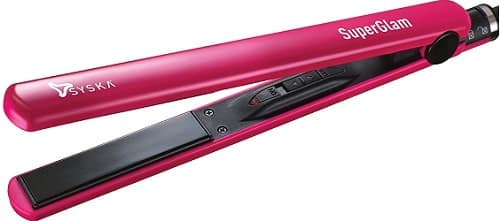 SYSKA brand name is very popular in India because of its amazing electronic accessories and other useful products. But now they are also providing an excellent quality of straighteners. So, in case if you are willing to spend your money on a hair straightener that must have all the necessary features, then do make sure to consider this one as well. Talking about the considerable features of this straightener, so first of all, we want to let you know about the rapid heat up technology. And because of this rapid heat up technology, this straightener will be ready to use after 60 seconds when you plug it on.
Some additional features such as LED indication, 360-degree swivel cord, and the lightweight design can enhance your overall experience with this hair straightener. Going down to the major section of this straightener, which is the plating, so we want to let you know that at this budget, you are getting the ceramic coated plates that you can rollover your hair very smoothly. However, issues such as hair breakage and hair burning are not common with this particular product model. This straightener's overall heating technology allows you to heat it to 230 degrees, which is the peak temperature in this product.
Pros
Attractive design.
Two hundred thirty degrees celsius peak temperature.
Solid build quality.
Affordable price.
Cons
The plates are not that great in terms of overall surface area because they are not broader and longer.
3. Kemei KM-329 Professional Hair Straightener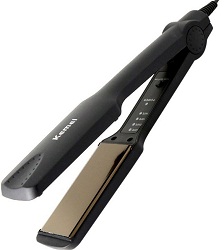 The Kemei KM-329 Professional Hair Straightener is very popular in the Indian market because of its price point. You can easily buy it way less than one thousand rupees, and in our opinion, this is the main reason behind the higher ratings of this hair straightener. Now let's take a look at all the features and functionalities that this Kemie KM-329 model of straightener offers to you. First thing first, it comes with an overall plastic built body, which is making it very lightweight and easy to hold hair straightener. Talking about the design, you are not getting a very compact design, but it is still pretty attractive looking.
According to the manufacturers, the overall power consumption of this straightener is nearly about 40 W, that's why it supports the fast heating feature. The company claims that it can only heat up within 60 seconds and will be ready to use. The primary plates are very smooth and perfect for normal and fuzzy hairs; however, it can reduce the moisture from your hairs to straighten them up. Talking about the hair straightener's peak temperature, the manufacturers say that it is 200-degree celsius. But the best part that we liked the most about this option is that you can control the temperature with four temperature levels.
Pros
Ceramic plates.
Four-level temperature control.
Longer cord.
Decent build quality.
Cons
Some users say that it requires a bit of pressure to apply to straighten the hair correctly.
4. Hesley GLANZ Hair Straightener

There are only a few options present related to hair straighteners that come with the professional level of features. And if you want to buy a hair straightener that must have the professional and high-quality features, then make sure to give a shot to this one. On the fourth spot of this list, we have decided to put the Hesley GLANZ hair straightener in front of all the readers of this post. We have added this straightener on this list because there are multiple highlighted features present. First of all, the keratin ceramic plates are smoother and softer to the hairs, and also, these coated plates are four times more protective than the standard hair straighteners.
Going down to the temperature range section, you get a temperature range of 155 degrees to 230 degrees celsius. But the other best part about the temperature section is that you can control it with the help of a six-level temperature setting. Usually, the average hair straightener doesn't provide the right texture and look of hair as you get from a salon, but this one is different. The manufacturers claim that you can achieve the right type of hair texture as per your needs by choosing different temperature settings.
Pros
Six-level temperature settings.
Keratin coated ceramic.
Good build quality.
Easy to use.
Cons
5. VEGA Diva Hair straightener VHSH-17

If you are looking for a hair straightening option that can offer good build quality, descend straightening performance, and effective cost, then this one seems a perfect fit for you. So, on the fifth spot of this list, we have added the VEGA Diva Hair Straightener VHSH-17. Firstly, let's take a look at the plating section, here you are getting the ceramic coated and decent width of plates, but the best part is that these plates are the floating plates. You can experience a smooth and easy use from this hair straightener without getting the hair breakage issues.
There is nothing special in the design section; however, there is an indication light present that can indicate whether it is properly heated or not. But according to manufacturers, this straightener easily heats up properly within 60 seconds only. A longer cord with 360-degree rotation is also a convenient feature that allows you to move while using it to straighten your hairs. However, if you are not using it, then the lock system can be a useful feature to protect the inner plates and the overall straightener.
Pros
Good build quality.
Easy to use features.
Ceramic plates.
200-degree peak temperature.
Cons
The width of ceramic plates is not that wide or broader; that's why it doesn't cover more hairs while straightening.
6. TECHICON Hair Straightener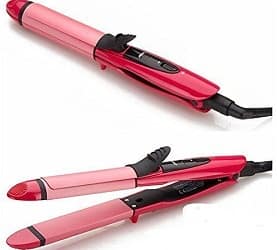 Like we previously added some specific straighteners for a very strict budget, and now on the sixth spot of this list, we came up with another highly budget-oriented hair straightener. This time we have included the TECHICON Hair Straightener. The manufacturer says that you can use it for two major hairstyles if you want to curl and straighten your hair and then make sure to try this one. This two different hairstyles possible with this straightener because it comes with a different design approach. The smooth-coated plates are good in overall quality, and you won't going to find it messing with your hairs. It's because it allows you to complete the whole hairstyling process smoothly.
Going down to the temperature section, so here you will get the 180 degrees of peak temperature, which is quite enough for this type of budget segment of straighteners. Still, the TECHICON manufacturers claim that this straightener can heat up within a minute only, that's why it will not take too long for you to get your desired hairstyle. Additional features such as LED indicator, 360 rotating swivel cord, and ergonomic design make it very convenient to use.
Pros
Highly affordable.
Suits according to multiple hair types.
Ergonomic design.
Cons
The build quality of this hair straightener is not that great, but you can still expect a decent experience from it.
7. HOVR® 3 IN 1 Professional Hair Straightener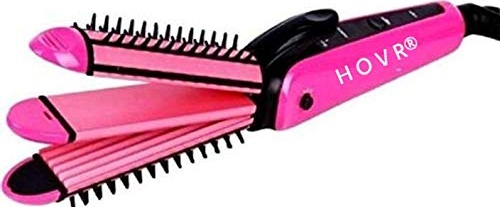 The HOVR professional hair straightener is the first three in one type of straightener of this list. If you want your desired hair straightener to have the crimper, roller, and straightening functionalities, make sure to give a shot. But the best thing that we liked the most about this HOVR professing straightener is that it comes at a considerably lower price point than the other multi-feature or multi-functionality of straighteners. Yeah, the overall size of this product is indeed a bit larger than the others; it is because this one comes with multiple functionalities.
The max temperature that it can generate is more than 200 degrees celsius, and in our opinion, this type of temperature seems perfect for straightening hairs without putting extra pressure. No matter if your hairs are wet or dry, you can simply use this hair straightener to style your hair like a professional. It is only possible because of the ceramic coated plates that support the quick heat up as well. Therefore, the manufacturer claims that this three-in-one hair straightener heats up within a minute only.
Pros
Low price point.
Three-in-one functionality.
Impressive design.
Decent build quality.
Cons
It is not a hair styler or straightener that you can use continuously for a long time.
8. Darsy Nayka Professional Hair Straightener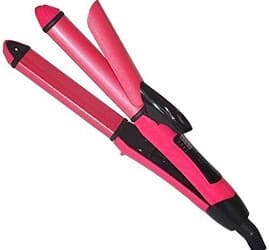 Did you like the sixth spot of professional hair straightener? If yes is your answer, then we are damn sure that you will love this two-in-one professional hair straightener. We are saying this because, in terms of looks and the overall functionality, this Darsy Nayka Professional Straightener seems pretty identical to the sixth spot of straighter of this list. Another good thing about this particular product is that you don't need to spend a whole thousand rupees buying this product. It's because it will cost you way less than 1000 rupees, but the functionalities and the features you are getting here are amazing.
The broader coated plates are very suitable to use with wet and dry hairs, its because if you use it with wet hairs, then it can easily remove moisture. If your hairs are not that long, then it can be a perfect fit as per your needs. However, some users say that it works impressively with long hairs as well. If you want to do the temporary straightening then give a try to this one, it's because it is not suitable for the permanent hair straightening.
Pros
Highly affordable.
Easy to use.
Perfect for short hairs.
Multiple features.
Cons
If you are looking for a hair styler for permanent or longer hair straightening, you should skip it.
9. AGARO HS 3525 Hair Straightener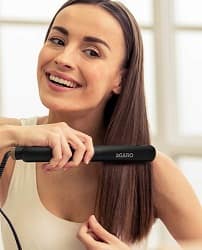 We know that every person has different preferences when it comes to buying the hair straightener. Therefore, we are adding the AGARO HS 3225 Hair straightener for those who want a straightforward looking design and easy to use hair styler. The ceramic and Tourmaline coated plates seem perfect for the curly and thick or higher volume of hairs. The moisture sealing or locking of this straightener is the main feature that gives a shiny look to the hairs. The peak temperature of this straightener is more than 210 degrees celsius. But it takes around 120 seconds to heat up before you use it for hair styling properly.
The primary plates are way longer than the others; therefore, they can cover more hairs per roll. And this is how it takes way less time than the other normal and thin plates.
Pros
Indication light.
Well-priced.
Easy to use.
Elegant looks.
Highly useful.
Cons
It takes too long to heat up quickly as compared to other similar hair straighteners.
10. Romino 2-in-1 Hair Straightener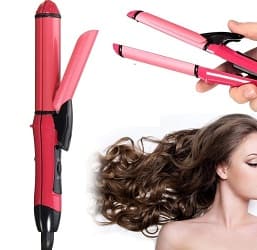 Finally, we are at the last spot of this list, and again we have another value for money type of hair styler at the end. This time we have decided to add the Romino 2-in-1 Hair Straightener, which is again another two-in-one type of straightener. According to manufacturers, you can use this product for hair curling and hair straightening like tasks.
The temperature range of this product varies from 100 to 200 degrees celsius, and the best part is that you can easily adjust the temperature as per your needs. The overall design allows you to use it without getting an issue easily; however, it is the safest type of design.
Pros
Ergonomic Design.
Easy to use.
Highly affordable.
Multiple temperature settings.
Cons
How To Choose The Best Hair Straightener
A right hair straightener would make your hair look very attractive, and it would be easy to use. If you end up purchasing the wrong type or model, you would regret it later. Here are some vital things you need to know before purchasing a hair straightener today. You should make sure that the product you purchase has a combination of these features.
Type of plate –
The most important part of a hair straightener is the heating plate itself. Without an efficient heating plate, a hair straightener is good for nothing. This is why it is very important that you purchase a hair straightener with the right type of plate and the right size.
Titanium plate – titanium plates heat quickly and they are one of the most efficient types of plates that come incorporated into hair straighteners these days. However, such hair straighteners are costly.
Ceramic plates – when compared to titanium plates, ceramic plates are cheap and it could distribute heat evenly over its surface. But ceramic plates wear off with time.
Tourmaline plate – consider purchasing a hair straightener with this type of plate only if your hair is damaged, unlike the other two plates, this one produces negative ions to reduce the frizz and to seal the hair shaft. Use it on an undamaged hair, and it would damage the hair.
Grip and ergonomic design –
Most people might feel this feature to be irrelevant. It is not true. A hair straightener should come with good grips, lightweight, and an ergonomic body. This, in turn, facilitates using the user to handle the hair straightener with ease. Most commonly people handle the product with a single hand, which means if the product is heavy and lacks grip, it would prove challenging to use it.
Variable heat setting –
Typically, high heat means more efficient and faster straightening. However, you should know that not all hair could handle high heat. Apply too much heat on your hair, and it could damage your hair permanently. This is why it is very important that you purchase a product with a variable heating feature.
Width of the plate –
There are hair straighteners available on the market today that comes with a plate of different width. This feature is important, a wider plate facilitates faster straightening, but, if your hair is too fine, wide plates could damage it. Wide plates tend to apply too much heat that could damage smooth hair, if you have smooth hair, avoid hair straighteners with wide plates.
Brand and warranty –
Brand and warranty matter the most, you could pick a hair straightener from any brand, but it is very important that the brand you choose is reputed and top-rated. Reputed brand markets products with consistent quality, and, at the same time, they offer a warranty on their product. You must not purchase a hair straightener without a warranty.
Lock feature –
This feature allows the user to clip both the plates together after use, which, in turn, helps to store the product with ease. This also prevents any damages to the plates.
LED indicator and power on/off button –
This feature is not incorporated into all hair straighteners, but, if you find a product with an LED indicator and power on/off button, do not neglect it. Such devices would prove useful in the long run.
Auto shutoff –
Most commonly, reputed brands incorporated this feature into its hair straighteners, however, there are some models without this feature. We recommend that you consider purchasing a product with this feature. This feature shuts off of the heating after a specific time period to avoid overheating or any other accidents.
How To Use a Hair Straightener properly?
Thing to do before straightening
before using the hair straightener, some important thing has to do for good straight hairs. First of all, start with shampoos, before straitening the hairs wash and clean your hair with shampoo and conditioners. After washing the hair, clean them with a microfiber towel. Now you have to dry the hair with the fine dryer at a low temperature so it doesn't damage your hair. It is because if you use the hairdryer at a high temperature then your hairs lose their natural temperature.
Applying heat protection spray and lotions
Also apply heat protection spray is also applied before using a hair straightener for the protection of the hair from direct heat. This serum protects your hair from damage due to the extended temperature of the straightener during the process. You can use any type of serum but always use a product presented by the official, authentic and trustable brand for the reason of your hair security. Other small companies do not follow all the safety parameters which tend to your hair damage.
Splitting hair into sections
Now you have to split the hair into sections. Only take a little hair in each section, don't take a lot otherwise, they will not straighten perfectly. For splitting the hair, you can use fingers. Always start to split the hairs from the bottom of the back head and then upside to the head. After splitting the hair into sections, it is time to use our hair straightener.
Using the straightener
Now plug in the straightener and switch on the button on it. Weight until your straightener will not heat properly. Always take care of your finger from the straightener from burning. Now take one section of hair previously applied with the heat protection spray. Put this section into the hair straightener and straighten them slowly from the scalp to the endings of the hair. Don't heat your hair for a long time otherwise, it can be burn. After straightening the one section put it apart and take the other section of your hair till all the hair is not straighten properly. Always leave an inch from the scalp to protect the skin of the scalp.
After this all you have to plug off the hair straightener and let cool your hair slowly. Now you will get your smooth and straight hair.
Hair Straightener Frequently Asked Questions
Is it okay if I used a hair straightener regularly?
No, hair straightening is not something that should be done regularly. It should not be done daily and if you are using a hair straightener to straighten your hair, you should be careful to use a hair heat protectant. This will prevent the hair from heat damages while straightening. No matter who recommends it, it is best that you prevent straightening your hair frequently.
How long does a hair straightener under a price of INR 1000 last?
In general, it would last for at least 2-years of regular use. However, there is no way we could guarantee this lifespan. Sometimes, due to how the user handles it, a hair straightener could malfunction or prove worthless sooner. Some people have reviewed to be using a hair straightener at this price range for 3-years.
Which is better straightening wet hair or dry hair?
Straightening wet hair is never recommended unless you are an expert. On the other hand, the best thing is to do is to straighten dry hair. Remember, if you try to straighten wet hair, then it could damage the hair more. This does not mean that straightening dry hair does not damage the hair. Wet hair straightening does more damage to the hair than dry hair straightening.
Is it possible to straighten my hair without using a hair straightener?
Yes, but, it takes a longer time than using a hair straightener. While no other method could straighten hair as fast as a hair straightener, there are alternatives. If you keep brushing your hair daily it could naturally straighten the hair. Using smoothening cream or serum on the hair, rinsing hair in milk, partitioning hair, and pinning up overnight, are some of the common ways to naturally straighten hair.
Is it true that permanent hair straightening could disrupt the healthy growth of hair?
Yes and no, the effects of hair straightening could be different for different people. Some people find permanent hair straightening triggering hair loss, some find it has no side effects at all, and some people find it disrupting hair growth.
What is the difference between a hair straightener of price INR 1000 and a premium hair straightener?
It would be unfair to point out the difference between both. Premium hair straighteners tend to offer more features and quality when compared to cheaper hair straighteners. However, this does not mean hair straighteners under the price of INR 1000 is too bad.
Conclusion
You don't need to explain anything because we can understand your problem, and we know how hard it is to choose the right type of hair straightener from dozens of options. If you are also feeling confused while selecting the right kind of hair straightener, this whole post was only for you.
It's because we have compiled a detailed list of ten best hair straighteners under 1000 rupees in India after considering every single major factor.
Santosh Kumar, He is a SEO + Blogger have 12 years of experience in writing tutorial, informative and product reviews topics.