Adding something healthy in our diet becomes very crucial. When a person kick-starts the day with a glass of fresh juice or adds fresh juice to the diet, he/she tends to stay healthy and active throughout the day. Fruits and vegetables are rich in vitamins, minerals, antioxidants, and other nutritious compounds. Consuming fresh juice will provide us with numerous health benefits. Some Indians prefer consuming vegetable juices, while others are just obsessed with fruit juices. If you are one of those health-conscious individuals who like sipping fresh juices every day, you should check out our article. We have some amazing juicers for you that will help you extract fresh juices without putting much effort.
The idea of sipping juice every day seems to be very fun, but in reality, the extraction process is a messy task. We are aware of the challenges that a person faces when he/she extracts fresh juices every-day. For such individuals, juicers are very helpful. Using a juicer, a person can squeeze a glass of fresh juice within a matter of a few minutes. For that to happen, you need to get very efficient as well as an easy-to-clean juicer. Because let us face reality, nobody likes spending hours removing the stubborn fruit/vegetable pulp that is stuck to the juicer. If you are on a low budget and you want to grab a functional juicer, then this article is written just for you. We have included ten best juicers that can be bought under 3000 Rs in India. Let us start.
Best Selling Juicers Below Rs. 3,000
1. Ganesh Fruit & Vegetable Steel Handle Juicer, Blue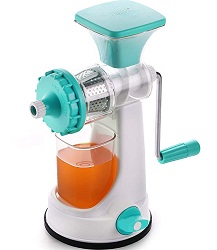 The Ganesh Fruit and Vegetable Steel Handle Juicer have secured the top spot in our list of 10 best juicers in India under 3000 Rs. It boasts a high-quality anti-drip system. This anti-drip system aids the process of squeezing the vegetables and fruits very well. Apart from that, the Ganesh Juicer also comes equipped with an anti-skid bottom. This anti-skid bottom is known to create a vacuum to prevent the juicer from moving while the juice is being extracted. The back and forth movement of the juicer may disturb the process of juice extraction.
We would also like to inform you that the juicer comprises of a premium quality handle. It is highly durable and makes the juicer extremely easy to operate. With the help of Ganesh Fruit and Vegetable Juicer, you can squeeze out fresh vegetables and fruit juices to accompany your meals. The juicer comprises detachable parts, which makes the process of cleaning easier. This means you will not have to spend your precious time cleaning the juicer.The Ganesh juicer comes in four different color variants – blue, green, red, and orange. You are free to select whichever color you like the most.
Pros
The juicer has a special anti-drip system.
The anti-skid base prevents the juicer from moving.
There are four color options available.
The parts are detachable.
Cons
According to a few customers, the quality of the juicer is not good enough.
2. RYLAN Hand Juicer for Fruits and Vegetables with Steel Handle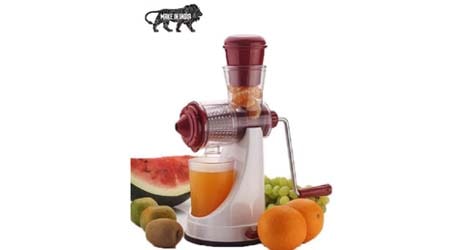 RYLAN manual juicer grab the 2nd position in the list of best juicers in India under rs. 3000. The Jucier is available in 5 different colors. It's very easy to use and clean and you can detach all the parts of this user for easy clean and use. It's hand-wash and towel dry suction base and the parts are top rack dishwasher-safe.
If you are health conscious and love to take fresh juice of fruits and vegetables then such juicer is really helpful you can go with any of these as all are good and has good number of consumer reviews and after evaluating many juicer we made this list of best manual juicers in India under 3K.
The handle of the juicer is made of steel for longevity and you don't need to give any extra pressure while using it and the handle will work very smoothly. It's very light in weight and you can carry it with you as well.
Pros
Cash on delivery available.
10 days free replacement of juicer with no extra cost.
Easy to use
Detachable parts for easy cleaning
Don't need to give any extra pressure while taking juice from machine as the handle work very smoothly.
Cons
Well the company offer some coupon for good reviews so don't just trust on high number of good reviews overall its' a fine product in this range.
3. Floraware Fruit & Vegetable Steel Handle Juicer, Pink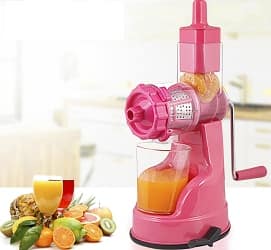 The juicer which occupies the runner-up position in our list of 10 best juicers in India is the Floraware Fruit and Vegetable Juicer. It possesses quite a compact yet beautiful design that not only sits perfectly in a small place but also attracts the viewers. You can buy the Floraware Fruit and Vegetable Juicer in 3 different patterns- 1. Juicer, 2. Juicer+juicer green, 3. Juicer+waste collector green. One of the noticeable features of the Floraware juicer is that it comes equipped with an in-built filter. It is a very fine filter that prevents seeds and pulp from entering the juice. If you are someone who squeezes fruit juices daily, then you might be aware of how difficult it is to separate the juices from seeded fruits. If you buy the Floraware juicer, you will be able to easily extract juices from tomato, pomegranate, and other seeded fruits.
The Floraware juicer is designed in such a way that there are two different outlets, one dispenses the pulp or waste while the other dispenses the juice into the glass. Additionally, the metal handle of the juicer is sturdy and resistant to rust. Moreover, the juicer is constructed using food-grade material, which makes sure the juice is healthy and safe to drink.
Pros
The juicer is constructed using a superior quality stainless steel and ABS plastic.
The metal handle of the juicer is sturdy.
The juicer has an in-built filter, which is appreciable.
Cons
Some customers have reported a problem of leakage in the juicer.
4. Philips HR2775 1-Litre 25-Watt Citrus Press Juicer (White)
If you are a fan of juices, then you should not miss out on the Philips HR2775 1-litre citrus press juicer. It is a high-quality fruit juicer that comes at inexpensive pricing. This juicer machine boasts numerous fantastic features. There is a drip-stopper that prevents the problem of juice dripping, which usually occurs after the extraction process is over. Apart from that, the juicer comes equipped with a unique pulp selector feature. Using the pulp-selector feature, onecan either get the pulp-free juice or pulpy juice depending upon the preferences.
Another significant feature of the Philips HR2775 citrus press juicer is the presence of in-built cord storage. This cord storage allows the users to stow the cord inside the juicer. It prevents the cord from the problem of tangling. Additionally, there is a rectangular handle that provides easy gripping. The easy-drip handle ensures the juicer does not slipduring the procedure of juice extraction.This Philips juicer consumes 25 watts of power.You would also love to know that it also has a durable easy-serving body, which is constructed using the SAN and PP plastic. These two materialsgive the juicer a specialty of being resistant to damage even if the juicer falls.Plus,the brand offers two years of manufacturing warranty to the customers, which, according to us, goes a long in convincing the customers to invest. Once you purchase this juicer, you will never turn back to any other product.
Pros
The juicer has a cord storage.
The manufacturer provides two years warranty.
The juicer comes in an easy-serving jug shape.
The pulp selector feature is beyond amazing.
Cons

Many customers received a defective product delivered.
5. Amazon Brand – Solimo Plastic Handy Fruit Juicer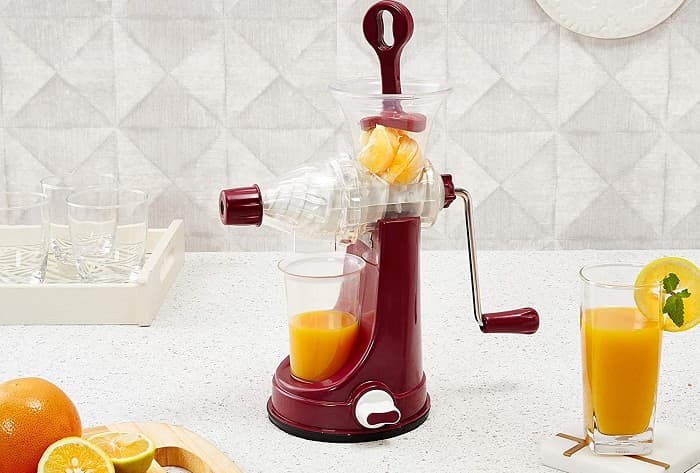 In the fourth position, we have the Solimo Plastic Handy Fruit Juicer for our readers. It is a product from the Amazon brand, which is known to manufacture some of the amazing products. Apart from being inexpensive, the juicer features an eye-catching design. The body of the juicer is constructed using ABS material plastic and stainless steel. Both of them belong to the category of food-grade materials. Food grade materials are designed to stay in contact with food without ruining it. You would also like to know the juicer has a vacuumed base. This ensures the juicer remains stable and protected from the problem of spillage. If the vacuum base is not present in a juicer, then the juice spills from the juicer every time you perform the extraction process.
The Amazon brand – Solimo Plastic Handy Fruit Juicer is designed in such a way that it can be washed under the running tap water. The juice gets collected in the juice collector glass that is present under the juice outlet. Additionally, the juicer comes equipped with a smasher, which allows the user to extract the juices efficiently. Considering all the above features, it is fairly a value for money product.
Pros
The juicer possesses a portable size.
It does not have any sharp edges and hence is safe to handle.
It is made up of food-grade materials.
Cons
The overall quality of the juicer could have been better.
How To Choose The Best Juicer in India
Adding different fresh juices in the regular diet is a great idea to get essential minerals and vitamins for keeping the body fit. Right? But people usually prefer to buy the juicers rather than adding the packed juice in the diet. If you are also feeling quite confused while choosing the right type of juicer to fulfill your juice-related requirements, don't worry, this post will help you a lot. Here we are going to list some essential points below that will help you a lot to determine which type of features are valuable for you and what things you keep in mind while making the final purchase decision.
Electric or Non-Electric:
The functionality type is the most important point to look at, mainly there are two types of juicers present in the market, some are the electric ones, and where some others are the non-electric or manual juicers. You can go with any kind of juicer you want, but if you want to save a lot of time, you should prefer the electric juicers; otherwise, the non-electric or manual juicers are an excellent option for natural juicing.
Safe Material:
It is obvious that if you are using a juicer, it must have the safe material for juicing purposes. Some brands offer the cheap quality of material in their juicers that can cause the contamination issues to your juices, and it can directly cause severe health issues. Therefore, it is an advice for you always to keep an eye on the material type that a juicer comes with. Try to go with an option that offers a good quality of food-grade material to prevent contamination issues.
Pulp Differentiation:
Some people like to drink a little bit of pulpy juice, where others don't like the pulp in their juice. Well, it depends upon your choice about what you like and what you don't like, but in the case of fruit pulp, your juicers should have the proper pulp differentiation. We want to address the importance of pulp management while juicing a fruit like orange so that you can throw the remaining pulp out of the juice without any issue. And this thing also helps in the overall cleaning of the juicer so that you can take it from the cleaning perspective too.
Accessories:
Here we are talking about the accessories that help you while getting juice from the fruits. Most of the time, manufacturers offer the jars and some kind of attachments with the juicer. And that's all you need; you should always go with an option that offers different jars' capacities, so you can store your juice or serve them directly.
Price Point:
Suppose, you have considered every single point that we listed in this buying guide, but in the end, it only depends upon your budget, whether you are going with a particular juicer or not. But you don't even need to worry about the budget segment as well; we are saying this because on there you will find out some products listed above, and most of them are budget-friendly so that you can go with any of them without any issue.
Conclusion
The popularity of juicers is increasing in the Indian market. People who take their health seriously are investing in good quality juicers to remain healthy and fit. And for the same reason, the brand manufacturers are introducing new designs and features of juicers every single day. With such a wide range of products in the market, choosing a single good product becomes difficult, especially when you have a budget limit. If you read the above article, you will be able to choose a good yet cost-effective juicer for yourself.
We tried our best to bring some of the amazing juicers under 3000 Rs. That can be bought in India. We hope you select an efficient juicer for your home. Stay fit; stay healthy!
Santosh Kumar, He is a SEO + Blogger have 12 years of experience in writing tutorial, informative and product reviews topics.