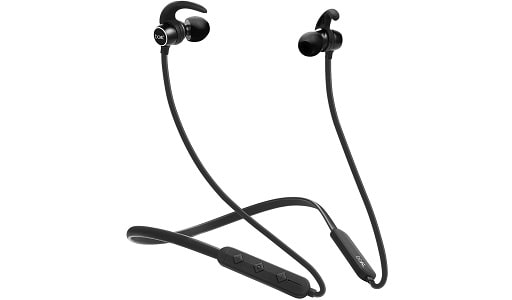 In India, most people are working from home, which has created a need for a pair of good headphones. It can get tiring for the people to use mobile phones for calls, especially if they have to get into long meetings. Over the head type headphones are not very suitable ones for such scenarios as they can be heavy. The best and the easiest to use earphones as per our experts are Neckband Earphones. These type of earphones are easy to use, and they are not bulky either. They use Bluetooth to connect to your device, and the good thing is that they offer a completely wireless experience.
You can connect neckband earphones to your mobile phone, and you can also connect them to your laptops since most of the laptop has Bluetooth connectivity. You can easily use the neckband earphones while jogging without having to worry about the earphones falling out of your ear. We are sure that all these facts are enough for you to convince you about the advantages of the neckband earphones so how about buying one for yourself? If you are looking for the neckband earphone in a budget of less than Rs 1500, then you are on the right page. We have reviewed the top-selling neckband earphones available in India on this page.
Scroll down to the next section, and you will find all the required information about neckband earphones.
Best Selling Neckband Earphones Below Rs.1500

In this section, you can check out the reviews of the best-selling neckband earphones. We have also listed the pros and cons of these neckband earphones so if you do not have a lot of time; you can check out the pros and cons. These pointers will make it easy for you to purchase the neckband earphones. If you like any of the below-mentioned neckband earphones, you can click on the Amazon link associated with the neckband earphones, and that will display the exact price as well as the offers available on the particular model.
1. boAt Rockerz 255 Sports in-Ear Bluetooth Neckband Earphone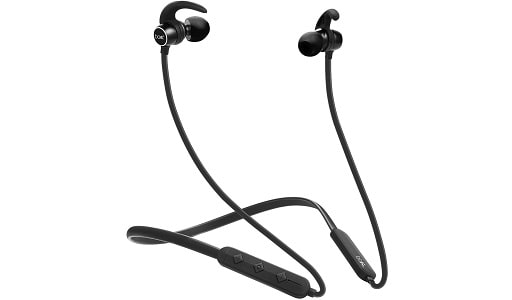 boAt is one of the most reputed brands when it comes to neckband earphones. These earphones are of outstanding quality, and they are also IPX5 rated. This rating makes the earphones resistant to splashes and sweat. The magnetic ear tips get attached, and this feature ensures that the earphones don't get tangled. Talking about the sound quality, the 10 mm drivers offer fantastic sound quality, and they offer strong bass as well. The length of the wire is perfect, and it provides a comfortable experience to the users.
You get a control module on the neckband so you would not have to take out your phone from the packet to change the tracks or to modify the volume. The ear tips are very comfortable, and they also offer a secure fit. During the intense workout, the earphones won't fall out of your ears. You also have an option to choose between 7 colours. In terms of battery life, you get a playback time of 6 hours, and it takes about 1.5 hours to charge the neckband earphones. The standby time offered in a single charge is approximately 150 hours. In the pack, you get additional earmuffs, and you also get a micro USB charging cable. Lastly, the neckband earphones also support voice assistant.
Pros
The headphones are IPX5 rated & they are also resistant to sweat.
These neckband earphones feature a 10 mm drive that comes with boAt signature sound.
You get a one-year replacement warranty on this model.
Cons
The brand should offer a longer battery life.
2. Boult Audio ProBass Curve Wireless Neckband Earphones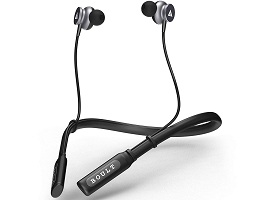 If you are looking for neckband earphones with longer battery life, you can also choose Boult Audio ProBass neckband earphones. These neckband earphones are available in 5 colours, including Black, Blue, Green, Grey & Red. The neckband earphones come with an adjustable clip that helps you in getting a better fit as well. In addition to this, the earphones have a module to control the calls, music and volume. The chipset of the neckband earphones is a well-engineered piece of technology, and the company has integrated micro-woofers in the ear tips. These micro-woofers offers high bass as well.
These earphones have a snug fit, and they offer a long battery life. It gives you a playback time of 12 to 15 hours. The standby time is also good. What makes these neckband earphones so durable is the Kevlar cable. The ear tips direct the sound into ear canals, improving your experience by a considerable degree. The Micro-woofer, along with the noise isolation technology, makes a lot of difference for the user. The brand uses Bluetooth 5.0 for a reliable connection, and you get one year warranty on the product. You can also check out Curve Pro as those will fit in your budget too.
Pros
It comes with Bluetooth 5.0, and it supports two connections at a time.
The playback time offered by these neckband earphones is 12 to 15 hours.
You get noise isolation technology along with micro-woofer in these neckband earphones.
Cons
Nothing that we could notice.
3. Noise Tune Active Bluetooth Wireless Neckband Earphones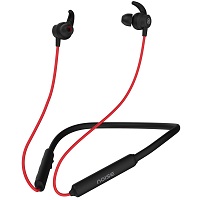 The next reliable brand that we are going to review is Noise. The neckband earphones from Noise are very reliable, and they offer a playback time of 10 hours. The speaker driver in these neckband earphones is 10 mm, and they offer clear and crisp sound. You can even use these earphones for virtual meetings, and you will be able to communicate clearly. Many people have issues using neckband earphones during a workout, but these neckband earphones from Noise have silicone wingtips to enhance your grip. The Bluetooth version in these neckband earphones is Bluetooth 5.0, and You can pair them to two devices in a go.
You get 10 hours of backup in a single charge, and it takes about 90 minutes to charge the neckband earphones. Since these neckband earphones have an IPX5 rating, you do not have to worry about sweat or rain. These neckband earphones also have a control module that enables you to adjust the volume and manage the call without touching the phone. You can use Google Assistant or Siri with the help of these neckband earphones, and lastly, the brand offers you a one-year warranty.
Pros
The ear tips have a silicone wingtip which offers you a secure grip to you.
The neckband earphones offer a 10-hour playtime, and You can pair them to two devices.
These neckband earphones are rainproof, and they are also IPX5 rated.
Cons
Some people noticed quality issues, but that is covered under warranty.
4. pTron Tangent Plus Magnetic in-Ear Bluetooth 5.0 Headphones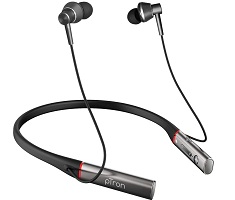 How about neckband earphones that come with a support of TF card for playing the music directly? Such feature offers great flexibility to the users, and you can buy these neckband earphones from pTron to take advantage of this feature. You get 15 hours of playback with the help of these neckband earphones, and you get approximately 10 hours of talk time. The neckband earphones use Bluetooth 5.0; you do not face any voice quality issues, signals, or the connection. The neckband earphones also support quick pairing so that you do not struggle with connection.
The earbuds feature magnetic lock so that you can safely carry the neckband earphones. In terms of the sound quality, the neckband earphones feature a hi-fi stereo sound and strong bass. There is negligible latency, and the headphones are equipped with passive noise cancellation. It takes about 2 hours to charge the neckband earphones. There is no issue about the compatibility, and they are also very comfortable to use. The silicone cover offers you a significant amount of flexibility and durability to the user. They are also the cheapest neckband earphones on our list, so they provide excellent value for money.
Pros
They are the most affordable neckband earphones available in the market.
The neckband earphones offer 15 hours of music playback.
The neckband earphones also have TF Card for playing music directly.
Cons
The charge time is 2 hours, which is slightly longer than anticipated.
Final Verdict
These are the top 6 best-selling neckband earphones available in India. If you ask us about our preference, let us tell you that we would recommend buying boAt Rockerz 255. These neckband earphones from boAt have good battery life, and they also have excellent sound quality. These headphones are also available in a lot of colours so you can buy something dazzling. If you do not like the neckband earphones from boAt, you can also check out the other offerings.
While buying the neckband earphones, ensure that you check the battery life, sound quality, driver size, headset weight, and all other details to ensure that the neckband earphones meet your requirements. If you have any other questions about these neckband earphones, you can reach out to us, and we will resolve your query as soon as we get a chance. Thank You and do check out other exciting reviews on our blog.
Santosh Kumar, He is a SEO + Blogger have 12 years of experience in writing tutorial, informative and product reviews topics.