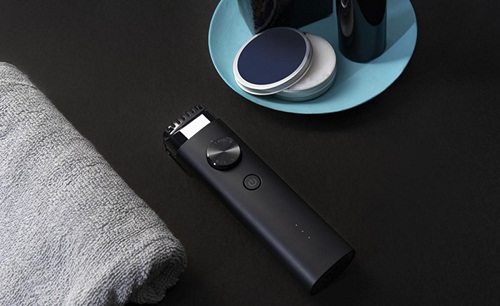 Nowadays, many people in India love to grow and maintain a beard for a better look. Also, people with a beard look classy and professional. With a beard, you should also have a good haircut to maintain a professional look. Whether you go for a job interview or a business meeting, you should have a better look to put a better impression. Therefore, you should have a unique style wherever you go.
Some people completely depend upon salons for both haircut and beard maintaining. But when you are in a hurry, you may not go to a salon and get your job done immediately. In that case, you should have your own grooming kit at home to make you ready in no time. So, a beard trimmer is a basic need of every man to maintain a better look all the time.
With a trimmer, you can style your beard and hair anytime, anywhere. Comparison to a shaver the greatest advantage of a trimmer that you can carry it with you anywhere to help you in maintaining your beard. Also, by using a beard trimmer, you can style your beard and hair in any way you want. Therefore, you should keep a beard trimmer with you wherever you go.
When it comes to beard trimmers, there are numerous options in the Indian market. In India, many brands are manufacturing trimmers with multiple features to offer outstanding performance. So, it may be difficult for any person to get the right trimmer from the Indian market.
Best Selling Trimmer Below 1000 INR
However, we have made a list of the best selling trimmers in India under 1000 Rs. All the trimmers reviewed in this article are priced fewer than 1000 rupees. So, you can keep reading this article to get the perfect beard trimmer for you, if you have higher budget then you must check our list for best quality trimmer under 2000 rs. in India.
1. Nova NHT-1071 titanium coated USB trimmer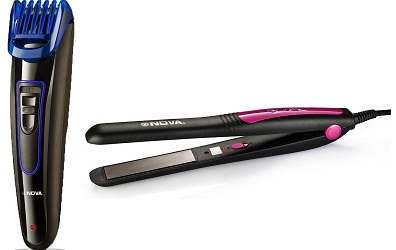 When it comes to trimmers at an affordable price, Nova has plenty of options for the users. This brand manufactures trimmers in a wide price ranges to meet the budget of everyone. The NHT-1071 is an incredible innovation from Nova to trim your hair and beard with ease. With a quiet motor, this trimmer is ideal for offering noiseless performance. This trimmer comes with titanium blades to keep your skin smooth and avoid injuries.
As the blades are highly précised, you should use this trimmer carefully to prevent damaging your skin. The NHT-1071 trimmer features several length settings so that you can choose your preferred length with ease. This trimmer is compatible with USB charging and includes a USB cable to let you charge it conveniently. Once it is charged, you can use this trimmer for up to 45 minutes. However, you should avoid using it while charging.
Pros:
This trimmer comes with a USB cable to allow you to charge it from your laptop, computer, or adapter effortlessly.
There is multiple length settings option in this trimmer.
Skin-friendly blades are used in this trimmer.
Cons:
After some months of usages, this trimmer got broken for some users.
2. Philips BT1210 cordless beard trimmer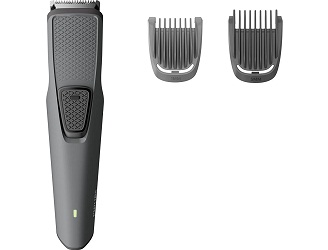 Philips produces high-quality electrical appliances to make the lifestyle of people simpler. The products of this brand are ideal for offering the best performance. This beard trimmer comes with a DuraPower technology to extend the battery life. The BT1210 cordless beard trimmer comes with stainless steel blades for effortless trimming performance. The stainless steel blades come with a self-sharpening feature that keeps the blades sharp all the time. Also, you can charge this trimmer conveniently with a micro USB cable, which is included with it.
The head of this cordless beard trimmer can be opened conveniently for cleaning. With this beard trimmer, you can trim the hair in hard to reach areas effortlessly. This beard trimmer can offer a cordless performance of 30 minutes when it is charged for 8 hours. This trimmer comes with two combs with lengths of 1mm and 5mm. This beard trimmer also includes a guarantee of 2 years to improve your experience.
Pros:
This trimmer comes with self-sharpening stainless steel blades to offer durable performance.
There are two combs with different lengths to let you trim your bread to the perfect size.
DuraPower technology enhances the battery life of this trimmer.
Cons:
This cordless performance of this trimmer is only 30 minutes.
3. Kemei KM-27C professional hair trimmer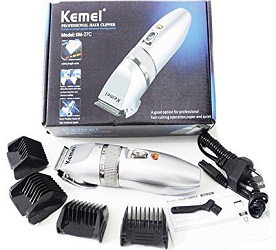 Kemei professional hair trimmer is ideal for those who need a device to shave their beard like a salon. The KM-27C professional trimmer includes rechargeable batteries to offer you worry-free performance. By using this trimmer, you can carry it anywhere and trim your hair conveniently. It includes a USB cable for charging the trimmer conveniently. Also, four combs are included with this trimmer to allow you to set the right comb for you. The combs offer a length from 1mm to 10mm. This trimmer comes with a specially designed oil to clean the blades accurately.
The blades of this trimmer are made of stainless steel for high performance. Also, this trimmer comes with a floating head to let you trim more conveniently. If you need a durable trimmer for your trimming needs, then this professional trimmer is ideal for you. This professional trimmer requires no maintenance to perform. The Kemei KM-27C professional trimmer has a heavy-duty construction so that you can use it effectively.
Pros:
This trimmer can offer 55 minutes of cordless use.
The blades are made of stainless steel for your convenience.
This professional trimmer comes with a special oil and brush to clean it comfortably.
Cons:
Some users noticed a heating issue while using this trimmer.
4. Havells BG6001 hair trimmer
Havells is another popular brand in India to produce superb products. This hair trimmer is a great product designed by this brand. It can be operated with an AA alkaline battery for seamless performance. Also, this trimmer comes with an AA Duracell battery to let you use this trimmer conveniently. This trimmer is ideal for trimming the unwanted body hair comfortably. By using the Havells BG6001 hair trimmer, you can trim each part of your body conveniently. This trimmer comes with two directional combs to let you move it on your body in either direction. Because of this feature, this trimmer becomes more convenient to use.
This trimmer comes with three different lengths of blades, 0.5mm, 1mm, and 3mm. While using this trimmer, you can select the right comb to set the hair to that length. For body grooming, the recommended comb is 0.5mm. This comb will cut the hairs into the smallest size and protect your skin from injuries. With the BG6001 trimmer, you can trim the hard to reach areas with ease. This trimmer comes with a two-year guarantee so that you can use it conveniently.
Pros:
It allows you to trim your body hair conveniently.
Two-directional combs are included to allow you to move it in different angles comfortably.
The washable head is IPX4 waterproof rated.
Cons:
This trimmer may cut your body if used without a comb.
5. HTC AT-206 pro trimmer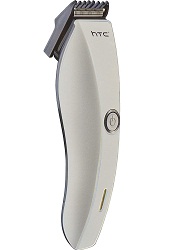 This trimmer is an outstanding product from HTC to let you trim your hair effortlessly. This body grooming device is ideal for any person who needs a high-quality trimmer to maintain his beard. This trimmer comes with a washable stainless steel head to last for a long time. As HTC is a famous brand in India, you can expect high efficiency from this trimmer. Also, this trimmer is ideal for use at home without any hassle. With an incredible design, this trimmer allows you to use it anywhere effortlessly. The blade of this trimmer is made of stainless steel for a smoother performance.
Also, the length of the blade is customizable according to your cutting needs. It has a push-type switch to let you operate this trimmer easily. The removable and rechargeable battery makes this trimmer a convenient product to use. This cordless trimmer comes with a 1-year warranty from HTC to let you use it conveniently. This trimmer comes with washable accessories so that you can use it easily.
Pros:
HTC is a popular brand and offers high value for money.
High-quality stainless steel blades are used in this trimmer.
The blades are adjustable according to your needs.
Cons:
How Choose The Best Quality Trimmer in India
Trimmers are one of the most widely used accessories by men. However, the toughest job is to select an ideal trimmer for yourself. Because of the availability of a wide range of products in the market, people often get confused. Here are some points that will help you to pick a perfect trimmer:
Power:
The power of the trimmer is one of the potent indicators of its quality. An ideal trimmer will cut the tangled and thick beard as efficiently as it cuts the thin ones. Also, trimmer should cut the beard in lesser strokes. It determines the comprehensive power of the trimmer. Also, make sure to check the power consumption too. Mostly, trimmers ranging below Rs.1000 use a power of around 100 to 250V.
Build quality:
Build quality takes into consideration almost every part of the trimmer. From having a sturdy and well-designed handle to the powerful blades, it takes care of everything.
Battery life:
An ideal battery life ranges from a trimmer working for at least 30 minutes to an hour. Imagine how irritating it would be if the trimmer runs out of the battery in the mid trimming session?
Charging time:
Let us take an instance of trimmer A and trimmer B. The trimmer A has a charging time of 8 hours and a running time of 45 minutes. Charger B has a charging time of 10 hours and a similar running time. It is quite clear that trimmer A would be a better pick. An ideal trimmer has a charging time no more than 10 hours. However, you always have the option of comparing the two products.
Blade type:
You will usually have two common options at the given cost. A rounded tip blade and a cutter block blade. Make sure to check the mechanism of each one of them before buying.
Blade material:
Blades are the primary parts of the trimmer. Without the blades, a trimmer won't serve its purpose. Therefore, it is essential to check the quality or material of the blade. You will mostly have three options- stainless steel, ceramic, and titanium blades. Make sure to choose an ideal one for enhanced durability.
Price:
Even if you are looking for trimmers under Rs.1000, you will still get a variety of options in price. Therefore, make sure to set in your mind about what kind of features you prefer. After that, compare the products and determine which one offers better quality for the given price.
Warranty:
Warranty is the single most thing that every person looks before buying an electrical appliance. Trimmers usually have a warranty of 1 to 2 years.
Weight:
If you want to avoid straining your wrist, go for a lightweight and sturdy model of trimmer. However, make sure to check the quality. Never compromise the quality for weight. A trimmer which is a premium quality, having a manageable weight is the best pick.
Wired vs. wireless:
If the dressing table in your house does not have any switch near it, you can look for wireless/cordless trimmers. They are also quite more portable than the cord ones. The wireless trimmers do not have any length restriction.
The Final Verdict
So now you have ten value-for-money deals with you. You can choose any beard trimmer from this article if that meets your needs. We hope you have enjoyed this article and found the right trimmer for you. Even if you are buying a trimmer for the first time, this article can help you in selecting the best option for you.
Santosh Kumar, He is a SEO + Blogger have 12 years of experience in writing tutorial, informative and product reviews topics.