Martial arts are getting more popular in India year by year. Martial arts are not only about the fighting thing; it's more about improving yourself both physically and mentally. If you want to learn and practice karate, you may have heard of the Nunchaku, a tool or weapon used in many martial art techniques and styles. When most people hear the word "Nunchaku," they immediately think of Bruce Lee and some ninjas dressed in black. Sure, Bruce Lee was a legend, and if you're inspired by him and want to use Nunchakus like him, you'll need to put in a lot of work and time in practice.
However, you cannot practice effectively if you do not have good nunchakus. It can be difficult and dangerous to practice with a poorly built nunchaku. When purchasing one, always go for the best nunchaku; it will be worth your money. And to assist you, we have compiled a list of the Best Nunchaku For Martial Arts In India. We conducted extensive research in the Indian market before selecting these Nunchakus. Aside from that, there will be a detailed buying guide focusing on the factors to consider when purchasing a nunchaku for yourself, so keep an eye out for that as well.

How To Choose The Best Nunchaku For Martial Arts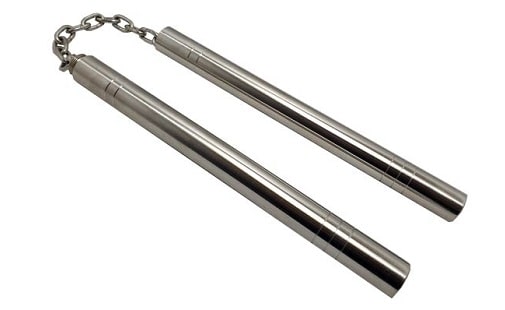 Let's have a look at a few important things you should never overlook when buying Nunchaku from the Indian markets.
Appropriate Size
Selecting the right size of nunchaku is a really important thing, especially if you're a beginner and want to practice handling/using it properly. The length of the connecting chain between the sticks is one factor to consider when selecting a nunchaku. It's always better to go for a nunchuck that has a chain length pretty close to the size of your palm. To check the length of this chain, just dangle the nunchaku from the wrist, with your palm still facing down, now grab both sticks and pull them towards you. At this point, you'll feel a little bit of pain and pressure, if there's still a gap between the stick ends where the chain connects, then you should go with a slightly shorter cord nunchaku. We made sure to include different sizes of nunchakus in our top picks, and because you're buying online, always look at the feedback or reviews of a specific nunchaku before making a final purchase decision.
Balance Is Important
Martial arts teach you a very important lesson in life, which is BALANCE, and the same applies to every technique or type of martial art. And the same applies to various tools/weapons used for martial arts, including nunchakus. If your nunchaku isn't balanced enough, you'll have a hard time using or practicing with it. To check the balance of your nunchaku, place it over your palm, perpendicular to the floor. If you want to check your nunchaku pair's balance, just place one of your fingers right in the middle of the chain. This way you'll be able to feel the balance, if there's an imbalance because of additional grips you have used, just take them off and then try again.
Materials
Nunchaku made of materials such as wood, PVC, and metal are quite common in the Indian market. Among all these material options, wood is the most commonly used for making nunchakus. Keep in mind that the material of your nunchaku pair determines its durability and performance. Not only that, but the material used influences the weight; for example, PVC and wooden nunchakus are typically lightweight. We also recommend that people stick to wooden nunchaku because they are quite lightweight and look more traditional.
Grip And Padding
Some other things you should never overlook when buying a nunchaku are grip and comfort. When spinning or casually using nunchakus during practice sessions, you don't want it to slip out of your hand and hit somebody. It can happen if you don't focus on the grip of your nunchaku pair. And talking about the comfort thing, if you're a beginner and recently started learning nunchaku, then you should pick a pair with padding on their sticks. This way, you can ensure it'll be comfortable when using your nunchaku pair during practice sessions.
Santosh Kumar, He is a SEO + Blogger have 12 years of experience in writing tutorial, informative and product reviews topics.