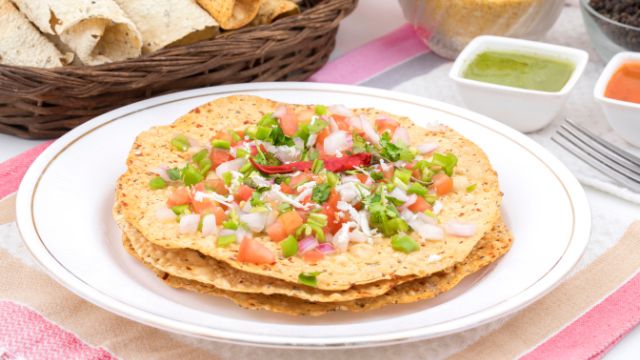 A papad is a very common food in India, which is essentially served as an accompaniment with main course combinations like dal-rice, sambar-rice, etc. It can be either fried or roasted, till crisp and essentially needs to be consumed immediately in order to enjoy the crispiness.
If you are Indian, you should be aware that papad has a special place in our meals that brings a smile to our faces and joy to our hearts. Papads are a deliciously crunchy food that can easily give meals some crunch. In the world of snacks and accouterments, it actually stands for taste, tradition, and innovation.
Earlier, women in the Indian family used to make papads on the terrace of the house. Nowadays, these papads are readily available on the market in many varieties and flavors. Many brands offer a variety of papads  at very affordable rates. We can easily order them through an online platform as well as from nearby local shopkeepers.
All in all, these papads can easily X factors to our meals, making them perfect as dinner snacks.
List of Top Papad Brands In India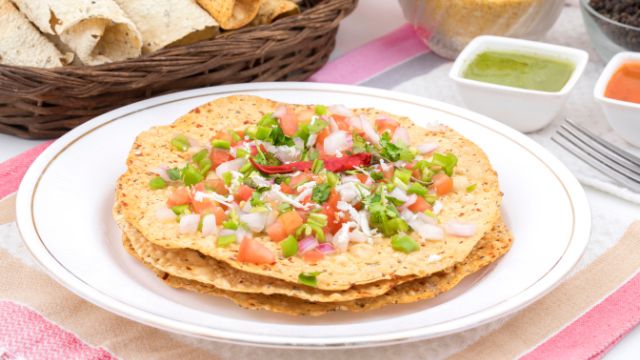 In this article, we have listed the top 10 best papad brands in India in 2023 that you can choose to buy your favorite packet of papads.
1. Lijjat Papad
Talking about papds in India, the first word that pops out in everybody's mind is Lijjat Papad. They are always of the best quality, rates, and flavors. Many Indian ladies are cooking these Lijjat Papad and sending them to Indian dining tables, which not only make the meals even more delicious but also the quality at par. They are available in many irresistible flavors at very affordable rates.
| | |
| --- | --- |
| Brand Name | Official website |
| Lijjat Papad | https://www.lijjat.com/under-construction |
2. Haldiram's
Haldiram's papads are next on the list for obvious reasons like quality and rates. They started their business in Bikaner, and with the help of digitalization, social media, and franchises, Haldiram's outlets are now available all over the country, serving the best food items at affordable rates and high quality. Not just Haldiram's papads, they also serve sweets, evening snacks, and much more. Haldiram's papads are available in many flavors like red chilli, punjabi, udad, etc.
| | |
| --- | --- |
| Brand Name | Official website |
| Haldiram's | https://www.haldirams.com/savories/papads.html |
3. Bikaji
Bikaji is also one of the most popular brands in India, serving quality high papads to households in many sizes and flavors. Amitabh Bachan is the brand ambassador for this brand. Bikaji papads are crunchy and very healthy for your plate. They are loved by many for their authentic taste and crispy texture. They are available in many flavors like classic salty, spicy, black pepper, etc. These Bikaji papads are cooked using the same old methods and spices, which makes the taste even better when artificial ingredients have spoiled everybody's taste buds.
| | |
| --- | --- |
| Brand Name | Official website |
| Bikaji | https://www.bikaji.com/papad.html |
4. Marwar Papad
Talking about Marwar Papad, we can say that this brand is well known for securing the rich culture of Rajasthan. They offer the best quality of Marwar papads in a variety of flavors, and you will love the taste of every bite without compromising your health. The ingredients used in making the Marwar papads are organic and have no preservatives. They USP of these papads is that they use authentic flavors and recipes from the Marwar region. They are loved for its signature crispiness and satisfying crunch.
| | |
| --- | --- |
| Brand Name | Official website |
| Marwar Papad | NA |
5. Amazon's Vedaka
Next in the list is Amazon's Vedaka, a newly launched brand by Amazon that offers a high quality range of papads to Indian households. They are cooked using the best ingredients, spices, and methods. They understand that quality should not be compromised in offering the products to customers. Amazon's Vedaka is the best to buy if you wish to try something new. These papads are a testament to Vedaka's commitment to delivering authentic flavors that capture the essence of Indian cuisine.
| | |
| --- | --- |
| Brand Name | Official website |
| Amazon's Vedaka | N/A |
6. Being Bania
Being Bania is another amazing brand that you can try if you wish to buy flavorful papads at affordable rates. They are cooked using the latest techniques and authentic spices, which can make you say wow at every bite. Being Bania papads are available on many online platforms like Amazon, etc. From classic salty to spicy masala, these Being Bania papads are the best to buy. They are best bought for their crispy and crunchy texture.
| | |
| --- | --- |
| Brand Name | Official website |
| Being Bania | https://www.beingbania.com/collections/premium-pickles |
7. Mother's Recipe
Mothers Recipe is the brand that offers a delightful array of papads that are rich in flavors. Papads are made using authentic tastes and spices. The Mother's Recipe offers a wide range of papds, from traditional salty to spicy, to ensure that everyone can enjoy their papads. They are well-known for tasting crispy and crunchy. These papds are very healthy as well as having a mouthwatering flavor because they are made with premium oil and spices that will not harm your health.
| | |
| --- | --- |
| Brand Name | Official website |
| Mother's Recipe | https://www.mothersrecipe.com/collections/papad |
8. Ganesh Papad
Ganesh Papad is the brand that comes next on the list. Since they are made with authentic spices and ingredients, their collection of papas is very authentic. They are well-liked for their crunchy flavor. These papads taste fantastic whether they are roasted or fried. They are available in many sizes.
| | |
| --- | --- |
| Brand Name | Official website |
| Ganesh Papad | http://ganeshpapad.in/ |
9. Ambika Appalam
Additionally, Ambika Appalam provides a wide selection of papads that are delicious and come in a variety of flavors. They are prepared using traditional, age-old methods, which are ideal for Indian palates.
| | |
| --- | --- |
| Brand Name | Official website |
| Ambika Appalam | http://www.ambikafood.net/product-category/appalams/ |
10. Shri Jain Udhyog
Last on the list are the Shri Jain Udhyog papads, which are renowned for their authentic flavor and affordable prices. These papads are cooked with time-honored recipes using the best of the ingredients. They come in a variety of flavors, including udad and lentils. They are very healthy.  They are available from crisp to crunchy options. They are offered to customers with ease to eat via roasted over an open flame, deep-fried, or microwaved, ensuring convenience for consumers.
| | |
| --- | --- |
| Brand Name | Official website |
| Shri Jain Udhyog | https://pgshop.in/ambipur/ |
Conclusion:
In the final sentence, we must emphasize how important papads are to Indian cuisine. They have been used in almost all homes for decades.  They are initially prepared by the women themselves on the terrace of their homes, and best brands are procured by online platforms like Swiggy or Zomatos. However, the papads at the Indian dinner table are still there. They are occasionally traditional salty and other times spicy. But they always made dinnertime enjoyable and satisfying, no matter how crispy or crunchy they were. They always made us say "wow" with each bite, whether they were served as a chakna with our drinks or as a complimentary side dish with our dal rice.
It is advisable to research the ingredients and other details before selecting the ideal brand of papad for your family's dinner table.
Santosh Kumar, He is a SEO + Blogger have 12 years of experience in writing tutorial, informative and product reviews topics.