When it comes to buying the right type of perfume, especially if you are women, then many people outperform while picking the suitable one. Some people prefer to pick the perfumes randomly, especially in India. But believe it or not, this is not the right way to pick any fragrance, not at all. It's because the perfume fragrance is the way to showcase your personality in front of people with a sense of smell. So, it should be important for you to choose the right type of perfume fragrances that perfectly match with your personality. But the only problem while buying the perfumes in India that many women usually face is the higher price points of perfumes.
And if you have only 1000 rupees of budget, in this case, you have to choose from some limited options only. Right? If you are a reader of this post, this doesn't apply to you, because here we are going to compile a comprehensive list of ten best women perfumes on this post. But the best part is that we have done detailed research on this topic, and therefore we recommend you always choose the perfume fragrances based on different notes, like top note, the heart note, and base note.
Best Selling Women Perfumes Below 1000 INR
If you want to know more about the perfumes and their different notes, this post will help you a lot. If you are an Indian woman looking for the best perfume in India, make sure to read this post of ten best perfumes for women in India under 1000 rupees:
1. Body Cupid Aqua Wave Perfume For Women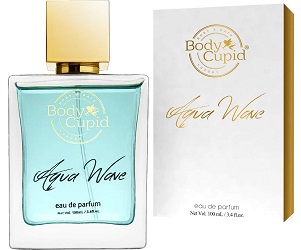 Under the budget of one thousand rupees, the one brand that is quite popular, especially in India, is the Body Cupid. There are many different types of fragrances of perfume that come from the same brand. Yeah, it is also true that this brand is providing the perfumes for both men and women. So, on the very spot of this list, we have the aqua wave fragrance of the perfume. This one is the most popular one from the Body Cupid company, and you can easily ensure that by just taking a look at the higher ratings of this particular pack of perfume for women.
Now let's move forward to the detailing part of the perfume that you are getting inside the pack. Talking about the first impression, so this aqua wave perfume will give you a fragrance like you are standing near an ocean. Many people like to use this type of perfume because these perfumes usually last longer than the others. The other best thing about this fragrance is that it is not overpowering.
Pros
No other brands are offering this type of aqua wave fragrance, especially in the range of only 1000 rupees.
The span of heart note is between two to three hours, which is quite impressive, and the overall fragrance can easily last more than 7 hours.
Cons
2. Layer'r Wottagirl Body Spray Perfume
If you are a woman who loves the fragrance of flowers, this might be a good option. On the second spot of this list, we have the Layer'r Wottagirl Body Spray Perfume. And there are many women present who don't like strong perfumes; instead, they only use the light and fresh feeling of perfumes. If you also want a light and refreshing fragrance of perfume, make sure to try this one. According to the manufacturers, this Wottagirl body spray is an excellent option if you want to use it for daily wears.
Going into the fragrance section a bit deeper, and we found that this body spray perfume comes with a bit of aquatic note. For more clarification, we want to let you know that the top note will smell very fresh and light. But when it comes to the heart and base notes, then you will find out that this smells more like the aquatic fragrances; still, this heart and base notes of the fragrance are not that strong.
Pros
We have picked and listed this Layer'r Wottagirl spray perfume on this list because it comes with the light and fresh fragrances.
The best part is that it doesn't cost you too high, and the manufacturers have tried to offer the perfume in more quantity.
Cons
Some people complained that this body perfume only lasts a maximum of three hours.
3. Fogg, I Am Queen Scent For Women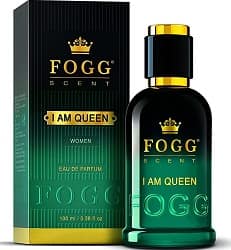 There is a very common myth among many people that the Fogg brand is only making scents and body perfumes only for men. But it is not the truth, and as proof, we have the Fogg, I Am Queen Scent For Women. We are damn sure that if you are an Indian resident, then you may have heard about this particular brand. We are saying this because this brand has spent a lot of money advertising their different series of scents and perfumes. However, if you are willing to spend your money or budget on a well-known brand, then Fogg can be a good option.
If we talk about the notes and elements that the Fogg company has used to make this scent for women, we want to let you know that you get the ingredients such as ginger, bitter orange, jasmine, and rose and honey-amber in the starting two notes. Talking about the base note, you in the base note will get the sandalwood as the bottom note. In short, you will find this scent a bit mild and refreshing, so if you were looking for a perfume like this, then this one is the best option for you.
Pros
This single 100 ml of scent bottle can last up to 800 sprays, which can offer you great value at this price point.
The notes have the mild scent and fresh scent of compounds, and the overall formula can last up to 5 hours after each use.
Cons
You have to shake the bottle before using this scent every time.
4. Body Cupid Secret Love Perfume For Women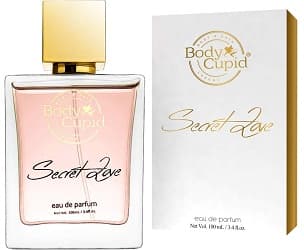 As we mentioned earlier, the Body Cupid is a famous brand in India when it comes to buying the best perfumes under the budget of one thousand rupees. Therefore we have decided to list another best perfume from the same brand name called Body Cupid. So, on the fourth spot of this list, we have the Body Cupid Secret Love Perfume For Women. If you are a woman who is looking for a fragrance that should match the charming and romantic personality, then we want to let you know that this is the one that you were looking for.
Going down to the ingredient section of this perfume, so firstly, we want to tell you that the top note of this perfume has included the mandarin orange, black currant, apricot, and peach. In short, these are the main elements that are providing a luxurious fragrance to the top note. But when the heart notes kick in, you will realize that this perfume is sweet and refreshing because it has included the wild orchid and orange blossom.
Pros
In the first 20 to 30 minutes, this perfume feels very rich and premium, and after the heart note kicks in, you will find it very refreshing.
The packaging seems very simple, glass-built, and very premium, but the overall perfume bottle will cost you below one thousand.
Cons
5. Engage Femme And Homme Eau De Parfum For Women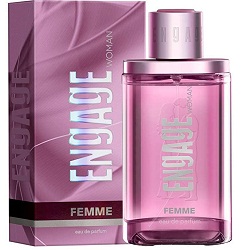 On the fifth spot of this list, we have another very popular brand's perfume for women. This time we have included the Engage Femme Eau De Parfum For Women. Engage brand name is also quite popular in the Indian market because they are offering great perfume for a long time. If you are looking to buy a sweet, light, and floral fragrance of perfume, you should try this one. The perfume bottle's packaging seems sleek and elegant; it's because there are not many stickers present on the bottle. However, there are two 90 ml capacities of the perfume bottles, which can easily last longer than you think.
When you use this perfume for the first time, you will realize that for the first 15 to 25 minutes; this Femmer Eau De perfume smells like fruits. But the second one perfume has an intensely aromatic fragrance. Yes, you got it right, the top note of this scent has the fruity fragrance. In our opinion, this seems a right product for teenage girls.
Pros
There are a total of two different fragrances of perfume bottles present in this combo, which seems a great deal, according to us.
The fruity and aromatic top notes and middle floral notes are ideally strong, and these perfumes seem perfect for you if you are a teenage girl.
Cons
How to Choose Best Perfumes for Women in India
These five aspects of a good and long-lasting perfume should be in your reading list. Let us take you along everything that we included in it below –
The concentration of the Perfume
This factor is going to decide how long the Perfume is going to stay. As per their preferences and standards, many companies decide on their own. This is why different perfumes will have a different concentration. However, the normal range of this concentration lies between 20-30%, which is explaining the concentration of the perfume oil. If you want a light formula, you can go with a lower concentration. However, if you want the Perfume to last longer on your skin, you should buy the perfumes with a higher concentration. But this concentration should not be too high as it will be bad for people with allergies.
Fragrance Notes of the Perfume
There are generally three notes in a good perfume. You should know about them to get the right one for you. These notes are –
Top Notes:

this is the note that is perceived first. As soon as you pump the Perfume, this is the note that will offer the first fragrance. The formula of this note is exceptionally light, and it may also evaporate quite quickly. Ginger, Citrus, and Light Floral are the most common types of top notes in Perfume.

Middle Notes:

after the top note evaporates, it is the middle note that comes up. This note is known to form the prominent scent of the Perfume. Lavender, Rose, and Spice fragrances are often used as middle notes.

Base Notes:

Once the middle note also disappears, you will get to smell the base note. This is the note that makes the theme of the scent. It has an in-depth scent associated with it.
Variety of the fragrance notes
As you see citrus notes in most of the perfumes, you must know that they come from orange, lemon, and other sour fruits. For a summertime fragrance, such notes will suit best. However, there are also flower notes that many women go with. They set a hugely romantic vibe and have a light yet sweet smell. We also have oriental notes in numerous perfumes that are often the picks of people who like vanilla, cloves, and cinnamon fragrances.
Storage Requirement of the Perfume
Most perfumes go bad if you store them in high heat places. So choose a place with a lower temperature to suit their formula. With proper storage, you will secure the contents of the Perfume for a very long time. However, some perfumes might work even when the conditions are not suitable. Many people also store them in the fridge to make them perform even better. So, check the individual details of your Perfume to know about the storage requirement.
Bottle and Packaging of the Perfume
The bottle of the Perfume helps you check how attractive it looks. A beautiful perfume bottle is the preference of many women. However, this bottle should also be tight so that the Perfume does not leak or evaporate. So, if you ever see the packaging get loose, you must not get that particular Perfume. Also, if the bottle is attractive, you should never lose focus from the Perfume's scent and notes as they are more important.
Conclusion
We know how hard it is to choose the best perfume for women under the budget of 1000 rupees in India. And if you are feeling bored after searching for the relatable suggestions related to women perfumes, this post was all about you. Here on this post, we have compiled a detailed list of ten best perfumes for women under 1000 rupees in India 2021.
Santosh Kumar, He is a SEO + Blogger have 12 years of experience in writing tutorial, informative and product reviews topics.