If you are a hardcore gamer or play games only for fun, then you may know that other than the computer's performance, the computer peripherals also matter a lot. Did you bought a new pc, or upgraded your old pc for playing and getting better FPS in modern games? But you have the standard keyboard and mouse. In this case, believe it or not, but this doesn't seem the right setup for a gamer. Like you invested a higher amount of money in buying or upgrading a pc, but you skimped in the peripheral section, you can't get full out of your gaming setup.
Here in this post, we are going to talk about the 10 best gaming keyboard under 1000 rs in India which are available online as well. And to resolve this budget issue, we have decided to put this post in front of gamers who don't have enough budget to spend on those premium peripherals.
Best Selling Gaming Keyboard Below 1000 INR
For the majority of people and gamers, this is the real headache that they don't get too many varieties in the budget segment. But this post will help you make the right buying decision because we have compiled a detailed list of ten best gaming keyboards under 1000 rupees in India. Also check the list of non-gaming keyboards under 500 rs. and keyboards under 1000 rs. in India.
1. Redgear Grim RGB Gaming Keyboard

The Redgear Grim RGB Gaming Keyboard is one of the most popular, plus it comes from a very reliable brand name. Many Indian gamers prefer to buy the other computer peripherals from the Redgear brand because it provides quality under the budget segment. Talking about this RGB keyboard, so this is a semi-mechanical keyboard with backlighting. And because it is a semi-mechanical one which means you will get great feedback while playing games. However, if you are not a hardcore gamer, and you want a sturdy keyboard for daily uses, then also this can be an excellent option for you.
The overall typing experience is going to be great because of the ideal spacing between characters and the clickiness of the buttons. Going forward to the RGB segment that most of the gamers want to know about, so we want to tell you that this keyboard comes with full RGB lighting. But the other considerable thing is that you can't control the pattern of RGB lights, you can just turn it on or off according to your choice. Apex Legends Hacks
Pros
RGB lighting enabled.
Good tactile buttons.
Sturdy build quality.
Cons
You can't program or control the RGB lighting pattern or colors.
2. Cosmic Byte CB-GK-10 Gaming Keyboard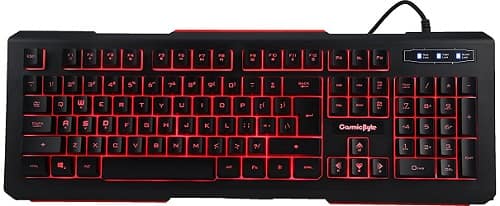 The Cosmic Byte CB-GK-10 Gaming Keyboard is the second choice that we want to share with all the readers of this post. It is another semi-mechanical gaming keyboard that you can buy under your budget. If you are willing to spend your money on a unicolor RGB lighting of the gaming keyboard, then this can be an excellent option for you. Talking about the brightness, so according to the Cosmic Byte manufacturers, you can adjust the brightness of backlight up to four levels.
Because it is a wired keyboard, so here you will get more than 1.3 miters long ordinary wire with USB. The best part is that this gaming keyboard is compatible with both older and latest versions of Microsoft Windows. So, if you are going with this particular gaming keyboard, then you don't need to worry about the connectivity or compatibility issues. If you have a question, is this keyboard performs fairly well in daily uses? We want to let you know that you will get a fantastic experience after using it for everyday use. The key travel of this keyboard is quite decent, which is suitable for standard document editing and typing tasks as well. With the help of this keyboard you can play Solitaire games online.
Pros
19 Anti-Ghosting Keys.
RGB Lighting.
Adjustable backlight.
Cons
Built quality is not that great in this gaming keyboard.
3. Tech-Com Rainbow 999 Gaming Keyboard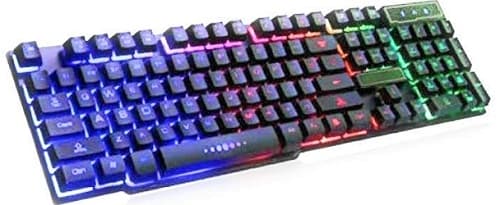 On the third spot of this list, we have another mechanical style keyboard, but this time we have included the Tech-Com Rainbow 999 Gaming Keyboard. Firstly, let's take a look at the build quality of this keyboard, so here you are getting the full plastic build design. But the quality of plastic material that the manufacturers have used is quite decent, and you can expect a reasonable lifespan. Again it is another wired keyboard; the length of wire is nearly 1.4 miters, but keep in mind that it is a standard capable with USB.
Going forward to some other essential sections of this gaming keyboard, so here you will get the RGB backlighting. But you will only get one rainbow pattern of RGB. Talking about the quality of keys, so the slightly curved design of each key can provide a comfortable typing experience to you. Not only this, but the key travel of keys is also pretty impressive, which allows you to achieve the best possible typing speed you can.
Pros
Good key travel.
Decent build quality.
Rainbow RGB backlighting.
Cons
Some users reported about the wired flex issue.
4. Night Hawk NK102 FPS Gaming Keyboard

If you are a gamer, you may know the importance of response time while playing the games, especially the online FPS games. So, if you don't want to invest your money on a keyboard with a very long response time, then this one can easily fulfill your needs. On the fourth spot of this list, we have added the Night Hawk NK102 FPS Gaming Keyboard. This gaming keyboard comes with awesome response time plus better compatibility with various operating systems.
Going down to the other important section of this gaming keyboard, we want to let you know that this gaming keyboard has 19 special anti-ghosting keys. These special keys are very beneficial if you are particularly buying this keyboard for gaming purposes. Talking about the design, so the design seems very similar to some other premium segment of keyboards. The manufacturers have used good plastic material in the keys for better and comfortable pressing or typing experience.
Pros
Sturdy built quality.
Awesome response time.
Three colored backlights.
Cons
5. EvoFox Fireblade Gaming Keyboard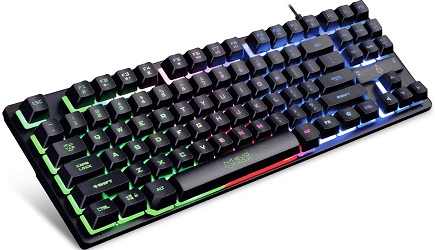 If you want a typical gaming keyboard under this low price point, you should try this one. On the fifth spot of this list, we have added the EvoFox Fireblade Gaming Keyboard. This keyboard has everything that you can expect from a budget segment of the gaming keyboard. Now let's move forward to the feature section of this keyboard. It comes in the plastic built, which seems reasonably long-lasting. Another thing is that it is a wired keyboard, but you are getting 1.5 mites of braided cable here.
This EvoFox gaming keyboard supports the multicolor RGB lighting, and the prebuilt effect that it comes with is the Rainbow Color Effect. However, this is a very lightweight but durable type of gaming keyboard that you can use for other purposes. It comes with an ideal key-travel, which means you can easily achieve typing speed with this clicky keyboard. Still, it doesn't produce too much noise while playing games or typing a document with it.
Pros
5 miter of braided cable.
Nineteen special anti-ghost keys present.
Good build quality.
Cons
How To Choose The Best Gaming Keyboard
If you are looking for a gaming keyboard then you already know that they are different from regular keyboards. However, selecting them is comparatively not as easy as selecting regular keyboards. There are several factors to consider and not all the factors are known to customers. If you are a beginner, here is a list of factors that you need to consider.
Membrane/dome/mechanical –
Regular computer users stick to whatever keyboard they get. However, they regret this once they find out there are keyboards that are comparatively more efficient. When it comes to gaming keyboards, they are comparatively more efficient than regular keyboards. If you are purchasing a gaming keyboard, you should know that keyboards with mechanical switches are best for gaming as they are durable and efficient than any other type of keyboard. While searching for a gaming keyboard, it is best recommended that you settle for anything other than a gaming keyboard with mechanical switches.
While most customers overlook the illumination color on a keyboard, it is not the right thing to do. It is a well-known and accepted the fact that certain color could stimulate the gaming environment. But, the color depends on the gamer, some gamers are comfortable with purple, some of them with red, some with blue. Therefore, you must check the specifications and make sure that you are purchasing a gaming keyboard with an illumination color that suits your taste.
Keyboard layout or ergonomics –
A keyboard is not all about the mechanism that is underneath each key. Keys and buttons are important so do the ergonomics of the gaming keyboard. If the ergonomics of the gaming keyboard is too poor, then it could be very difficult to use the keyboard. The best gaming keyboard is the one with good ergonomics, good mechanical switches, and the right illumination color. This is why you must remember to check the ergonomics and consider purchasing a keyboard based on the ergonomics of the gaming keyboard.
Appearance and style of the keyboard –
The appearance and style of a gaming keyboard might not be a big factor for some people. However, to most gamers, the appearance and style of the gaming keyboard are very important. We personally know gamers and customers who spend a fortune to make their gaming stations look stylish. For such gamers, the appearance and style of gaming accessories are important. If you are such a person or if you are a beginner, you should remember, not to settle for a gaming keyboard that you do not like. Take your time, dig deep into the market, and purchase a gaming keyboard that you love.
This is more of a question, are you planning to stay closer to the CPU while gaming, or do you move around a lot to find a comfortable space while gaming? The type of keyboard should be selected on such questions. There was a time when wired gaming keyboards were better(faster) than wireless gaming keyboards. However, today it is different, wired and wireless keyboard offers almost the same speed and efficiency.
Gaming keyboards come at different price ranges, there is a premium gaming keyboard that is very expensive and some of them are comparatively cheap. However, do not approach the market assuming that all gaming keyboards are expensive. No, even if gaming keyboards are comparatively expensive than a regular keyboard. There are also cheaper models.
Gaming Keyboard Frequently Asked Questions
How long does a gaming keyboard under a price range of INR 1000 last?
There is no way we could tell the exact lifespan of a gaming keyboard at a price under INR 1000. However, if you want to know if these gaming keyboards are as good as a premium gaming keyboard, then we might be able to answer it. Gaming a keyboard under a price of INR 1000 is not too bad and not better than a premium gaming keyboard. While the quality might almost be the same, the features and durability could be low. Most of the brands do not compromise the quality of their product based on price range, instead, the features could be limited.
Are gaming keyboard under the price of INR 1000 really worth it? Are they the same as that of a standard keyboard?
Standard keyboard and gaming keyboard are different, a reputed brand marketing a keyboard as a gaming keyboard will have the features of a gaming keyboard. On the other hand, when it comes to gaming keyboards under the price of INR 1000, the features would be limited and the efficiency of the keyboard might not be that great. This does not mean that they are too bad, it simply means that they are not too good.
What size gaming keyboard should I consider purchasing? Does a gaming keyboard under the price of INR 1000 offer such diversity?
The size of the gaming keyboard you should consider should be based on you and your existing gaming set up. If your gaming desk is small, there is no point in purchasing a large gaming keyboard. When it comes to gaming keyboards under the price of INR 1000, diversity based on keyboard size is not satisfactory. In fact, it is considered to be a premium feature that you should not expect in a gaming keyboard under INR 1000.
Does any premium brands have gaming keyboards under a price of INR 1000?
No, most of the top reputed gaming keyboard brands do not have gaming keyboard below the price range of INR 1000, in fact, not even below INR 2000 or 3000. This does not mean gaming keyboards under INR 1000 is worthless, but, for a professional gamer, a premium gaming keyboard is the most useful and the best.
Is it okay to title the gaming keyboard while using it?
Tilting a gaming keyboard and using it is a good thing to do as it makes the player more comfortable. However, using a titled keyboard puts a lot of strain on the wrist, which, in turn, could result in numbness and other health issues.
Conclusion
It is quite understandable how hard it is to choose the best gaming keyboard under very minimal budget and from limited options available. And if you feel exhausted after rubbing your finger on the smartphone's screen to get some suggestions related to budget gaming keyboards, this post was all about you.
Here we have listed a comprehensive list on this post related to ten best gaming keyboards under 1000 rupees in India.
Santosh Kumar, He is a SEO + Blogger have 12 years of experience in writing tutorial, informative and product reviews topics.