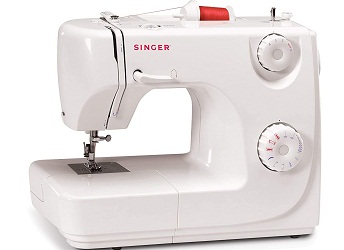 Sewing machines are a very fantastic invention to get rid of the manual stitching. In short, you don't need to sew any cloth after spending hours; instead, you can give a try to the sewing machine to complete this stitching task within a few minutes. At starting, the foot-powered sewing machines were so popular in India that it was also a very tiring work.
But now we have advanced technology; therefore, it also affected the sewing machines. You will find a very compact, powerful, and fast sewing machine in the market because of technological improvements. And you can find one sewing machine in every Indian household because these machines can save a ton of time and effort.
When it comes to buying the best sewing machine under the budget of ten thousand rupees, this seems complicated. But don't worry if you are a person who is looking for the best sewing machine that can handle almost all the cloth or fabric stitching related work, then you should take a look at some below-listed options.
Best Selling Sewing Machine Below 10000 Rs.
Let's find out which sewing machine perfectly suits your needs.
1. Singer 8280 Sewing Machine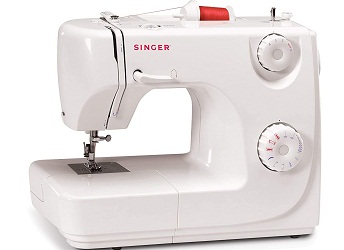 The Singer 8280 Sewing Machine is a popular model of the sewing machine by Singer manufacturing company, and of course, especially in India. You can easily get a firm idea about the popularity of this sewing machine and its reliability by taking a look at the ratings that it got on online stores. Nearly two thousand people rated this sewing machine model with higher stars. So, if your budget is ten thousand rupees and you don't want to spend more than this, you should try our first recommendation. This model comes with the adjustable needle option, which means you can adjust the needle to your project like top-stitching or inserting the zipper. Talking about some more features, so this model of 8280 sewing machine by Singer comes with the free arm design. This type of design can help you a lot to stitch or sew the fabrics, cloths at any angle you want.
If we consider the design section of this machine then also it looks quite modern and attractive. However, the overall size of this sewing machine is pretty compact, which allows you to store this machine in less space easily. It would be a plus point for you that this machine comes with the metallic mainframe, which is a heavy-duty metal frame. This thing indicates that in terms of durability, this sewing machine can perform amazingly well. If we consider the stitch pattern as the primary concern, so everybody wants the maximum number of stitches patterns in their desired machine. Thankfully, this sewing machine is offering around seven different stitch/sewing patterns that you can adjust according to your project. Additional accessories such as a different foot, such as zipper foot, presser foot, buttonhole foot, and spool pins, screwdrivers, and so on, present out of the box.
Pros:
Seven inbuilt stitch patterns.
Free arm design.
Durable construction.
Additional accessories come out of the box.
Cons:
2. Usha Janome Dream Sewing Machine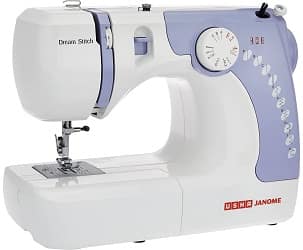 If you are an Indian resident, then we don't need to explain or tell you about the Usha manufacturing company. In every household of India, you can easily find the Usha manufactured sewing machine, at least six times in every ten times. If you discussed this with some of your friends or relatives about the sewing machine buying, then we are sure that most of them would have recommended you to go with the Usha brand name. Right? So, if you are looking to buy a Usha sewing machine, we will first recommend taking a look at this particular machine model. On the second spot of this list, we have added the Usha Janome Dream Sewing Machine. No doubts that this sewing machine model by Usha can be a great option under ten thousand of budget. This machine's design looks very similar to the first spot of the sewing machine of this list, but the white and blue color contrast is looking great on this machine.
First thing first, the mainframe of this machine is build-up by metal material for extra durability. However, this is not that heavy; you can easily shift this machine from one place to another in your home. Not only this, but the size is also compact, which allows you to store it without having any problem. Features such as in-built additional stitch patterns are making this sewing machine more exciting. Besides, if you are looking for the machine's reverse stitch feature, you should end your research because this is the one machine you were looking for. Other useful and amazing features, like auto-trip bobbin winder, free arm design, and in-built light, are making this sewing machine more convenient to use. When the box of this machine arrives at your home, you will get many accessories out of the box such as, buttonhole foot, zig-zag foot, bobbins, thread spools, felt holder, etc.
Pros:
Automatic zig-zag feature.
Durable build quality.
Compact design.
Convenient with higher efficiency.
Cons:
Some people reported the thread breaking issue while sewing.
3. Singer Start 1306 Sewing Machine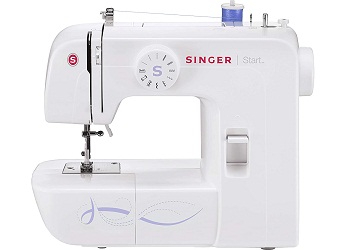 We have another sewing machine from the Singer brand name, but we have decided to add the Singer Start 1306 Sewing Machine on this list. If your budget is nearly eight thousand rupees and you want to buy a very sturdy, fast, and reliable type of sewing machine at this price point, this one can fit according to your needs. Or you would love to buy this type of simple looking sewing machine if you don't want to deal with too many design features and other additional features. Mostly because of this point, people usually ignore the futuristic-looking sewing machines, and they generally buy the simple ones. If you are the same kind of person, then you should try this 1306 model number of machines. First thing first, if we talk about the design factor of this machine, so it comes with a very compact design as compared to other machines of this list.
Thankfully, it is not that heavy as well, which gives you access to easily shift this machine from one place to another. Still, the mainframe of this machine is the metal constructed one, that can offer maximum possible durability and stability. Going down to the fantastic and exciting features of this machine, so firstly, we want to talk about the built-in stitch patterns. You would be happy to know that this budget-friendly type of sewing machine also offers the in-built stitch patterns, that seems pretty awesome. For clarification, we want to let you know that a total of six different stitch patterns are present, like zig-zag, linear/straight, blind hem, etc. The other best thing about this sewing machine that many users and we liked the most is that any user can set-up this machine in no time for use. If you are a beginner level of sewers, this one is the perfect choice for you to learn more about.
Pros:
Highly affordable.
Reliable and sturdy.
Multiple in-built stitch patterns.
Easy to use.
Cons:
No adjustable needle options present with this sewing machine.
4. Singer Promise 1408 Sewing Machine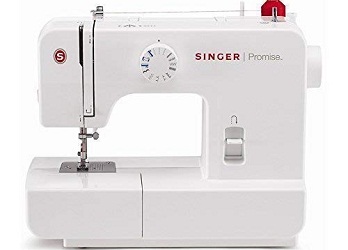 Again, one more time, we are adding another fantastic sewing machine in this budget segment from the same brand called Singer. This time we have included the Singer Promise 1408 Sewing Machine on this list. If your budget is around seven to eight thousand rupees, then you can go with this particular model of the machine by Singer. In our view, the lower price point of this machine is the biggest reason behind its popularity in the Indian market. It is quite popular in online stores as well, and if you want to get an idea about its popularity, just take a look at its higher rating. Talking about the design of this 1408 model number of the sewing machine by Singer manufacturers, so there is no such significant difference present in the design section if we compared this one with the previous spot of the machine.
Now let's talk about the features of this Singer Promise 1408 Sewing machine, one by one. First of all, it is a metallic frame built machine that has ideal durability plus excellent stability. In our opinion, this type of stability seems incredible in this budget segment of the sewing machine. However, going forward to the design segment, so you will notice that the design is pretty compact as well as very simple. In short, you won't be going to find it confusing when using it for the very first time, and you will not going to get any issue while storing this machine. Going down to some other essential points, so we want to let you know that this 1408 model of the sewing machine is offering eight different in-built stitch patterns. If you are reading this post from the beginning, you may know that we have added some sewing machines on this list that have a maximum of seven in-built stitch patterns. Ultimately, this is the one that offering, more stitch patterns at a lower price point.
Pros
Free arm convertible design.
Sturdy built.
Simple but elegant look.
Eight in-built stitch patterns.
Cons
Some users complained about stitch bunching issues after some time.
5. Brother GS 1700 Sewing Machine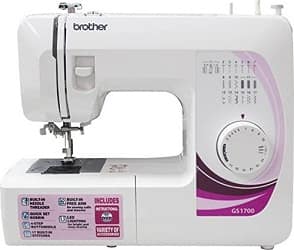 If we talk about the main competitor in the sewing machine field, especially in India, one brand name that provides excellent value to its customer is the Brother manufacturing company. Other than the Usha and Singer manufacturing company, people also present to buy these machines from the Brother manufacturing company. In short, it is an excellent competitor in this field. Therefore, we have decided to add the Brother GS 1700 Sewing Machine on the fifth spot. If your budget is exactly around ten thousand, then you should also take a look at this model of the swimming machine by Brother. First of all, if we talk about this machine's first look, there is no such big difference in the design section compared to other sewing machines at this price point.
Talking about the built quality, so it seems pretty solid from the outside because the Brother manufacturing company has provided the metallic frame to make this machine reliable, durable, and stable. The stability is pretty excellent because when you use it to sew fabrics or clothes, you will find that it doesn't shake too much. The free arm design of this machine allows you easily stitch the fabric or cloths at any angle you want. This thing would be a surprise for you that this GS 1700 model of sewing machine comes with around 17 different stitching modes. If we talk about the set-up time of this machine before you use it each time, surprisingly, it doesn't take too long to get to work. Many users said that this sewing machine is perfect if you get the thread bunching issue in other types of sewing machines.
Pros
Top load bobbins.
In-built LED present.
Ideal strong plus durable.
Cons
Some users found the needle threader issues.
How To Choose The Best Sewing Machine in India
Sewing machines come handy when you need to stitch something quickly at home. Whether you use it at your home or tailor shop, it should be perfect to meet all your needs. So, you can choose all the important things that matter to you before buying a sewing machine for you. This guide includes some common factors that you need to consider while buying a sewing machine.
If you are looking for a sewing machine for carrying it to different places, portability is one of the most important things to consider. You can look for sewing machines that are light in weight and offer appropriate performance to let you use them conveniently. However, if the machine is too light, then it will create vibration during operation. Furthermore, you can check whether there is a handle in the machine to let you carry it effortlessly.
Types Of Sewing Machines:
Sewing machines are commonly categorized into four types according to the technology they use. Different types of sewing machines found in the market are mechanical, electronic, computerized, and overlock.
Mechanical Sewing Machines:
This is the old and basic sewing machine that operates by manual pedaling. Those who are learning sewing can go for such machines. Also, manual sewing machines are sturdy and durable for use. The price of these machines is affordable compared to other sewing machines.
Electronic Sewing Machines:
Electronic sewing machines come with several features compared to manual ones to make the stitching process easier. These machines are the best choice for home-usage. They use a motor to operate the machine, instead of the foot pedal that is used in the manual sewing machines. With this type of sewing machine, you can do small projects and simple stitching works conveniently.
Computerized Sewing Machine:
These are more advanced than electronic sewing machines and usually used for commercial purposes. Computerized machines come with the latest technologies and offer multiple customizable options for maximum flexibility. The best thing about these machines is that they let users load their own designs and stitch them perfectly. They can also be programmed for some specific patterns and offer high efficiency and versatility than other machines. All types of fabrics can be sewed with these machines. However, these sewing machines are costly.
Overlock Sewing Machines:
Overlock sewing machines have a faster sewing capacity and are mostly used for making professional designs. Some operations such as hemming, edging, etc. can be performed with these machines. They use multiple needles, blades, and cutters to do the stitching tasks perfectly. Therefore, these machines are ideal for experts.
Inbuilt Stitching Options:
This is another important point to make sure that you can create different designs with the machine. Usually, electronic sewing machines come with some built-in stitching options to make your work easier. Some stylish stitching options come with sewing machines are zig-zag, caterpillar, chain, running, basting, blind hem, back, etc. Some sewing machines come with 8 stitching options, while some others offer up to 150 options for high performance. For better functionality, you can choose a machine with at least 8 to 20 stitching options.
It can be optional for some users to have a light in the machine. But if your machine has a light, you can get better visibility on the stitching when needed. This also helps to prevent eye strain.
Sewing Machine Frequently Asked Questions
How many times should I clean the sewing machine?
The cleaning of the sewing machine mainly depends on how often we use it for sewing. If we frequently use our machine then threads of the cotton will build up in the machine. To clean your machine use can use dry cloths and oil specially used in the sewing machines. After cleaning the sewing machine you can see the difference in the smoothening in its working. So, if you use your machine regularly then you have to clean it every weekend.
Why does the thread of the sewing machine breaks?
There are many reasons for the breaking of the threads. Some of them are listed here. It can be possible that your needle is placed incorrectly, in this condition you have to correct the position of your needle. The second reason is, sometimes the eye of the needle from which you pass the thread is sharp from the inside edges, which tends to break the rope. you must have to change the needle in this situation. Other reasons are too high thread tension, improper working of the machine, and so on.
Why does the needle breaks again and again in my sewing machine?
The most common reason for the breaking of the needle is, using the incorrect needle size which is not compatible with your machine. In this condition, you have to change the needle by knowing the Propper size for your needle. Other reasons are also existing like, sometimes we sew the thicker cloth which is out of the capacity of your needle in that case your needle also breaks. Improper functions of the machine are also the reason for the breaking of the needle. Using the machine faster than its capacity also tends to break the needle.
Why does my sewing machine is making the loose stitches on the clothes?
The main reason for making loose stitches is the tension on the fibre. If you increase the upper fibre tension then your stitches will be tightening to normal. You can adjust the tension on the stitch by the screw situated backside in most of the machine. One other reason is the quality of the thread. Sometimes the nature of the thread is elastic. Elastic threads increase their length after sewing which tends to the loose stitches on the cloths. Loose stitches are never good for any cloth stitching.
Conclusion
It seems very understandable how hard it is to pick the best sewing machine from hundreds of options, but this becomes very difficult when you have only ten thousand rupees of budget. If you also want to know more about the sewing machine varieties that come at the price point of ten thousand rupees, then this post was all about you. It's because here on this post; we have compiled a list of seven best sewing machines under 10000 rupees in India 2021.
Santosh Kumar, He is a SEO + Blogger have 12 years of experience in writing tutorial, informative and product reviews topics.