Haryanvi culture, pronunciation, and songs are becoming popular among Indians over the years. There was a time when Haryana was the least popular state, but today, it is influenced by most people, especially when it comes to Haryanvi songs. After Punjabi and Hindi songs, the most humming lyrics are from Haryanvi songs. And the credit goes to all the musicians, directors, and singers who are dedicated to making them better day by day.
If you are also a fan of Haryanvi songs, you must know the prominent Haryanvi singers who have revolutionized the Music industry. As everyone is so good and talented, it's hard to know which is better. In this guide, we are going to discuss some of the top Haryanvi singers who are known for their composition and lyrics. These singers sang the top-notch songs of their careers, which helped to make them famous in the Haryanvi music industry. So, scroll down to know that list and his popular songs.
List of Top Haryanvi Singers of All Time
1. Veer Sahu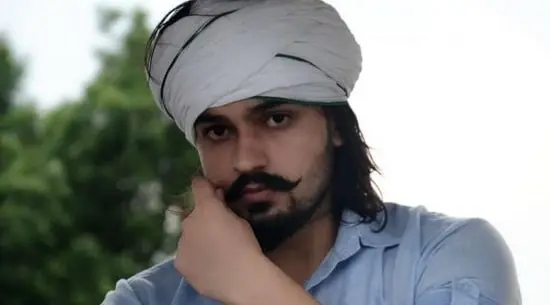 Veer Sahu is a popular Haryanvi singer. The singer came into the limelight after becoming the husband of the famous Haryanvi dancer and singer Sapna Choudhary. Sahu was brought up and born in Hisar, Haryana. He started his singing career by writing lyrics for the Punjabi industry. After that, he also started writing lyrics for Haryanvi songs too. The first Haryanvi song of veer was Thaddi Baddi. Also known as Babbu Maan of Haryana, he is the only singer whose debut song was listed on the top list of iTunes.
2. KD
Kulbir Danoda is a Haryanvi rapper, singer, lyricist, and music director who belongs to the Haryanvi Music Industry. He was brought up and born in Donada Kala, Jind, Haryana, on 15 September 1990. He also has been featured in a few Bollywood movies, such as Sweety weds NRI and Bhangover. He got fame from his most famous song, Dora, Desi Desi, and Z Black. In 2018, his track Desi Desi Na Bolya Kar broke all records over the world. In 2019, he was awarded the most famous singer and the best performer in Northern India 2018.
3. Diler Kharakiya
Diler Kharakiya is a model cum Haryanvi singer majorly linked with the Haryanvi Music Industry. The birthplace and DOB are Haryana and 8 August 1997, respectively. His father, Rajender Kharkiya, is also a famous singer. In 2018, he began his singing career with the song, Border. After he sang the song Lilo Chamas, he became popular among music lovers. Some other hit songs sung by Diler are Lilo Chaman, Love You, Sehari Papu, Pehli Mulakaat, Sapna 2, and Chaman 2. Later, Haye Re Meri Moto wrote by Classmate Ajay Hooda, Duffer, and Lilo Chaman 3.
4. Binder Danoda
Binder Danoda is another best popular singer in Haryana. Besides being a singer, he is a lyricist and model. He was born on 1 July 1988 in Vill, Danoda Kalan Jind. He works with numerous Haryanvi singers like Manisha Sharma, Raju Punjabi, Raj Mawer, Amit Dhull, Renuka Panwar, etc. He is also known for his song Aaja Mein Tere laad ladau.
5. Khasa Aala Chahar
Khasa Aala Chahar is a well-known Haryanvi lyricist and singer who belong to Haryanvi Music Industry. Khasa's place of birth is Haryana, India. Born on 21 October 1998, Khasa sang many hit songs. The first song written and sung by Khasa was Father Saab, which is an emotional song about a son and father. After becoming a hit among music lovers, he never looked back and sang numerous superhot songs like Loot Liya, Saayahi, etc.
6. Renuka Panwar
Female singer Renuka Panwar is a famous singer from Haryana. After Sooraj 52 Gaj Ka Daman, she became the famous and most loved singer in the Haryanvi music industry. She sings great hit songs. Her singing career started in 2017 with the song, San Sonio. This superhit got more than 100 million views on YouTube. After that, he gave her voice to many songs.
7. Sumit Goswami
Sumit Goswami is a lyricist and singer associated with the Haryanvi Music industry. He was born in 1995 in Faridabad, Haryana, India. He became famous after his song, Bholenath, which was a big turn in his career. However, his song Bawli Tared was also very hummed by Haryanvi's lover.
8. Ramkesh Jiwanpurwala
Ramkesh Jiwanpurwala is the most famous yet old singer in Haryanvi Music Industry. His contribution to the Haryanvi music industry is immense. The superhit song named Hatja Tau was the first song that forced people to start moving on occasions like weddings and events. After that, he made people emotional by singing a song like the first Ali Havan released in the year 2015. Not only in Haryana, but he also became famous all over the world.
9. Anjali Raghav
Anjali Raghav is a famous Haryanvi Singer. Besides contributing to the Haryanvi music industry, she is a good dancer and model.  She started singing Solid body with Ajay Hooda, which made her one of the most famous singers. She also acted as a model in numerous Punjabi songs. Currently, she was noticed performing the Haryanvi song. She is blessed with vast success in a minimal period at a very young age. The most loved songs of Anjali Raghav are Solid Body, Tere Suit ki Kadhai, Tu Keekar Ka Ped Se, and Kothe Chad Lalkaru.
10. Sonika Singh
Sonika Singh got famous not in Haryana but also globally. She is a leading Haryanvi singer. Apart from singing, she has been interested in acting since childhood. The first ever super hit that came her into the limelight was 4G Ka Jamana, which was realized in June 2017. This song gave her a lot of popularity. In addition, she is constantly thankful for her success, and the songs sang for the Haryanvi music industry. Some of the super hit songs of Sonika are Challiya, Landor, Thekedarni, Sasre Ka Pani, 4G Ka Jama, etc.
Conclusion
Haryanvi songs are superhit for their lyrics, composing, and singers who sing them. Moreover, their powerful voice and accent of Haryanvi make them famous among music enthusiasts.
Santosh Kumar, He is a SEO + Blogger have 12 years of experience in writing tutorial, informative and product reviews topics.