Indulging in any sport is beneficial for mental &physical health and skateboarding is one of them. It is an active, fun and energetic sport which keeps the body flexible, helps burn off extra calories, reduces excessive weight, releases stress, strengthens growing muscles, and improves the synchronization between arms, legs and feet.
In simple words, it is a great way to work on glutes, calves and thigh muscles. Apart from physical benefits, it affects your mental health & lifts your mood.
Whether you perform stunts on boards frequently or use boards as a professional skateboarder, you need to have the right skateboards. Buying the right skateboard can help you perform better and achieve more balance.
However, depending on your usage, weight & height, you can choose either a smaller or larger size skateboard. The market is full of a wide array of skateboards as they are available in different designs, contrast, length and width. Apart from these aspects, they come at a variety of price ranges.
Best Buy Skateboards Online in India
To help you choose from other options and brands offered in the Indian market, we have shortlisted top-three skateboards in India with a proper buying guide and safety aspects to make the right purchase.
1. Strauss Bronx Skateboard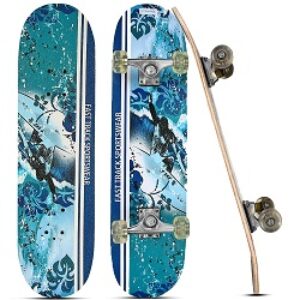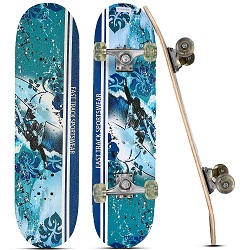 Skateboards lovers who are eagerly looking for cool graphics & aesthetically designed skateboards can consider our first skateboard from this list. Skateboard presented by Strauss is an amalgamation of functionality and looks. However, it has vibrant colours and stylish graphics which are very eye-catchy, making it stylish and unique.
This ergonomically designed skateboard can easily match will ensure safety as it has a firm wooden base. Skateboard like this boost your confidence and passion. Make your every ride smooth and even faster with 31 inches long and 8 inches wide deck. It is equipped with smooth wheels that can rotate faster and quicker, enabling you to increase the speed.
Another notable thing about a skateboard is that it has 7 inches wide truck located under the board that supports the board and enhance safety. However, it is made of premium quality solid steel. Moreover, the board is wide enough so that you can stand and move securely.
If you want an uninterrupted ride on each use, gather it with a high-quality screw and spacer which is offered with the product. The excellent finish of the board attracts every skateboard lover. Apart from professional skateboarders, this one is an ideal option for teenagers and children.
The board is simple yet very affordable, as you can't get such type of skateboard at this price point. Talking about after-sale services and product delivery, no doubt the board delivery serves in a complete packing, thus no risk of cracking or damaging. All Users must be noted that the wheels aren't recommended for rough surface use.
| | |
| --- | --- |
| Pros | Cons |
| It is a high-quality skateboard as compared to others. | It can't be safe to use this skateboard without wearing safety gear. |
| It is equipped with a sturdy absorption PU wheel which enhances safety. | |
| Colourful graphics on the board enhance the beauty of the board. | |
2. Jaspo Destructor Camouflage Skateboards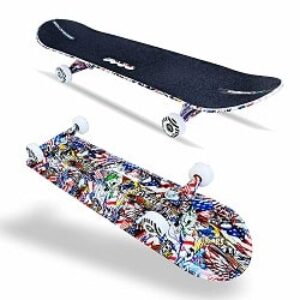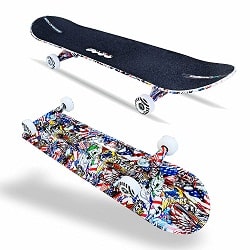 Made and developed in India, Jaspo Destructor is one of the highly recommended skateboards in the market. It is ideally designed for teens and kids for their regular board. The deck is enough large than a traditional skateboard. This product is going to be a perfect option for adults who are looking for a longer ride.
The board is 31 inches in length and 8 inches in width ensures better tricks for every smooth ride. Skateboard with flashy looks has a great shape that is outstanding comfortable, especially for learners or beginners. However, the board is made from fibre material added with more comfort and flexibility. Apart from that, it has heavy-duty Fiber trucks and is equipped with polyurethane-injected bushings that enable faster speed and higher weight.The wheels of the board bring a smooth ride on any surface.
Buyers must be noted that this board is highly recommended for ages 8 years and older & also supports weight up to 220Ibs. This board is light yet very durable, has rounded edges & a double pillar design that enables a wide array of tricks and offer greater control and better grip. It also offers additional handling supports, providing grip while stunting.
The product is designed in such a way to perfect for carving and aggressive riding. It is perfect for gifting purposes too. The board got several positive feedbacks and ratings from users. Infect, the selling of brand is rapidly increasing due to top-notch quality and brand's goodwill.Jaspo Skateboards is popular for its build quality and structure which enhance safety and movability.
| | |
| --- | --- |
| Pros | Cons |
| The board can Hold up to – 100 kg / 220 lbs. | The trucks under the board are made of plastic that is unsafe for fast moves and stunts. |
| The product is best suited for beginners and teenagers. | |
| The dimension is perfect for safe and long rides. | |
3. Klapp Skateboard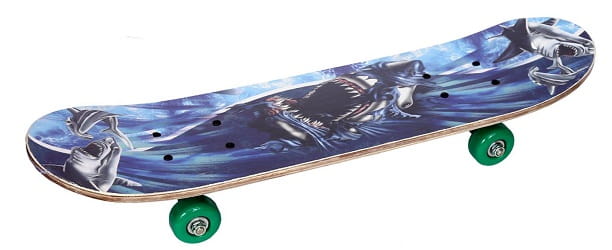 If you're looking for a skateboard that comes under your budget, this would be an excellent option. Skateboard from Klapp is available in multiple colours with outstanding finish & looks. The board has high-quality ball-bearings for a quick, fast and smooth ride. For aggressive and smooth riding, this skateboard wheel is accurate and efficient. It also protects you from unexpected injuries and gives you secure riding.
Klapp skateboards are being offered in three different sizes: Small, Medium and Large. The best thing about this board is that it can be used by any beginners or professional skateboard riders, as it is an idea for unisex. 3D Graphics and attractive designs on the board make it perfect and attractive.
It also has an anti-skid feature that allows you a convenient and better riding experience. Klapp Skateboard is better for gifting purposes. It is a great choice for beginners and children at an entry-level price. With a unique colour combination, make your skateboard stand out from the crowd. It is one of the most affordable and high-quality skateboards with amazing wheels. It ensures safety, flexibility and movability. Not only that, you can operate easily without the risk of falling.
However, it is made from premium quality solid wood which feels great when doing tricks or stunts. You can make it swing and turn flexibly with this ergonomic design skateboard. The highly durable, smooth, and cool skateboard is perfect for a long and smooth ride. The PVC wheels are considered to be the best material. The board is ideal for youth and professionals. The highly recommended skateboard from Klapp is ergonomic and stylish at the same time.
| | |
| --- | --- |
| Pros | Cons |
| It is a high-quality board which a 3D design for a smooth ride. | Board is quite small and less wide than others. |
| It is an affordable board that is a great value for money. | |
| Solid quality wood is used to design this skateboard. | |
How to Choose the Best Skateboards In India?
Choosing a skateboard for anyone else or yourself from the wide range of options available can be difficult. Here we are going to discuss certain aspects that will help to determine the right skateboard. Do you know there are different types of skateboards ideally designed for adults, professionals and children respectively? The widely popular skateboard types include long, standard and mini.
The long and standard size of skateboards is suitable for professionals as well as beginners while the mini is ideal for kids and children. However, professionally used boards have much deck space and are more expensive. On the other hand, skateboards for children are slightly affordable. No matter what you choose, look for a skateboard that has phenomenal balancing abilities.Before buying a skateboard, you need to know the different types. Firstly, take a look at them:
1. Types of Skateboards
Shortboard Skateboard
Shortboards are popular for their flexibility and durability. You can perform different styles of stunts on this type of skateboard. The deck of this type is short in size and can be differentiated into several types.
The most commonly used double-kick Popsicle skateboard is perfect for all types of skating. As the name implies, it is a Popsicle shaped board that serves its best purpose. The board is small in size and is lightweight, ideally designed for performing stunts, getting airborne, doing tricks grinding, and shred curbs.
The shape and design of this type have a tail bit similar to a fishtail. The shape of the deck is designed in such a way that it looks old fashioned and classy. The complete size of the board is larger than the regular ones.
Another most popular type in the market is a mini skateboard which is suitable for kids and beginners. That doesn't mean an adult or professional can't operate this skateboard. The thing you'll the most is its size which can help you to perform many tricks and stunts on any surface. This skateboard is popularly known as a mini-cruiser skateboard among users.
Longboards
The name suggests that it is longer in size than shortboards. They can be controlled and balanced easily. It is highly recommended for babies or toddlers. Longboards come with soft wheels that help a lot of move around in the area or streets.
The downhill longboards offer more speed and have better stability than a shortboard. It is specially designed for using it on the hill. It has a wide wheelbase and cutaway guards so that you can easily control its speed while operating especially on the downhill surface. It can travel for a long distance and is great for city streets and downhill. This type of skateboard has two sub-types: drop-through shape and standard concaves.
It has a traditional outlook so that it is quite similar to the surfboards. The board typically have a length of up to 33 inches which are good for beginners to have a good balance. You can have a laid-back boardwalk, long-distance rides and fast skating with this type of skateboard. Classic longboards are available in lots of variations, available at a very affordable price and require less maintenance.
Apart from the skateboard type, you should consider several aspects that are below mentioned:
2. User's height and Deck Capacity
Choose a skateboard that has enough space to stand. For instance, full-size regular skateboards are suitable for anyone who is 5 feet, 3 inches or more in height. An individual who is 4 feet, 5 inches tall and 5 feet, 2 inches tall should consider a medium-sized skateboard. A mini-sized stake board with a 7-inch is perfect for the skater who is 3 feet, 5 inches tall, 4 inches tall and 4 feet. A skater with short height should consider a micro-sized board that has 6.5 to 6.75 inches in width.
Along with size, you should consider the board that offers the highest capacity. If a skateboard is for teenagers/children, a weight lifting of 60 to 70 kg is perfect. On the other hand, you can go for board up to 100 kg for adults.
3. Skateboarding Style
Unlike riding styles command different skateboards. If would love to perform street carving & cruising long distances then you should start with a longboard. If more than one skater wants to do skatepark then they should go with a shortboard and narrow boards.
4. Board Usage
Depending on how often you'll use your skateboard and for what usage, you can determine your usability. If you're a professional skater, you should have at least two boards, but consider a mini-board if you're going to ride it to your destination or you can go for a similar mini-board which will be helpful for travel. You can also go with a longboard if require for slaloming or cruising.
5. Price
Some types of skateboards are budget-friendly while others are a bit expensive. If you are a learning skateboard, then invest at the lowest rate, the same wooden board will be good for professionals. Professional-used boards are expensive but best for long-lasting usage.
Besides the above-mentioned aspects, you can check the wheels rotation or movement and look after your bearings. Skateboards are also being offered in different 3D designs and colours so you can also consider the looks of the board.
Skateboards Using Safety Guidelines
Skateboarding can lead to danger when done unsafely or operating improperly.It may enhance the risk of falling, mouth and face injuries. Sometimes, it becomes more dangerous and causes lifetime face injuries to like badly put effect on teeth, eyes, nose and lips. But by taking safety precautions, you can prevent skateboarding injuries. Let'sdiscuss them:
Before operating a skateboard, buy all essential safety gear includes a fitted helmet, wrist guards, shoes, and knee, goggles, glasses and elbow pads. Always choose a helmet that meets Consumer Product Safety Commission standards.
Do stretching or conditioning exercises before and after every use of the skateboard.
Never operate skateboard with anyone else. Don't leave someone who is learning skateboarding or less skilled skaters.
Before each ride, inspect your skateboard. Make sure, your boards have proper working order. Look for damage or cracks, if any repair is needed, refer to a professional. A skateboard may have sharp or jagged edges; broken, loose or cracked parts; wheels with cracks and nicks; a slippery top surface; or any other damage. If you find a serious defect, you can ask customer service to return the product or corporate to find out how to replace it.
Always use a quality skateboard whether you're a professional skater or an untrained user/beginner. Look for a board that have the perfect board, trucks and wheels. Beginners should go for a shorter deck as they are easier to handle and balance. Decide for which style you're going to use a skateboard. For different riding styles including freestyle, speed, slalom & downhill skateboards are available in a wide range. Some are recommended for the user's weight.
Before going to ride a skateboard, make sure that you should learn all the basic skills, especially learning how to stop. Start with turning and slowing techniques and how to drop safely. If you feel that you are going to fall or your balance is deteriorating, then try to fall on the fleshy part of the body so that the risk of breaking the bone can be stopped.
Avoid using headphones or earphones when skateboarding.
Never ride in a crowded area or bumpy streets if you're less skilled.
Never hitch a ride from a car, truck, bar, bicycle or other vehicles.
Practice landing on a flat and safe surface like a grassy area.
Never use a skateboard in a wet area or wet weather.
These are some safety standards that should be followed by learners and professionals while skateboarding.
Final Words
Skateboard is one of those sports equipment that is gaining immense popularity among children, adults and youth. But choosing the right size, the perfect wheel can be difficult for beginners. If you're not sure about being selective with the adequate type and material of board, check out our mentioned top-three boards and read out all safety aspects.
Santosh Kumar, He is a SEO + Blogger have 12 years of experience in writing tutorial, informative and product reviews topics.