If you are conscious about your fitness and run or jog regularly, you might understand the importance of owning sports or running shoes very well. Like any other fitness gear, running shoes are incredibly crucial. They make your morning jogs and running sessions very effective as you can perform better once you wear them. Running is also known to be one of the most amazing ways to increase your stamina and have a healthy heart. Other than for fitness purposes, people also like wearing running shoes like sports shoes when they are out playing their favorite sports. These sports can be anything ranging from tennis to cricket. In such a situation, a good pair of shoes will allow you to have better movement.
You will also not feel any discomfort even when you play sports for a long duration once you wear qualitative sports shoes. As you may have guessed, we have brought ten amazing pairs of sports shoes today for our constant readers. We have also tried to include only the best brands that manufacture long-lasting shoes for men. Hence, you must not have any doubts about the product quality at all. It is essential to wear running or sports shoes during physical activities to avoid getting your feet injured. Hence do not back off from choosing an excellent and affordable pair.
We have added many shoes in the descriptive list below that cost under Rs. 1000.
Let us start describing them
1. ASIAN Wonder-13 Mesh Shoes for Running and Sports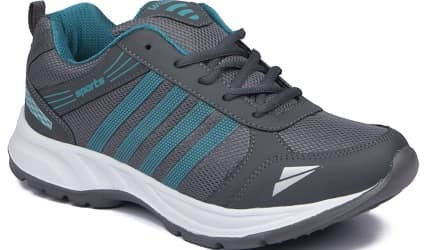 First, we have brought the fantastic grey running shoes by the brand ASIAN. It is available from sizes 6 UK to 12 UK. Out of all the sizes 12 UK costs the highest, its price is still way below INR 1000. The shoes also have down toned blue stripes on its design. The color complements grey base color very well, which is why the overall shoe design looks much more enhanced and attractive. For closure, you can use the laces and tighten them as per your liking. Many people like using the product when they are running; however, you can also use them during sports activities. The shoes are specifically designed for the feet of Indian men, and hence you will surely love wearing the pair a lot. The upper material of the product always helps in better air circulation. Other than that, it also has moderated ankles so that your feet feel comfortable in all situations.
Pros:
The blue accents on the grey shoe design look extremely good.
The fit of the shoes is extremely firm and comfortable.
You can deodorize these shoes regularly to diminish false smells.
Cons:
We have found no cons of these shoes till now.
2. Sparx Men's Black Running Shoes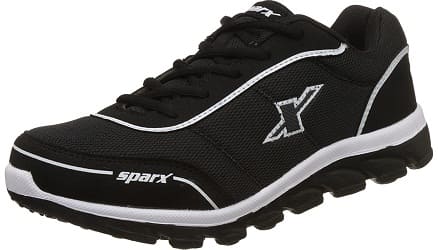 Honestly, is there anyone in India who does not know or like Sparx shoes? We guess not. Hence, next, we are bringing you an amazing pair of running shoes by them. If you are a fan of black shoes, you must buy the pair of these shoes with your eyes closed. The sole of the product is incredibly soft, and hence you won't develop any blisters on your feet no matter how long you wear the shoes. If you do not like the white accents, you can try switching to other color combinations with the black base design. These colors are – red and orange. Since we see a variety of shoe sizes when it comes to Indian men's feet, we tried to bring a product that comes in small and extra-large sizes. Try choosing the shoes while referring to an authentic and universal shoe size guide on the internet. To wear the Sparx shoes, just slip your feet in and use the laces well. You can also try to wear socks inside for better sweat absorption.
Pros:
The product comes in dark colors that do not look dirty easily.
The lace-up closure is straightforward to open and close.
Other than being practical, these shoes are also very fashionable and stylish.
Cons:
These shoes are only available in darker base colors.
3. Lancer Men's Walking and Running Shoes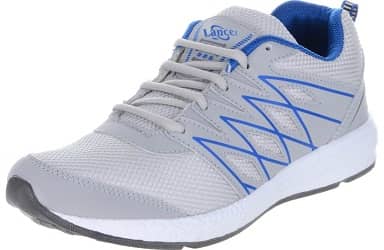 When it comes to outdoor shoes, Lancer shoes are the ones that have to be the most stylish shoes ever launched. That is also the case with these grey shoes by the company we have brought for you. Besides grey, the consumers can also choose from the black and blue base colors of the product. Even after having such a rich-look, these shoes are still priced way below INR 1000. This is the reason why many buyers of these shoes are happy with their purchase. They have also claimed how these shoes have lasted for many years with them without causing any trouble or discomfort. Lancer has been known to design products that can woo everyone, and thus we were forced to bring at least one of their running shoes here for all our readers. You will like the curved toe of these shoes as they snug your feet in the most comfortable way possible.
Pros:
These shoes will prove to be rich-looking and usable at the same time.
The toe area of the shoes is curved so that you do not develop any kind of toe pain.
You can choose these shoes from light as well as dark color bases.
Cons:
If you do not pick the size perfectly and accurately, you may receive the wrong size in your online purchase.
4. TRASE Relax SRV Sports Shoes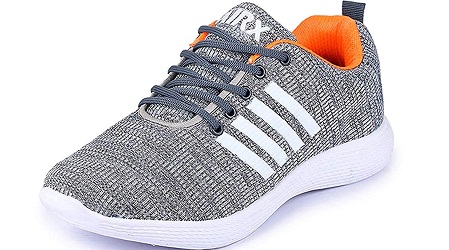 On number four, we have the Relax SRV sports shoes by TRASE for you. The best part of these shoes is that they can be bought from a variety of colors. These colors are dark-toned as well as funky. If you do not like funk, you can also go with the grey version. The insole of the shoes is covered with bright fabric. It adds a splash of brightness to the overall product and makes the shoes look very attractive and beautiful. For fitness-conscious men, these shoes will prove to be just perfect. You can jog as well as run wearing them anytime you want. They are well cushioned from the inside and won't make your heels hurt ever. You will feel a great deal of stability wearing them because of the sturdy soles. The overall fabric is very breathable and hence won't make your feet stink. You are going to love these pair of shoes you can take that from us.
Pros:
These are many color options that you can select these shoes from.
You can wear them while gymming, jogging as well as running.
Cushioning is well done and lets you have drier and healthier feet.
Cons:
The look of the shoes still has scope for some improvement.
5. Ethics Men's Ultra-Lite Sports Shoes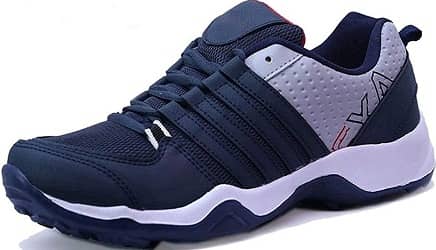 Let us next discuss the bulky yet comfortable sports shoes by the brand Ethics. These shoes are designed for men who like having lightweight shoes. When you look at the shoe design, you will almost feel that it is bulky; however, that does not mean that the product will feel heavy on your feet. Many people wear these shoes while running, and they have claimed the product to be extremely comfortable and well-cushioned. You can also pick the product from four different colors that are neutral and light-toned. The color of the laces matches perfectly with the color of the shoes, which is why the shoes look like slip-on from afar. These shoes are also heeled so that you get the perfect bounce while you are jogging wearing them. You can use them every day without fail. To remove any odors, we urge you to use a decent deodorizer that is supposed to be used on shoes.
Pros:
Even when the shoes look bulky, they are tremendously light in weight.
They will help in maximizing your fashion other than being extremely sporty.
You can use them regularly and still won't see any damage to their overall design.
Cons:
These shoes are not available in bright and eye-catching colors.
6. Lancer Lace-up shoes for Sports and Running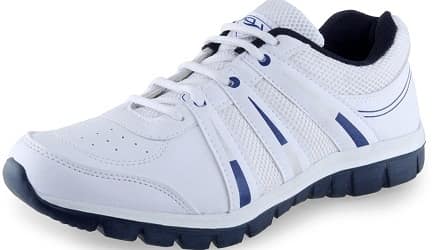 Obviously, we had to include another pair of Lancer Sports Shoes on our list. That is how much we love the design and quality of the footwear they manufacture. Lancer is also one of the most loved footwear brands in the country. These shoes by them are available in four color combinations. Out of all four, the white option is sold the most. However, if you wish, you can also check out the other color variants. Like many other sports shoes, these shoes also have a lace closure. With the help of these laces, you can tighten the shoes so that they do not slip off from your shoes while you are running or walking wearing them. The outer and inner material are both mesh textiles, so you can clean these sports shoes very quickly. Additionally, the sole is made from EVA material, and the shoes are fit to be used while running as well as sports activities.
Pros:
The design is so good that today's youth can use it.
No matter where you use them, you will always get a snug fit of these shoes by Lancer.
The flexibility of the product is fantastic, and the shoes will help support your feet at all times.
Cons:
The overall bounce you get while you run in these shoes might not be sufficient for advanced runners and joggers.
7. Shozie Running and Sports Shoes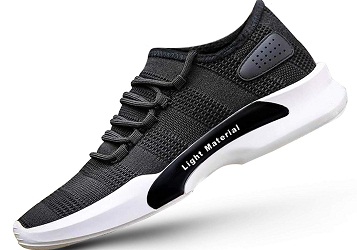 It would be magical to get a pair of sports shoes that you can wear for running and match them with casual outfits as well. Well, the sports shoes by Shozie do just that. These shoes not only give you the perfect bounce during sports activities but also go with outfits that you wear on non-formal occasions. And this is the reason why these shoes have indeed won all our hearts. The material used in making them is the mesh type material that is not too heavy and allows your feet to breathe even when you are wearing the shoes for long hours. Other than that, these shoes also give excellent arch support and have a large width. Hence people with broader feet can also wear them very easily. You can also read many amazing and fantastic reviews by its buyers on various e-commercial platforms of India.
Pros:
The outsole of the shoes is extremely sturdy and qualitative.
The laces of the shoes go in loops that look lovely.
The general public can easily afford these shoes.
Cons:
The lifespan of these pairs of shoes can still be improved and enhanced.
8. Bacca Bucci Ultraforce Men's Shoes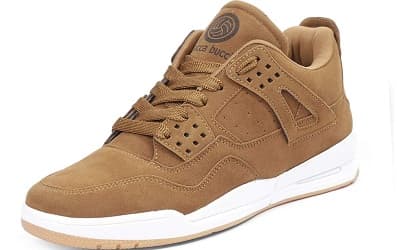 We have now landed at the discussion of the most amazing pair of shoes by Bacca Bucci. Other than being extremely durable, these shoes can also be used as running as well as sports shoes. All the colors that are shoes can be chosen from are dark, and hence you won't have to remove dirt from them again and again after every use. The sole of the product is made using rubber, which is why it lasts longer than other soles of other sports shoes. Like the previously mentioned pair of shoes, these shoes can also be used as casual shoes. However, since these shoes cover your entire feet, it is important to wear socks over them. If you don't, you will have to deal with an excessive amount of feet sweat. Also, try going with socks that have cotton mixed in their material. That way, the sweat absorbing capacity will be high, and you would be able to wear the shoes in all conditions.
Pros:
The shoes are suitable for cold weather as they cover your entire feet and do not let the cold wind to enter in them.
You can use them as casual shoes as well if you want to.
The sole of the product is qualitative and long-lasting.
Cons:
You will have to wear socks with them every time to avoid sweating in feet.
9. Inkenzo Mesh Quality Sneaker Running Shoes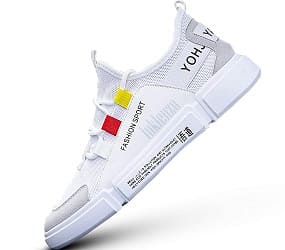 You got to trust us when we say that these sneaker shoes by Inkenzo are the most stylish running shoes that we have ever witnessed. No matter which color you choose, you will only end up with the most amazingly designed pair. Our liking, however, is more inclined towards the white variant. But if you are someone who likes darker colors, you can also choose from dark grey and black design. We love all of them equally as they are all good looking and attractive. The soles of these shoes are made of rubber, and the heel height is just 0.1 cm. You can use them in any season for running, jogging, and sports. The overall design of the product is exceptionally trendy, and the shoes also offer optimum flexibility to your feet after they are worn. The main body of the shoes is made using high-quality leather and rubber. These shoes are built to last long years at all costs.
Pros:
These Inkenzo shoes can be used as sneakers as well as running shoes.
You will like how these shoes are stylish yet long-lasting.
All the materials used in manufacturing these pair of shoes are very sturdy and robust.
Cons:
The white variant of the shoes may require regular cleaning for dust and dirt removal.
10. Campus Crysta Running Shoes for Men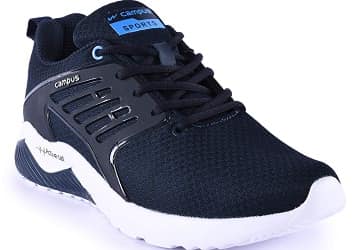 Lastly, we have Campus running shoes for our readers. These shoes are one of the highly loved pairs of shoes in the country because of their sleek design and overall comfort. Unlike other sports shoes, these shoes have a rectangular width. It is often seen in men with wide feet that they are unable to fit their feet in many shoes. That case does not happen with this amazing pair. No matter how wide your feet are, if you choose the correct width, you will be able to give your feet a snug fit that is also comfortable and not very tight. These shoes also do not have high heels, which is why you won't feel any discomfort or aches in your feet's heels. Once you wear them, you will be able to walk and jog in a faster and better way. If you are a runner then too you can go with these shoes.
Pros
The laces of these shoes are made using high durability material.
The overall structure of the shoes helps you move in a faster way at all times.
These shoes are very comfortable and give you a snug fit in all situations.
Cons
You do not get light base color options in this pair of shoes by Campus.
How to Buy Best Sports Running Shoes in India Under 1000
The first thing you must do for comfortable running is to purchase comfortable running shoes. We still have the impression that expensive shoes are always the best. Not necessary. There are many less expensive shoes that can be of more support to your running practice. On the other hand, you may also end up buying the wrong running shoes by spending a bomb. Selecting the best running shoes is a tricky task. This guide shall give you a perfect understanding of what needs to be checked while you buy a running shoe pair.
Wear the Shoe and Follow the Toe rules
For you to avoid black nail, you must wear the shoe and feel if there is at least half of an inch distance between the front toe and the end of the shoe. As you run, the feet shall move inside the shoes, and it must stay safe and comfortable. The black nail shall be so painful and irritating.
The upper part of the shoe must fit like a glove.
The sole is one part of a shoe, while the shoe's upper part plays a vital role in your running performance. These days, you may find layers of fabric and materials used to make the upper part. The aspect that you need to check is the upper part must fall on your feet as a smooth fit. Most importantly, the upper part must not bind as you walk or run.
The Ankle Collar must cover the tip part of the foot.
It is an important aspect that you need to look out for. Have you seen the lace part where you find a flap like material, that is the ankle collar? Many shoes have the collar thick, while some have a broader collar. Buy the ones that cover your top part of the foot so that your heel does not slip.
Heel Wrap Must be sturdy.
It ensures safety. Many heel counters shall be soft. It would be best if you looked for the shoes with sturdy heel wrap that keeps the heel intact. It shall be of great use as you run. The heels, if it slips, may cause more danger as you run faster.
The outsole must be sturdy too.
The part of the shoe that touches the ground must be sturdy. There are many materials like foam or rubber that are used in this process. However, you need to pick the sturdy one and give less weight to the overall shoe structure. The more the weight, the more is the discomfort.
Buy the shoe in the evening.
Yes, we have set this as your first buying hint. The running shoes must stay very comfortable while running. After a whole day of work and running, your leg shall swell, and that's when you purchase the shoes so that it shall remain comfortable for a very long time. Also, jogging or treadmill running for a ling time requires airspace within the shoe, which shall help you find the right shoes.
Sports or Running Shoes Frequently Asked Questions
Is it okay to use a running shoe for sports?
No, we will not recommend using running shoes for sports. A running shoe is designed just for running and you should know that running in a straight line or any other way is totally different from sports use. Some running shoes are not designed for multidirectional sports, if such running shoes are used for multidirectional sports, it could injure or damage the user's foot.
Are running shoes and sports shoes the same?
As far as we know, yes, they are different. Sports shoes tend to be more durable and expensive if compared to running shoes. One of the most important things that you need to know is that sports shoes could be used as running shoes, but, running shoes should not be used for sports. There is s difference in design and quality.
I am looking for durable running shoes, are sports and running shoes under the price of INR 1000 good?
What do you expect from sports or running shoes? Do you want them to last very long? If yes, you should consider purchasing expensive sports or running shoes. Remember, sports shoes and running shoes under a price range of INR 1000 should be considered only if you have budget constraints. It is not that they are of poor quality, but, instead, do not expect them to offer the same features, quality, and comfort as that of premium shoes.
Wearing running shoes could be used as casual wear?
It is all up to your personnel choice on how you are using the shoes. There are no issues in wearing the running shoe as casual wear. In fact, most people wear their running shoes as casual shoes. However, you need to clean and maintain them properly if using them as casual wear.
Is it true that sports or running shoes have to be cleaned regularly to increase their lifespan?
Yes, of course, no matter what the brand or price, if you do not maintain the shoes properly, the lifespan and the overall durability of the shoe could be affected. Most of the experts recommend cleaning the shoe regularly. When it comes to basic price sports and running shoes, this instruction should be followed carefully. Leave the shoe unclean, the lifespan would be cut short.
Conclusion
Rather than just adding practical running and sports shoes, we have added some stylish options as well. That does not mean that the stylish options of the shoes won't work well for you. They would, in fact, prove to be as amazing as other sports shoes that you might already own. Try going through each of our ten options of sports and running shoes before you decide on anything.
If you have any doubts, you can also seek the help of buyer reviews that can be easily accessed with the help of the internet. We hope that you buy a pair of shoes from our list soon.
Santosh Kumar, He is a SEO + Blogger have 12 years of experience in writing tutorial, informative and product reviews topics.