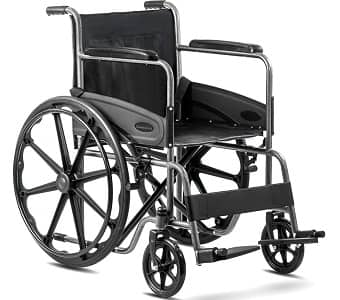 Being physically challenged doesn't mean stopping your courage and enthusiasm. Even with a specific disability, you can be a part of a healthy lifestyle. For that, all you need positive thoughts along with portable equipment for supporting living. Be an older person or someone with a disability, wheelchair access allows them to move without being dependent on anyone. Due to advanced technology or increased automatic operation, wheelchairs operate automatically instead of manually.
This device is designed to keep elders, disabled persons or injured people safe and comfortable. Nowadays, there are many options available in the Indian market with various safety features including adjustable safety belts, wheel locks, and strong brakes. Do you also want to buy a good quality wheelchair for your grandparent, injured or disabled person, if yes then check out the top three options below?
Best Buy Wheelchair in India
1. KosmoCare Dura Wheel Regular Wheelchair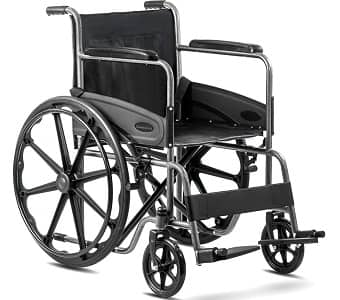 KosmoCare Dura is crafted of sturdy and durable steel for long-term use. Its steel frame makes the wheelchair durable and offers extra stability whereas the MS powder coating over materials ensures additional longevity, toughness, and resistance from rust & corrosion.
It offers a Rexin upholstery seat with a heavy-duty inner liner, which will give your back comfort and accurate posture? The complete seating area will also provide security as it features an adjustable safety belt.
Next is portability that measures through their wheels, which are made from superior quality that extends the life span of this chair. Their wheels are designed for self-direction and can rotate 360 ​​degrees to improve the movement of the wheelchair.
Pros:
This wheelchair features rexine upholstery, a storage pocket, and soft padded armrests.
It is one of the sturdiest and most durable wheelchairs on this list.
Cons:
Hardware needs to be tightened from time to time otherwise uneven accidents may occur.
2. Dr Trust Foldable Manual Wheelchair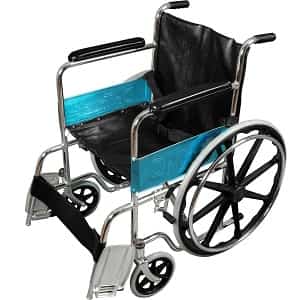 Dr Trust is a leading brand for manufacturing sturdy wheelchairs. Due to the foldable design of the wheelchair, you can take it with you while travelling or going out. This ergonomically & lightweight wheelchair features a chrome-plated steel frame that is the best example of transportation and convenience.
As for safety gear, it features a safety belt to prevent falls and armrests to give complete support while moving. It can move even on rough platforms or surfaces. Another notable aspect is its loop style manual brakes used to control or lock the chair during transfers.
Pros:
This wheelchair can hold up to 150 kgs weight.
Because it comes with a foldable design, you can fold it for convenient travel and storage.
Cons:
The wheel may cause problems while rotating or moving as per customer reviews.
3. VEAYVA DELUX folding spokes wheelchair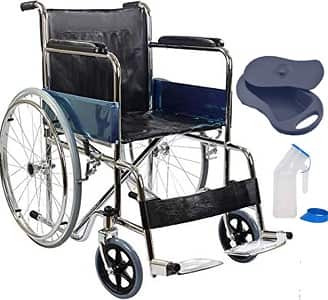 This wheelchair is designed to make the lives of patients and disabled much easier who are unable to walk. It is made from high-performance PVC material that promotes comfort and safety. This product includes premium quality rust & corrosion free spoke wheel which enhances the life span of a wheelchair.
For enhanced safety, the product has an adjustable seat adjustable brake system to keep the user safe as well as protect them from any accidental falls. Even, you can fold it quickly for easy storage, portability and transfer. The folding is easy due to the lightweight steel frame. Overall, it is an excellent option.
Pros:
Handbrakes on both sides allow the user to control the speed.
Also, it features a safety belt.
Cons:
The wheelchair is a bit heavy.
How to choose the best Wheelchair in India?
As stated earlier, wheelchairs are devices that allow freedom of motion similar to standing or walking without assistance. If you are planning to buy a wheelchair for your grandparents, make sure it will ensure freedom of movement, offer energy saving and simple features, offer portable rides, and be light and comfortable. To help you choose from the plethora of options, we've come up with an informative buying guide. In this section, you will learn about wheelchair types, materials, safety features, stability, durability, and more.
Numerous types of wheelchairs available today, which are based on seating, standing, convenience, shifting, and comfort of the users. The classification is as follows:
Manual Wheelchairs
As the name implies, the manual chairs occupy no battery to run. The patient usually moves with assistance from a helper to push or move it using the upper limbs. It can be further classified under Heavy-duty manual wheelchairs, standing manual wheelchairs, and folding frame ultralight manual wheelchairs.
With a standing manual wheelchair, a patient not only enjoys sitting but also comfortably stands with its support as it can be adjusted from sitting to standing position via a hydraulic pump.
Heavy Duty Material Chairs are long-lasting and durable wheelchairs because they are made of massive tubing, double cross braces, rugged angles and tough upholstery. These wheelchairs are designed to accommodate high loads typically weighing more than 350 lbs.
The Folding Frame Wheelchair is ideal in terms of portability and adjustability as it features a foldable design, making the wheelchair lightweight. Plus, these chairs can be folded up for comfortable storage where space is limited.
Powered Wheelchairs
Powered wheelchairs are also known as battery-fitted wheelchairs, are highly efficient for long indoor and outdoor movements. However, they don't require personal assistance or someone's support. There are many benefits to choosing this type of wheelchair, including impressive mobility, conserving energy, range of motion, weight, distribution, comfort, stability, relieving pressure from prolonged sitting and re-positioning. Based on the location of the drive system, powered wheelchairs can also be classified under mid-wheel drive, front-wheel drive and rear-wheel drive.
The material that the wheelchair is constructed of is a crucial aspect to take into consideration. Wheelchairs are made from steel, aluminium, carbon fibre, or titanium. Steel wheelchair is heavier but more resistant and sturdy. A wheelchair made of aluminium is easy to transport and lightweight. Titanium chairs are more lightweight while carbon fibre chairs are ultra-lightweight with an exceptional level of durability.
The durability of the wheelchair depends on the levels of stress your wheelchair can withstand. A fatigue test result is a must to test the longevity of the wheelchairs.
The stability of any wheelchair is measured by tip angle. The smaller the angle of the tip, the less likely it is to overturn on a downward slope; and vice versa.
Wheelchair performance is based on the weight of the wheelchair as it determines the ease of transport. It also stipulates whether the wheelchair can be placed inside the car or lifted with the patient.
Wheelchair Frequently Asked Questions
People now have greater mobility and independence due to wheelchairs, which have made wheelchair ownership easier. Every year, hundreds of new wheelchairs are distributed nationwide by National Seating & Mobility. You or a loved one may be using a wheelchair for the first time, or it may be a highly sophisticated model tailored to your needs and level of movement. There are a few considerations to make sure that the wheelchair that you buy is perfectly suited for you. Consider these three crucial questions to get the most mobility out of your new wheelchair.
1. Dimensions and Size
When selecting the ideal wheelchair for you, size is a crucial consideration. Your height, weight, age, and other factors will determine which size is best for you. Each chair has a maximum weight capacity, and if it is too tiny or large, it might be uncomfortable to sit in.
You must select a chair that fits you. You can have problems getting off of a chair if it is too big. All sizes and types of specially constructed chairs are available for toddlers and adults. Recognizing that some chairs have weight requirements is also important.
2. Durable
A more durable wheel is something you should look for if you frequently use your wheelchair outside. To avoid costly repairs and upkeep, look for tyres. Remember how important grip and tread are when looking only at the greatest wheels and chairs. Wheels that could give grip on slick areas are necessary for wheelchairs.
3. Chair Back Support
Wheels play such a crucial role in a wheelchair. The level of wheelchair assistance you'll require will differ depending on who you are. Depending on your dimensions and movement, back support may be almost required. Wheelchairs that can "tilt in space" allow you to configure the wheelchair to fit different body types.
4. How will you emerge from it and get into your wheelchair?
There is now a wide variety of overhead, portable, gastric, and hygienic lifts. You may be able to move around with more independence and less stress if you have the right patient lift. Ask one or more of our mobility specialists for assistance in locating the ideal patient lift for your particular scenario.
For people with limited or impaired mobility, wheelchairs are an option. They not only enable a person to carry out or participate more than that in daily tasks, but they can also improve their quality of life.
Final Words:
A wheelchair plays an important role in the lifestyle of a person with a lifelong disability, or who is unable to walk due to temporary injuries or old age. When it comes to opting for a wheelchair you need to keep safety features in mind. Well, to make your selection easy, we have mentioned some of the best wheelchairs in India. Go and check it out.
Ridhima Sharma is a Senior Pharmacist at Kukreja Hospital, New Delhi. Ridhima completed her Diploma in Pharmacy (D. Pharm) from UP University. She regularly writes article on health information, fitness and beauty related products at IndiasStuffs.com