In a recent meeting conducted between the ship owners in Dubai International Financial Centre, the new Dubai Maritime Cluster was unveiled. This new cluster and maritime facilities will be aimed towards expanding the business setup and collaboration between shipowners and associations.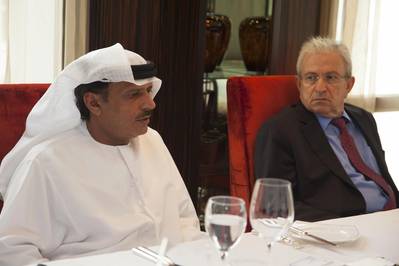 The meeting was attended in person by Khamis Juma Buamin, the current Chairman of Drydocks World and Maritime World along with other esteemed personals like Nikolas Venaimis, current President of Hellenic Shipping Association of Greece, and Vinod Shah acting as a representative of Adani Group of India, Tahir Lakhani, Chairman of the DTA Shiping Trading LLC in Dubai.
The meeting put forth the proposal of potential business opportunities in Dubai Maritime City. It also aimed to promote the Dubai Maritime Green Initiative which puts light to integrate green technology for shipping and business activities. Mr. Nikolas Veniamis in person along with this group also visited the DMC to explore the avenues. He also stopped by Drydocks World Dubai for a roundabout. He was heard welcoming the initiative and giving his support for this.
Mr. Khamis Juma Buamin reiterated the conveyed meeting and its need for time. He shed light on the diversified portfolio of services that can help expand the region and active new local and international trading.
With the unveiling of the new Dubai Maritime Cluster, the city has made itself known to the global market and is strategically placing itself to be one of the booming areas for growth and expansion. With Dubai Drydocks World already being one of the largest shipyards home to a diverse clientele, the new cluster is set to add to the growth of the city.
Santosh Kumar, He is a SEO + Blogger have 12 years of experience in writing tutorial, informative and product reviews topics.