E-Shram is a newly introduced scheme launched by the Ministry of Labour and Employment for the welfares of labours and workers in the unorganized sectors who are not part of the ESIC or EPFO.
The main objective of the scheme is to collect and track all information and data at the central level and offer direct perks to the under e-Shram cards, e-Shram Scheme, to the labourers of the country.Apart from that, the labourers and workers will assistance by the government's adoption of Social Security Programs.
The collected information and data will be used to introduce new schemes, create more employment opportunities, and formulate new policies for labourers and workers in the unorganized sector of the country. Candidates who are applying for an e-Shram will get UAN Card, which refers to a Unique Identification Number.
Through this card, an applicant can get a job in future. Presenting e-Shram cards in the country is one of the great steps taken by the government to provide financial and social security to the workers of the country, creating more jobs and launching new schemes for them.
It has also been introduced to improve the implementation of social security schemes. Those opting for E-Shram Card will be eligible to get employment as per their skills. Keep reading to know more about this scheme, eligibility criteria, benefits, applying procedure so on.
Important Points and benefits of e-Shram Card: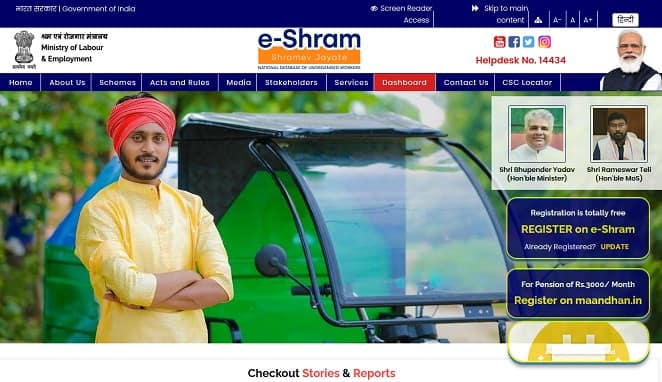 Several benefits and perks along with an e-Shram Card. Here we are going to mention all:
As we have mentioned earlier, e-Shram Portal was introduced by the Central Government on 26th August 2021.
The scheme will provide perks to beneficiaries, which include Accidental Death Insurance worth two lakh rupees. In addition, 1 lakh rupees will give to partially handicapped people after the accident.
For this year, the government has declared a budget of Rs 404 crore for e-Shram Yojana.
Workers or labourers who are associated with the unorganized sector can apply for e-Shram Yojana.
Those who can pay income tax will not be eligible to apply for this card.
Members of the Employees State Insurance Corporation or ESIC and Employees Provident Fund Organization or EPFO are also not eligible to apply for e-Shram card Scheme.
Workers who are permanent residents of UP state and have already applied under the unorganized e-Shram Scheme of the Government will be able to get an amount of Rs 500 before March 2022.
Which persons are covered under the E-Shram Scheme?
Below list of people who can apply for this scheme:
Agricultural Labourers
Marginal Farmers
Small Farmers
Construction Workers
Fishermen
Leather Labourers
Croppers
Beedi Rollers
Animal Husbandry Workers
Other Workers Involved in the Unorganized Sectors.
What is the Eligibility Criteria for the e-Shram Scheme?
To avail of the benefits of the e-Shram Card Scheme, an applicant must meet the given below eligibility requirements:
An applicant must be a permanent citizen of India.
An applicant must have an Identification Card, such as an Aadhaar Card allotted by the Unique Identification Authority of India or UIDAI.
You should not be an income taxpayer.
An applicant should be between 16 to 60 years.
You must have a valid mobile number linked to a bank account in any nationalized bank and Aadhar card.
The application fee is completely free while the registration fee for the scheme in the official e-Shram portal will be Rs 20 per registration in the CSC.
To avail benefit of e Shramik Card, firstly you have to apply for SSS or Social Security Scheme.
List of Documents required for e-Shram Portal Registration:
For applying this scheme, you must have essential documents required during registration. These include:
Name of Application and their Occupation Details
Residential Details
Education Qualification
Family Details
Skills Details
Aadhaar Card or Aadhar Number
Registered Mobile Number linked to Aadhaar
Bank Details such as Bank Account Number, IFSC Code, Branch Name, etc.
Steps followed to log in to e-Shram Portal online:
To apply for this scheme, first of all, you need to visit its official website, which is

eshram.gov.in

.
You will reach the home page; here you have to choose the "Self-Registration" option.
Here, you have to enter your valid mobile number linked with your Aadhar Card.
Next, you have to fill in the Captcha Code.
Then, select the option of YES or NO for ESIC & EPFO then click on "Send OTP"
Fill the OTP in the asked section.
Next, you need to enter your Aadhar Card Number.
Accept the T&C and enter on the Submit option.
After clicking, the application form will open, fill it and mentioned all the asked documents.
Click on the Submit option and take the printout for future reference.
Your registration will be done on this portal.
Conclusion:
Basically e-Shram portal is a type of national database portal which is recorded ashram government in the link. The primary USP of this portal is that as now the Government of India, including the State and the Centre will be able to provide all kinds of assistance and assistance to the UWs.
Santosh Kumar, He is a SEO + Blogger have 12 years of experience in writing tutorial, informative and product reviews topics.