India is a versatile country with many beautiful motorcycle paths taking you through impressive mountain ranges and past lakes so big they look like oceans. If you want the freedom to go wherever you want, travel at your own pace, and stop whenever you feel like it, be sure to explore India by motorcycle.
Your motorcycle can be packed with all that you need on the road. All you need to do is figure out the route that you'll take and book some accommodation, or go wild camping if you're feeling adventurous. As long as you respect private property, wild camping is legal in all of India. So grab your gear, power up your bike and go for it. You'll find all the things you need and some of the best routes to take in this article.
Packing list for your motorcycle trip
Motorcycle helmets, jackets, and shoes are obvious items you need to pack, but there are other items you should definitely consider. Firstly, it is a good idea to invest into some good motorcycle packs. These should be able to carry all your stuff while you're on your trip. If you plan on wild camping, you need a tent, some pegs, a sleeping bag, air mattress, and some cooking gear. Don't forget to pack warm clothes as it can get colder in the mountains, especially at night. Bring enough food and water to last you several days, in case there is no store along the route.
Tools and gear
Bringing some tools to do emergency repairs should definitely not be forgotten. Bring at least a kit to repair your tires if needed and a portable pressure pump. Make sure that you bring a small toolkit with different sizes of wrenches and other tools, to tighten parts that have started to get loose.
The motorcycle helmet that you bring should have a sun visor, as India can get hot and sunny in the summer. Also, protect yourself with several layers of clothing and a protective motorcycle jacket. The road can get bumpy and accidents can happen unexpectedly. A map of your trail and a compass can be very useful if you don't have internet, which is very likely to happen in the countryside of India.
Routes to consider
India has some truly beautiful motorcycle trails that will take you through the most impressive landscapes. A famous area to explore is the Himalayan mountain range. For example the route between Srinagar, Leh and Manali is a famous path for motorcycle trips. In this area, it is possible to join a tour and meet other motorcycle travelers. The route can be completed in approximately 12 days and takes you past some amazing landmarks and sights, such as Ladakh, the curtains of valleys and desire of mountains, and Pangong Lake. The road is 70% paved and 30% unpaved. You'll ride along deserts and snowy mountains while you ride on the legendary Manali highway. The total length of this trip is 2100 km.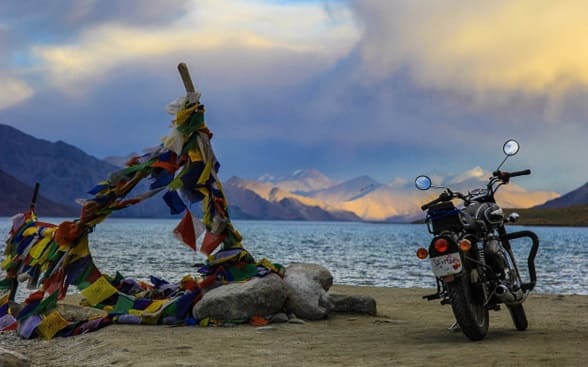 Source: photo from Pixabay.com by Eakchai Chuchaem https://pixabay.com/photos/ladakh-pangong-lake-lagoon-leh-7545887/ 10-26-2022
Himachal Pradesh is one of the most famous tourist destinations and a good destination for a motorcycle trip. Advanced riders can take a ten day trip in the Spiti Valley. In this area, you'll be able to visit the world's highest post office (Hikkim) and the second largest glacier of the Himalayas (Bara Shigri). The trip goes through the desert and meadows, so you'll need some skill to complete this trip. Just like the road from Srinagar to Manali, it is 70% paved and 30% unpaved.
Santosh Kumar, He is a SEO + Blogger have 12 years of experience in writing tutorial, informative and product reviews topics.