Both the Ramakrishna Math and the Ramakrishna Mission is worldwide spiritual organizations that are non-political and non-sectarian. Since one century, both organizations have been involved in a wide variety of activities that are intended to help those in need and better society.
The monks & lay followers of the Math & Mission are inspired by the ideas of renunciation and service. They serve millions of women, men, and children without regard to caste race, or religion, because they perceive the living God in all people.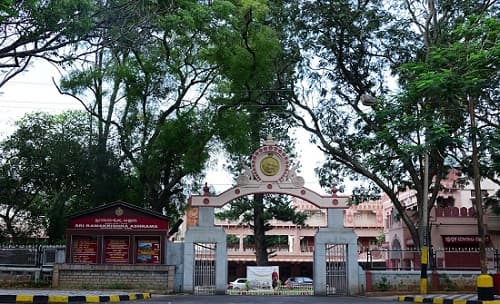 Let us understand how you can join Ramakrishna Ashram Mysore in detail
Visit the official website of Ramakrishna Ashram Mysore

https://belurmath.org/

Go through its website and all the details
You can either visit Ramakrishna Ashram Mysore in morning from 6:30 am- 11:30 am or in afternoon 3:30-8:30pm and can request the authorities to allow you to join as a volunteer in their ashram or can write an e-mail to the officials at

mail@rkmm.org

.
However, you are more than welcome to become a devotee of this organization or to donate your time here.
Here are some of the things that you should note before joining Ramakrishna Ashram Mysore.
Eligibility criteria
It is possible to become a member of the Ramakrishna Order if you are a young man who is at least a graduate, falls between the ages of 18 and 28, and is interested in doing so. The maximum age requirement for engineering and medical graduates & post-graduates is 30, whereas the maximum age requirement for Westerners is 36.
Life of a monk in Ramakrishna ashram
It is essential for a monk to cut all ties to his previous life before entering the monastery. As a result of the fact that this is not something that can be accomplished quickly, the sense of detachment must be nurtured by gradually distancing oneself from all worldly attachments.
A novice is permitted to check in with his parents on occasion and ask about their health while he is still in the first stages of his training.
Monks are not given a wage for their work. The life of a monk is not comparable to that of an employee who is paid for their work. In this context, you give freely and completely of your body and mind, as well as your talents and capabilities, without any expectation of receiving any kind of monetary reward.
You are going to dedicate the remainder of your life to engaging in various spiritual activities such as japa, meditation, prayers, worship, the chanting of hymns and bhajans, the singing of bhajans, the study of sacred books, and work.
Some of them you will complete on own, while others will be completed at the ashrama alongside your fellow monastic brothers. The nature of the task, as well as its timing and duration, will be determined by the authorities, and the rules will need to be adhered to in an obedient and reverent manner.
Dress of Ramakrishna ashram
Members of the ashram will typically dress in a kurta-like shirt), a dhoti and an uttariya or gerua would be the color of these robes, unless the wearer was a novice or a Brahmacharin, in which case the garments would be white.
Santosh Kumar, He is a SEO + Blogger have 12 years of experience in writing tutorial, informative and product reviews topics.