India takes pride in having some of the most mind-blowing and highest mountain peaks and ranges all across the world. A lot of people from abroad come to India to get a glimpse of this magnificent attraction in the world. In this article, we will be talking about some of the lesser known facts about this mountain range.
What Are Some Of The Interesting Facts About Kangchenjunga?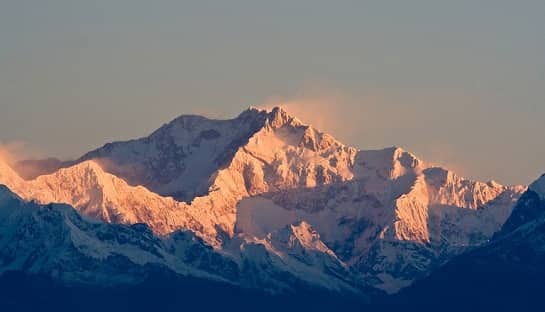 Height
Kangchenjunga is regarded as the highest mountain peak in India. It is also considered to be the 2ndhighest peak in Nepal. Kangchenjunga spans an area of around 8,000meters. Kangchenjunga is sometimes spelled as Kinchinjunga or Kanchenjunga. Till 1852, this mountain range was thoughtof as the highest mountain peak throughout the world.
In 1849, the British Great Trigonometric Survey performed calculations that concluded that Mount Everest was the highest mountain peak in the world.Kangchenjunga has a height of around 8,586 meters. Not many people know that it is one of the mountain peaks of the Himalayan range. It lies half in Sikkim and half in Nepal, India.
Location
This mountain is bounded by the river "Tamur" on its west and by the river "Teesta" on the east. Kangchenjunga is located about seventy-five miles east of Mount Everest, which is the highest mountain range in the entire world.
Three of the Kanchenjunga's five peaks are Main, South, and Central. They lie on the edge between Nepal and North Sikkim.
Kangchenjunga Main is 28,169 fthigh (nearly 8,586 m); and 12,867 ftor (nearly 3,922 m) of prominence
Kangchenjunga West is 27,904 ft (nearly 8,505 m); and 443 ft (135 m) of prominence
Kangchenjunga Central is 27,828 ft (nearly 8,482 m); and 105 ft (32 m) of prominence
Kangchenjunga South is 27,867 ft (nearly 8,494 m); and 390 ft (119 m) of prominence
Kangbachen is 25,928 ft (7,903 m); and 337 ft (103 m) of prominence
The five peaks
The Sanskrit translation of "Kangchenjunga" implies "Five Riches of Snow".  It refers to the five peaks of Kangchenjunga. In Tibet language, these words have a distinctive meaning as "Kang" (Snow) "chen" (Big) "dzö" (Treasury) and "nga" (Five). The 5 treasures are Silver, Holy Scriptures, Gold, Grain, and Precious Stones.
Attempt to climb this mountain peak
Kangchenjunga is one of the highest peaks in India. The first one to make an attempt to climb this peak was Aleister Crowley. He with his team climbed the peak in the year 1905. He had earlier attempted to climb K2 or Mount Everest 3 years before. They climbed to approx. 21,300 ft i.e., (nearly 6,500 m) on 31 Augustwhen they withdrewdue to avalanche danger.
On the next day, September 1, 3 members of the team attempted to climb higher, to "approx. 25k ft."On the following day, another member from the team of three members named "Alexi Pache" got killed due to an avalanche with 3 porters.
First Ascent
In the year 1955, the1stascent was made by a British party. It wasled by famousworld-classmountain climber "Joe Brown" was done. He climbed around a 5.8 rock section below the summit. Other two climbers, George Band and Brown, halted below the summit, keeping a vow to the Sikkim's Maharaja to ensure that the summitwould remain unblemished by human feet.
Theabove tradition has been followed by several mountain climbers who have gottenthis summit of Kangchenjunga. On May 26, acclaimed mountain climbers Tony Streather and Norman Hardie made the second ascent to this mountain peak.This summit is considered to be sacred by Sikkim people. Early excursions that ascended this mountain used to stop a few ft from reaching the top. This was done to show their respect to this belief.
Second Ascent
After the unsuccessful attempt of the British climbers, there was one more ascent made to this mountain peak. It was led by the Indian Army team in the year 1977. This mountain climbing attempt was done under the leadership of Colonel Narendra Kumar. The team completed the entire northeast spur, as well as the tough ridge that had beaten German excursions in the year 1929 and 1931.
Third Ascent
In the year 1979, the 3rdascent was made to the same Kangchenjunga peak. On 16 May, Doug Scott, Joe Tasker, and Peter Boardman without any support of oxygen were successful in establishing a brand-new path on the North Ridge.
Solo Ascent
In the year 1983, Pierre Beghin was the one to made 1stsolo ascent. Before that, all attempts were made in teams. This solo attempt was also accomplished without any assistance of supplemental oxygen.
First Woman to climb
The first woman to have to climb Kangchenjunga was of British origin named "Ginette Harrison". She climbed this peak on May 18, 1998. Harrison was regarded as the first woman to have reached Kangchenjunga's summit.
Mentioned in writing
In 1896, Mark Twain traveled to Darjeeling. There he mentioned about Kanchenjunga in writing in his famous publication "Following the Equator"
Least climbed mountain range
The Kangchenjunga has been ranked as the 2ndleast climbed mountain peak of all the fourteen peaks that are more than 8,000 meters in height.
The different climbing routes
There are mainly four routes prescribed for reaching the Kangchenjunga's summit. These routes lie from the northwest, northeast, southwest, and northeastern Sikkim. Three of them are located in Nepal.
Kangchenjunga doesn't have any short or easy route due to the danger of avalanche. As it is located in the eastern areas of Himalaya, Kangchenjunga isimpacted by the monsoon moisture.
Fatality rate
Despite advanced climbing gear, the rate of fatality of climbers who attempt to summit Kanchenjunga peak is high. Since the 1990s, nearly 20% of climbers died during their attempt to climb the main peak of Kanchenjunga.
Khangchendzonga National Park
Khangchendzonga National Park is both a National Park as well as a biosphere located in Sikkim. On July 17, 2016, Khangchendzonga National Park got inscribed to the list of the "UNESCO World Heritage site".
Kangchenjunga Demon
The area surrounding Kangchenjunga is believed to be home to a deity, named "Dzö-nga" or "Kangchenjunga Demon". As a result of the British geological expedition performed in the year 1925, there was seen a bipedal creature which locals denoted as the "Kangchenjunga Demon".
When it comes to talking about mountain peaks, the first thing that comes to our mind is the Kangchenjunga range. Hope you have found the above information useful and enriching.
Santosh Kumar, He is a SEO + Blogger have 12 years of experience in writing tutorial, informative and product reviews topics.