When desiring cooking in well-designed, renovated, and modular kitchens, only incredible designs, and furnishings cannot lead to fulfilling it. Modern and necessary kitchen equipment is also required to perform your desire. Moreover, one kitchen appliance without which the dream of a modular kitchen cannot be obtained is the chimney. No one can ever imagine their furnished kitchens without a chimney. It is one of the significant gadgets which assists in abandoning the smells and smoke of the variety of foods and leaves the kitchen fresh all the time.
Because the chimney can remove all smoke, grease, and fumes, the dirt gets collected on the filter and makes it oily and dirty. And if it does not get removed in time, the kitchen can have a foul and odor smell. A kitchen chimney should be cleaned twice a month for maintaining its smooth working and longevity. Besides knowing the importance of cleaning a kitchen chimney, most people try to avoid it as much as possible because it can be a very time-consuming and hectic task. One problem that cannot be avoided with a chimney is only clogging if it is kept un-cleaned for a longer time.
However, everyone can call a professional chimney cleaner anytime, but those who are looking to do it by themselves should be aware of some chimney cleaning methods and procedures. In this article, we have framed some of the best methods or steps through which you can clean your chimney in less time as compared to those professionals.
Make your chimney oil and grease-free with these simple steps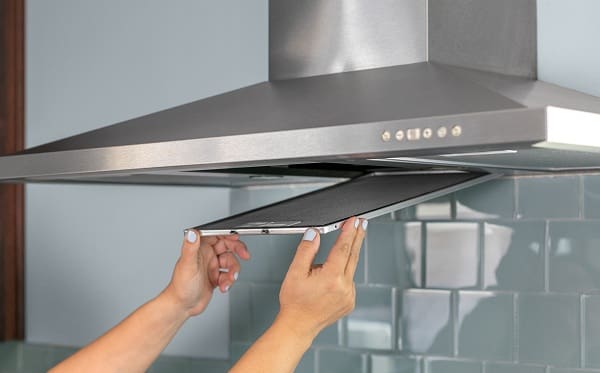 1- Clean your chimney with dishwashing liquid
Have you ever wondered that besides the use of dishwashing liquid for cleaning dishes and utensils, it can also be used to clean your chimney? For cleaning the kitchen chimney with dishwashing liquid, you first need to apply your liquid to its filters. Most probably the filter of the kitchen chimney can be immersed in a tub or bucket full of boiling water. However, it needs to be taken care that the filter gets fully immersed into the boiling water and then leaves it for at least 1 to 2 hours. If using a steel container for immersing the filter, don't leave it in boiling water for a longer time, instead of boiled it for approximately half an hour. Then scrub the chimney with a non-abrasive scrubber.
2- Clean your chimney with baking soda
To clean the chimney with baking soda, salt and vinegar are also required in this procedure. Take out the chimney filter into a tub and then add boiling water to it, 3 tablespoons of baking soda, 3 tablespoons of salt, and 2 cups of vinegar will also be added to the same water. Let the filter be in the water for about 2 hours. While if the result doesn't satisfy you, boil your filter with the above ingredients. The properties of baking soda like alkaline and abrasive can make your chimney grease and oil-free without providing any harm to the surface of the filters and chimney.
3- Clean your chimney with paint thinner
For decades, many people have been using paint thinner as a remedy for cleaning greasy and oily surfaces and appliances. That's why it can be used to clean a kitchen chimney. Don't have a paint thinner? Use nail paint remover as a substitute for paint thinner. Chimney with this step cannot take much time to be cleaned. All required to do is dip a cloth in paint thinner or nail paint remover and scrub it on your chimney filters. After successfully washing it with running water, make it dry under the sunlight. Paint thinners or nail paint removers have cleaning agents like acetone, toluene, turpentine, and mineral spirits which makes your chimney oil and grease-free easily for a longer time.
4- Clean your chimney with caustic soda
For this method of cleaning the chimney, you need to have a tub or a tray. Sprinkle some caustic soda into the chimney filter and pour boiling water into the tray by taking care that the water should be poured at a distance because the fumes arising from it can cause harm to your body. Make it rest for approximately 2 to 3 hours and then remove the filter from the tray, but make sure to wear a glove. Then wash away the filter in the running water, make it dry and then replace it in the chimney hood. Caustic soda is the inexpensive yet powerful ingredient used for cleaning chimney oils, grease, fats, and other compounds.
5- Clean your chimney with detergent powder
Are you thinking that detergent helps in cleaning chimneys? Yes, it's true, with detergent powder you can easily clean your greased and oily chimney. Detergent contains surfactants which help in removing the greases either from a cloth piece or from chimney easily. For cleaning your kitchen chimney, take some boiled water, add some detergent powder, and then pour it over chimney filters. Then you can wash your chimney under running water by scrubbing the grease and oils.
6- Clean your chimney with vinegar
The greasiness and oil stains present in the outer surface of your chimney can easily be cleaned with white vinegar. Simply soak a cloth with white vinegar and then wipe off the surface of the chimney. But make sure that you don't leave the corners of the chimney. After wiping off the vinegar once, let the effect of vinegar last for some time and then again wipe it off with a different cloth to ensure no dirt and grease present in the chimney. Because vinegar exhibits the properties of being acidic, abrasive, and disinfectant, it can help you in making your chimney germ-free.
7- Cleaning the exteriors of your hood
If only cleaning the filters of the chimney can work for maintaining the longevity of your gadget, then you are wrong. Because for the excellent working of the chimney, you need to clean the exterior of your chimney too. For this purpose, a damp cloth is very useful. As it can be used to clean and scrub the outer surface of the chimney. If the greases and oil patches are more, then use some cleaning detergent, you can wipe off those with the cloth.
Final thoughts
You can use any method of cleaning your home chimney. The steps stated above consume much less time in cleaning than you have ever imagined. Whether any festival is around the corner, or want to clean the chimney for smooth and proper working, the above steps are useful and used by lakh of peoples across the world. With these methods, the need of calling professionals also doesn't arise. And you can save a lot from your monthly salary. Whether you have a mesh and baffle filter type chimney or charcoal filter-based chimney, the above steps are useful for both types.
If you haven't tried these simple methods yet, you should go for them now. With fewer ingredients, less cost, less effort, and in less time you can achieve the look and working of your chimney you had desired. Try any of these and share your experience with other persons who are in need.
Related Tutorial Topics
Santosh Kumar, He is a SEO + Blogger have 12 years of experience in writing tutorial, informative and product reviews topics.