Consumption of oatmeals has always been a debatable topic in many parts of our country. Where the top fitness experts recommend including oats in your breakfast regime, some people utterly disagree with this. You can readily check the ingredients of whichever brand's oat you prefer. It will give you a vague idea about the calorie consumption. Oatmeals mostly have high fiber, proteins, almonds, and some micronutrients in it. These ingredients are necessary to keep the epithelium of your skin, hair, and nails healthy. However, the levels of these contents might vary according to different brands. Make sure to choose a suitable brand according to your calorific requirements. After choosing a particular oatmeal, one confusing aspect is the preparation of oats. People often ask about the ways of consuming oats healthily.
Here are the top 5 different ways to help you stay healthy and fit: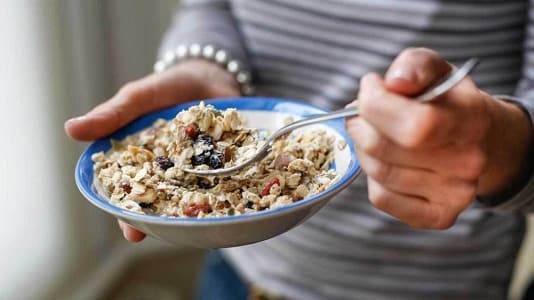 1. Oatmeal smoothie/ shake
You can readily cook a healthy breakfast containing oats withing a few minutes. For preparing this recipe, you will need one cup of milk, oats, apple, banana, or any other fruit of your choice, sugar/honey, and cinnamon. After arranging all these items, put it into a blender and run a few cycles. That's it! You are done preparing a health efficient breakfast that will serve you with loads of energy!
2. Pancake out of oats
Oats pancakes are a healthy and exciting way to tranquilize your taste buds. Are you bored of eating the same breakfast containing oats and milk? It is time to experiment with something new! To prepare this recipe, you need to make a batter first. Mix milk, oats, fruits, honey, sugar, baking soda, egg, and cinnamon in a wide bowl and stir it continuously. Once the batter becomes thick, take a pan & prepare pancakes out of it.
3. Oats with banana
Oats and banana are the usual preferable combination in our country. It is because both these items are readily available in the grocery store and supermarket the whole year. To make the oats soften, boil it for a few minutes in water. After this, chop the banana along with some of your favorite fruits and add some syrup or honey. That's it! Your tasty everyday breakfast is prepared.
4. Oats Upama/ Uttapam/ Khichdi
Heat the desired amount of oil in a kadhai and add curry leaves and mustard seeds along with some cumin. After this, add chopped vegetables in it and stir it till the color changes to brown-pink. Add oats and stir it until it is well cooked. Similarly, you can prepare uttapam with help of a batter.
5. Oats with egg
After roasting some amount of oats add it to the healthy omelet recipe. You can also do seasoning of your choice to add more taste to it.
People often ignore this aspect of preparing oats in a salubrious way. Not serving the right ingredients in oatmeal can make it heavy and unfit for you. To stay away from excess and unnecessary fat, include these points in your oatmeal preparation. We hope you are well aware of the top 5 ways of consuming oats to stay fit. Thank-you!
Santosh Kumar, He is a SEO + Blogger have 12 years of experience in writing tutorial, informative and product reviews topics.