Now that wintertime is here and lounging in the sun is actually relaxing, picnics are the go-to way to spend afternoons. There is nothing quite like laying on a blanket, enjoying your favorite foods, reading books, all while soaking up some good old vitamin D. N
ow, you can choose to have a slow, regular picnic, or you can jazz up your picnics by adding a few touches of pizazz to your plans. If you prefer the latter, read below to find some tips and tricks to make your picnics more than just a simple day in the sun.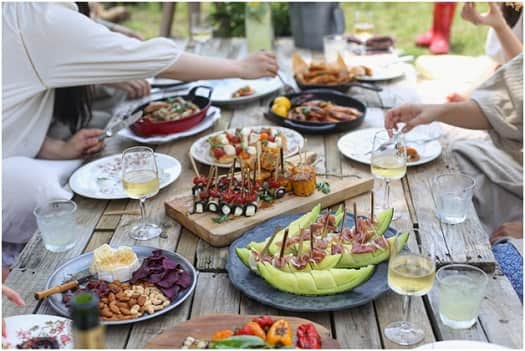 1. Portable power bank
This isn't referring to a power bank that is specific to mobile phones. There are portable power banks that are manufactured for campers to utilize electrical equipment while outdoors. Invest in one of these so you can utilize good portable equipment to make your picnic unique and luxurious!
2. Induction stovetop
Induction stoves are a piece of great equipment to own in your home. They reduce cooking time, as they can quickly heat up the contents of a pot or pan faster than gas stoves. You can easily make any dish using the top induction cooktop available in the market without wasting time. Another great feature of these gadgets is that you can easily set up a timer and let the food cook while you do something else. For a picnic too, you can make some cook recipes or heat up your food using an induction stove so you can have fresh, warm food even while outside. We suggest trying some recipes such as dumpling soups or budaejiggae,which are made by simply adding everything to water and letting it boil until you get a delicious recipe to enjoy with your loved ones.
3. Portable projector
Projectors are a great way to watch movies or tv shows in an immersive way. They can give you the cinematic viewing experience anywhere you are. Presently, there are many types of portable projectors available which you can set up practically anywhere. Powerful and offering multiple options for setting the resolution, you can optimize the video depending on your environment. Connect these to your phone, laptop or gaming set up so you can watch movies/TV series or simply play video games while you're chilling in the sun. An ideal picnic indeed.
4. White sheet and stand for projector
Of course, along with a portable projector you need a portable projector white screen. There are many different white screens along with stands available which you can easily carry to your picnic spot. Set it up to be directly in front of where you are sitting so you can project whatever you want to watch on the screen while relaxing. Don't worry these will not go to waste in your home as they can be utilized to take pictures. Use them to set up a white background for your pictures and edit them to look as cool as you want!
5. Bluetooth speaker
With your projector set up, you will definitely require a speaker that you can use to clearly listen to whatever you are watching. You can even play your favorite songs and relax while basking in the sun.
6. Portable popcorn machine
Any picnic is incomplete without good snacks. However, nothing beats making fresh snacks that you can enjoy warm on a cold afternoon in the sun! Connect the machine to the power bank, add your corn kernels, butter and salt and enjoy popcorn while you watch your favorite movies. There is nothing quite as satisfying as eating warm popcorn while in the sun.
7. Portable coffee machine
Who doesn't enjoy a great cup of coffee? Now imagine a warm cuppa on a cold winder's day while you rest in the sun. If you like the thought of the latter, then a portable coffee machine that makes singular cups of coffee for users to enjoy is a great addition to your picnic basket. Thanks to their small size and lightweight, you can carry them anywhere you want without worrying but additional weight in your picnic basket.
8. Drinks mixer set
If coffee isn't your thing, you can enjoy some great drinks that you mix while at your picnic. There are many drink mixers available in markets today. In fact, you can get personalized mixers with your name inscribed on them so you can be a mix-master with your very own, unique mixing set! Dazzle your loved ones with your skills while you're out to picnic and make the most of your day.
9. Icebox
Having an icebox at your picnic table is a great way to ensure you have cool drinks (and, of course, ice to add to drinks) so, if any soda cravings hit you, you can pop open a cold one.
10. Portable barbecue
Goes without saying, there is nothing quite like a barbecue meal. Just take marinated food items and roast them on a barbecue and enjoy fresh, warm, and juicy morsels with your friends and family. Make your picnic a stunning, tasty affair with a barbecue.
11. Boardgames
This is more based on personal preference, but having board games to play while you relax is a great idea. You can enjoy a heated match of monopoly with your family and pray that you win every match.
From the above suggestions, you can easily pick whichever you desire. However, if you do pick them all, you can have a spectacular picnic unlike any other. Enjoy your luxurious, jazzed-up picnics!
Santosh Kumar, He is a SEO + Blogger have 12 years of experience in writing tutorial, informative and product reviews topics.