First of all, understand what are DSC and MCA? Here the DSC mean Digital Signature Certificate and MCA stands for Ministers of Corporate Affairs. DSC is a coded electronic signature of a person. Such signatures can be opened with a specific password and are stored in encrypted with USB drivers. The main purpose of a digital signature certificate is to fill various kinds of government returns such as Income Tax return, GST return, Annual Return and other statutory filings. For Digital Signatures, you can contact merchants like N-Code, E-Mudhra or Sify.
If you're a Designated Partner of an LLP or a Director of a Company or a Professional like CA (Chartered Accountant), you must have to register DSC on the MCA portal. To file forms, it is mandatory to have official registration.  Without registration, you would not be able to file any return forms. The registration process for Director, for a professional and a partner, can be different. A director is responsiblefor filling various forms and annual returns forms. The mentioned steps get you to know how a director can register DSC on the MCA portal.
Steps fora Director: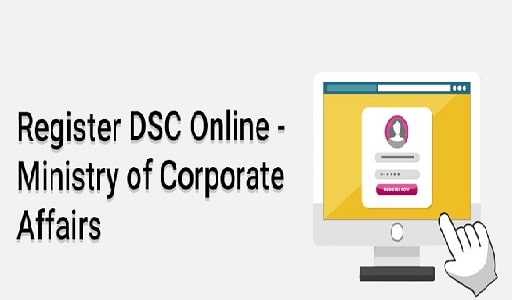 Go to the Ministry of Corporate Affair official websitewhich is –"

www.mca.gov.in

", and select MCA services.
Click on the Register DSC option from the drop-down menu.
Next, click on the Director link and fill-up your DIN. ( In case of Designated Partner/ Director, choose Director to update DIN/ DPIN information), ( In case of Authorised Representative, Practicing Professional and Manager, choose PAN option, as you need to fill required information related to PAN card).
Important Note – As a professional of ICAI/ICSI/ICWAI, you must register DSCs on the MCA portal with a PAN card. If you're a practising professional, you must register the DSC with a DIN number.
Then, you need to fill in the details given on the next page. Please note details should be the same for DIN and PAN users. (Father's Name, Mother's Name, Date of Birth, etc.)
Enter on the Next button to reach the next page.
On the next page, you will be asked to mention you're current e-mail. Once you fill in the e-mail id, you will be able to choose the digital signature Certificate.
You must install and download MCA E-Signer to choose the signature certificate.
The link has been given at the same screen to download the MCA E –Signer.
Important Note – Before start to install, make ensure the operating system. The OS has either Window 10 or JAVA 10.
After completing all processes, accept the declaration. Before acceptance, make sure all the given information has been accurate,
Insert the DSC into the USB drive on your computer to be registered on the MCA portal.
Now, you will request to choose the Digital Signature of the Enter DSC Password, Concerned Person and Associate on the window.
At last, click on the submit button. Before entering, check complete detail to make sure all mentioned details are accurate.
Then, you will get a congratulatory message on your screen after successful completion.
Santosh Kumar, He is a SEO + Blogger have 12 years of experience in writing tutorial, informative and product reviews topics.