It is a good idea to keep in mind that registration of your marriage and receiving a legitimate marriage license are also important components of being married. Following is an explanation of how to register for marriage in Delhi online.
According to the Hindi Marriage Act, both members of the union are of Hindu descent. However, if one of the spouses is a member of another religion, such as Hindu, Sikhs, Jains, or Buddhists, the marriage will be annulled. Then they fall under the purview of the Special Marriage Act of 1954.
In addition, the government of India has set a minimum age for marriage. Because of this, the bride must be at least 18 years old at the time of her marriage at a bare minimum. In addition, the groom's age should be at least 21 years old, preferably older. This simplifies and shortens the certification procedure, resulting in time savings. Because of the online approach, you will be able to obtain all of the necessary information quickly.
Eligibility
The Delhi Order, 2014 applies to all weddings that were solemnized in Delhi, regardless of the caste, creed, or religions of the couples involved. However, some precursor conditions must be completed before a marriage can be registered in the National Capital Region.
Here's a look at the factors that determine whether or not a couple is eligible for a marriage license or even to have their marriage recorded in Delhi.
Either partner is a native of Delhi or has proof of residence within the city.
The actual wedding ceremony took place in Delhi.
To be eligible for registration under Hindu Marriage Act, both partners must be Hindu, Buddhist, Sikh, or Jain in religious affiliation.
When applying for a second marriage, neither party must have a lawful and living spouse at the time of the application.
Both parties must give valid permission voluntarily and without fear of being coerced or threatened by external forces or aggression.
Males must be at least 21 years old, while ladies have to be a minimum of 18 years of age.
Unless the practice is explicitly recognized by law, partners aren't from any form of banned connection.
Documents required
Consider the paperwork required for marriage registration in Delhi, which can be found on the internet. However, after completing the online registration process, it is necessary to visit the location in person to submit these documents.
Age proof which can be your birth certificate, passport, or matriculation certificate
Application form
Aadhar card
Address Proof
Two passport size photographs
Marriage invitation card
Affidavit in the set format
One marriage photo
Certificate from your priest
If applicable, a conversion certificate
A witness with his/her valid PAN card and Aadhar card
If it is a second marriage, a death certificate or divorce decree
Steps for registering marriage in Delhi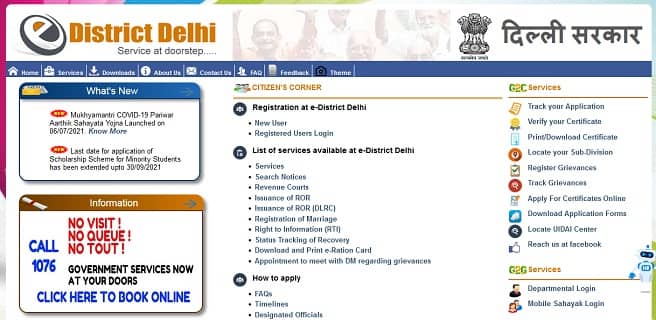 The homepage of the e-district portal will display on your screen
Then, in citizens Corner, select the "New user" tab from the drop-down menu.
As a result, a new page appeared on your computer screen. This is the Citizen Registration Form, which you can use to log in.
Then you'll have to choose from a list of options.
You can choose from a variety of document types, like Aadhar or Voter Card.
Now you must enter the name of the document.
Enter the given security code for verification to complete the process.
Finally, tap on the verify box to ensure that all of the information is correct. Then, at the bottom of the page, click on the Register/Login button
As a result, once you are registered Delhi's official web portal, you can register your marriage online.
Santosh Kumar, He is a SEO + Blogger have 12 years of experience in writing tutorial, informative and product reviews topics.