If you are looking for real and perfect relief from sanitary pads, then check out SafeCup Menstrual Cup from Real Relief. Periods are something that cannot be avoided at any cost and so you need to have the right solution for your menstrual problems. Menstrual cups are the latest solution for your periods, but when you don't pick the perfect option from so many different options available in the market, then it can get messy.
SafeCup Menstrual cups are one of the best options. It is an Indian company, but its products are manufactured in the USA. For providing the new and best solutions, all the products are made with the help of the latest technology. The main motto of Real Relief is to provide hygiene and good health to women. Apart from this, Real Relief manufactures many other products as well.
You will be able to pick from three different sizes based on your requirements. The stem is usually a problem for women who use menstrual cups, but this cup has a small stem and that is the plus point about it. If you can maintain it properly by sanitizing it in the right way, then it can last up to five years. That means you invest just once in five years for your menstrual cycle. The rim of the menstrual cup gives perfect grip and that prevents spillage. No harsh chemicals or dyes are used in the making of the menstrual cups and so they are safe.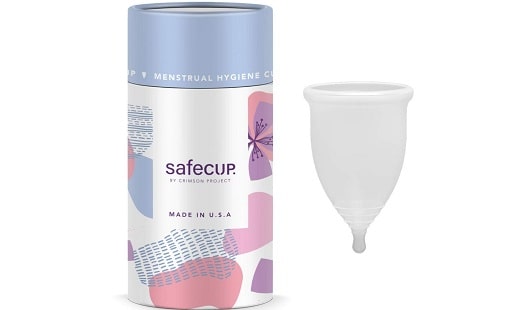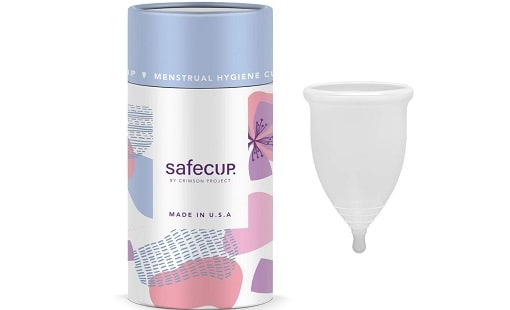 Features
The cups are white as no harsh chemicals or dyes are used in the making of the menstrual cups.
The stem size of the menstrual cup is just perfect. So, most of the women who hate longer stems love this product.
You can store the menstrual cup in a breathable cloth bag which comes along with the cup.
The rim of the menstrual cup fits in perfectly and so there will not be any spillage or leakage problem.
The product comes with a one-year warranty.
Pros
The cup is very comfortable to use and has no discomfort when you are using it.
The best quality silicone material is used in the making of the menstrual cup and is hence safe.
You will not have any sort of problem when you are inserting it or when you remove it.
It is a dye-free menstrual cup for more safety of women.
It can be used even when you are doing any physical activity or when you are sleeping. It does not cause any spills.
It is available in three different sizes and the capacity of the cup will depend on the size you pick. You can select from 28 ml, 32 ml, and 40 ml cups, based on the flow of blood you experience every month.
Cons:
There is just one con about this product and that is the price. It is a bit expensive when compared to the other similar products in the market.