Haryanvi Cinema, also known as Haryanvi Language Film Industry, is a popular industry known for its high-beat songs and dialogues. The industry belongs to the state of Haryana in India. Dharti was the first Haryanvi Language film made in Haryana. The accent of the Haryanvi language clearly shows in their movies, video albums, and social media platforms.
There are various Haryanvi films which have been honoured with National Film Awards. In recent years many actors and actresses have entered Bollywood from this industry. Their acting skills, dialogue delivery and distinctive looks have attracted the audience towards them. More than male actors, Haryanvi actresses are famous among Indian viewers. In this article, we have listed the top 10 Haryanvi actresses that are bold, talented, good dancers, and beautiful.
List of Top Beautiful Haryanvi Actresses
1. Usha Sharma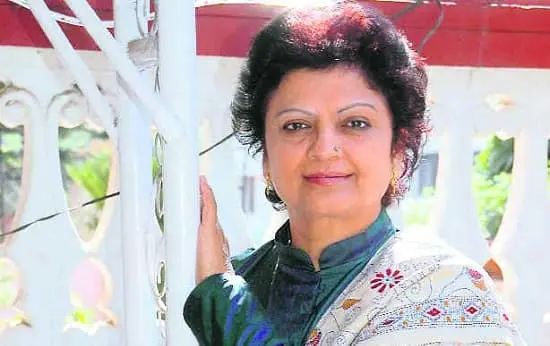 Usha Sharma is a dancer and Indian actress. She is remembered for playing the lead role in the Haryanvi movie Chandrawal. She was born in Haryana, India. Apart from acting, Usha is good at the fold and classical dance. Sharma also wrote the script for Chandrawal, choreographed the movie, and drew on her dance training. Besides being entitled to Haryanvi Film Industry, she serves as the president of Haryana Kala Parishad and is an executive member of the Haryana Pradesh Congress Committee. This actress is not only talented but also looks very beautiful.
2. Sonika Singh
Sonika Singh is a fashion influencer, actress, and model linked with the Haryanvi Music and Film Industry. She was born on October 1992 in Village Pavti, Samalkha, Panipat, Haryana. Sonika made her debut with the Haryanvi song, Moti Hen, in 2016. Later that year, she acted as a co-star in the hit song, Sandal by Raju against Anjali Raghav and Vijay Verma. In addition, she also worked on the song, 4G Ka Jamana, which was a super hit with 102 million views.
Related Topics:
3. Anjali Raghav
Another beautiful actress from Haryana is none other than Anjali Raghav. She is one of the most famous models in the Haryanvi industry. With her dancing skills and attractive looks, Anjali has gained fame. Some of her famous songs acted by her are Chutki Bajana Chod de, DJ Pe Banadi, desi Nakhre, Ishq, etc. Born in 1990, she has worked on over 50 Haryanvi video songs.
4. Sapna Chaudhary
Sapna Chaudhry is a famous face of the Haryanvi Music and Film Industry. She is one of those actresses who have taken dancing to another level. Sapna began her career with an orchestra team from Haryana, being a part of the team with Ragni artists. The Bollywood debut of Sapna was made with item number in Sapna Journey Bhangover. In addition, she has appeared in numerous super hit songs like Chatak Matak, Tere Akhya Ka Yo Kajal, Ghungroo, Ghaghra, Gajban, and many more.
5. Shweta Chauhan
Shweta Chauhan is one of the most beautiful Haryanvi actresses with good acting skills. She is a Model too that is linked with the Haryanvi Music Industry. Shweta was born in 1995 in New Delhi. She has loved acting since childhood and has participated in every college and school function. She has appeared in numerous music video albums and worked with ample singers and artists like Manender Choudhary, Kay D, Sandeep Surila, Renuka Panwar, Ruchika Jangid, etc.
6. Pranjal Dahiya
Pranjal Dahiya is a model and actress linked with the Haryanvi Music industry. Born on 5 May 1996 in UP, India, Dahiya loves to travel, act and ride a bike. Her unique personality and beautiful looks won the audience's hearts. Also, she has endorsed cosmetic and protein shake products. She made her debut with Haryanvi Mashup song 9. After this year, she sang songs like Tokk, Kamli DP, Jutti Kali, DJ Bajwadungi, Jhanjhar, Mangalgrah, Motto, Fire Mardi, Goli Si Lage, Devdas, Holi Special, Olha, Fukri Na Maar, Raavan, etc.
7. Indu Phogat
Indu Phogat is a Haryanvi dancer, actor, singer, and model. In 2019, she participated in a beauty pageant, in which she became Miss India world talented performer and was spotted as 1st runner-up. Later, she began working in the Haryanvi music and film industries.  In addition, she worked with some of the famous superstars associated with the Haryana Film industry. Some of them are Akki Aryan, Renuka Panwar, and Amit Dhull. Besides being popular on Television, she has a vast fan following on social media platforms, such as TikTok and Instagram.
8. Fiza Choudhary
View this post on Instagram
Fiza Choudhary is an Indian model and actress who usually appears in the Haryanvi Music Industry. She was born in 1998 in Himachal Pradesh, India. Fiza has appeared in numerous Haryanvi Music albums like Chhora Jaat Ja, Heer by Ndee Kundu, Yaad Asagi by Shanky Goswami, Dildar Jaatni, Jhel, and Babbe Kalti Maar. This beautiful actress also involves in modelling and fitness. She usually promotes fitness by appearing in multiple fitness shoots.
9. Divya Jangid
Divya Jangid is an Indian model and Haryanvi actress linked with the Haryanvi Music industry. She began her modelling and acting career in the year 2018. She was born in 1996 in Haryana, India. She also worked on his multiple Haryanvi songs like Gudgaame Ka Pani, Suit Vs Brand, Chobare Wali, Jaat Ki Yaari, Hathyar, and Z Black. Moreover, she worked in Gupp Chupp, Jale Se Jal Mere Bhai, Kamar Teri Kanch bargi, Red Palazzo, and so on. She is a beautiful, talented, young, and popular model in the Haryanvi industry.
10. Parul Khatri
Parul Khatri is an Indian model, a popular Haryanvi face, and an actress. It usually appears in Haryanvi songs and was born on 28 July 2001. She got fame after making reels on Tik Tok. Later, she got multiple offers from the Haryanvi Music Industry, yet it is history. She is good at acting, so she worked on multiple songs. In 2020, she worked on the song Tarkeeb, sung by leading singer Raju Punjabi. The song has more than 6.5 million views. Apart from that, she is also working in Web Series and movies.
Conclusion
The actresses above are some of the finest yet most beautiful Haryanvi actresses who have earned a reputation globally.
Santosh Kumar, He is a SEO + Blogger have 12 years of experience in writing tutorial, informative and product reviews topics.