The Taj Mahal is synonymous with Agra! However, there is a "world" beyond this spectacular structure that gives Agra's tourism activities a tremendous boost. The following list of attractions in and around Agra will help you have a genuinely memorable trip. These include several structures from the Mughal era, forts, and monuments, all of which are located in Agra and its surrounding suburbs. Along with the towns of Delhi and Jaipur, Agra makes up the Golden Triangle and is known for its strong love of the past mixed with a touch of modernity. For an amazing comfortable stay, don't forget to book a room at mesmerizing hotel Taj Agra and enjoy it with royalty and luxury. Here is a list of the top Agra tourist attractions that you just must see while visiting this lovely city.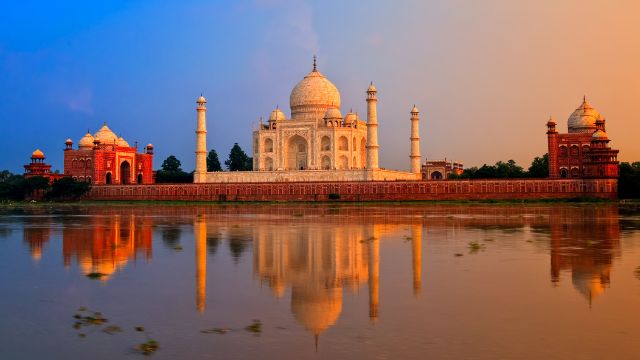 The Taj Mahal, one of the seven wonders of the world, is situated in Agra along the Yamuna River. The Mughal Emperor Shah Jahan erected it as a monument to honour Mumtaz Mahal, his third wife. The grave of Shah Jahan himself is also located there. The Taj Mahal, one of the most stunning structures in the world, was built in the 17th century using only white marble. Over the course of a year, more people than Agra's whole population walk through the beautiful gates to get a sight of this breathtaking structure!
Fatehpur Sikri is a town in the Agra area and a popular tourist destination, approximately 40 km from Agra. Fatehpur Sikri, a city largely constructed of red sandstone, was established in 1571 by Mughal Emperor Akbar. It is essentially a fortified city that the monarch constructed; it served as his empire's capital for fifteen years. It is now a UNESCO world heritage site, and among its many well-known buildings are Jodha Bai's Palace, Jama Mosque, Buland Darwaza, and Tomb of Salim Chisti. The Imperial Complex is a collection of pavilions built in formal geometry on a plot of land that was inspired by tent encampments in the Middle East and Central Asia.
The Agra Fort, which is one of the best destinations to visit in Agra today, was one of the most significant forts during the Mughal era. Throughout his rule, which lasted until 1605, Akbar the Great made this fort his residence. Similar to the Taj Mahal, UNESCO has also recognised Agra Fort as a World Heritage Site. As you go around the several buildings inside the fort, such as Diwan-i-Khas and Khaas Mahal, etc., history comes to life before your eyes.
Itmad-Ud-Daulah's Tomb, another Mughal monument on the Yamuna River bank, is among the top attractions in Agra. The red sandstone is interspersed with white marble from Rajasthan, and the architecture and interior are said to be Taj Mahal-inspired. It also goes by the name "Baby Taj" for the same reason. Nur Jahan constructed the mausoleum in 1628. The intricately crafted jali screens made of white marble wonderfully illuminate the tomb's interior. Don't overlook the semi-precious stones inlaid in the tomb's white marble chambers.
Jahangir constructed Akbar's Tomb in 1613. This is one of the top attractions in Agra to see if you enjoy history. The mausoleum, which is made of red sandstone, contains some of the most exquisite marble carvings. As you enter the structure, you'll notice beautiful marble ceiling decorations and mysterious calligraphy pointing to the actual Akbar subterranean tomb. The south gate, which is the largest one around the tomb, has panels with elaborate white marble decorations. A little underground area that has a really transcendent vibe is where the authentic Akbar tomb is located.
Shah Jahan constructed the Moti Masjid, also known as the Pearl Mosque, on the Yamuna River's bank in 1648. It is one of the greatest sites to see in Agra despite being less well-known. The mosque is referred to as a "pearl mosque" because of its exquisite construction and patterns on gleaming white marble. However, what draws a lot of people to this mosque is how it somehow balances on a hill with a number of arched recessions and side arcades.
Agra is home to the rescue and conservation group Wildlife SOS. The Sur Sarovar Bird Sanctuary is where their campus is situated. The group also engages in bear conservation and rescue efforts, and it just made its bear rescue centre available to the public. The Conservation of Education This facility's walkway is the nation's first-ever, making it one of the most well-liked tourist destinations in Agra. A fantastic place to learn about bears and bear conservation is the walkway and the facilities. Discover how they have laboured over the years to save and preserve so many wild species by visiting this location.
This is one of the greatest spots to visit in Agra to unwind if you become overtired and overwhelmed by all the Mughal grandeur and monuments. The largest water park in north India is Dolphin Water World. It also has a quick food court and a water park and an entertainment park. The park is a one-stop shop for a family-friendly day out with attractions like clusters, a wave pool, multilane water slides, a kids' train, and a carousel caterpillar.
This 1635 construction is one of the most unusual historical sites in Agra and is made of a variety of coloured Chini tiles. The tomb, which is positioned on the Yamuna River's banks, enchants tourists with its magnificent Indo-Persian design. Glazed glass windows are often used in the unusual structure. It contains the grave of Afzal Khan, a renowned poet and minister in Shah Jehan's court. When you visit, you will see the colourful China tiles in shades of turquoise, orange, yellow, and green that have been adorned with many paintings and Quranic inscriptions.
Conclusion
Agra is a worldwide city of historic significance that highlights the vibrant Mughal era via a number of monuments. There are several attractions to see in Agra, therefore this city sees a constant influx of local and foreign tourists every day of the year. In fact, it has a lot to offer visitors, especially history buffs, who can see a real-life recreation of the heyday when this city was the centre of politics, power, and the throne in the precincts. For an amazing comfortable stay, you can choose to stay at Hotel Taj, Agra. Plan a vacation to Agra and enjoy discovering all these fascinating tourist destinations.
Santosh Kumar, He is a SEO + Blogger have 12 years of experience in writing tutorial, informative and product reviews topics.