Bangalore, the capital city of Karnataka, has a very diverse culture. Over the last few decades, Bangalore has been known as the Silicon Valley of India but do you know why exactly it is called the Silicon Valley of India? At present, there are many reasons for this, and we are going to share all these interesting facts with you.
Understanding Past
Before we examine the current reasons, let us look at the past a little. In the United States, California is known as the silicon valley of the World. The reason for California being called the silicon valley is because it has been the starting point of the IT and Hardware industry.  The same is the case with Bangalore. In the 1990s, when India opened its door to business, the first company to knock on the doors of India was Texas Instruments. Soon after, many companies entered the Indian space, making Bangalore the IT hub of the country. Bangalore is known as Tech City and the Silicon Valley of India.
Why is Bangalore Called the Silicon Valley of India?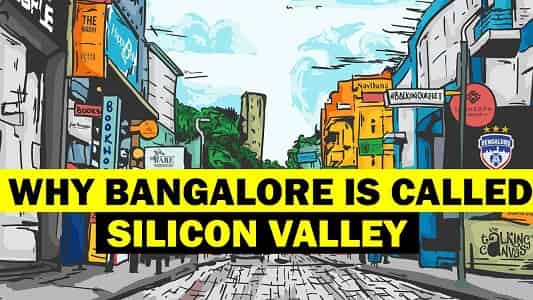 Let us now look at the other reasons why Bangalore got this title and how it has retained the titles.
IT Industry – As mentioned earlier, Bangalore is able to establish itself as the hub for the IT industry. You will find all the multinationals in the city. Be it Amazon, Google, Yahoo, Cisco, Infosys, TCS or any other major company. They would undoubtedly have an office in Bangalore.
Start-up Incubation Center – In recent years, Bangalore has also emerged as a start-up centre in the country. There are many co-working spaces and start incubation centres in the city. This has improved employment opportunities, making the IT industry more glamorous.
Human Resource – There is ample human resource available in Bangalore. A lot of credit goes to the colleges in the city. Moreover, the title of silicone valley has attracted masses to Bangalore. This way, the companies can find people with all skillsets. Many ex-pats also returned to India and settled down in Bangalore, which helped the government in controlling the brain drain.
Infrastructure – The next point that has helped Bangalore is the infrastructure. It has an international airport and is well connected to the country through a rail network. The city has ample housing space available, and the government takes big development projects like metro rail, flyovers, etc.
Ease of Doing Business – The government of Karnataka has also made it easy for the people to do business in the city. This has encouraged many companies to have their base location in Bangalore.
Conclusion
Bangalore has seen massive development in the last few years. It has developed in terms of infrastructure, and Bangalore has many world-class educational institutes. There are also many tourist spots around Bangalore. In addition, the weather in the city is pleasant across the year. All these factors have helped the town retain the crown of the Silicon Valley of India.
Parkash Singh is a PGT Teacher in Kendriya Vidyalaya Rohini, New Delhi. Parkash completed his starting education from Bihar Board and graduated from Babasaheb Bhimrao Ambedkar Bihar University. He regularly writes educational and informative articles at IndiasStuffs.com