The seven states in the Northeast part of India are known as the Seven Sisters of India. These states include Arunachal Pradesh, Assam, Manipur, Meghalaya, Mizoram, Nagaland and Tripura. But do you know why these seven states are called the seven sisters of India? Today, we will share a brief history, and we will tell you how these seven states gained the nickname Seven Sisters of India.
How did Northeast Part Get this Nickname?
Until 1972, these seven states were not called the Seven Sisters. The term itself was coined in 1972 during the inauguration of the new state. Jyoti Prasad Saikia was a civil servant from Assam, and in a radio program, he called these seven states as seven sisters of India. He said that because of the commonness of these seven states and their interdependency on each other. He also wrote a book about the same, which is how Seven Sisters of India gained popularity.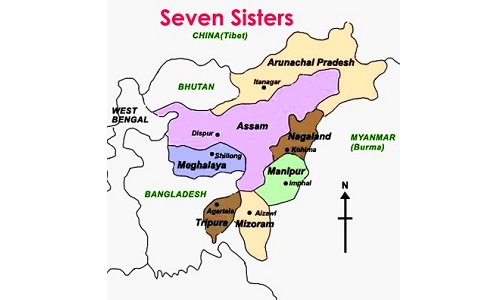 Why did Northeast Part Get this Nickname?
It is true that geographically, all these seven states have a lot in common. In addition, they have a lot of interdependency on each other because of the harsh climatic geographical conditions. The only way to reach any of these seven states is through Siliguri Corridor, also called Chicken's Neck. Bangladesh surrounds the land border of Tripura, and the only way to reach Tripura is via Assam. In addition, Assam has a dependency on Nagaland & Arunachal Pradesh. This is because all the rivers that flow in Assam are via these two states. If you are travelling via road, it is only possible to reach Manipur & Mizoram via Barak Valley in Assam. Because of this interdependency, the northeast part is called the Seven Sisters of India.
About Seven States
Arunachal Pradesh – It is one of the least explored states in the country. Arunachal Pradesh has Snow Mountains, green forests and clear rivers. Arunachal is also home to over 500 species of bird.
Assam – Assam is famous for tea plantation & silk. It is also the largest state in the northeast. You can find one-horned rhinoceros and many pilgrimage sites in Assam. It also has Kamakhya temple.
Manipur – Manipur is known as the Land of Jewels, and it is because of the untouched natural beauty. The landscape of Manipur is just unique, and it also has many lakes. Manipur also has Shri Govindji temple/
Meghalaya – If you want to stay above clouds, you must visit Meghalaya. You can also see the living bridge in Meghalaya, and in addition, you can enjoy the serenity of clear rivers & dense forests.
Mizoram – If you are a fan of wildlife, then Mizoram is for you. Mizoram also shares its international border with Bangladesh and Myanmar. It is also a heaven for those who would love to tickle their taste buds.
Nagaland – Naga is famous for its Hornbill festival, culture, dance, music, cuisine and landscape. You can also visit Dzukou Valley, Kachari Ruins and Japfu Peak in Nagaland.
Tripura – Tripura is the third smallest state in India and is famous for its food & treks. Chittagong Hills, Ujjayanta Palace and Sepahijala Wildlife Sanctuary are among the best places to visit.
Conclusion
There is a lot to see & experience in these seven states. You can go ahead and explore some of these states during a vacation. So, explore the pristine beauty of the Seven Sisters of India.
Parkash Singh is a PGT Teacher in Kendriya Vidyalaya Rohini, New Delhi. Parkash completed his starting education from Bihar Board and graduated from Babasaheb Bhimrao Ambedkar Bihar University. He regularly writes educational and informative articles at IndiasStuffs.com