In the year 2016, 9 December Yash and Radhika Pandit tied knot with each other. After ten years of being friends, Yash & Radhika Pandit finally started dating after meeting on the set of the TV show Nanda Gokula.
It's been argued that star couples like Yash & Radhika Pandit prove that marriages really may be made in heaven. The most popular pair in Kannada cinema recently celebrated their 7th marriage anniversary on 9 December.
The affection they have for one another was captured in each and every photo they took together. Yash, star of KGF, met his future wife on set, but they didn't hit it off at first since Radhika found him arrogant.
Age difference between Yash and Radhika Pandit
Year 1984, 7 March marks the birthday of Radhika Pandit, while in the year 1986, on 6 January the popular KGF actor Yash was born. The couple shares 1 year 10 months age difference. Here Radhika is elder than Yash.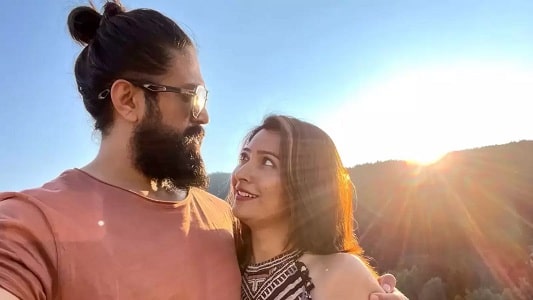 More details about Yash and Radhika
Yash and Radhika's romance was full of unexpected turns. Ten years after becoming friends on the set of the TV show Nanda Gokula, they started dating. Neither Radhika nor Yash made any attempts to get in touch with one other before or after the filming.
But fate had already set them up; Yash was cast in place of the actor originally cast opposite Radhika in the TV show Nanda Gokula. Moggina Manasu, their first film, met with the same fate.
After the premiere of their film in 2008, they gradually became close friends and started to spend a lot of quality time together. Yash & Radhika have acted in four movies together.
Yash eventually told Radhika how he felt over the phone.
Radhika's 'yes' took nearly six months. Yash planned to propose to Radhika by giving her a basket filled with her favorite things.
The couple had a grand wedding in Goa. Radhika Pandit stopped acting after she got married to devote more time to her family. Despite this, she enjoys tremendous success and is highly engaged on social media.
On August 12, 2016, in Goa, Yash and Radhika became engaged. And in a small ceremony held on December 9, 2016, the couple tied the knot in Bangalore. However, Yash had publicly invited everyone to the lavish reception which they planned at the popular Bangalore Palace.
Yash and Radhika's little angel, whom they called Ayra, was delivered December 2, 2018. Since having their daughter the couple's lives have centered on doting on Ayra.
The happy couple then welcomed their son, whom they named Yatharva, on the 30th of October 2019, bringing their family total to four members. And at the six-month mark, they posted the first photo of the whole family together.
Santosh Kumar, He is a SEO + Blogger have 12 years of experience in writing tutorial, informative and product reviews topics.