In India, flutes are often associated with Lord Krishna. Also, when one mentions flute, you cannot think of them without thinking of Lord Krishna. Flutes are musical instruments that create tunes that soothe the souls of people around them. Ages ago, Shri Krishna used to play flutes for everyone, and they would simply start feeling relaxed and good about themselves. Over the years, flutes have become an integral part of Indian classical music. You can also hear them in many movie songs. Flutes simply take the entire music to the next level. Since they are a wind instrument, you have to blow air in the tube and create music by moving your fingers over the holes in its structure.
As you keep mastering your flute playing talent, you will also realize that the music will help elevate your mood and reduce your life's stress. But we have often seen flutes in the market that are priced extremely high. Maybe this is why many people drop the idea of buying flutes even when they are interested in the purchase. Thus, today, we have brought ten fabulous flutes that you can own easily in India. We are mentioning the ease of owning them because they all have a price under Rs. 500. These flutes will prove to be a fantastic stepping stone for your flute playing journey.
Let us now describe each flute one by one along with its pros and cons –
1. SG Musical Flute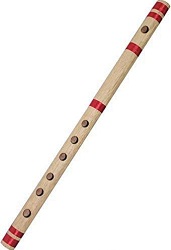 This bamboo flute is brought by the famous musical instrument company known as SG Musical. It is a G-scale flute and won't require you to have long fingers for playing it. Other than playing your favorite flute tunes, you can also use it to make some new tunes. Additionally, since it is made using bamboo, you will witness some dents on its structure. However, that will never affect the music. It is effortless to carry around and won't crack or break at all.
Pros:
This bamboo flute is consistent as well as reliable.
It is one of the most elegant flutes in India.
Its performance is always amazing, no matter how long you play it.
Cons:
The thread color on the flute will be random, and you cannot choose it if you purchase the flute online.
2. Foxit Flute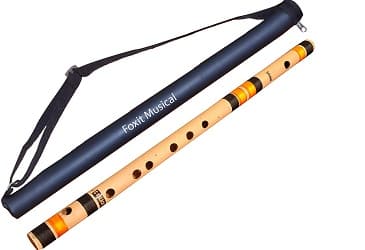 When flutes come with a cover, the deal looks exceptionally amazing. Generally, flutes that have a low price have a wooden design. And, in wood, there are little chances of witnessing cracks and scratches. Hence, the cover will help prevent them, even when you cannot see them. It is a C-sharp flute that is 18.5 inches long. There are seven finger-holes in its structure that you can use to play some soul-soothing tunes. Again, this flute is also made from bamboo, so it never feels cumbersome on the hands.
Pros:
The color of the flute looks exceptionally natural.
It is always safely delivered as it is packaged very well.
The carry bag that comes with the flute is free of cost.
Cons:
We did not find any drawbacks or cons of this flute.
3. HISCIN Flute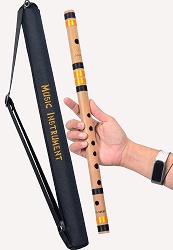 This deal is similar to the one mentioned in number two. However, instead of a length of 18.5 inches, this flute is 19 inches long. The flute's scale is C sharp, which is known to be one of the most melodic scales when it comes to music. You can play this flute anytime you like to impress your closed ones. There are also threads on the flute's design for aesthetics. And honestly, they take the look of the flute to just another level. In many cases, the thread color is not what you see in the flute's pictures. However, that is not going to happen if you buy this fantastic flute.
Pros:
The carry bag of this flute is well designed and extremely sturdy.
It is a superb flute for people who have just begun to learn flute playing.
Its scale is set at C-sharp, and it has seven holes, which are easy to control.
Cons:
Many buyers had some problems with the packaging of this flute.
4. ShalinIndia Flute (set of two)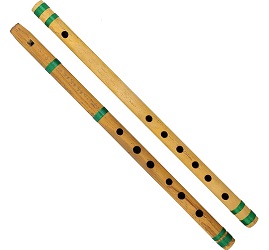 Two flutes are better than one, and that is precisely the number of flutes you get if you buy these amazing flutes by ShalinIndia. However, you have to know that these flutes are well suited for kids. We have seen many children who take extreme interest when it comes to flute playing. Both of these flutes can help convert that interest into talent. The sound quality of both the flutes is terrific, and the best thing is that they are handcrafted. You can imagine the love and hard work that goes into that kind of crafting a musical instrument.
Pros:
You will get two flutes in this set.
Both the flutes are fabulous with a fipple and transverse style, respectively.
They are supposed to be used by kids and will help them become experts in flute playing.
Cons:
Since the flutes are handcrafted, their size may not be entirely accurate.
5. Radhe Flutes

Nothing will ever go wrong if you choose Radhe flutes. They are known to make extraordinary flutes with exceptional sound quality over the years. It is a left-handed flute that will help you hone your instrumental skills and take them to a higher and better level. This flute is equipped with an amazing lip plate. This way, you will quickly learn the blowing technique without wasting any time. The flute has absolute zero effects from sunlight, and did you know? It can also be washed if it gets dirty or develops grime on its surface.
Pros:
Even after many years, the flute won't develop any cracks on its surface.
Since it can be washed, you will be able to maintain its cleanliness and keep it sanitized.
The flute is tuned with Tanpura, and hence you will never have any problems with its notes.
Cons:
We have not found any cons of this flute by Radhe.
6. PAL MUSIC HOUSE Flute

Honestly, we just won't find this list of flutes to be complete if we hadn't added a flute by the PAL MUSIC HOUSE. This elegant flute has six holes in its design, and its scale is C. It is straightforward to use, and you will be able to play it as soon as you get it if you know a thing or two about flute playing. For enhancing its look, the flute has threads on its ends. The overall length of the product is 36 cm, which is known to be perfect for a beginner's flute. You are going to love making some amazing flute tunes with this long-lasting flute.
Pros:
The sound quality and build of this flute are genuinely exceptional.
This flute will also prove to be extremely cost-effective and long-lasting.
For beginners, this flute is truly a blessing.
Cons:
If you are an intermediate-level flute player, this flute isn't for you.
7. Surjan Singh & Sons Flute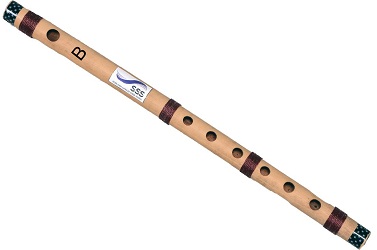 Next up, the Surjan Singh & Sons flute has secured the seventh position. You might have noticed many flutes that have a C-scale. However, this is one of the few flutes that have scale-B. Hence if you were looking for one such flute, your quest ends here. The product's price is what attracts many buyers, but that does not mean that the flute's quality isn't up to the mark. In fact, the quality is also something that will impress you a lot and take you off your feet. There are six holes in it, like any traditionally designed flutes in the market.
Pros:
You will be able to play fantastic music once you purchase this flute.
It is going to last many years if you take proper care of it.
It will also help you have a relaxing time and concentrate better on your daily chores and tasks.
Cons:
The sound quality of this flute still has a small room for improvement.
8. Wish & Get Flute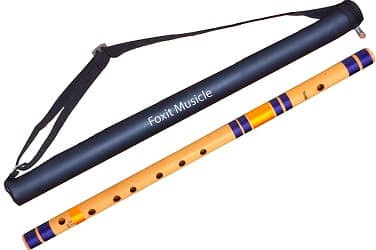 Even though the price of this flute by Wish & Get lies very close to the maximum range (INR 500), the quality matters most to us. Hence, we found it extremely imperative to mention it in our list of best flutes in the country with a price below Rs. 500. Along with the flute, you will get a carry bag. This is not something unique, as many companies provide a flute carrying bag. However, when you look at this bag, you will surely be impressed by its finish and stitching.
Pros:
The scale of the product is set at D, and it has a natural base.
The color of the flute is natural brown, which just looks lovely.
It is manufactured using the finest quality reeds threads.
Cons:
The length of the flute is 24 inches, which might be quite long for some people.
9. PAL Music House Transverse Bamboo Flute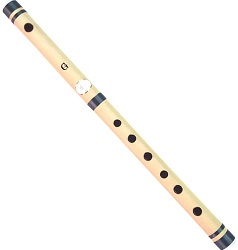 On number nine, there is this transverse bamboo flute from PAL Music House. Like many other flutes in the market, this flute also has six holes and can be played transversely to create the most melodious flute tunes. When you hold the flute in your hands, you will find it incredibly smooth and easy to carry. Its overall finish is so perfect that no one can find a single flaw in it. It can prove to be an excellent flute for practicing the instrument. Once you have practiced enough, you can conveniently move on to the professional quality flutes.
Pros:
The look of this flute is unique and looks very beautiful.
It will never cause strain in your fingers while you are holding it.
Its smooth design is something that has impressed many flute players.
Cons:
It is not a flute supposed to be bought and used by professional flute players.
10. Alligator Flute

What if we tell you that you can have flutes with all the most used scales? Sounds unbelievable, right? However, we would like to surprise you with the flute set by the brand alligator. In this set, you will get four flutes that are scaled at scales – A, B, C, and G, respectively. What more can a flute player want? They all have different colored rings on their design, so you can identify them very quickly. And even after such amazing provisions, this set is still priced under INR 500. We cannot come up with a better deal of flutes than this.
Pros
For playing classical music, these flutes are just terrific.
Nylon and Wood threads are used in making all four flutes.
Professionals and beginners can both play these flutes.
Cons
The sound quality of these flutes is not something that will match with high-end flutes.
How to Buy Best Flutes in India Under Rs. 500 – Consumer Buying Guide
Even as an expert we feel that selecting a flute is one of the most challenging things to do. First of all, this vocal instrument is more complicated than most people assume. A beginner cannot select the best with just some mugged up knowledge. A flute might look very simple, but the features and factors to consider are more than one could assume. Here are the things you need to know if you are a beginner.
Are you a beginner, intermediate, or expert? Why do you need a new flute? These are the first question that you should ask yourself if you are planning to purchase a flute. Proceed only if you have an answer to these questions. Remember, an intermedia or an expert flute user does not need this guide. But, for a beginner, without a buying guide nothing could be done, we have already mentioned above, a flute might look very simple, but, each feature incorporated has a bigger role to play.
Know the parts of the flute –
Head joint –
The head joint is the uppermost part of the flute that has a covering hole and the lip plate. This is where the cork is set up, the cork is the most important part of a flute. While purchasing a flute, check the quality of the cork and find out if it is easy to remove while cleaning.
Foot joint –
The bottom part of a flute is called the foot joint. While picking up a flute, the most important factor to consider is the "G" key. Most of the flutes come with an offset G or inline G. The type you need should be selected based on your style of using it.
The body –
The body of a flute is the central part of a flute. All the keys and the mainsprings of a flute is set up. The body of a flute is irreplaceable, it should be the strongest part of a flute.
A flute could come made of different types of material, yes, there are flutes made of wood, bamboo, metal, alloys, etc. but you already knew that fact. But, you probably do not know that, wooden or bamboo flutes are best for beginners as they are cheap and could be replaced easily. Yes, wood and bamboo flutes are cheap, therefore, if you do not like the flute or if it does not suit your style, or when you gain the expertise, you could replace it.
The quality of a flute simply refers to several factors. The quality of the internal and external parts of the flute. A flute should not have scratches or dent inside or outside it. A slight dent or scratch could distort the airflow and therefore, change the quality of output sound. This is why you must check the internal and external parts of the flute very carefully.
Flutes could be cheap or very expensive based on the model, material, and brand. Even if we have mentioned bamboo and wooden flute to be cheap, there are expensive models too. However, if you are considering to purchase bamboo or wooden flute, read the customer reviews and make sure the brand has a reputation and purchase a product with the return policy and money-back guarantee. If you find the quality of the product to be poor, return it, and consider purchasing another model.
Conclusion
We hope you liked at least one of the flutes from all the ten flutes that we tried to bring to you. When the budget is low, many people skip buying stuff. Hence, to help you avoid those disappointments which often happen when you run out of money, we did our best. Most of these flutes are well-reviewed and rated by many people across India.
Do not forget to check the scale of the flute before buying it. May you find the right flute for you soon!
Santosh Kumar, He is a SEO + Blogger have 12 years of experience in writing tutorial, informative and product reviews topics.