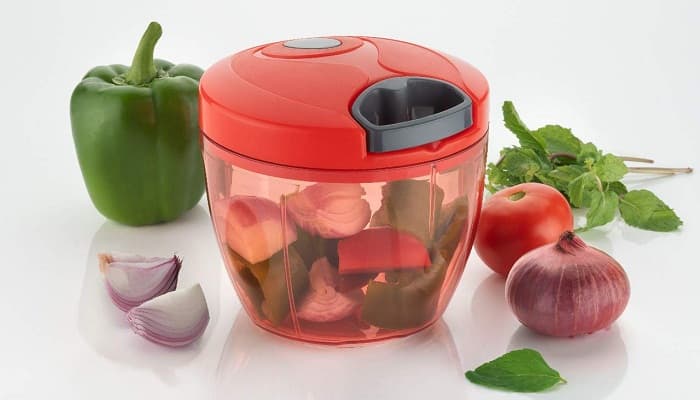 For those who have just started to learn how to cook, chopping the ingredients could feel tedious. And as you may already understand, some ingredients like certain fruits and vegetables also require peeling, and that just increases the time necessary in prepping. Additionally, if you lead a busy lifestyle, you might find the chopping and cutting of vegetables extremely exhausting and pointless sometimes. These days when men and women have both started working in India, it is essential for them to learn how to cook to live independently. However, the entire food prepping process may make you feel less productive. Often you would skip cooking just because you have the nightmares of chopping veggies.
Cooking will, therefore, become something that you will try to run away, whenever possible. But do you know there is a straightforward solution to this? Yes, it is so simple that you will wonder why you didn't think of it before. We are talking about food processors. These processors help a lot, especially in cutting and chopping vegetables that are required regularly. But if you are stressed that you will have to pay a massive sum of money on them, we are happy to tell you that you are wrong.
Best Buy Food Processors Below 500 INR
Today, let us discuss ten food processors that all have a price below Rs. 500. You can buy them easily once you go through their features, pros, and cons, as mentioned below –
1. JD XL – size Handy Food Processor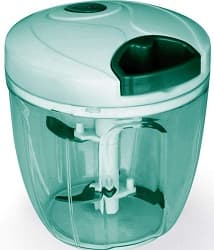 First off, we have given the topmost spot to the food processor by JD. Other than chopping food into tiny pieces, it can also work very well as a vegetable cutter. Its overall capacity is twice more than all the random food processors you will find in the market. There are five blades in the central cutting shaft. Even when these blades are tiny, they work exceptionally well in cutting all types of vegetables no matter how hard or soft they are. For the product to work, you will have to take the aid of the pull-up mechanism in the blades, which does not require electricity.
Pros:
This food processor's capacity is higher when compared to other processors.
Its blades work very well with all vegetables.
The entire product is very easy to clean and maintain.
Cons:
2. Bagonia Food Processor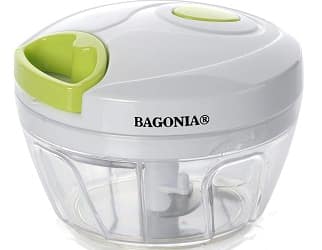 The Bagonia food processor has the capacity of three standard cups. The best part is that this processor is made using durable plastic, which is free from BPA. Hence, you can cut your vegetables very safely using it. Its design is efficient, and it also won't occupy too much space in your kitchen because of its small size. Tomatoes and onions can be chopped into very fine pieces using the product. Hence, making salads using this processor will be very easy for you.
Pros:
You can make anything ranging from pesto to coleslaw using this processor.
It is highly sturdy and easy to maintain.
The pulling cord is a string and won't break easily.
Cons:
For bigger veggies, you will have to cut them in cubes for the chopping process.
3. RIGHT CHOICE Food Processor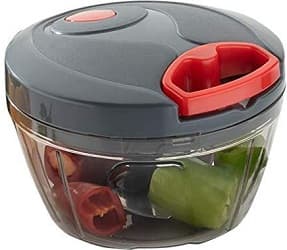 The design of this process is similar to the design of the product mentioned in number two. However, its price is a little less. For the chopping process, you must pull the string using the loop handle that fixes on the lid. The blades work very smoothly and allow you to even create dips when you are chopping pulpy vegetables like tomatoes. The cover of the processor closes tightly on the top, and there will never be any mess on the countertop of your kitchen once you start using this food processor.
Pros:
The design of this processor is modern, yet its price is economical.
The color combination in the design of the product is unique.
The lid of the processor fits and closes very well.
Cons:
This processor is less effective when it comes to mincing meats.
4. Slings Food Processor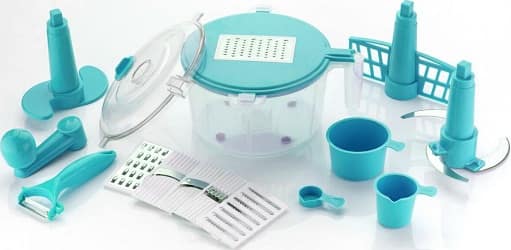 When you look at the number of pieces in this food processor set, you would not believe that its price still lies below Rs. 500. However, that is just the truth. In this fantastic food processor set by Slings, you will receive 14 pieces to do everything possible. Other than chopping ingredients, you can also use this processor for making a dough out of flour. How amazing is that? You will also get a peeler in the set that will help you peel your vegetables faster and better.
Pros:
The number of pieces in the set is high, while its price is still low.
The peeler that comes in the set is very sharp and effective.
You can also juice many of the ingredients using this food processor.
Cons:
We have not found any cons of this food processor.
5. LAYRIS Food Processor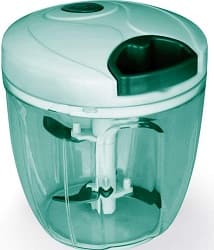 The mint green color of this fantastic food processor by LAYRIS is just lovely. All the five blades in it are made using stainless steel. This is why they are not going to rust and get eaten up anytime soon. Having stainless steel blades in it makes the product extremely safe for chopping many different vegetables. You can use it as much as you want throughout the day, and the product will still not give up. Its entire design is ergonomic and will help you save a lot of chopping time that you waste on manually cutting those vegetables.
Pros:
This food processor is made from highly sturdy plastic.
Apart from vegetables, you can also chop fruits using this food processor.
It will help you save time in the kitchen with its smooth operation.
Cons:
The quality of the plastic used in making it can be enhanced a little bit.
6. JD Food Processor (L – size)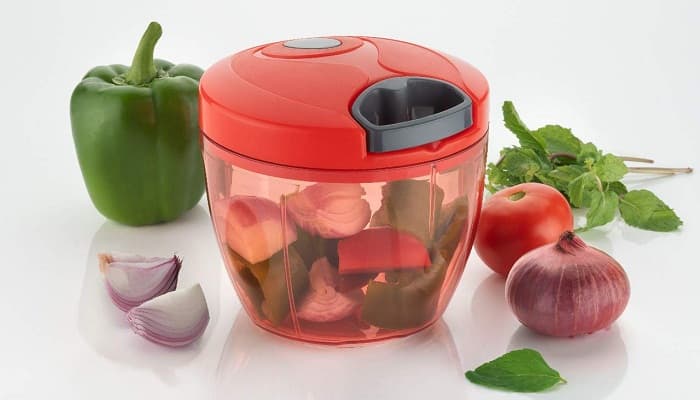 We have discussed one food processor by JD before this, and this is the second one. Food processors by JD last long for years if you know how to operate them properly. One of these food processor's best features is that you can also use it for mincing meat. Even if it is red meat, you can continue the process. However, make sure that you wash it thoroughly before you switch from vegetables to meat. Like many other food processors, this product also has a pulling chopping action. Hence, you will have to pull the string to make the blades run and do the chopping.
Pros:
The color of this processor is bright, which is why it is easily identifiable.
The pulling string is powerful and won't come off at all.
The price of this processor lies at the very low end of the range.
Cons:
The size of the product may feel a little smaller for some buyers.
7. Pick 'N' Save Food Processor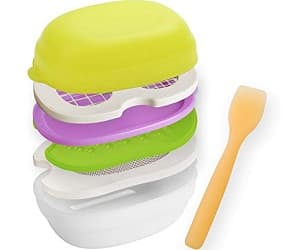 Pick 'N' Save has brought a fantastic food processor that mothers generally use to feed their babies. It is more of a baby food maker as it works as an amazing masher for sweet potatoes, pumpkin, and potatoes. Making baby food is extremely easy with this product. Other than the veggies mentioned above, you can also try to mash other steamed vegetables and meats with it, and it will still do the job well. There is also the provision of a filter and a which can be used while making juice.
Pros:
As additional accessories, you will get a serving bowl, spoon, and filters in this set.
It can be used as an amazing food processor for making baby food.
With this, you can prepare a variety of steamed foods.
Cons:
You won't be able to cut or chop non-steamed food with this processor.
8. Generic Food Processor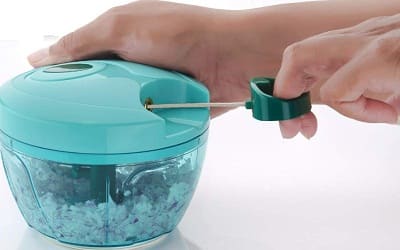 On spot number eight, we have the light blue pulling motion food processor. No matter which type of vegetable you are opting this food processor will help you chop everything within seconds. It is terrific for you if you often prepare food for yourself that is a single person. Other than chopping, the product can also be used for shredding veggies. As you may know, shredding can sometimes bring the most amazing flavors out of different vegetables. The overall product is extraordinarily robust and does not contain BPA.
Pros:
The blades in the processor are very durable and sharp.
The capacity of this product is enough for a single person.
You can make different types of vegetable salads with this processor in a short time.
Cons:
If you are preparing food for more than a single person, then the chopping will take time.
9. Tech Atlas Food Processor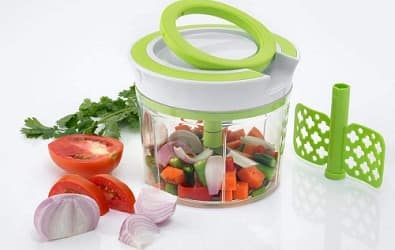 This is a very handy pull chopper that has triple-blade technology. Carrots, tomatoes, and onions can be easily chopped with its use. We also like how its lid fits perfectly over the bowl. This is why you will never have any mess on the kitchen countertop. All the blades are very sharp, and they won't go blunt even after multiple uses of the processor throughout the day. If you do not want extremely fine pieces of veggies, try pulling the chopping string only a few times and not more than that. Even if you clean it harshly, the processor will still not develop any scratches on its body.
Pros:
In just one minute, the processor will allow you to cut many vegetables.
You can use this processor as a baby food mixer.
The veggies and fruits inside the chopping bowl spread evenly so that the cutting process runs smoothly.
Cons:
The price lies just below the maximum range.
10. Chefstar Food Processor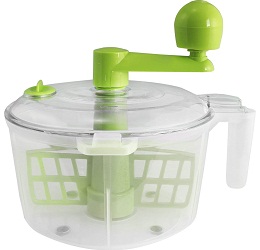 Lastly, we have this amazing food Chefstar food processor. It can also work as a kneader other than a processor. Therefore you can use to prepare the dough out of all types of flour. It is one of the best products for people who are just learning how to cook. It will reduce a lot of time you waste in the food prep. Within minutes you will have chapattis and cooked vegetables on your plate. Additional pieces are added in the set, which helps in slicing and peeling many kinds of vegetables very quickly. All in all, you are going to love the Chefstar food processor.
Pros
The chopping blades are strong enough to chop pulpy as well as hard fruits and vegetables.
The measuring cups in the set can be used to measure flour accurately.
You can also try to beat eggs and whip some fresh cream using this product.
Cons
The overall sturdiness and quality of the product can be a little improved.
How to Choose Best Food Processors in India

Having a food processor in your kitchen is great. But if the appliance doesn't fulfill your needs, then you can't use that efficiently. Therefore, you should select a food processor that meets your needs by considering some important points.
Consider Power Requirements:
Food processors are designed to perform a variety of tasks. So it should be powerful enough to handle all your food preparation tasks effectively. In general, 600 watts of power is sufficient to meet the needs of most kitchens. But some kitchens need more powerful appliances to do their food processing tasks. In that case, you can opt for food processors that come with a 1000 watts motor for better performance.
Types Of Food Processors:
Food processors are available in many types. Some common types of food processors are as follows:
Hand Operated Food Processors:
These appliances are operated by hand and require more effort for operation. They are usually compact and ideal for chopping vegetables. If you need to chop a few vegetables, then you can opt for this type of food processor.
These are also compact and easy to use. They are ideal for grinding, chopping, mixing, and shredding tasks. Bachelors and small families can use mini food processors effectively.
Full-Size Food Processors:
Full-size food processors usually have a capacity from 9 to 20 cups and can perform all types of food processing tasks. So, medium and large families can use these food processors easily. They are also convenient to use and provide unique performance.
These are sturdier food processors and can handle all types of food. So they are highly preferred over other types of food processors. You can use these appliances for tougher jobs such as meat processing.
The size of the food processors is another essential point to check before buying it. Usually, food processors come in a variety of sizes to meet the needs of every family. You can check the size of your family and select the right size food processor for your kitchen. Commonly the size of food processors ranges from 7 to 20 cups. Therefore, you can easily get your preferred size food processor for your kitchen.
While processing your food with a food processor, you will need to adjust the speed according to the type of food you process. Therefore, the appliance should have a variable speed control option to make your task easier. You can look for different food processors available in the market and select the one that comes with adjustable speed settings. This way, you can process different types of food items effectively.
You will also need to consider the safety features of the appliance to ensure appropriate performance. Because food processors have fast rotating blades, you will need to take safety precautions to prevent injuries. Some food processors come with thermal cutouts that don't start the motor until you have assembled the parts properly. Therefore, look for the food processors that include safety features for high convenience.
Conclusion
All the ten food processors that we have mentioned above have the manual operation. This is the reason why they are priced low. They do not need electricity and still do the task very well. Additionally, we find them better than the costlier electricity-operated versions because manual food processors are eco friendly.
All you have to do is pull the chopping sting, and the chopping will be finished in less than a minute or two. We are hoping that you found the right food processor from our list for your usage.
Santosh Kumar, He is a SEO + Blogger have 12 years of experience in writing tutorial, informative and product reviews topics.