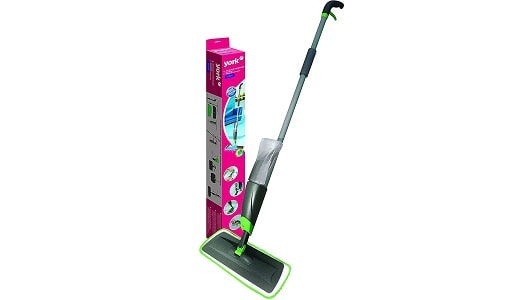 Do you want a clean and shiny floor in your house all the time? Who doesn't? A home is a place that provides a person with radiance and warmth, unlike any other place. Everyone wishes to have a picture-perfect home with a neat and clean setting. So is it that hard to wish for a clean floor in your house? No, it isn't.
The floors of the home can be easily cleaned off and kept shiny for years with just a little care. There are various mops available in the Indian market that helps to provide a neat touch to the floors. These spray mops are a great fit in our lifestyle. The mops themselves have gone through quite a few changes in recent years and have been able to call upon new designs and innovation. Spray mops for floor cleaning are one such kind and are one of the preferred options in India.
Best Buy Spray Mop Online in India
With so many spray mops available around in Indian market, finding the best one can be tricky. This is why we opted to test the spray mops against the parameters like performance, price, durability, and more to find the best of the lot. Come let's check which one cuts here.
1. YORK Flat Spray Mop, 2 in 1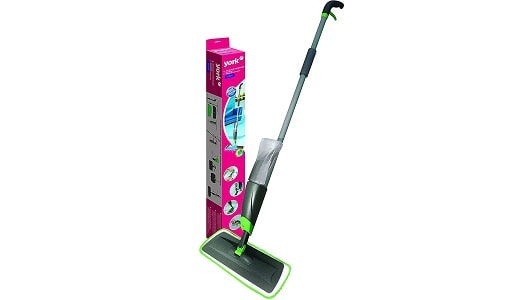 The first pick for our best spray mops list in India starts with the one from the brand York. They have been one of the major names for home cleaning equipment over the years and it's no surprise to see them come up with innovative products time and again. This is a flat-shaped spray mop with a 2-in-1 feature that comes with a liquid dispenser and a freely movable handle. It has high absorbent microfiber clothing that helps to soak the mess and keep the floor clean and neat. It has a practical design that is quite easy to use.
The movable handle is designed to allow you the control the right dispensing of the liquid. The liquid dispenser also helps to reach every corner of the house and clean the mess completely. The cloth piece attached at the bottom helps to lift the dirt with ease. It is also detachable so that you can detach and clean it before using it again. With this flat spray from York, you won't need buckets of water mugs to carry around time and again. The liquid dispensing will help clean the stains on the floor with ease. It can be used to clean surfaces like tiles, stone floors, marbles, panels, and more.
Pros
Microfiber refill cloth for easy dirt pickup and cleaning.
Triggered handle to help control the flow of the liquid.
Liquid dispenser spray for easy cleaning of the floor surface.
Value for money product.
Cons
Check This Also: 10 Best Flat Mop For Dry Dust In India
2. Kitchoff Spray Mop Broom Set Magic Mop

At the second number in our list, we have the brand Kitchoff with their spray mop offering. Kitchoff is a brand that has several home cleaning equipment available in the Indian market. Their products tend to be of good quality and combines performance with value for money factor. The same can be said of this spray mop which comes with reusable microfiber pads integrated with the mop. This mop is of premium quality and features a spray mechanism that is designed to facilitate the cleaning experience of people. It comes with a simple lever based design that can be pressed to spray water on the surface which can then be mopped clean by the use of the microfiber cloth refill.
The spray mop comes with a 4-piece set in form of a mop pole, microfiber pad, refilling liquid bottle, and mop head. All of these can be easily assembled at home to form the perfect spray mop. It has a 360-degree wide coverage and comes with a rotating mop frame. It is washable and can be either machine-washed or hand washed. The mop can be used on various surfaces ranging from hardwood to tiles and vinyl. It is pretty easy to use and is much loved by people.
Pros
Premium quality spray mop
Lever based design with a hand press functionality
Easy to assemble and use.
360-degree wide coverage.
Cons
3. Deerma TB500 Insta Clean Spray Mop with Replaceable Head
The third rank in our list goes to the Deerma brand for their Insta Clean Spray Mop. Deerma is a well-renowned brand in India when it comes to innovative products. They have previously made a name in the innovative electrical appliance and now are offering an equally impressive range of home cleaning products. This spray mop from them comes with an Insta Sprayklean mechanism which allows you to hold the water in the refillable tank provided with the mop. With this, you won't have to carry buckets of water every time you mop your home.
The design provides for a techno head mop that includes slim thin microfiber clothing allowing it to clean the surface easily. The microfiber can be washed and reused again. It can also reach the far-flung corners of the house and clean the mess with ease. It also has a rotating 360 degree swiveling head for easy use. It has a pretty lightweight design allowing you to easily mop around your home without any difficulty. The mop frame is made up of reinforced aluminum and is durable. It can be used for a varying level of surfaces like tiles, wood, marbles, hardwood, and more.
Pros
Lightweight and durable
Reinforced aluminum build
Washable and reusable microfiber clothing
Wide spray area and 360-degree reach
Cons
The price is higher when compared to other options.
4. Maharsh Healthy Spray Mop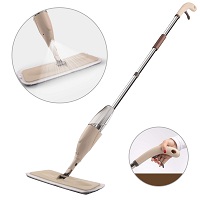 Now at the fourth number on our list, we have the Maharsh Healthy Spray Mop with an impressive design and functioning. This one comes with a removable and washable cleaning pad and has an integrated water spraying mechanism. But first, let's talk about the design aspect. It has got a sturdy rod-based design with quality steel embedded inside. The rod has a triggered handle at the top that allows you to control the spray of the water. It is ergonomically designed to help you with the cleaning of the floor. The other end of the rod has cleaning parts that include a washable floor cleaner featuring microfibers that can absorb the dirt and help keep the floor clean.
The handle has a 360-degree rotational design that allows you to reach every nook and corner of the house with ease. It comes with a 4-piece set as a mop pole, microfiber pad, mop head, and a refilling liquid bottle. The set can be easily assembled and used. It is available in various colors and the user can select the one they desire. It is also priced in the low-to-mid-range bracket which makes it a good piece of investment.
Pros
Sturdy mop pole
Washable and removable microfiber cloth
360-degree rotational design
Ergonomically designed
Cons
It may not be suitable for long term
5. Spray mop for home cleaning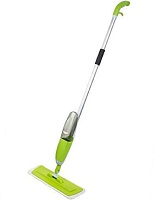 The fifth spray mop to feature in our list is one of the top-selling pieces around and is much loved by people. It comes with great features and has impressive performance. It comes with a solid design and has a reinforced build. The rod feels quite sturdy and can help you clean the house with ease for a long time. At the bottom of the spray, there's a microfiber washable cloth that helps to absorb the dust and help clean the floor. There's a spray mechanism where you can fill water and it will help you spray it on the floor whilst cleaning. The spray mechanism is controlled by a handle placed at the top. It helps to manage the flow of the water and moisten the floor as required.
It has a quick and easy floor cleaning system with a 360-degree rotational head that helps to clean the floor with neat precision. The rod is made up of aluminum for durability and lightweight. The lightweight design makes it easy to carry around to all parts of the house. It has 50% more efficiency when it comes to floor cleaning than a normal mop. The microfiber cloth is pretty Eco-friendly and can help clean multiple surfaces. You can use this spray mop to clean all types of floors like hardwood, vinyl, lamination, tiles. The mop handle is adjustable and can be easily handled.
Pros
Aluminum rod for durability and lightweight
360-degree rotational head
Adjustable handle and spray mechanism
Efficient microfiber cloth for dirt cleaning
Cons
6. Belomoda Spray Mop Set with Microfiber Washable Pad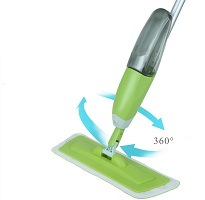 Now for the sixth entry into our list of best spray mops in India, we have the brand Belomoda offering one of their finest and great home cleaning offerings. Belomoda has a range of cleaning mops and home cleaning equipment available with them. Their brand is much loved and accepted by people all around. This spray mop from their side is designed for well functioning and creating ease in the life of people. It has assorted color options available for use. The spray mop comes with a 360-degree rotational head that can help reach the hard edges, corners, and other places that a normal mop cannot reach. It also comes with a microfiber washable mop head that can be reused time and again. It is great for brooming and cleaning the floor and even surfaces like walls and windows.
The set comes with a 1 piece spray mop that can be assembled with ease. The mop has an ergonomic design that can save more water and give efficient cleaning for the floors and all. It also makes the floor neat and tidy with less effort. The mop can be used to customize the cleaning of the floor as per your liking. It is pretty safe to use for all surfaces and gives the best results against them. It can be used on hardwood floors, tiles, laminates, vinyl, and more. The pricing is also in the mid-range allowing you to easily go for it.
Pros
Ergonomic aluminum build
Customizable cleaning experience
Reusable microfiber cloth
Great for all types of surfaces.
Cons
Spray nozzle may not perform adequately all the time
7. Nubilous Microfiber Floor Cleaning Spray Mop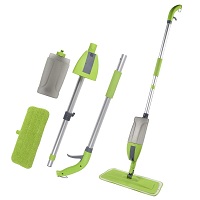 For those who were looking for a revolutionary home cleaning solution, Nubilous has answered the claim. Their products are designed to revolutionize home cleaning and provide ease of use for household chores. This is a spray mop that is designed to not only help ease the cleaning but also provide efficient cleaning solutions. This is a four-piece tool that is designed in a way that it can be easily assembled at home by anyone. This allows for a greater purpose when it comes to using it. The mop has a green color look to it that adds to the balance and provides a natural feel to the home. It is perfectly suited for home and office use.
The mop is build-up of a quality aluminum rod that helps lend durability and lightweight to it. The mop has incorporated beautiful looking aspects that not only look ergonomic but also provide functional use. It has a 360-degree swivel rotating body that can be used for cleaning the nooks, corners, and other hard to reach areas of the house. This helps you to get full floor coverage when it comes to cleaning. The microfiber cloth placed at the cleaning head can be rewashed and reused time and again. It can be machine washed or hand washed as per your liking. It is safe to use on all types of floors like hardwood, walls, vinyl, tiles, and more.
Pros
Aluminum rod for sturdiness and durability
Reusable microfiber cloth
Handle controlled water spray nozzle
Efficient cleaning of the floors
Cons
The microfiber cloth may get damaged soon.
8. RajMoti Floor Spray Mop Set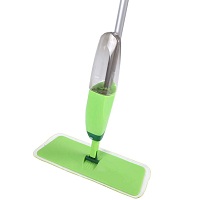 Placed at the eighth number in our list is the spray mop offering from RajMoti, an Indian brand specializing in the aspect of home cleaning equipment. They have a range of different mops available under their brand and comes with options like spray mops and more. We have here picked their spray mop for our list. It comes with a four-piece set in form of the mop head, mop rod, microfiber cloth, and cleaning head. The parts are easy to assemble and even someone at home can do it with ease. The mop rod is made up of durable material that will help you for a long time in cleaning your home. It has a handle placed at the top of the rod that helps to control the force and the water spray from the nozzle.
The mop is designed with a water storage box ad part of the cleaning head down below. It is refillable and helps you to easily clean the area without having to go through the carrying of buckets throughout the house. The water spray uses an integrated mechanism for better spraying and wide coverage of the floor. You can use this mop to clean a wide variety of floors like tiles, vinyl, laminates, hardwood, and more. The microfiber cloth is made up of high-quality material and allows you long term usability.
Pros
Sturdy and high-quality design
Reusable microfiber cloth with easy washing
360-degree flip head for easy cleaning of nooks and corners
Fine mist spray for neat and tidy results
Cons
Microfiber cloth may erode quickly
9. P.C. Spray Mop with Dust Collector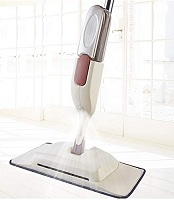 The one at the ninth number in our list comes from the U.P.C brand with their spray mop.They have several mops under their brand offering and comes with useful home cleaning options for families. It is suited for home and office usage. The spray mop comes with a dust collector and microfiber cloth that comes with neat cleaning. The mop has a great 2-in-1 design that makes it a great pick. You can use it as a dust collector broom and spray mop. For using it as a dust collector broom you can simply detach the bottom attachment and then use it to broom the room area. If you want to use it as a spray mop then simply keep all the attachments connected.
The spray mop has refillable water storage of around 510 ml that can be used to help moisten the area and clean the region across the house. The water spray comes off as mist spray via the nozzle and helps you in neatly cleaning the floors. You can also use cleaning agents and put them in the refillable water tank. The mop comes with a swivel head that can efficiently rotate around the house and clean all the corners with ease. It has a flexible build and comes in various color options. It also comes with 6 months of warranty.
Pros
Durable build
Swivel head with a rotational cleaning mechanism
Mist spray for neat cleaning
2-in-1 use as mop and broom
6 months of warranty
Cons
May not be comfortable for everyone
10. Cpixen Spray Mop with Microfiber Washable Pad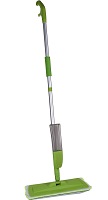 Now closing our entry in the list of best spray mops in India is the brand Cpixen with this efficient cleaning mop. This one is a fine offering from the brand which is known for its great products in home cleaning in India. This mop uses an aluminum rod to provide durability and security to the rod and make it perform to the highest order. This mop has been designed with the Indian audience in mind and caters to their requirements with ease. It is designed with simplicity and efficiency in mind.
This spray mop comes with a triggered spray design that helps to spray the water to the floor as required. This allows you to spray a fine mist on the floor which can help to moisten it. The microfiber cloth at the bottom of it can help to clean with ease. The microfiber is known to clean even the stickiest of messes and make it neat. It helps to keep the home hygienic for families. It can be used for office cleaning too. The mop has a cleaning head that allows for rotation which can help clean the corners and all areas of the home. The cleaning head of the microfiber cloth can be washed and reused.
Pros
Simple and easy to use
Triggered spray mechanism
Washable and reusable microfiber cloth
Fine design
Cons
Durability might be an issue
How To Choose The Best Spray Mop In India

There are various aspects that you need to look for while buying a spray mop. Taking care of these things will help you get a good mop for yourself that will not only give good results but also last long. Here are some of the factors to choose from while buying a spray mop.
Type of Mop Head
One of the major things to look for while going for a spray mop is the type of mop head. There are various mop heads available around like swiveling one or fixed one. Going for the swiveling piece can help you to reach out to the corners and get a good result. The mop head also plays a vital role in the durability of the product.
Mop Head and its Size
A thing to care about is the size of the mop head. When you have to clean an entire house or office, you'd want a product that is not only easy to use but also efficient. With a large-sized mop head, you can easily clean all the areas in less time. A smaller sized mop head would mean lots of time for cleaning.
Refillable Water Tank
Most of the spray mops come with refillable water tanks but it's something that you should double-check. Almost all water tanks can use the liquid detergent or cleaning agent with the water. Check to see if you can use the detergent or not.
Cleaning Needs
Do you need a spray mop to just do simple cleaning or to clean the stickiness of the floor? These things are vital as they determine what type of spray mop you should use. There are spray mops with multi-usability available around and some with single usability. Look to see if it matches your needs or not.
Build Material
The type of material used for the spray mop makes an important factor to check. If you are looking for a durable and lightweight product opt for aluminum-based rods as they will give you longevity. Similarly, if you want a neat cleaning, opt for a microfibre cloth that can be rewashed and reused.
Spray Mop Handle
The mop handle is important as it is the one that will be used for handling the water spray and the running of the mop over the floor. Look for the mop handle that can let you easily control the movement without hurting yourself.
Spray Mop Frequently Asked Questions
Is spray mop perfect for cleaning?
Spray mops are decent enough to clean your home. The advantage of the spray mops is that you would not have to carry a heavy bucket of water all around. The spray dispenser on the mop is good enough to offer you the desired level of cleaning. They are not bulky, and they are very agile. So, if you have been hesitant about using the spray mop, then do not worry. It usually offers a clean floor if you have removed the dust with a dry mop or a broom.
When should I not use a spray mop?
If your floor is heavily soiled, then the spray mop might not prove to be very useful. The spray mop in such a case can lead to mudding, and it will only make cleaning difficult for you. The spray mops are suitable for cleaning the floor after removing the dirt using a dry broom. If you spill anything on the floor or if your floor appears to be very sticky, then it might not be a good idea to use the spray mop either.
What can I use in the spray mop bottle?
There are various things that you can use in the bottle that comes with the spray mop. You can use a floor disinfectant, floor cleaner or a detergent solution in the spray mop. You can also use the plain water in the spray mop bottles. You can choose the liquid depending on your preference. An excellent floor disinfectant with a sweet fragrance will do wonders when it comes to cleaning & maintaining hygiene levels in your home.
Can I also use bleach with the spray mop?
Yes, you can use bleach with the spray mop, but you need to take a few precautions while using bleach. You should always dilute the bleach with water, and you should also ensure that you are not spraying the bleach on furniture or carpets. If you spray the bleach on these things, then the colour of the fabric could fade. Also, you should be careful while using bleach as it should not get into your eyes. Wash your hands and eyes immediately if bleach comes into your contact.
Can I clean the wooden flooring with the spray mop?
The answer to this question would vary depending on your flooring, but in general, you should not use a spray mop on the wooden floor. If the wooden floor absorbs moisture, it will swell up, and you will have to change the flooring. To avoid this, it is usually not recommended to use the spray mop on the wooden floors. They work great on concrete floors, tiles and marbles. Also, if you are cleaning marbles, you should not use bleach as that can lead to patching.
Is it challenging to navigate the spray mop?
It is not very difficult to navigate the spray mop. The weight of the spray bottle is well distributed. Apart from this, you may face some challenges while cleaning under the furniture, but the quick fix is to unmount the spray bottle, and then your spray mop will slide under the furniture. Also, the spray mop is easy to use for people who have a backache or any similar problem.
Conclusion
There are plenty of spray mops and bucket mops available in the market in India. However, picking up the best one of the lot is much warranted if you want to have a good product for yourself. We picked this list based on multiple tests and we hope that you can find the one for your liking from this list.
Santosh Kumar, He is a SEO + Blogger have 12 years of experience in writing tutorial, informative and product reviews topics.