If you are an aspiring medical student, then the first thing that you would be purchasing is a stethoscope. It will prepare you for entering the medical school, and it surely doesn't make sense to buy a Littmann at the starting of the MBBS program. That is a very expensive stethoscope. A right financial decision would be to buy a stethoscope that is priced under Rs 1000, and upgrade it as, and when you need it. You will be surprised to know that in India, even a lot of doctors buy stethoscopes that are priced below Rs 1000.
The main confusion while looking for the stethoscope in India under Rs 1000 is which one to buy. There are many knock-off products available in the market, and we are sure you want to avoid that. If you are a medical student or a doctor, you would want something reliable. You can even buy a stethoscope for home use as it can help you in checking the blood pressure using the standard mercury machines. So, to help you in choosing the right stethoscope, we have listed the top 10 products that are readily available in the market. We have also reviewed them for you, so go ahead, and check out what we have in stores for you.
Best Quality Stethoscope Below 1000 INR
In this section, you can check out the various options available for you. Our experts have tested all of these options, and we assure you that they are reliable. We have chosen the brands that have goodwill so that you know that you are buying something authentic.
1. Dr. Morepen ST03 Dual Head Stethoscope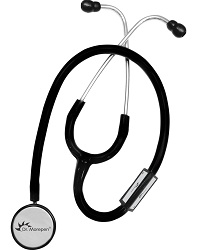 The first stethoscope available on the list is Dr Morepen. It is a reliable stethoscope available at an attractive price. The chest piece is designed with aluminium, and it comes with a unique diaphragm to help you in the diagnosis. The tubing is made of PVC so it would not rot away with time. This stethoscope also has an open spring frame that comes with a brass chrome plating. The ear knobs are made of good quality material, and they are very soft. They also isolate you from the background noise when you plug them in the ear. Since it is lightweight, it would not cause any stress on your neck or the head. Overall, it is a reliable product from Dr Morepen.
Pros
It has an Aluminum chest piece, and it works on dual-frequency.
The ear knobs are soft, and they would not hurt you.
This stethoscope is available at an affordable price.
Cons
2. JSB S04 Sprague Rappaport Type Double Tube Stethoscope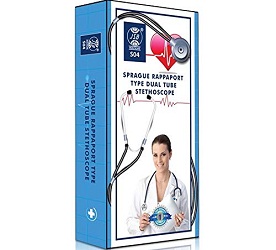 A lot of doctors prefer using a stethoscope with a double tubing as it enhances the acoustic sensitivity. This stethoscope is one such product that is available with a double tube for improving the sound. It also features a double sided chest piece, and the stethoscope has a transparent diaphragm. The frame of the stethoscope is very flexible, and the advantage is that it would not hurt your ears. It has exceptional build quality. The brand also provides a lot of accessories along with this stethoscope that can save an additional cost. It is a perfect stethoscope for the doctors who are looking for something reasonably priced. With one year warranty JSB provides you with the assurance of reliability, durability, and transparency.
Pros
This stethoscope features a double tube design.
It comes with a one year warranty.
The stethoscope comes with a lot of accessories as well.
Cons
Nothing that we could notice.
3. Hi-Tech Msi Microtone Stethoscope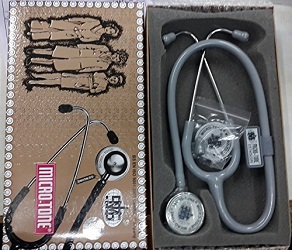 At number 3, we have a stethoscope from Hi-Tech. This stethoscope is available in 4 colours which include Black, Grey, Red & Blue. The stethoscope has a heavy duty chest piece that is made of Aluminum alloy. It has a 45 mm size. T The headframe has a size of 175 mm head frame, and it has a thick brass pipe of 5 mm. The brass pipe does add a little stiffness to the stethoscope, but it also enables you to listen to the heartbeat accurately. The brand also offers a one year warranty on this stethoscope, and it covers any type of issue. The brand also provides a spare diaphragm for later replacement.
Pros
This stethoscope comes neatly packed in a box.
The chest piece is made of anodized aluminium alloy that has a 45 mm size.
The brand offers a one year warranty on this stethoscope.
Cons
The earpiece is slightly stiff because of the brass pipe.
4. Dr. Morepen ST01 Deluxe Stethoscope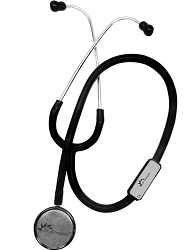 Here is another stethoscope from Dr Morepen, and it is one of the most affordable stethoscopes in the list. The stethoscope works on a dual-frequency, and it is also very compact. It is priced at less than Rs 300, and it is made of the chrome-plated chest piece. The diaphragm is designed with unique technology to let you hear every heartbeat. The PVC tube is of high quality, and you do not experience any issue while using the stethoscope. The spring frame is of even outstanding condition as it has brass come plating. In addition to all these features, the stethoscope has a soft earbud design.
Pros
This stethoscope uses a seamless PVB tube to optimize performance.
It helps the doctors in listening to high and low frequencies of the heartbeat.
It is one of the most affordable stethoscopes in the market.
Cons
A lot of background noise seeps while using the stethoscope.
5. PAXMAX Economy Dual Head Stethoscope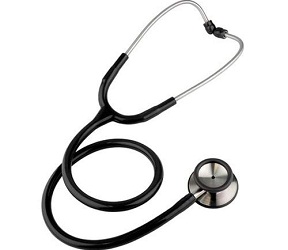 Here is another affordable option available on our list. This stethoscope is from Paxmax, and it has a chrome-plated chest piece. The diaphragm of this stethoscope is very reliable, and it is also compatible with the dual-frequency. The seamless PVC tube not only adds to the durability of the stethoscope, but it also enhances the audio sensitivity. The open spring frame is made of good quality material, and the ear knobs are also very soft. You get a new diaphragm and earbuds. The stethoscope is also compact, and it is lightweight, which enables you to carry it with you every time. This stethoscope is also suitable for measuring BP using manual machines at home.
Pros
The stethoscope comes with, and extra diaphragm, and earbuds.
It is available at an affordable price.
The quality of the stethoscope is satisfactory.
Cons
This stethoscope has an average sound quality.
How to Choose The Best Stethoscopes in India
Stethoscopes are like the identity of doctors'. They are the most important part of any doctor's life. So, buying the right stethoscope according to your needs is essential. This buying guide includes the essential points that you need to consider while choosing a stethoscope for you.
While choosing the right stethoscope for your use, considering the different types of stethoscopes available in the market is crucial. Here are some common types of stethoscopes that you can find in the market.
These are the basic stethoscope types available in the market. They work in traditional methods by transferring the chest sounds from the chest piece to the doctor's ear. These stethoscopes use hollow pipes for working. There are a bell and a diaphragm on the other side of the chest piece that helps in recognizing and hearing the sounds.
Electronic stethoscopes are amplified to let you hear small details easily. Those who have problems in hearing can opt for these stethoscopes. They are also compatible with headphones to eliminate the background noise. Another unique thing about these stethoscopes is they allow you to change the sound frequency according to your needs. They use batteries for operation and are usually heavy.
Accuracy of the stethoscope is another important factor to look for. If the stethoscope is not accurate, then you can't use that appropriately. Out of two types of stethoscopes, electronic stethoscopes are highly accurate and can provide better performance in noisy areas also. But acoustic stethoscopes are not ideal for use in noisy areas. So, you can select electronic stethoscopes over acoustic ones.
The stethoscope should be comfortable to keep around your neck for a long time. Also, it should have softer ear tips to let you wear it on your ears conveniently and check your patients. You can also choose a model that has long tubing for ease of use. So, look for different stethoscopes and select the one that offers maximum comfort.
Stethoscopes are produced by many brands, but choosing a reputed brand is important for better performance. If you buy a stethoscope from a cheap brand, then it will not provide the appropriate results that you need and will get damaged in a short period. Therefore, make sure to buy stethoscopes from famous brands for ease of use. Also, the branded stethoscopes will provide better reliability compared to the cheaper ones.
If the tool gets damaged or broken after a few uses of purchasing, then you will feel very bad. So, you need to check the durability of the stethoscope before buying it for long-lasting performance. Moreover, the durability of the tool depends on how you use it. Therefore, make sure to take proper care of it while using it to use it efficiently for a long time. Mostly, the stethoscopes that come with a titanium or stainless steel chest piece are the best option to opt for. Also, make sure the tube is not too short or too long for ease of use.
Final Verdict
With all this information, you are well-equipped to buy the stethoscope that you need. Financially, it makes a lot of sense to buy a stethoscope in this price range. The products that we have shared with you are not just reliable, but they are also very durable. These products will offer a clear sound when you are trying to make the diagnosis. So, go ahead, check out these stethoscopes, and do let us know which one you bought. You can also scroll through the different sections of the website to check what are the other reliable offerings in India.
Ridhima Sharma is a Senior Pharmacist at Kukreja Hospital, New Delhi. Ridhima completed her Diploma in Pharmacy (D. Pharm) from UP University. She regularly writes article on health information, fitness and beauty related products at IndiasStuffs.com