We know talking about periods is considered to be a shame in India. But, need not worry. This article is written exclusively for Indian women. We all are well acknowledged by the fact that women get their monthly periods. This is a monthly cycle in every woman's life that comes and goes. Some women experience difficulty these days while others are fine with it. It varies from woman to woman. Some women get light flow, while others get very heavy flow.
All women need to maintain enough hygiene and cleanliness during the menstrual period. Lacking this can make them suffer from uninvited severe health issues. Periods and menstruation are still considered taboo in many parts of our country India, but on the other hand, the industrial area has expanded so much that they are trying to launch new feminine hygiene products in the market every coming day. Don't you think that it is our responsibility to use these products that are designed for our safety and comfort?

Most of the Indian women use sanitary napkins in periods.They are comfortable and easy to use, but they do not provide full liberty to the women. Women are usually afraid of getting stains. They are also worried about the menstrual odour. Out of all this, the most important factor is that it restricts the women to do most of the outdoor activities like swimming, horse riding, gym and other sorts of physical activity. There are various other options in the market, like tampons and menstrual cups. Most Indian women might not be aware of Tampons. For the same reason, we have written this article.
Here we are going to discuss the significance of tampons. Tampons are the products that are designed to absorb the maximum amount of liquid and soak up the blood. They are inserted into the vagina and expand and open up inside the vagina after insertion. Tampons are made from very soft absorbent material like cotton and rayon that provides more comfort and relaxation to women. They are also beneficial for the environment. Nowadays, the tampons are manufactured using such components that make them disposable and are biodegradable. Thus, they ensure safety to you and the environment as well.
Talking about the varieties in tampons, they are available in various designs which are made according to the menstrual flow of women. They are available in three or four different sizes according to the soaking power and surface area. Women who have light flow can choose regular tampons, while women with heavy flow can go for super plus ones. Therefore they are specifically designed to fulfil every purpose, keeping in mind the comfort and hygiene of women!
Best Buy Tampons Online In India
The presence of numerous tampon brands has made it difficult for women to select the right tampon for themselves. For this reason, we have curated a list of 10 Best Tampons available in India. We have also mentioned the buyer's guide to inform our readers about the essential pointers that should be considered while purchasing the tampons. Go ahead and read it.
We are listing down the top 10 tampons available in India. They are the following:
1. O.b. Pro Comfort Regular Tampons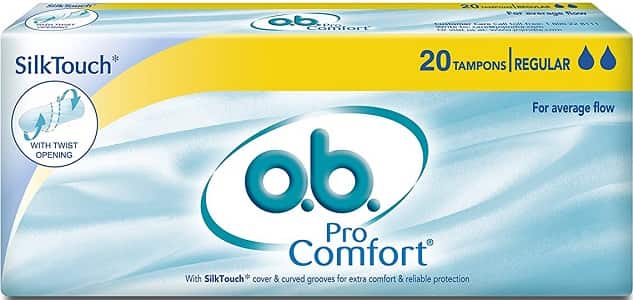 These tampons from O.B Pro Comfort Regular are very accessible and easy to use. They come in two kinds; one package contains a total of 20 tampons and the other one contains 40 pieces tampons. These have been designed, taking care of the convenience of women. They are uniquely designed for women having regular flow. Hence, this characteristic feature makes the style to be called as 'average flow'. This product is very safe as it is designed and recommended by the top gynecologists. Sometimes women find it harder to put the tampon inside, this happens mostly to first time users or the beginners. This problem is also eliminated here because of the ease of insertion and use. It fits very comfortably inside the vagina; this property comes from the ideal shape and perfect material of this tampon. They are highly leak-proof by the virtue of the extremely absorbable fibres sued in the tampon. These tampons also have curved groove technology in their structure that makes it highly efficient and durable. It has an inbuilt mechanism of expanding after being inserted and provides a leak-free snug fit. Along with the protection, they also take care of the menstrual odour. They don't let the odour escape and make you feel aromatic all day long. They are so lightweight and wearable that you won't even feel like periods anymore. They are built with 100 percent safety and security. Say bye-bye to stressful menses!
Things we liked:
The price is highly affordable.
It is designed by one of the top gynecologists.
Customers have appreciated this product.
Things we didn't like:
It cannot be used during heavy flow.
---
2. Bella Super Easy Twist Tampon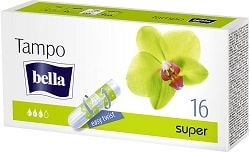 This tampon is designed especially for women who are heavy workers. If you are one of those restless women, who have to work all day long, whether it is office work or the household chores, then this is the perfect tampon for you. We know women have multitasking ability and they tend to make most of it. This tampon from Bella is made from premium quality material and it ensures a hassle-free insertion to all the women. It comes with a tendency to absorb more and is best for various activities. It is best suited for all kinds of flows; the different sizes available in the market are regular, super and super plus for normal, heavy and very heavy flow, respectively. The top layer is made from non-woven material, which makes it very soft and smooth. It is exclusively designed with eight special channels inside it that ensure equatorial distribution and immediate absorption. It is pre-tested dermatological and best suited for every type of skin and mucosa. It is very easy to insert and remove because of the string that is securely fixed inside the tampon. Gynecologists recommend using it with panty liners to ensure added benefit and protection.
Things we liked:
These tampons are designed according to all types of flow.
It has a smooth non-woven layer coating it.
It is dermatologically tested.
Things we didn't like:
Less in quantity.
Some customers have reported unhappy with the soaking power.
---
3. Pee Safe 100% Organic Cotton Tampons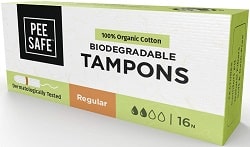 The tampons from pee safe are incredibly soft and made from natural fabric. That is the reason why it is most preferred by women all over the country. Most of the brand manufacture tampons that contain synthetic material, but these tampons are wholly made from pure cotton. The entire built-up and design is so smooth and comfortable to the user. It is also environment- friendly and can be disposed of easily. They are also designed for all the types of flow- normal, heavy and very heavy. The product comes with the style name- regular, super and super plus, respectively. These tampons can be easily inserted into the vagina in menstruation and absorb the maximum amount of liquid. These tampons come with great absorbing power, a size that fits perfectly and maximum protection against staining. Don't forget to change the tampons every 8 hours, keeping it more than 8 hours can lead to some serious health conditions like toxic shock syndrome. That is why it is advisable to change the tampons 3-6 times a day. This entirely depends upon the rate of flow, the women who have regular flow soak a tampon later as compared to women with normal flow. Unlike the menstrual pads, these tampons provide extra comfort to women and enable them to do any sort of activity.
Things we liked:
These are cheaper as compared to tampons of other brands.
These tampons are highly organic.
It is rash free and very convenient to use.
Things we didn't like:
They do not have.
It does not come with an applicator.
---
4. FLOH Regular Tampons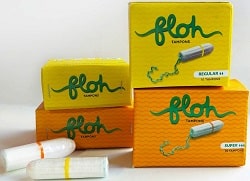 These tampons are one of the most chosen tampons by women. That's the reason why it is rewarded with Amazon best choice tampon. These tampons are created in such a way that it takes special care of your menstrual hygiene and cleanliness. These tampons are very comfortable and tend to take the shape of one's body when inserted inside the vagina. They are available in two designs; regular and super. They can either be purchased singly or you can buy a set that is customizable i.e. you can combine either two regulars, two super or one regular and one super tampon depending upon how heavy your flow is. These tampons are specifically designed for women of the new generation who believe in equality and hence do not refuse a single chance or opportunity. These are also approved by the FDA. It completely takes care of your personal needs and will never let you miss a chance to stand up for anything in life. These tampons are leak-free and ensure no stains or leakage. They also keep away the menstrual odour and keeps you fresh and charismatic. It is designed in bullet shape with the soft fibres lined inside that easily inserts and expands inside the vagina. They are exclusively designed to acquire the shape of women's bodies. This comes in a good packaging which is easy and quickly accessible. Now you don't need to worry about the unwanted stains!
Things we liked:
Available in different sizes.
They are approved by the FDA.
This is an organic tampon.
Things we didn't like:
Needs to be changed every 8 hours like any other tampon.
---
5. Tampax Super Plus Tampons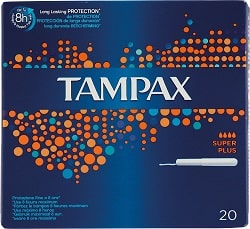 The tampon from Tampax super plus comes in very nice square packaging. They come in a set of 20 tampons. They are specially designed to provide maximum protection and security in days of heavy flow. They also arrive with cardboard applicator, which is available in limited tampons; this makes it easier for women to insert the tampon. This Applicator provides benefit but also come with a disadvantage that it bends after absorbing the fluid. To insert the tampon precisely, you will need a little bit of practice and experience. They are very long-lasting and durable. You will need to change them every 8 hours. They provide excellent protection during the night time. The price is slightly higher as compared to other products. So stop wasting time on ordinary pads and tampons. Bring the best tampons richly designed for you and get ready to fight with every hurdle in life!
Things we liked:
They come with an applicator.
Easy to use and very comfortable.
It provides good protection during the night.
Things we didn't like:
Some customers have reported fault in the Applicator.
It is costlier in comparison with other tampons.
---
6. SanNap Premium Digital Super plus Tampons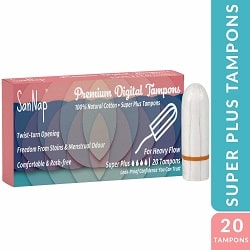 If you are looking for cotton tampons, then SanNap premium digital tampons are best for you. The SanNap tampons are crafted using a hundred percent natural cotton. These tampons are easy to insert inside the vagina at the time of menstruation. The tampons can absorb the maximum amount of menstrual flow.
SanNap tampons are considered to be the best alternatives to sanitary napkins. They are a perfect solution for modern, sporty, and active women. The tampons are leak-proof and enhance the confidence of women wearing it. Usually, regular size is good for light to medium menstrual flow. The SanNap tampons have smooth and rounded covers which provide ease of insertion plus the freedom of movement inside the vagina. The woman who uses SanNap tampons tends to stay comfortable.
Things we liked:
The SanNap tampons provide a comfortable fit.
It is easy to use.
It can be used during heavy flow.
Things we didn't like:
---
7. Corman Organyc Regular Tampons for Women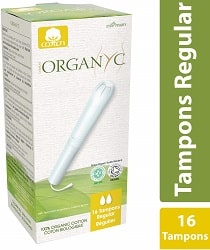 If you are a fan of organic products, then the Corman Organyc tampons are just created for you. These temples are constructed using safe ingredients that do not cause any kind of harm to humans, animals and ecosystems As well. The tampons are hypoallergenic and breathable. It does not carry perfumes, parabens, chlorine bleach, SAP, latex, plastics and other toxic substances. SAP and dyes can cause harm to women 's health. Such women who have sensitive skin can use the Corman organyc tampons without any worries.
Additionally, the Corman Organyc tampons are super-soft, pure and can absorb the menstrual flow efficiently. These tampons also eliminate the susceptibility to infections and allergies. Thanks to the eco-friendly and biodegradable characteristics, the tampons do not cause any harm to nature.
Things we liked:
The tampon is eco-friendly.
It consists of natural fibres.
It provides a leak-proof comfort to the women.
The glide-in Applicator makes the insertion smooth.
Things we didn't like:
The actual size of the tampon is quite long.
---
8. Sofy Soft Tampons for Super Heavy Flow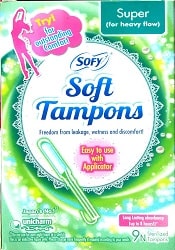 The Sofy tampons are popular for their use of the ease of application. This is because the tampons come along with an applicator which is easy to use. The tampons are originally constructed in Japan and are perfect for the women who have heavy menstrual flow during their periods.
Unlike other tampons, sofy tampons reduce the discomfort that usually occurs during the insertion of the tampon into the vagina. These tampons do not get stuck during the process of insertion like other brands. Additionally, the tampons are free from leakage as well as wetness. The sofy tampons have an outstanding absorption capacity. Also, the Absorbency lasts up to 8 hours which is amazing. The Sofy tampons offer freedom of movement, which is required during menstruation. It can be used by women who work and perform physical activities during their periods.
Things we liked:
The tampons are perfect for the heavy flow of menstruation.
It has an easy insertion.
The comfort level offered by the Sofy tampons is appreciable.
Things we didn't like:
A few customers have reported a duplicate product.
---
9. Masmi Chlorine-free Super Tampons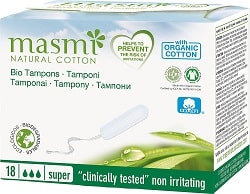 If you are searching for tampons free from toxic substances, then Masmi tampons could be a good choice for you. Masmi tampons are free from chlorine and dioxins. It is ideal for idiom and heavy flowing menstruation is.
The Masmi tampons come in an individual packing which makes it a travel-friendly product. Each package consists of 18 individual tampons. Women can carry these packages for their holiday trips. The Masmi tampons are purely natural and constructed using cotton products. Unlike other tampon brands, it does not consist of harmful SAP. The removal chords of these tampons are sewed to these absorbent cores, which are amazing.
Things we liked:
The packaging of the product is travel friendly.
It provides the utmost level of comfort to sporty women.
Things we didn't like:
Sometimes, the cotton filling falls out of the tampon.
The Softness of the tampon is not very good.
---
10. Sirona mini flow Tampons (with Applicator)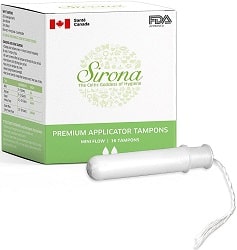 Sirona is a famous brand in the world of tampons. Sirona tampons are approved by the FDA. The quality of these tampons is just beyond great. The tampons are manufactured at the best factory in Europe. Also, Applicator has the best quality. The tampons offer great absorption, which makes the product comparatively reliable. It has a high absorption capacity. Besides, the applicator Tip is very smooth and round which does not cause any kind of discomfort during the insertion process. The size of the Applicator is small to provide comfort to the users.
Things we liked:
The tampons are constructed using a hundred percent viscose fibres.
It is easy to use.
The Absorption capacity of the tampon is appreciative.
Things we didn't like:
The Applicator is too tight, which adds difficulty during insertion and removal.
How Does Tampons Work?
Tampons are in the market for a long time. Most of us are used to sanitary pads, and we don't like trying Tampons or menstrual cups. But they are very much similar to how a sanitary pad works. It is very easy to use a tampon.
They are available in different sizes just like the sanitary pads – small, medium, and large. The size of a tampon will be helpful for you in deciding the level of absorbency for you. They are made using the same material that is used in the sanitary pads. They are made of cotton. You need to insert a tampon into the vaginal area with an applicator or your index finger. Once it is inserted, make sure that you are not feeling any discomfort in the vaginal area. If you feel any discomfort, then you will have to remove it and insert it again.
Once you insert, it will absorb the menstrual fluids and convert them into a gel to not cause any leak. You will have to change your tampons once every four hours. It is always good to pick something that comes with less absorbency capacity so that you can change them from time to time.
They do not cause any kind of leaks if you insert them in the right way. Always go for the single-use tampons and not reusable ones. Reusable tampons can cause infections and also damage to other organs in the body.
You should use tampons only when you have periods. These can be used like panty liners for absorbing the vaginal discharge. You should never put them on for more than four hours. Some tampons with high absorbency can be used for eight hours, but that is not the right way to use them, especially if you use them for the first time.
Different tampons are designed differently, so you need to read the instructions provided by the manufacturer to make sure that you are using them in the right way. Many people do not like the discomfort caused by sanitary pads. Using tampons will make you feel like you are not wearing anything every during parties. It also gives you a provision to wear a dress of your choice. Your period days are now going to be like any other day. If you are having any pain while wearing tampons, you should immediately report it to your doctor.
How To Choose The Right Tampons For Menstruation
One important thing that a woman should know when buying tampons is how to select the right tampons for themselves. There are numerous brands of tampons available in the market. It may be beneficial in one way that women have so many different options to select from, but at the same time, things may become confusing. There are a few pointers that are needed to be kept in mind when buying tampons. We have mentioned those important pointers below. All you have to do is consider these pointers and you can easily select perfect tampons for yourself.
⇒ 1. Consider the size of the tampons
It is very important to select the accurate size of the tampon for oneself. Different types of tampons are suitable for different types of menstrual flows. The junior tampons are perfect for light flow, Regular tampons are perfect for light to moderate flow, and Super tampons are perfect for heavy menstrual flow. If you do not select the correct size for yourself, you may have a problem of leakage.
⇒ 2. Consider the absorbency level of tampons
Every woman does not experience the same level of menstrual flow. Some women experience a lighter flow while others experience a heavier flow. For some women, menstrual flow is heavier on the first three days, and lighter on the last days of periods. Such people use tampons with different absorbency levels throughout their periods. Absorbency of tampons is very crucial. Tampons with higher absorbency levels tend to have less risk of leakage. If you are unsure about tampons, you can even ask your gynecologist in your next visit.
⇒ 3. Consider the type of Applicator
Different sizes of tampons come equipped with different types of applicators. The choice of the type of Applicator depends upon the preferences of women. Different women prefer different types of applicators. It would not be fair to say that one type of Applicator is better than the other. Applicators can be of various types depending upon the material that is used for its manufacture. Some of these are as follows:
Plastic applicators: The plastic applicators are constructed using expensive material; comparatively, they are easier and comfortable to insert.
Cardboard applicators: As compared to the plastic applicators, the cardboard applicators are cheaper. However, some people find a bit of discomfort while inserting this type of Applicator.
Extendable applicators: This is a variation of the plastic Applicator but with a shorter profile. It is specially constructed for discreet storage. Extendable applicators are perfect for travelling women.
Digital tampons: Digital tampons do not have any kind of Applicator. You can simply insert it inside your vagina by pushing with your finger.
⇒ 4. Consider the scent
according to most doctors, scented tampons are useless because the vagina has a self-cleansing process. Plus, external scenting can disrupt the natural pH balance of the vagina. It can also eliminate the good bacteria present inside the vagina. Therefore, we suggest our readers go for unscented tampons.
How To Use Tampons Safely?
Using a tampon for the first time can get a little confusing. Especially if you are experiencing periods for the first time in your life. Below are the steps that are needed to be followed to use a tampon safely:
Firstly, you are advised to wash your hands before taking a tampon out of your bag. This will eliminate harmful bacteria and funguses from your hands. If you drop a tampon, just throw it away!
Sit on the toilet seat, expand your legs so that you may have maximum access and visibility.
If you are a first-time user, then you need to find your vagina, understand your anatomy.
Now, hold the tampon correctly, place your index finger on the end of the Applicator.
In the next step, slowly insert the thicker part of the tampon in your vaginal opening. Push until your finger touches the thicker part of your flesh.
Now, you need to press upward the thinner part of the Applicator using your index finger.
Then, you have to pull out the Applicator gently. (Never flush out the Applicator).
Lastly, check for comfort. The tampon should not hurt your vagina. If it does, then it is not inserted correctly.
Do not forget to remove your tampon after every 4 to 6 hours.
You can remove your tampon by slowly pulling the string. It might cause you a little friction.
Dispose of the used tampons into the garbage bin.
Possible Risks of Using Tampons
You might not be very happy to hear this, but tampons are not the safest options of feminine hygiene available. In fact, Tampons can be very dangerous for our vaginas, Bodies and environment as well. Below is a list of some of the reasons why tampons are bad for you. Every woman should know this information.
It might be really surprising for you, but the ingredients of the tampons are not actually regulated by the FDA. Yes, you heard it right!
Most of the tampon brands do not disclose the ingredients that are used in the manufacturing process.This is because they might be composed of harmful ingredients Such as chemicals, pesticides, Rayon, chlorine, carbon disulphide, butoxide and the list goes on.
Tampons increase the risk of developing a bacterial infection inside the vaginas. This is because vaginas act like sponges; they are made up of blood vessels and mucous membranes. Therefore, it absorbs everything that you put inside. If you live with them inside for too long, then you might have a risk of potential bacterial-induced infection. For example, toxic shock syndrome, bacterial vaginitis, etc.
On top of everything, tampons are not good for the environment. This is because most of the tampons are not actually biodegradable and they can remain in nature for hundreds of years without getting destroyed. Tampons are not recyclable and this reason should be enough for you to stop using them.
Tampons Frequently Asked Questions
How do I wear a tampon properly?
Before insertion of the tampon, it is mandatory to wash your hands to keep it hygienic. Slowly, open the wrap and push the tampon inside the vaginal canal by your index finger. An applicator will aid in the process of pushing it inward. The string hangs on the vagina for easy removal. If you have properly inserted the tampon, you won't feel any discomfort.
Can a virgin female wear a tampon? Do they have different sizes?
Yes, you can use the tampon even if you are a virgin. Your vagina is made from elastic muscle fibers; it has a great ability to stretch. Various sizes are available- mostly, you will get five varieties, including ultra, super plus, super, regular, and slim. The size indicates the volume of fluid that it can accommodate.
What significance does types of applicator has in tampons?
Plastic and cardboard applicators are the two most widely preferred applicators by first-time users. However, it depends on your personal preferences too. Some people find them comfortable, while others cannot handle it properly. Therefore, we advise you to try these two applicators first. If you don't find it suitable, pick another one.
Can I use the tampon without lubrication?
No, you do not require any additional lubrication for the insertion of the tampon. In menstrual time, your vagina is already moist and lubricated due to secretions and blood. However, if you still find it challenging to insert the tampon, there is no wrong in using lubes. Make sure to pick a high-quality lubricant.
What to do with the tampon string hanging out?
There is no such concern that should come in your way about the tampon string. A string is entirely safe and nontoxic; it won't harm your vagina in any way. You can let it hang out, resting in your underwear. For women who are using the tampon for the first time, it is a better technique. However, if you are wearing skinny clothing, you can also opt to tuck it inside your labia. However, it might be a tough task to find the string later, depending upon your activity.
How does it feel to wear the tampon for the first time?
It is quite obvious that inserting a new thing inside your vagina for the first time will feel a bit odd. However, as you get used to it, you will slowly adapt to it and nothing feels uncomfortable. You will not even know that you have something on.
How frequently should I change the tampons?
The ideal time for changing tampons ranges between 4 to 8 hours. Make sure to remove it after 8 hours. It is a compulsion! Otherwise, it can cause toxic shock syndrome, which is an extremely serious issue.
What is the appropriate method to remove the tampon?
You need to follow three simple steps for removing a tampon. First, wash your hands properly. Second, pick a comfortable position, and third, gently pull out the tampon by its string. Wrap a toilet paper around it, and you are ready to go.
Bottom line: With the advancements in technologies, feminine hygiene products are also getting advanced. There are various menstruation napkins or pads available in the market; tampons are one of them. At present, many women prefer using tampons. Tampons are easy to carry in handbags as well as in pockets. However, there is also a negative side of using tampons of which everyone is not aware. If you are looking forward to purchasing the best quality Tampon for yourself, then you can go through this article and inform yourself about the basics of tampons. Buyers guide will introduce you to all the essential pointers that are needed to be considered while making the purchase of tampons. We hope you select an organic, eco-friendly tampon for yourself.
Ridhima Sharma is a Senior Pharmacist at Kukreja Hospital, New Delhi. Ridhima completed her Diploma in Pharmacy (D. Pharm) from UP University. She regularly writes article on health information, fitness and beauty related products at IndiasStuffs.com