Water Purifiers help immensely in the removal of microorganisms that can cause fatal diseases in humans. In India, water pollution is quite high, and hence it becomes extremely crucial to own a water purifier no matter where you live. Apart from removing germs, many water purifiers can also eliminate chemicals that are harmful to our bodies. Furthermore, we have also seen filters that help maintain the pH, color, and odor of the drinking water. All of these provisions not only help in the prevention of diseases but also allow our brains to function well. If you know a few things about water purifiers, you might see that they are of different kinds. Also, their operation may differ.
However, the high-end versions of these products are generally the RO and UV water purifiers. They are supposed to be used when water is highly contaminated. However, if you live in a town or city where the water goes through primary purification before it is let out at your homes, then you can also go with the purifiers that need manual water filling. Such purifiers do not need electricity and are equipped with either cartridges or microporous candles. They are useful when it comes to the prevention of water-borne diseases. Today, we are going to bring these economical water purifiers to you. We have discussed eight water purifiers that are available in India. The best part is that they are all priced below Rs. 2000.
Best Selling Water Purifiers Below 2000 INR
Let us discuss these products now –
1. Eureka Forbes Water Purifier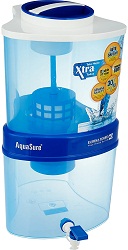 Let us first and foremost address the amazing 15-Liter Water Purifier by Eureka Forbes. The name of this filter is aqua sure, and it comes in a blue variant. However, its head's cover has a white design, and the small lid over it has a dark blue color. It is a highly portable water purifier that you can keep anywhere. Many people directly keep it in their kitchen platforms, but if you live in a hostel, you can also place it in your room, and it will still serve you in the best ways possible. It does not require any kind of electricity and power for its operation.
Eureka Forbes is a trustable name in India, and all their water purifiers are built to last decades without causing any problems. If you clean and maintain this water purifier properly, this will last longer than you expect it to. Its entire body is made of a nonbreakable material, so if you accidentally hit it to any place, it will still not crack or break in any situation. You will get a six months warranty on this product, and in the set, you will also get an installation kit for its easy installation. This purifier does not cause any leakage and is simply one of the best.
Pros:
If the bottom part of the purifier (where filtered water is collected) is full, the filter will stop filtering to prevent leakage.
Its entire installation is effortless to understand and achieve.
It only weighs 3 kg and is very portable.
Cons:
You will have to fill water in it manually every time it is empty.
2. TATA Swach Water Purifier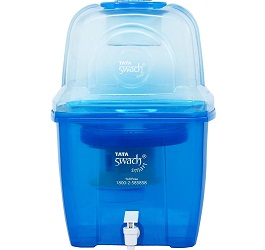 This gravity-based water purifier by TATA Swach is one of the best water purifiers in the country. From its design to its operation, everything is merely marvelous. It has a sturdy, translucent body which looks very attractive and mixes well with all types of Indian kitchen countertops. Like the previously mentioned water purifiers, this product also comes with a capacity of 15 liters. The company also claims that this purifier can remove almost one crore virus and 100 crore bacteria from every 1 liter of water. Isn't that amazing? Think of all the water-borne diseases that will be prevented after you have filtered the drinking water with this purifier.
For its fantastic performance, this purifier is acclaimed internationally. Nothing will go wrong with the water you drink once you start purifying it with the TATA Swach water purifier. The cartridge that lies inside its structure has a very long life and will last even after filtering 1500 liters of water. There is literally no iodine, no chlorine, and no bromine used in this water purifier, so you can trust it fully. Like other manual water purifiers, this product also does not require any electricity for its operation.
Pros:
The microbe-removing property of this water purifier is just terrific.
You can choose this purifier from two colors, which are a fresh green and sapphire blue.
It is very easy to clean this water purifier.
Cons:
We have not found any type of cons of the TATA Swach water purifier.
3. Kent Alkaline filter for water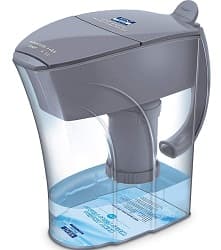 How can one finish a list of fantastic water purifiers without mentioning anything from Kent? This is why we will discuss some of the great features of the KENT 3.5 liters pitcher water purifier. The best thing is that it has a small size, so it is perfect for single person use. For people who live as paying guests or hostelers, this purifier will prove to be a boon. We often think of buying a water purifier, but we don't as we keep doubting the portability and size of the product. Many of us also don't like the time that these products eat when it comes to maintenance.
Such problems never arise with this purifier. This purifier was launched to control the pH of water (making it slightly alkaline) and purifying it as well. For a healthy mind and body, purified alkaline water works exceptionally well. This purifier is also capable of reducing the ORP so that the purifier's antioxidant property is improved, and you always have a fresh-tasting glass of water whenever you are thirsty. Other than this, the product also helps in removing many kinds of chemical and physical impurities of the water. Its dimensions are – 30 X 11 X 15 cm only.
Pros:
This purifier looks like a pitcher and dispenses water very quickly without any trouble.
Other than purifying water, it also helps in maintaining the pH and removing chemical impurities.
The filter material includes carbon alkaline media, which is extremely useful.
Cons:
This purifier has a small capacity, which is why it is suitable for single person use only.
4. POOJA Stainless Steel Water Purifier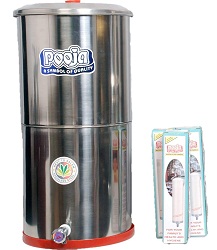 Steel filters that are equipped with filtering candles are very famous in India. This is because they are incredibly affordable and yet have a huge capacity. This water purifier by POOJA is just that. It is capable of removing many types of microbes, such as algae, parasites, and bacteria. Such microbes are known to cause a range of diseases in humans and hence must be avoided in all kinds of situations. Many of the diseases that they cause can be extremely critical and fatal, as well. This filter works effectively to remove them entirely without fail.
It can be used in many places, such as hotels, hostels, boats, RVs, and homes. Once you filter water with it, you are only bound to get crystal clear water. The candles that lie in the upper filtering compartment are wholly made of formulated ceramic. This ceramic is microporous and traps impurities and microparticles very well. Since no electricity is required to use this purifier, you can place it anywhere without any hassle. However, make sure you clean it with detergent water regularly to increase its efficiency and prevent all types of germ build-up.
Pros:
There are three ceramic candles in this water purifier, which are all microporous.
The stainless steel used in making the purifier's body is sturdy and does not develop any kind of dent or cracks on it.
You can wash and deep clean this purifier very easily.
Cons:
The chemical filtering nature of this purifier is weak when compared to other manual water purifiers.
5. Crystal Water Purifier
If you live in a family with many members, it is vital to have a water purifier with a large capacity. That way, you will not have to fill it again and again to have filtered water. Hence, we have come to the discussion of the 30-liter water purifier by Crystal. Like the previously mentioned water purifier, this product also has microporous candles in it. As you may know already, microporous candles trap microbes very well and are hence safe to be used in areas where chemical filtering is not needed. Such areas can be small towns where the drinking water is supplied from a local river that is not polluted or has the least amount of pollutants.
The cost of running this water purifier is very low. You just have to fill the upper compartment with the water you want to filter. When you are done doing that, water will get filtered in only a few hours. Your entire family can then enjoy having safe drinking water the whole day. Thirty liters of water is enough for the consumption of a maximum of 10 family members. However, if you fill the filter as soon as it starts getting empty, you can have even more water for more people. With the purifier, buyers will also get a warranty card, a cleaning brush, a plastic ring, and a lid.
Pros:
The capacity of this filter is huge and sufficient for ten people.
It only weighs 3.78 kg, and you can move it around very quickly in your kitchen.
The filter's installation is easy, and the candles never alter the taste of drinking water in any situation.
Cons:
If you want to filter chemicals from water, then this water purifier is not for you.
How to Choose The Right Water Purifiers in India
As the contaminants in the water are increasing, so does the purification efficiency and diversity in water purifier design. The different models, purification process, and features have made it a challenging task for most customers to select the best suitable product. If you are such a person, then, this buying guide could help you understand the features and select an appropriate water purifier for your home or office.
Type of water purifier –
Water purifiers are differentiated based on the purification process, today, there are three or more types of water purifiers available on the market. The level of purification offered by each type is different. It is very important that you purchase a water purifier only after knowing the difference between each type. Apart from the water purifiers mentioned below, there are other types with complex purification processes, but, they are comparatively costlier than the three mentioned below.
Gravity – Gravity water purifiers are the basic type of water purifiers that do not use electricity or any complex setup. This type of filter forces the water to flow through a filter that removes undissolved impurities. Very cheap.
UV – This type of water purifier is advanced and uses ultraviolet light to kills germs in the water. This type of filter uses a combination of other filters to remove undissolved impurities. Comparatively expensive than gravity filters.
RO – This type of water purifier is very expensive and also very efficient, it could remove dissolved salts, organic and inorganic impurities from water.
If you want your water to be purified completely, then an RO water purifier is the best option, however, RO and UV purifiers are not available at a cost less than INR 5000. This does not mean gravity and Ultrafiltration water purifiers are worthless, they are also good.
Water storage capacity and purification capacity –
While most of the advanced water purifiers lack this feature, a gravity-based water purifier comes with an inbuilt water storage feature. The capacity of each model could vary, it is very important that you consider the water storage capacity if you are purchasing a gravity water purifier. On the other hand, if you are purchasing a UV or RO water purifier, the purification capacity should be considered. The purification capacity here refers to the maximum quantity of water the purifier could purify within a specific time. As the purification capacity increases, the price also increases, therefore, it is important that you consider purchasing a product with an adequate purification capacity only.
Type of water –
Once you understand each type of water filter, the first thing you should consider is the type of water. There are different types of water-based on the amount of impurity in it. However, the most basic two types of water are hard and soft water. Based on the level of particles in water, here is everything you need to know.
Below 300 ppm without mud or biological impurity – gravity-based water purifier
Below 300 ppm but has biological impurity – UV water purifier
Below 300 ppm with mud – UF water purifier
Below 300 ppm with both mud and biological impurity – A water purifier with both UV and UF or EAT water purifier
Above 300 ppm without mud or biological impurity – RO water purifier
Above 300 ppm with biological impurity – A water purifier with RO and UV purification
Above 300 ppm with both mud and biological impurity – A high-end water purifier with RO, UV, and UF purification.
Durability and safety –
Most of the water purifiers that come at a price less than INR 2000 comes made of plastic and some with metal. You must know that the quality of the material cannot be evaluated without using the product, but, a reputed brand would maintain a consistent quality and safety, therefore, a reputed brand is recommended.
Conclusion
These were all the eight water purifiers that we were inspired to bring to you. All of them can be easily purchased in India. Many of them are so popular that you can find them easily in the local market. However, if you cannot find them, you can always switch to the online purchase of the water purifier that you liked the most. Just make sure that you purchase the product from a reputed e-commercial platform.
Santosh Kumar, He is a SEO + Blogger have 12 years of experience in writing tutorial, informative and product reviews topics.