The Government of Telangana introduced an online platform named "Dharani MaaBhoomi" under the Digital India initiative. Telangana based people can check their land-related records in the state through this portal. The land-related registration process or any work related to land can be done through the Dharani platform by all the residents of Telangana at any time. It is a faithful single gateway for efficient handling of all land related works. This online portal is very similar to any other land record inspecting online platform which is thoughtfully designed for the state of Telangana and its citizens.
Apart from this online portal, you can check the details concerning land records through the leading Integrated Land Records Management System. For secure and quick information, a land or property owner can access the land records through the Dharani online portal. To know more about the Dharani web portal or how to log into Dharani Website, you must read this article.
Key features of Dharani:
It offers an effective way for administration, land records and land registration. Here are some of the key features of Dharani:
This online portal ensures error-free, secure, trustworthy and transparent record management due to computerized operation.
The survey, Auto-update of documentary land records and maps on a real-time basis using GIS tools.
It provides a service of online mutation activation.
The portal offers a transactional data source for land purchase, mortgage, sale etc.
Land or property owner can apply for online registration with ease.
A single platform to accomplish all land records online effortlessly.
What services are offered by the Dharani Maa Bhumi?
There are two major services provided by Dharani MaaBhoomi. These include:
Revenue Services – Online Mutation, Online Conversion, Certificate for agriculture income and land valuation.
Registration Services – Data entry, Services for payment of stamps & registration, Duty & fee calculation, Checking application status, etc.
What are the steps to be followed to create an account for Dharani Telangana?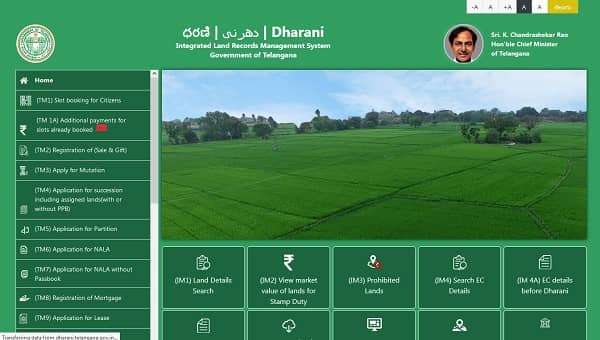 An option will have given on the top of the homepage named Dharani SignUp, click on it.
The page will open for the Signup form.
Here, you need to mention the asked information such as Name, Mobile No, Email, District, Mandal, Address, Pincode, etc.
Make sure you have filled in the correct details. Next, wait for the OTP which will send to the registered mobile number.
Enter the OTP digits from your email id or mobile number. Then click on further steps.
Next, set a strong password for your account and enter on the confirm button to proceed.
What are the steps to be followed to log in for Dharani Telangana?
Once you have created your account, you will be able to the login process for the Dharani service.
Visit the official website of Dharani from https://dharani.telangana.gov.in/
Click on the login button from the homepage
Next, select some tabs like User type, Mobile Number and Password
Put the captcha code from the image
Then, tap on the login option at the bottom to log into your account at Dharani Telangana to know about the plot records, land property, etc.
Santosh Kumar, He is a SEO + Blogger have 12 years of experience in writing tutorial, informative and product reviews topics.