Ziddi Dil Mane Na is a Hindi television show which first premiered on 30 August 2021 on the SAB channel, which is known for launching comedy shows. But this time the show makers have come up with a new concept that revolves around a young team of SAF or Special Action Force. It is being made under the banner of Sunshine Productions.
The youth-oriented and romantic based show features many popular TV actors and actresses, including Aditya Deshmukh, Kunal Karan Kapoor, Shaleen Malhotra, Diljot Chhabra, Simple Kaul, Kaveri Priyam etc. The show is produced and directed by Sudhir Sharma & Seema Sharma, and Amit D Malik. If you want to know more about the story of the show, timings and the name of the cast then check out the following information.
Wiki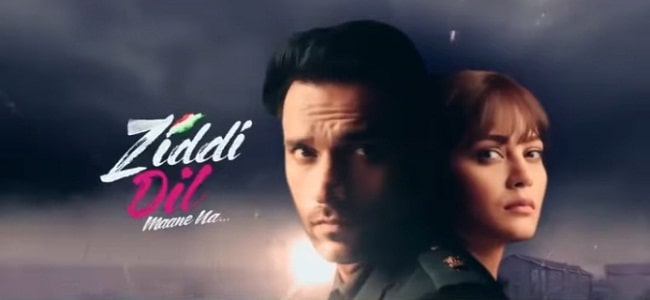 After giving so many hit shows like Sajan Re Jhooth Mat Bolo, Taarak Mehta ka Ooltah Chashmah, FIR, Lapataganhj, and FIR, the SONY SAB Television Channel is now bringing the show for youth with a unique story line. The channel has launched the promo of Ziddi Dil Maane Na on social media platforms like You Tube and Instagram.
Where is it going that special attention has been given to the choice of today's youth in this show? It doesn't matter whether the show will be popular or not, what matters is that the storyline should inspire the youth and inspire them to learn something that this serial is doing well.
Story
The story of the show is all about young volunteers who experience real-life challenges and join the camp to find the true love of their lives, especially when they are working hard to achieve their goals like staying in the camp, giving their best, and proving themselves.
The show has several prominent roles in which Shaleen Malhotra plays the role of a special agent who is a staunchly disciplined and tough patriotic man. He is a disciplined and very strict person in the show. Aside from this, Kaveri Priyam as Dr Monami is a soft-hearted person that shares the pain of others.
The academy has also rich and irresponsible women and a Special Agent namely Sanjana. She is a stubborn woman with a tough and rough personality. On the other hand, Kunal Karan plays the role of Sid Ganju. The show also has pair of Fauji and Nurse, personified on the show by Simple Kaul & Aditya Deshmukh. Simple Kaul is a calm and self-sufficient girl who has focused more than others. On the other hand, Aditya is a kittenish man. The show brings to motivate the younger generation.
Timing
Ziddi Dil Maane Na is broadcast on SAB TV from Monday to Saturday at sharp 8 PM. It replaced Kaatelal and Sons in the slots. Its first clip was launched on 16 July 2021. The running time is approximately 20 to 25 minutes.
Cast Names
The complete cast names of Ziddi Dil Manne Na are as follow:
Shaleen Malhotra as Karan Shergill
Kaveri Priyam as Dr Monami
Kunal Karan Kapoor as Sid Ganju
Diljot Chhabra as Sanjana Aka Sanju
Simple Kaul as Koel
Aditya Deshmukh as Faizi
Nirbhay Thakur as Nikhil
Sushant Kandya as RawatSahab
Satyaketi Mishra as Sumanji
Nirisha Basneet as Chitra
Gulfam Khan as Mr. Batra
Vijay Kashyap as Col. Pushpinder Batra
Prathmesh Sharma as Bala
Raju Shreshta as Prem Deshpremi
Production Team Detail
Director – Amit D Malik
Producer – Sudhir Sharma and Seema Sharma
Story and Screenplay – Shivani Shah, Nishikant Roy and Ira Arya
Music – Shalin Sharma
Dialogue – Shashank Kunwar
Editor – Jaskaran Singh and Omkar Singh
DOP – Hrishikesh Gandhi
Creative Director – Mani Dixit
Santosh Kumar, He is a SEO + Blogger have 12 years of experience in writing tutorial, informative and product reviews topics.