Many people rely on gas stoves for their cooking. In Asian countries such as India , the gas burners are only a reliable way to cook. The people in these countries usually do no use induction or electric stove. The gas stove makes the life very smooth, safe and comfortable. In earlier days, the kerosene stove was used, but they were very polluting. The kerosene stoves were also unsafe. The gas stove has now taken over the kitchens, and you can cook anything on the gas stoves.
Believe it or not but you can make idly, cake and even fritters on the gas stoves. The design of the gas stoves has also been made better. You will find affordable gas stoves with a glass top as well. Moreover, gas stoves offer great control to you. You can control the level of heat and everything else. Since they do not cause smoke, it is a lot safer to use. You need to check many things before you finalize the purchase of the gas stove. One of the most important things you need to decide is the number of burners you need.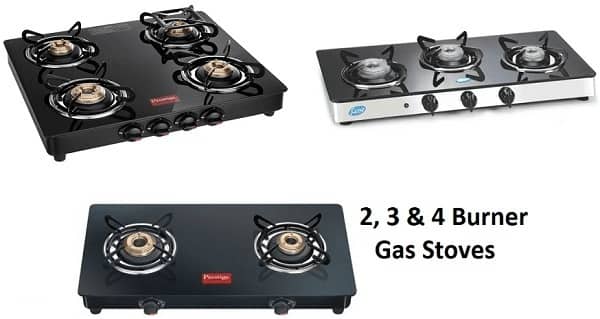 Understanding the number of burners needed will help you in shortlisting the gas stove. The main question is what number of burners you would need. We will help you in answering this question in today's article. Let us go ahead and check out some details that will help you in taking the final call.
Gas Stove with 2 Burner
Gas stove with two burners is the most common ones in the market. They are user friendly, and they are also very cheap. In terms of gas consumption, these gas stoves are very efficient. If you have a small family with 2 or 4 members, you can comfortably buy the gas stove with two burners. You can choose between the steel top and the glass tops. The glass tops are effortless to clean, and since the brands use toughened glass, it doesn't break at all.
Gas Stove with 3 Burner
Earlier the brands used to manufacture two burner or the four-burner models but a few years back, the three year stoves also became very popular. These stoves come with tri-pin burners, and they also have toughened glass on the top. These stoves are also rectangular, and they have better space utilization too. Since there are three brass burners in these stoves, you can cook multiple dishes simultaneously. The inlet of these burners can be turned 360 degrees, and that is yet another advantage of using the gas stove. You will find gas stoves with automatic ignition system as well as the manual ignition system. If your family has 4 to 6 members, you should buy the gas stove with three burners.
Gas Stove with 4 Burner
4 Burners is the highest number of burners available in a gas stove for residential use. Many families prefer this because of the versatility they offer. Your kitchen becomes highly scalable if you are using a four-burner stove. It makes it possible to prepare three dishes along with chapattis at the same time. You can also use the four-burner stoves to prepare a dal, vegetable, rice and chapattis, all at once. The quality and efficiency of the gas stove with four burners is unmatchable. They are designed in a square shape, and hence they also offer better space utilization. If you are buying the gas stove with four burners, ensure that your kitchen counter has enough space. Since you have a lot of permutation and combinations, you can choose what you like. These burners are good enough for large families as well.
Making a choice
We have provided you with all the possible information about the two burners, three burners and four-burner gas stove. These gas stoves are certainly very safe, and they are available in different price ranges. You must always moderate the gas stove usage as this will help you give the top priority to safety. If you are using the pipeline natural gas, you should ensure that the gas stove is compatible with the PNG.
You must also ensure that the gas stove is ISI marked as this will ensure the safety standards and the build quality of the gas stove. You must also ensure that you are buying the gas stove with the brass burners since they can tolerate high temperatures. Moreover, you can choose the type of ignition system that you want.  To end the page, we can sum it up by saying that you can go ahead with purchasing a gas stove with 3 or 4 burners. This will be very beneficial as it will enable you to scale up the amount of food you can cook.
Related Topics:
Santosh Kumar, He is a SEO + Blogger have 12 years of experience in writing tutorial, informative and product reviews topics.