All humans carry some defects in their bodies, which happens sometimes at the genetic level. Some are visible or evident and some are dormant. Some show up much early and some get visible only after some events. But the most common of such defects or some man-made defects are the absence of vitamins or even the capacity of the body to absorb important vitamins and minerals in their usual quantities. Sometimes it can also be the diet that can cause this deficiency. The effects of such deficiencies can vary from as simple as not visible, to other visible kinds of deficiencies like skin patches, abnormal growth of nails or no/low hair growth among men or women. It can also be deficiencies causing hairfall.
In recent days these kinds of deficiencies are also being caused by the fact that there are pollutants across various sources. Like air, water, soil, food and many other ways which can cause defects in our bodily rhythm. Hence the additional intake of vitamins to avoid these defects/deficiencies is good practice.
Not just now, even in the ancient days, our ancestors used to regularly make sure the diet they follow contains all the necessary vitamins and minerals to avoid these defects/deficiencies. Those intakes would be more in the form of ayurvedic/herbal medicines or ingredients. Those days the process needed to be slow and there were few or no pollutants in various sources that caused any issues.
Best Vitamins for Hair Growth in India
With humans now wanting to get things resolved at a faster pace, the work of ayurvedic and herbal supplements or medicines would seem a bit slower. Today in this section we are going to talk about the best available vitamin supplements in the market place for the purpose of hair growth because that is the most common type of problem people are facing now. We will also talk about their beneficial features and how they will be supporting humans in healthy living.
1. Carbamide Forte High Potency Biotin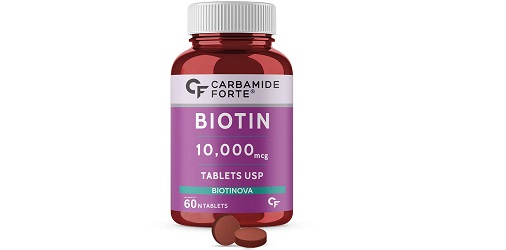 Carbamide Forte is the pharmacy company that is in the market for a few decades now. They have been delivering good research and science-based supplements to the public. Their Biotin 10000 mcg high potency tablets which are small in size but do themight. This tablet supports hair growth with the presence of vitamin B. The skin would start glowing with regular use of this supplement.
How this works is, the supplements support the increase in the fatty acids and also cellular growth which in turn boosts the strength and growth of nails. This also increases the size of the hair follicles and hence making sure the volume increase and strength of hair are attained. All the ingredients used in this supplement are pure veg. Every tablet in this pack of 60 tablets contains 10000 mcg of Biotin. This is a tablet and not capsule hence there is no presence of a capsule covering. Usually, capsule coverings are made of animal fats/gelatin. Hence this product is free of Soy, Gluten, and yeast. These are considered to be non-vegetarian ingredients.
This product is suitable for both men and women and works the same way for both. As each tablet s smaller in size it becomes easy to swallow. If you are generally allergic to swallowing tablets then need not worry, these are very small and hence easy to swallow.
Things we liked
Compatible for both men and women
Provides glowing skin, strong hair and beautiful nails
All ingredients are vegetarian
Things we did not like
Users received duplicate product
Many users did not find any positive results
2. Power Gummies Hair Vitamin with Biotin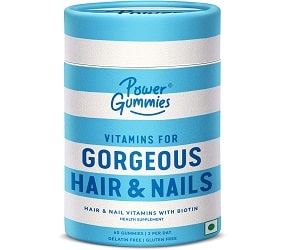 This 60 pills set of Biotin is designed especially for beautiful and strong hair. This is called the Power Gummies. This tablet is designed as small gummies and the best part is they are tasty. Usually, tablets are not so attractive or tasty to swallow. This product is suitable for all men and women. Along with Biotin, it contains folic acids and various Vitamins like A, B, C and E. These additional contents enhance the growth of hair giving faster results. It also boosts the metabolism within the body to give fabulous results.
Along with beautiful, lustrous and strong hair, this also provides strong nails. Deficiencies of certain vitamins cause brittle nails. All these deficiencies are eliminated using this product. Vitamins also help moisturize the scalp with and hence avoiding any dandruff. Vitamin C in the product helps the body absorb iron and other minerals that are necessary for hair growth. Vitamin B helps create the red blood cells which carry oxygen to the scalp and hair follicles. These vitamins, in short, stop hair fall, increases hair growth, and boosts metabolism. In addition, it also regulates blood sugar.
Things we liked
Gluten and Gelatin Free – Completely vegetarian
Yummy taste
Can be used by any gender within the age of 18-45
Things we did not like
Some users experienced regular cough after using this product
Hairfall increased for few users
3. Nutrinelife Biotin 5000 mcg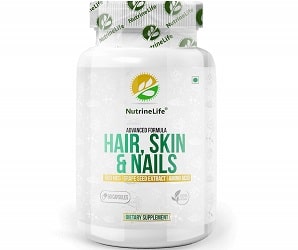 This Biotin from Nutrinelife is 5000 mcg one. Approved by fsaai, this product is a multi-nutrient, multivitamin and multimineral supplement. This has 60 capsules in the packs and has been termed as a vegetarian product. That means it has all the vegetarian ingredients and no animal extracts. This product is said to give better functional capabilities for metabolism, nerve and digestive functions. It also promotes wellness to the heart.
However, significant results are mainly concentrated to provide healthy hair growth. This also means it reduces hair fall by a big level. The amino acids and other oil generating ingredients help in getting a glow on the skin with regular usage. This also promotes increasing skin health and has anti-aging capabilities. Coming to the nail now, it restores the moisture to the brittle nails and provides strong nail growth. With regular usage, this will be maintained as well. This is also a water-soluble capsule hence easily assimilated into the body.
There are no artificial ingredients used in this and all are naturally extracted ones. Hence it is safe to use and expect no side effects
Things we liked
All-natural extracts make it safe to use
Gives strong and beautiful hair
100% natural and vegetarian ingredients used
Things we did not like
Users did not find any difference
Digestion problems found
4. Top Gummy Hair Vitamin with Biotin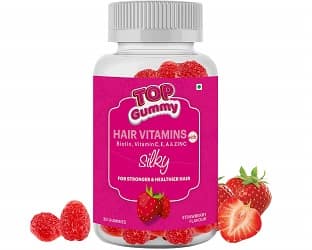 This is one of the funkier forms of Biotin we have seen on this list. Along with Biotin, his supplement also has Zinc and Vitamin C which contributes to the improvement in the health of the skin, scalp, and nails. This is not a capsule but a tablet in the form of gummy bears. To add on, it comes in the strawberry flavor. You need to chew 2 tablets everyday with or without food. You need to chew it properly before it is swallowed. Each pack of this contains around 30 tablets.
This tablet in the shape of gummy has various benefits. It maintains the health of your scalp and hair. It also moisturizes your nails and avoids being brittle. It also repairs the current hair condition to retain I healthier state and then maintains it as well with regular use. This product also reduces stress.
Things we liked
Boosts metabolism
Strengthens hair and also the nails
Yummy to taste
Things we did not like
Few people did not see any results
5. Simply Herbal Premium Biotin 10,000 MCG + Keratin + Amino Acids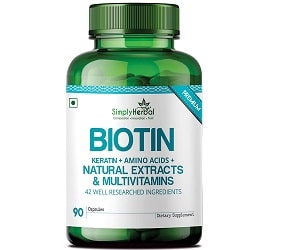 This is the most advanced version of the Biotin we have seen on this list. It has biotin, keratin and also Amino acids within that promote health and enhances hair growth. This is a purely vegetarian supplement and no animal fats or ingredients used. This also has natural extracts that help achieve healthy results. This product is also very helpful to maintain skin health. This product cures many skin conditions like premature wrinkles. This is the highest potency tablets and in the market currently.
This product also promotes healthy nails by increasing the moisture in the nails. It avoids the nails getting brittle and hence breaking off.
Things we liked
It has Biotin, Keratin, and Amino acids with other natural extracts within
Strengthens the hair and also promotes its healthy growth
It is Dairry free, Gluten-free, and soy-free
Conclusion
All these supplements we have listed were the best of them currently available in the market. Not all of them might suit you, but the biotin is the common ingredient in all of them. You need to see which are the other ingredients your body requires and based on that you can make a decision on buying one of them. Hope this will help you in your decision making.
Santosh Kumar, He is a SEO + Blogger have 12 years of experience in writing tutorial, informative and product reviews topics.