Trimmer is a men's grooming device which helps in cutting and shaping hair without visiting the barber. A trimmer is designed to remove body hair without being harsh on the skin. A trimmer has both advantages and disadvantages which can be taken into account when deciding whether to go for a trimmer or electric shaver.
Parts and Working
Trimmers come in a plethora of designs. But the basic components remain the same. These include cutter, comb, motor, power cord or docking station and batteries. The motor is the critical component which runs the blades of the cutter. The motor either draws power from an electrical outlet through the power cord or from rechargeable batteries in cordless models. The comb grasps the hair while the cutter removes a particular length of the hair. The comb ensures that only hairs of lengths more than the comb are cut.
Trimmer Advantages
Multipurpose – Trimmers come with various attachments which enables the trimmer to trim hairs growing on the chest, eat, neck and even inside the nose apart from trimming and styling the beard. Eyebrow attachment also usually comes with trimmers. The attachments are ultra-thin which help in trimming hairs growing on hard to reach areas. Thus, there is no need to purchase different equipment for grooming body hairs in various parts of the body.
Various types – Apart from beard trimmers, other types of trimmers are also available in the market. Hair trimmer is designed to remove hair from large areas of the body and can be used by both genders. The bikini trimmer is designed to remove pubic hair and is used by women to get the perfect bikini look.
Versatile – Trimmer is equipped with adjustable blades and comb attachments of various sizes which enable the hair length to be varied as per one's preferences, thereby giving freedom to choose different styles of beard. Apart from length, speed settings can also be varied in many trimmers.
Gentle on the skin – Trimmer will not cause cuts and scratches on the skin, unlike a shaver. This is because a good quality trimmer has a floating head which adjusts according to the shape of the face, and this flexibility prevents cuts and scratches. Furthermore, a foil is also present on the trimmer which protects the skin. People who are not well versed with shaving and are concerned about cuts can opt for trimmers.
Prevents ingrown hair – Shaving frequently results in hair follicles going inside the skin, which results in the formation of black coloured bumps on the skin. Trimmer prevents ingrown hair by not disturbing the hair follicles, which then do not go back into the skin.
Convenient – Trimmer does not require one to apply shaving cream on the skin. All one needs to do is switch on the trimmer and run it on dry skin to groom the beard and trim hair on other parts such as ears, eyebrows, etc. Thus, the trimmer is a suitable tool for people who don't have much time on hand.
Accurate and Reliable – Trimmer provides highly accurate and precise trimming. Trimmer is also more safe and reliable as compared to conventional trimming using comb and scissors. Trimming process is also very uniform.
Durable – A good quality trimmer is highly durable. The unit is sealed for protection against moisture which means the trimmer can be used inside bathroom. The blades are made of stainless steel which makes them resistant against rusting. Altogether, a trimmer lasts for at least 3 years.
Portable – Trimmer is highly portable because it does not occupy much space and also does not require shaving cream and other shaving equipment to be carried along with it. Cordless trimmers are even more portable because they use batteries and do not even have a power cord attached. Thus, a trimmer can be carried on travels without hassles.
Trimmer Disadvantages
Not for close shaving- Trimmer cannot be used to get a clean-shaven look. This is because trimmer does not remove hair completely. Thus, trimmers are best for people wanting to keep their facial hair but desirous of trimming and styling it as per their preferences.
Not for wet hair- Trimmer cannot be used on wet hair. Thus, whenever one uses a trimmer, care has to be taken that the facial hair or hair on other parts of the body to be trimmed is completely dry.
Leftover hair- Trimmer tends to leave some hair which is known as stubble. The leftover hair can cause itching on the skin and result in the development of red rashes.
Buying Tips For Trimmer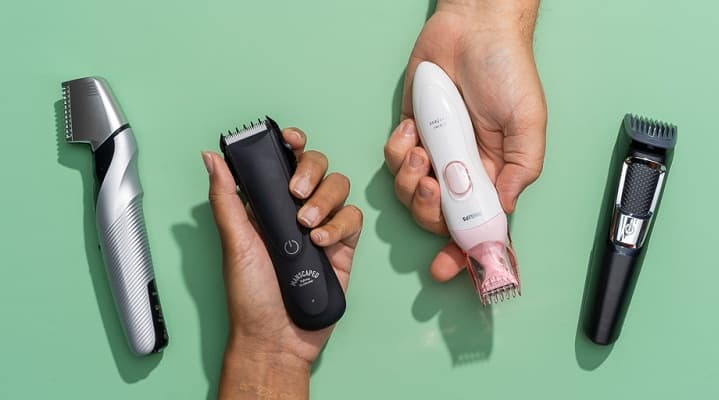 The brand is an important factor when looking for a trimmer under 1000 rs, 1500 rs and 2000 rs. There are many reputed brands which are known for their grooming tools all over the world. A tried and tested brand of the trimmer is the best option.
Opting for a trimmer having combs of adjustable lengths is recommended. This is because the freedom to choose different cutting lengths enable good styling of the beard. The attachments should be of decent lengths because it has often been found that maximum lengths of comb attachments are very short and suitable only for trimming short beards.
Corded trimmers are suitable for long and thick beards because they can be used for long periods due to no issue of battery charge. However, there must be a power socket in the bathroom to plug in the power cord of the trimmer. Cordless trimmers, on the other hand, are well suited to be taken on travels. However, a power source is needed to charge the trimmer.
Battery life is an important consideration for cordless trimmers. The battery should last for at least 2 hours after a full charge.
Trimmers are not very expensive. A trimmer designed for use on the body apart from face costs much more as compared to a trimmer designed only for the beard. Additional features also determine the price.
Conclusion
Whether one requires a trimmer or not, depends on personal grooming needs and shaving habits. Trimmer is a perfect tool for people wanting to style their beard and eyebrows and get rid of unwanted hair from ears and nose. People with sensitive skin can also opt for a trimmer instead of a shaver or conventional razor.
Related Topics:
Santosh Kumar, He is a SEO + Blogger have 12 years of experience in writing tutorial, informative and product reviews topics.