The most popular program in southern India is Bigg Boss Kannada. TRPs for the show are higher than ever. The show has attracted the largest possible audience.  Big Boss Kannada has been the spinoff of the Bigg Boss Hindi television show in the Kannada language. Bigg Boss was broadcasted on Colors Kannada in the Kannada language. BBK shows us Endemol-produced content. The program is modeled after the Dutch program Big Brother. Beginning in 2013, ETV Kannada started airing the very first season of Bigg Boss Kannada.
With that, let us look at the Winner, Host, Runner-up, and Housemates Name of Bigg Boss Kannada Season 1:
Season 1 Bigg Boss Kannada Winner 2013 – Vijay Raghavendra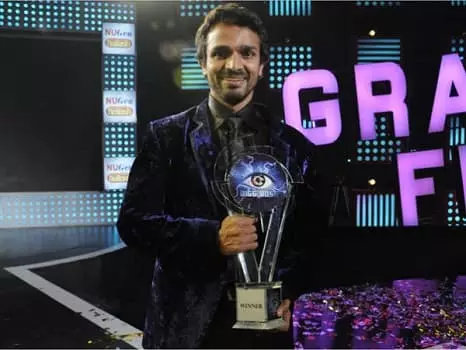 Indian actor Vijay Raghavendra primarily performs in Kannada movies. Vijay, often known as "Chinnari Mutha," is the nephew of actor Dr. Rajkumar and the son of the famous producer S. Chinne Gowda. Vijay began his acting career as a young actor in the 1982 film Chalisuva Modagalu. His later performances in the movies Kotreshi Kanasu & Chinnari Mutha won him recognition. He was awarded the National Film Award for Best Child Artist. Season 1 winner Vijay Raghavendra was crowned as the season's victor. He received a cash award of Rs. 50,000,00.
Season 1 Bigg Boss Kannada Host 2013 – Sudeep
Kiccha Sudeep, a South Indian actor, hosted the inaugural episode when it debuted in 2013, and he has continued to do so for all subsequent seasons. He is among the highest-paid Kannada actors and one of the first to appear in Forbes' list of the top 100 Indian celebrities since 2013. He has won numerous accolades, including four South Filmfare Awards. For his roles in the movies Huchcha, Nandhi, and Swathi Muthu, he received the Filmfare Award for Best Actor – Kannada for three straight years. He has been the host of the reality television program Bigg Boss Kannada since 2013. His fans gave him the name Kiccha Sudeepa because of his work in the 2001 movie Huchcha.
Season 1 Bigg Boss Kannada Runner-Up 2013 – Arun Sagar
Arun Sagar is an actor, art director, and comedian who primarily works in the Kannada cinema industry. He was born on October 23, 1965. From his first film, Bhoomi Geetha, which received the National Award for the best environmental picture, he has been regarded as a preeminent art director. He has collaborated with seasoned filmmakers like K Raghavendra Rao, Meher Ramesh, Poori Jagannath, and Veerashankar. He was recognized by the state of Karnataka for his services to the film Sri Manjunatha with the best art direction award. As the first contestant on Bigg Boss Kannada (Season 1), Arun Sagar finished as the season's runner-up.
Participated Contestants Name

Narendra Babu Sharma
Aparna
Anushree
Rishi Kumar
Jaya Lakshmi
Chandrika
Vinayak Joshi
Tilak Shekar
Shweta Pandit
Sanjjanaa
Arun Sagar
Nikita Thukral
Vijay Raghavendra
Rohan Gowda
Rishika Singh
Yogesh
Rajesh
Santosh Kumar, He is a SEO + Blogger have 12 years of experience in writing tutorial, informative and product reviews topics.