Are you on your way to starting a weight loss journey? If yes, then you are reading the right article. Oatmeal is considered as one of the best breakfasts for people who are willing to lose a good amount of weight. Oatmeal has undoubtedly become a universal food that is loved by fitness-freaks around the world. Do you know how Oatmeal is prepared? Oatmeal is made by using the dry rolled oats. Oats belong to the family of whole grains. It is probably one of the most nutritious whole grains that can be consumed to lose weight.
Your dietitian might have already suggested you add Oatmeal in your diet. According to research, people who eat Oatmeal are considered to have a much healthier diet as compared to the ones who don't. All in all, Oatmeal is one of the best ways to start your day. In this article, we will inform you about the significance of eating Oatmeal and how it will help you in losing weight. Also, we will make sure you understand the nutritional makeup of oats, which is barely known by people. If our readers are willing to lose weight, we suggest them to go through our below-mentioned information thoroughly.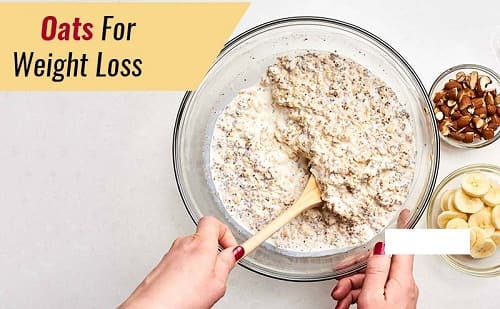 Why is Oatmeal considered so special?
Before we address the benefits and weight-shredding effects of adding Oatmeal in our diet, let us understand the nutritional makeup of Oatmeal.
As we have mentioned above, Oats belong to the family of whole grains; they are highly rich in proteins, fiber, minerals, and vitamins. Yes, you heard it right, it's an all in one deal! If you have already added Oatmeal in your diet, you might have noticed one thing, whenever you eat Oatmeal, you feel full for an extended period. This happens because Oats consists of a high amount of soluble fiber. This soluble fiber satisfies your hunger. Eventually, you feel full for a longer time. Additionally, the Oatmeal comprises a good amount of other essential nutrients like phosphorus, copper, calcium, selenium, iron, potassium, and magnesium.
One cup of Oatmeal is equal to 150 calories, five grams of fibers (which is equal to 18 % of the fiber required in a single day).  Also, you will get a small amount of protein (probably six grams that is the same amount present in a single egg). Therefore, it would not be unfair to say that Oatmeal is a portion of solid, nutritious food.
How Does Oatmeal help us Lose weight?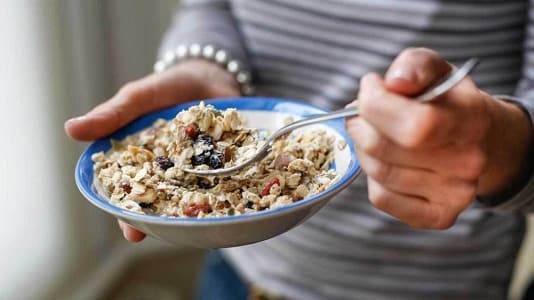 Oats consist of a distinctive type of fiber, which is known by the name "beta-glucan." According to research, the same fiber is involved in the regulation of hunger, causing hormones. The fiber regulates the hormone in such a way that the person consuming the Oatmeal feels fuller. However, some people also recommend Oatmeal to gain weight, but the outcome depends upon the way and time of consumption. The way Oatmeal is prepared also plays an important role in the result. But again, the result may vary among different individuals, since everyone does not carry the same genes. Let us take an example; one study was conducted where two groups of overweight women were chosen. The first group used to eat Oatmeal daily for one year (along with a healthy diet), and they were successful in maintaining their weight loss. At the same time, the second group that maintained a healthy diet (but without eating oats) were unable to keep their weight loss maintained at the one-year mark.
How to eat Oats to boost weight loss?
We have learned how the oats impact our weight loss journey, but another thing to keep in mind while losing weight is the way you eat them. Yes, the way you eat oats can have a great impact on their benefits, one should know the correct way of eating oats to gain maximum benefits. On top of everything, at all costs, the weight-watchers should avoid adding sugary and fatty toppings over their Oatmeal.
Below we have mentioned there are some crucial things that one should be aware of to successfully lose a good amount of weight.
Avoid instant and sugary oats: To gain maximum benefits, prefer eating plain oats. Plain oats come without flavors; the flavored ones can add an unwanted amount of calories. Usually, such oats are loaded with sugar, which also eliminates their nutritional values. One cup of flavored oats carries around seventy more calories as compared to the plain oats.
Never add fatty toppings on your Oatmeal: Some people like adding maple syrups and honey on their Oatmeal, this will add more calories in the diet rather than providing nutritional benefits. However, if you have a sweet tooth, consider adding banana to your oats. Also, do not add peanut butter because two spoons of it can give you 188 calories, which are not a less amount. Do not forget to replace milk with water; this will turn your oats healthier and will help in losing weight.
Prefer adding fiber-rich toppings on your Oatmeal: Fibre is one of the key ingredients that is crucial in losing weight. Some research shows that fiber keeps us fuller for an extended period and thus helps in losing weight. You can also add berries to your oats (like strawberries, blueberries, raspberries, etc.); this will not only satisfy your sweet tooth but also add fiber in your diet.
Diet-plan for Losing Weight
Losing weight by eating Oatmeal occurs mainly by replacing the major meals of our day with Oatmeal. The oatmeal diet-plan comprises of 3 different phases:
Phase One: In phase one, the person willing to lose weight will have to consume Oatmeal 3 times in one day (avoid eating instant oats). Include fruit juices, a good amount of protein, veggies, and fresh fruits for the rest meals.
Phase Two: In phase two, the person needs to consume whole oats 2 to 3 times a day (Accompanied by half cup of vegetables or fruits in every meal). If you are willing to cut those extra kilos, then start doing yoga, walking, or stretching exercises in the 2nd
Phase Three: In phase three, start coming back to normal eating habits. But, always eat healthy foods and also include whole oats in one of your meals.
Read This Also: How To Consume Oats For Healthy Lifestyle
Conclusion
Adding oats in the diet is one of the best ways of losing weight. It is also a good choice to kick-start the weight loss journey. However, if you are looking forward to gaining a long term result of weight loss, then just adding Oats to the diet is not the only thing you should be doing. It is essential to consult a doctor or dietician to gain maximum benefits. We wish you a stroke of good luck for your weight loss journey. Stay fit and live a healthy life.
Santosh Kumar, He is a SEO + Blogger have 12 years of experience in writing tutorial, informative and product reviews topics.